Презентація на тему «HTC Corporation»
Презентація на тему «HTC Corporation»
---
---
---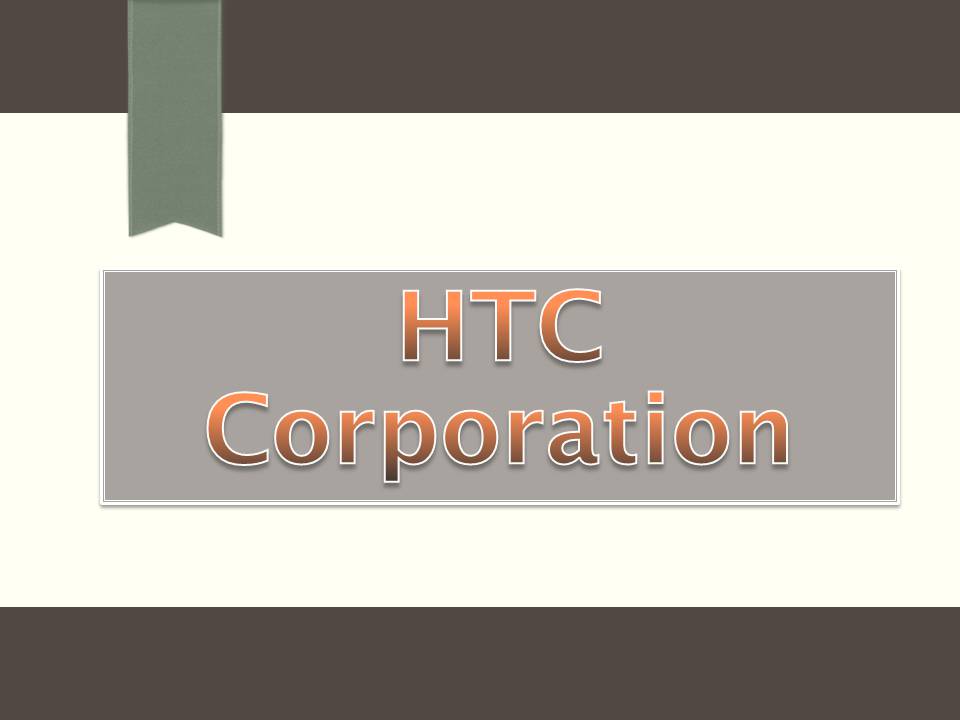 ---
Слайд #2
---
High Tech Computer Corporation
HTC Corporation  formerly High Tech Computer Corporation, is a Taiwanese manufacturer of smartphones and tablets headquartered in New Taipei City, Taiwan. Founded in 1997, HTC began as an original design manufacturer and original equipment manufacturer, designing and manufacturing devices such as mobile phones, touchscreen phones, and PDAs based on Windows Mobile OS and Brew MP to market to mobile network operators who were willing to pay a contract manufacturer for customized products
HTC Corporation
The 2009-present logo
Type
Public
Traded as
TWSE: 2498
Industry
Telecommunications equipment
Founded
1997
Headquarters
New Taipei City, Taiwan
Area served
Worldwide
Key people
Cher Wang, ChairwomanPeter Chou, CEO and PresidentFred Liu, COO
Products
Smartphones, Tablets
Revenue
$9.84 billion USD (2012)[1]
Operating income
$646 million USD (2012)[1]
Net income
$603.8 million USD (2012)[1]
Total assets
$7.09 billion USD (2012)[1]
Total equity
$2.76 billion USD (2012)[1]
Employees
16,846 (2012-3-31)[2]
Subsidiaries
Beats ElectronicsS3 GraphicsDashwireZoodlesSaffron Digital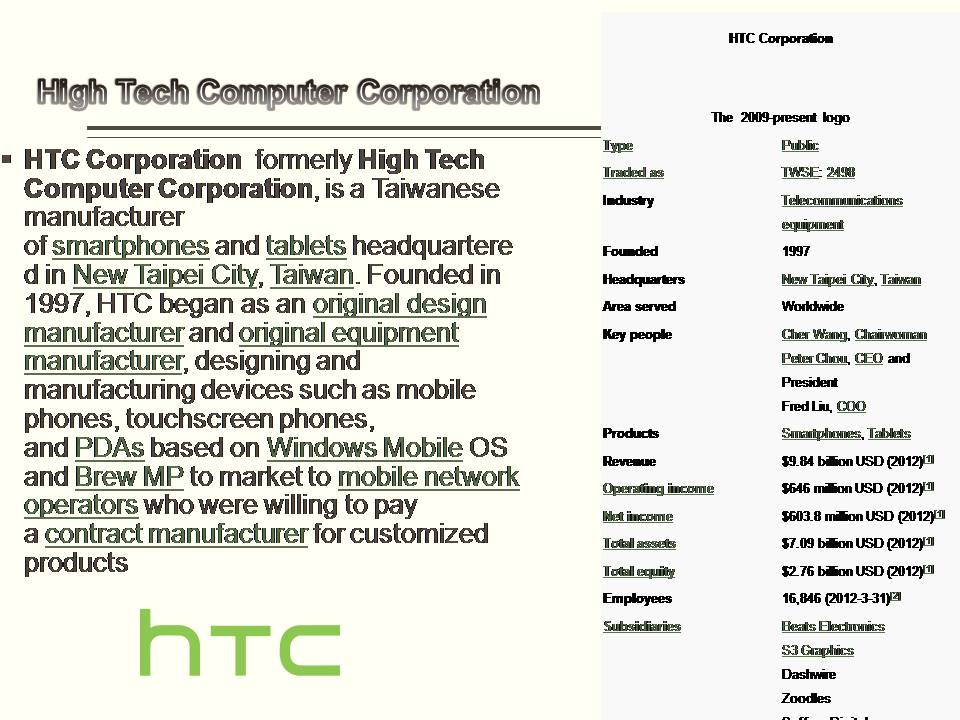 ---
Слайд #3
---
History
Cher Wang, H. T. Cho and Peter Chou founded HTC in 1997. Initially a manufacturer of notebook computers, HTC began designing some of the world's first touch and wireless hand-held devices in 1998.[10] The company has a rich heritage of many "firsts", including creating the first Microsoft-powered smartphone (2002) and the first Microsoft 3G phone (2005). Their first major product, one of the world's first touch-screen smartphones, appeared in 2000.
In June 2008, HTC changed its official name from High Tech Computer Corporation to HTC Corporation.
In October 2009, HTC launched the brand tagline "quietly brilliant", and the YOU campaign, HTC's first global advertising campaign.
In June 2010, the company launched the HTC Evo 4G, the first 4G-capable phone in the United States.[13] In July 2010, HTC announced it would begin selling smartphones in China under its own brand name in a partnership with China Mobile. In 2010 HTC sold over 24.6 million handsets, up 111% over 2009.[15]
At the Mobile World Congress on 16 February 2011, the GSM Association named HTC the "Device Manufacturer of the Year" for 2011.[16] In April 2011, the company's market value surpassed that of Nokia, making HTC the third-largest smartphone-maker in the world behind Apple andSamsung.[17]
In August 2011, HTC confirmed a plan for a strategic partnership with Beats Electronics involving acquiring 51 percent of Beats' shares.On 27 September 2013, HTC announced that it sold back all remaining shares of Beats to Beats Electronics. The deal is expected to be closed in Q4 of 2013.[22]
In June 2012, HTC moved its headquarters from Taoyuan City to Xindian District, New Taipei City.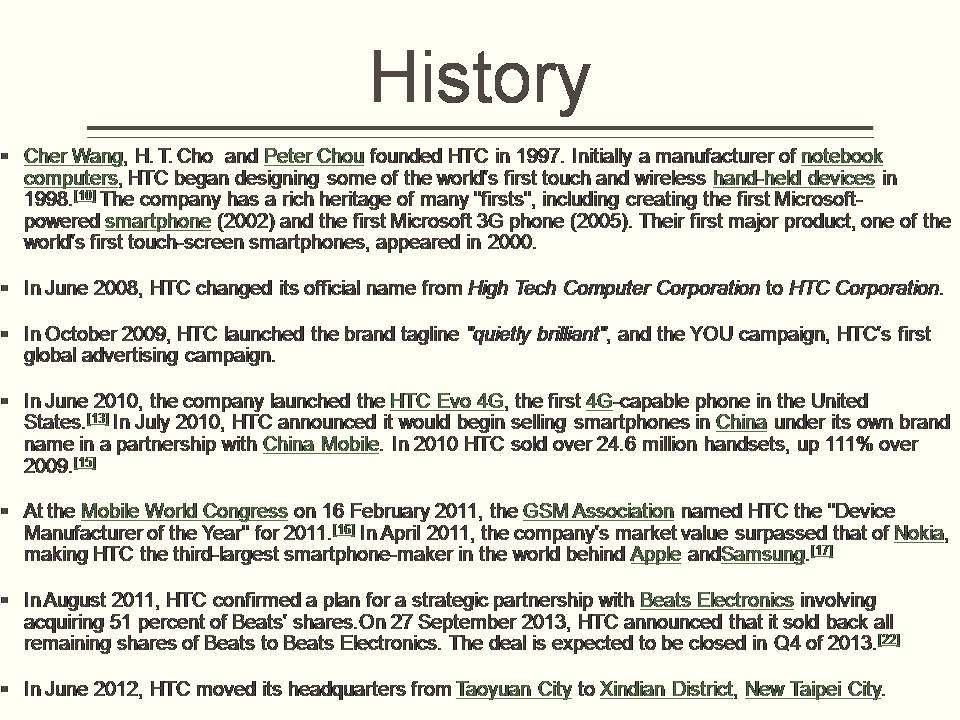 ---
Слайд #4
---
Legal
In March 2010, Apple Inc. filed a complaint with the US International Trade Commission claiming infringement of 20 of its patents covering aspects of the iPhone user interface and hardware.[31] HTC disagreed with Apple's actions and reiterated its commitment to creating innovative smartphones.[32] HTC also filed a complaint against Apple for infringing on 5 of its patents and sought to ban the import of Apple products into the US from manufacturing facilities in Asia.[33][34] Apple expanded its original complaint by adding two more patents.[35]
On November 10, 2012, Apple and HTC reached a 10-year license-agreement covering current and future patents held by the two companies. The terms of the agreement remain confidential.
In February 2013 HTC settled with the U.S. Federal Trade Commission concerning lax security on more than 18 million smartphones and tablets[36] it had shipped to customers[37]and agreed to security patches.[38]
HTC's headquarters in New Taipei City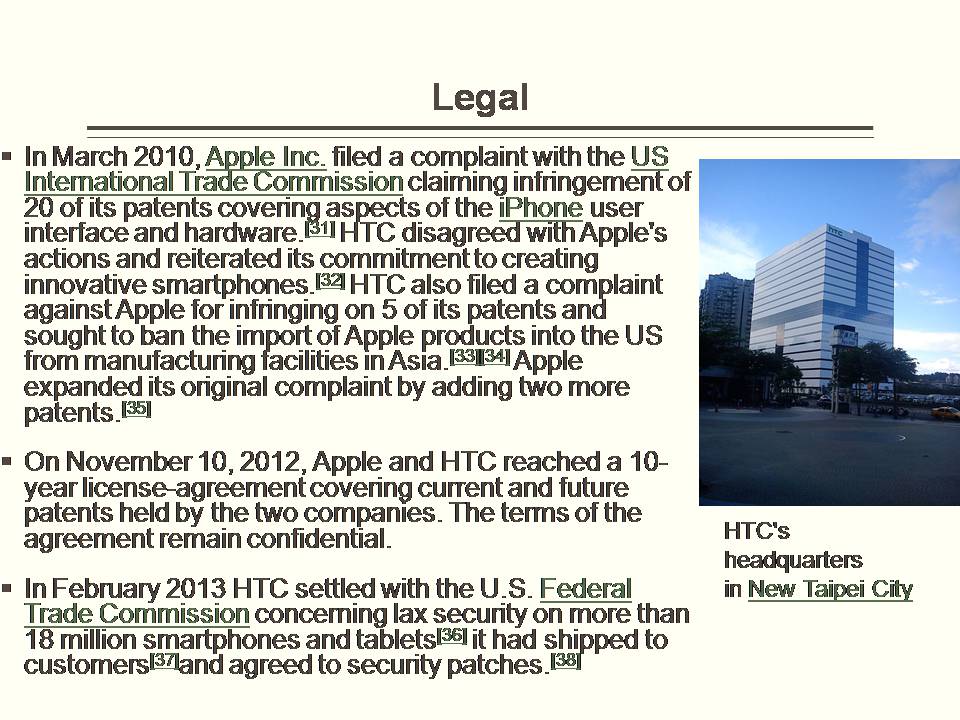 ---
---