Презентація на тему «Wales» (варіант 2)
Презентація на тему «Wales» (варіант 2)
---
---
---
Слайд #1
---
WALES
ATTRACTIONS OF WALES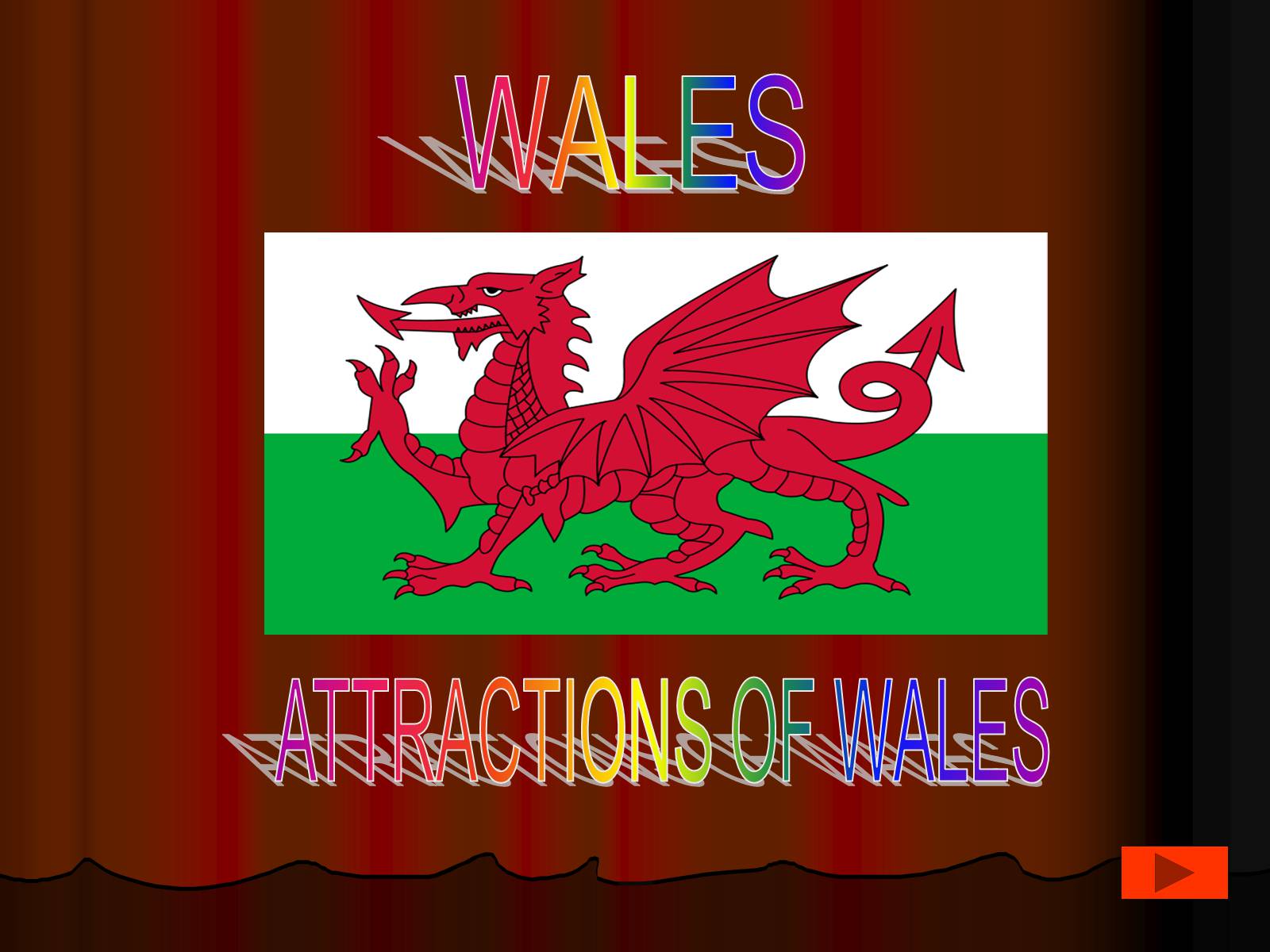 ---
Слайд #2
---
Conwy Castle
Conwy Castle - a medieval castle, located in the county Karnarvonshir in Wales.
The castle was built in the years 1283-1289 on the orders of Edward I of England.
Within four years, working from March to October, 1500 people have erected a fortresses and walles . Conwy Castle is surrounded by a stone wall with eight round towers and battlements.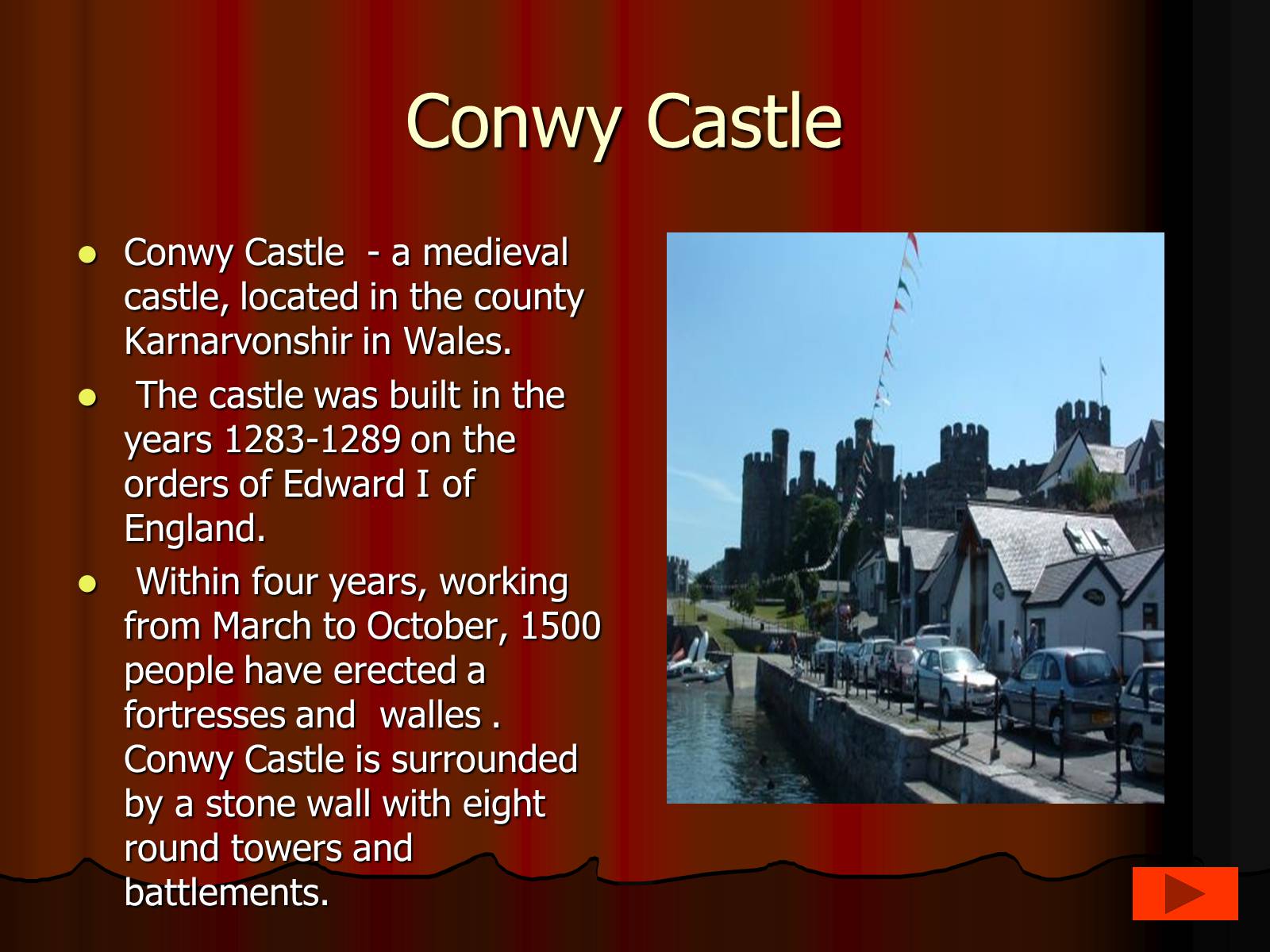 ---
Слайд #3
---
Carnarfon Castle
Carnarfon Castle - one of the most impressive castles of the English King Edward I. The castle is located in Carnarfon is surrounded by waters of Menai Strait, which separates the island Anglesey, North Wales. It was built in 1283 on the place of wooden fortifications, that were built in 1073.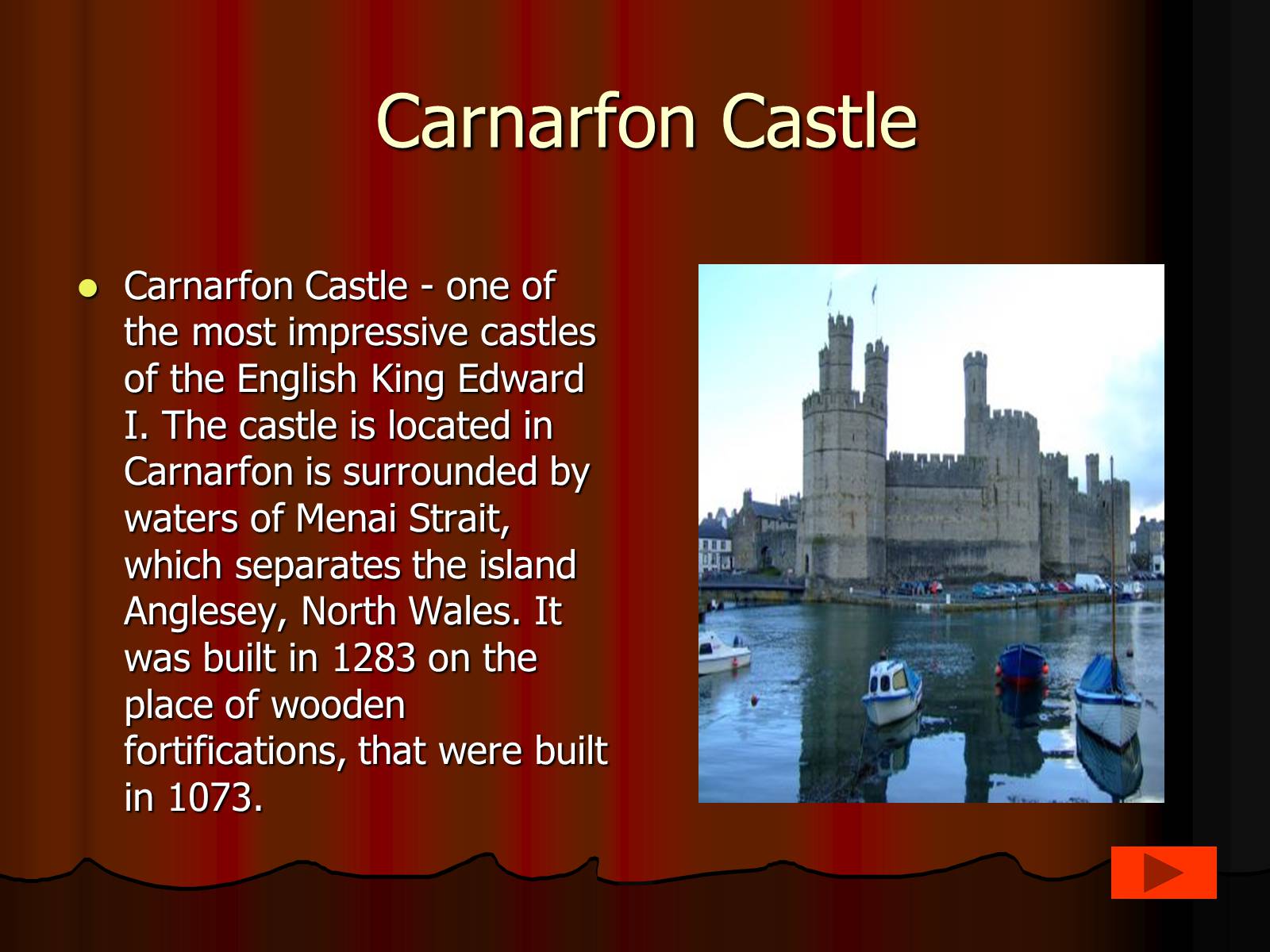 ---
Слайд #4
---
Pembroke Castle
Pembroke Castle - a medieval castle, located in Pembroke, the county of Pembrokeshire in southwest of Wales. It was founded by Roger Montgomery in 1093.Pembroke Castle remained in ruins until 1880.Veteran Major-General acquired the castle in 1928 and started an extensive restoration of the castle's walls, towers and gatehouses.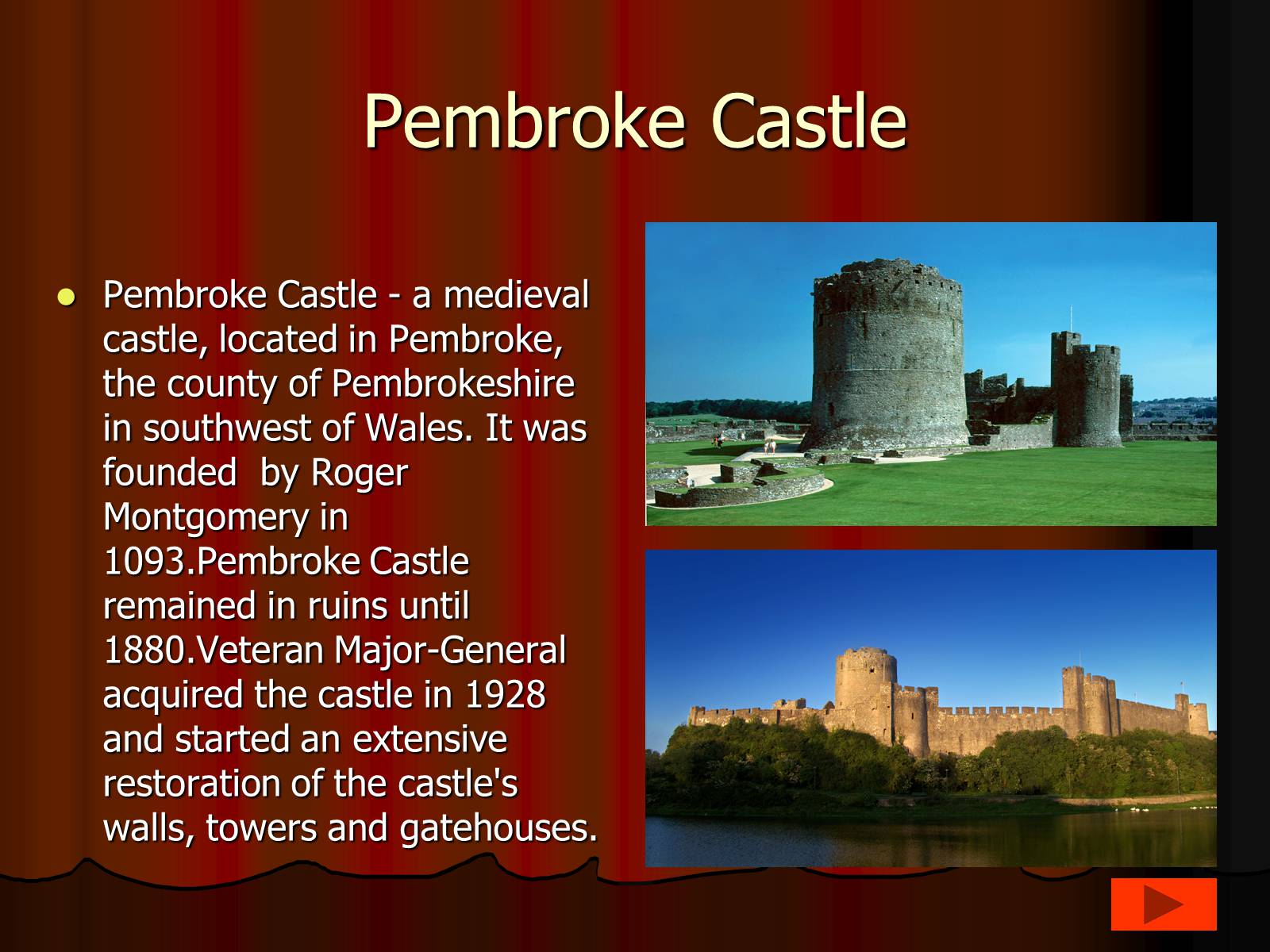 ---
Слайд #5
---
Cardiff Castle
Cardiff Castle- a medieval castle, located in the county of Glamorganshire in Wales. Cardiff Castle is the most important castle in the capital of Wales. It was built by Roman army and rebuilt by Robert Fitszhamon in 1091. For 25 years, the castle was home to the National College of Music and in 1974 became one of the most popular attractions for quests.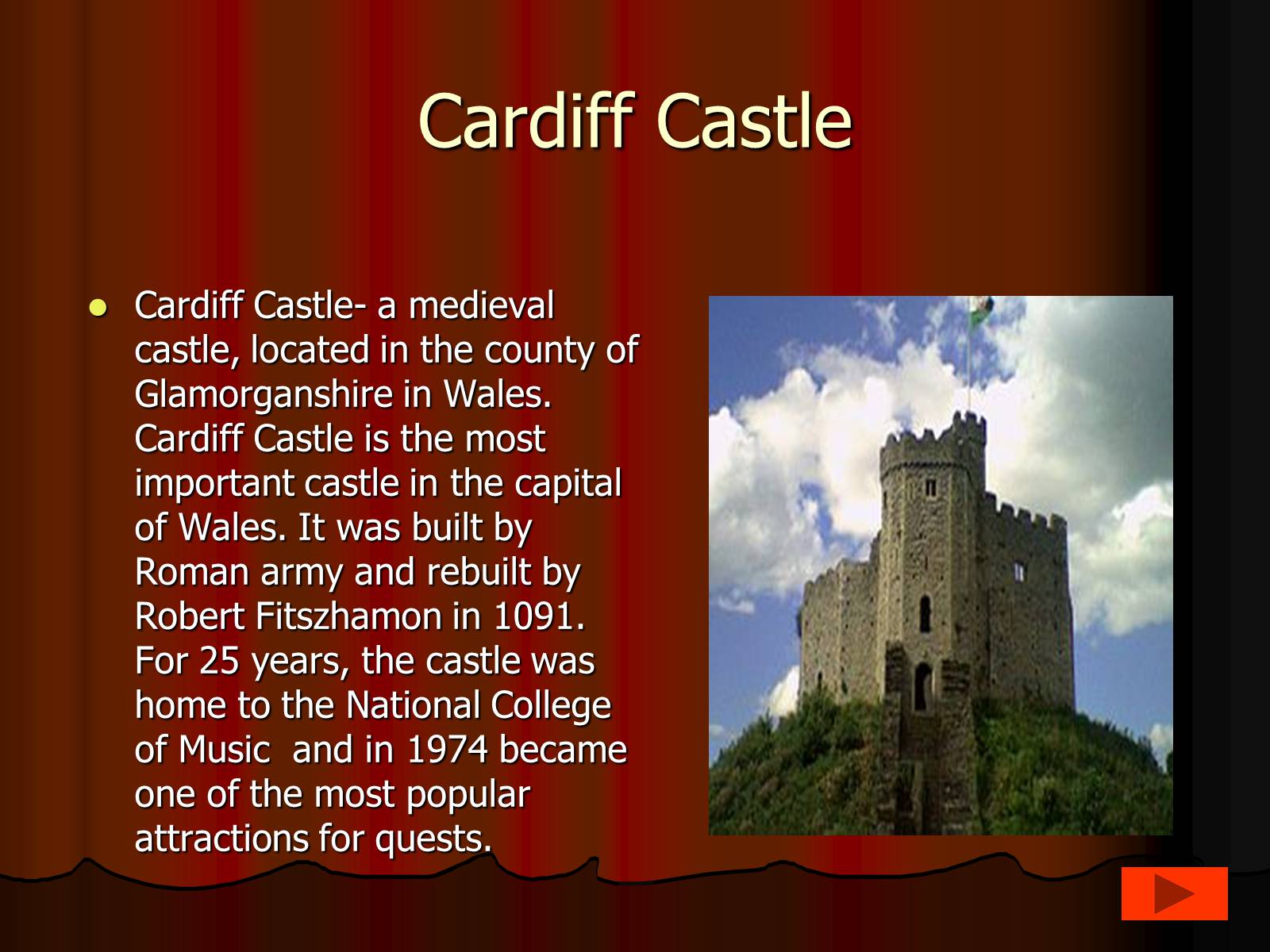 ---
Слайд #6
---
Harlech Castle
Harlech - one of the castles built by King Edward I in order to strengthen British influence in Wales. The castle is near the sea, high on a rocky cliff. On the one hand it is protected by the rock, and on the other - deep ditch. Construction work continued for seven years from 1283 to 1290.It is near County Merionetshir. Now it is museum.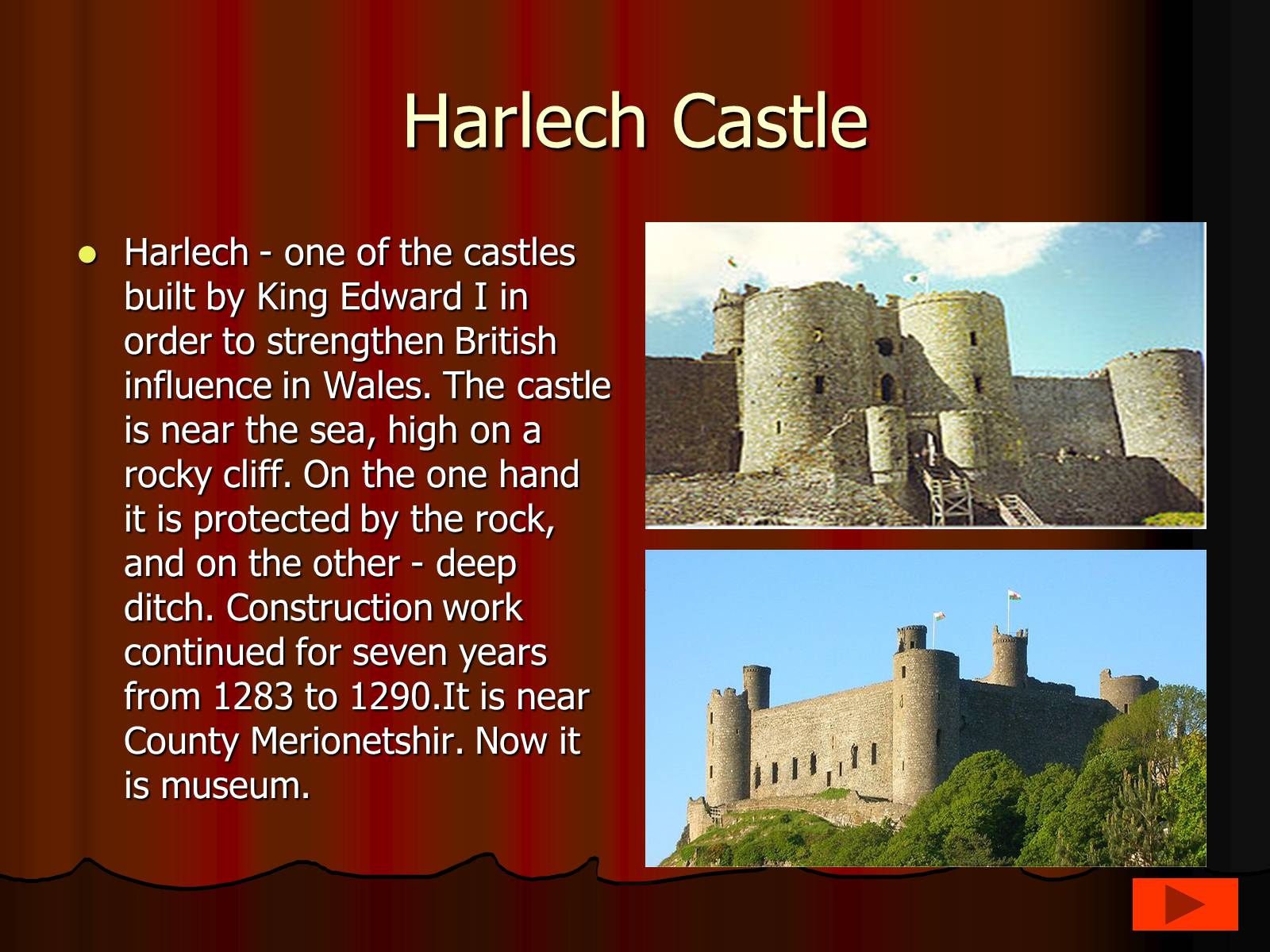 ---
Слайд #7
---
THE END!
THE END!
---
---