Презентація на тему «Art galleries of Ukraine»
Презентація на тему «Art galleries of Ukraine»
---
---
---
Слайд #1
---
Art galleries of Ukraine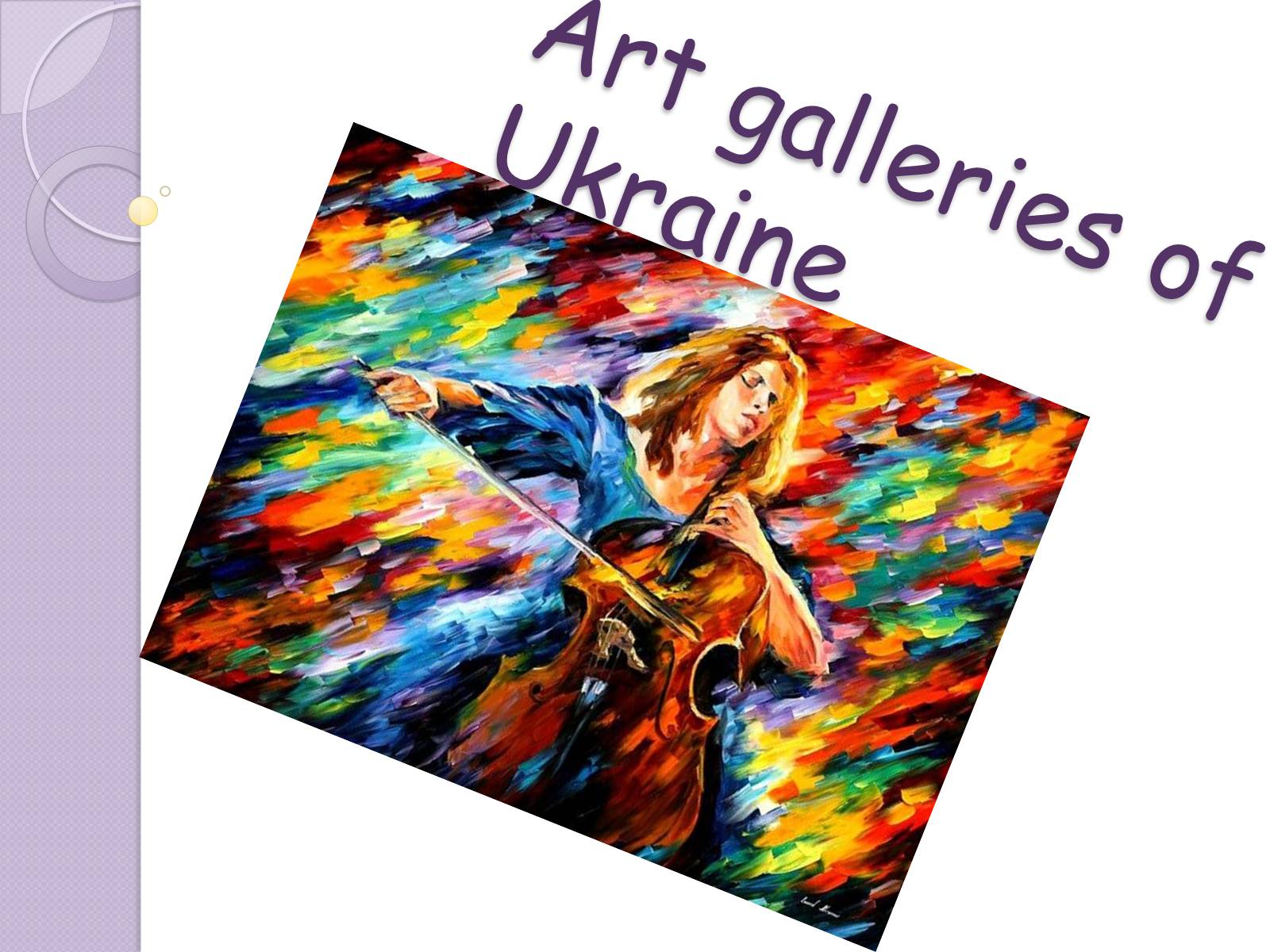 ---
Слайд #2
---
National Art Museum of Ukraine
Built in the late 19th century   Pieces include Ukrainian icons, paintings, and sculptures from the 14th century through the early 20th century. The current exhibition includes over 20 thousand pieces.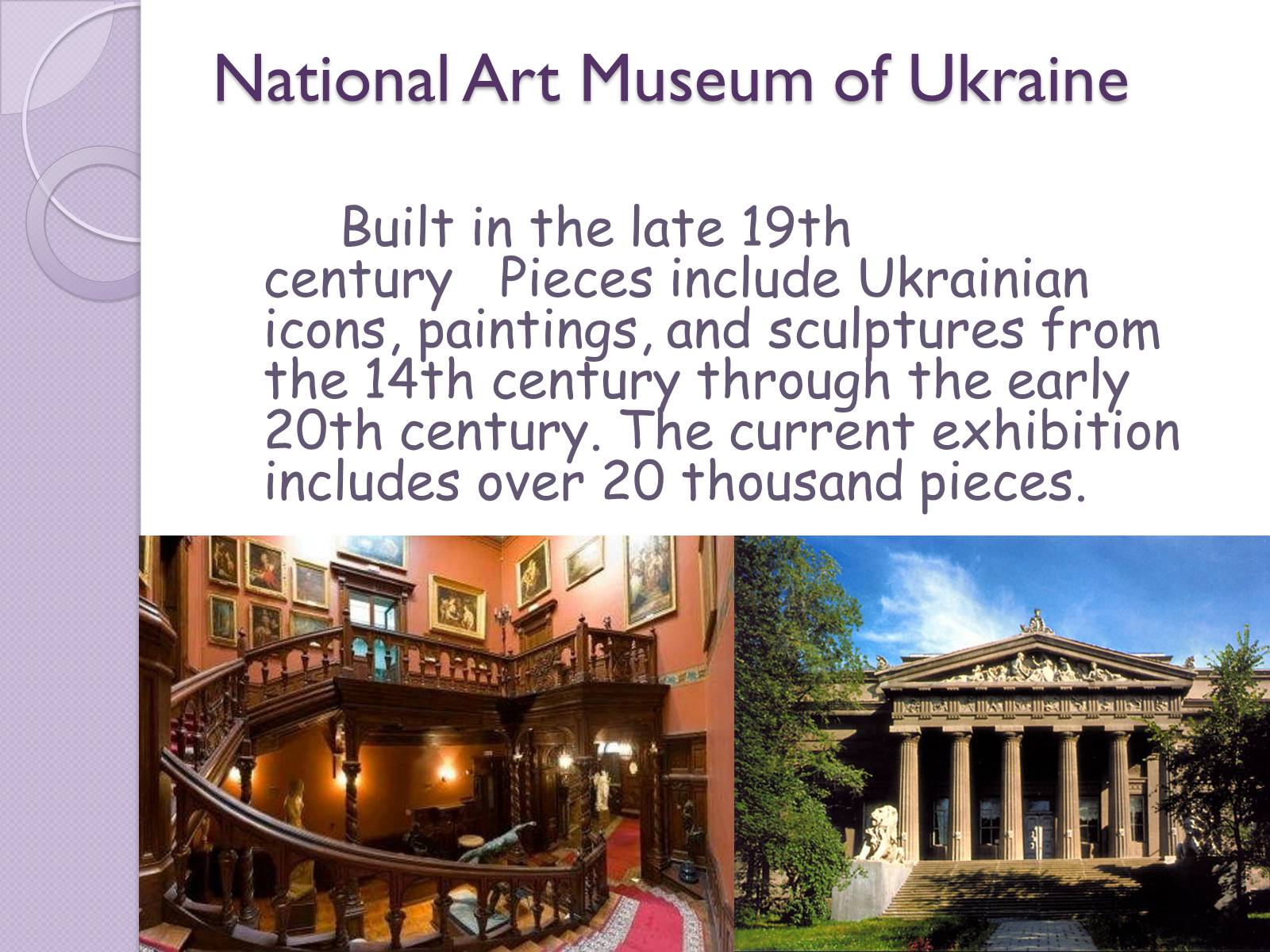 ---
Слайд #3
---
Art Museum named after Bogdan and Varvara Khanenko (Kiev Museum of Western and Oriental Arts)
The museum is located in the building specially built as a museum by architect Melzer in 1887. The basis of museum collection was the collection of Bogdan Ivanovich (1849-1917) and Varvara Nikolaevna (1852-1922) Khanenko. In 1917 their private collection was passed as a gift to City of Kiev. The collection of the museum has been made bigger more than 13 times in subsequent years as the result of the incorporation of some other private collections. There are around 2,000 exhibits in the halls of the museum. Art Museum named after famous Ukrainian patrons of arts Bogdan and Varvara Khanenko (Kiev Museum of Western and Oriental Arts) is famous as the largest collection of European and Oriental Arts in Ukraine.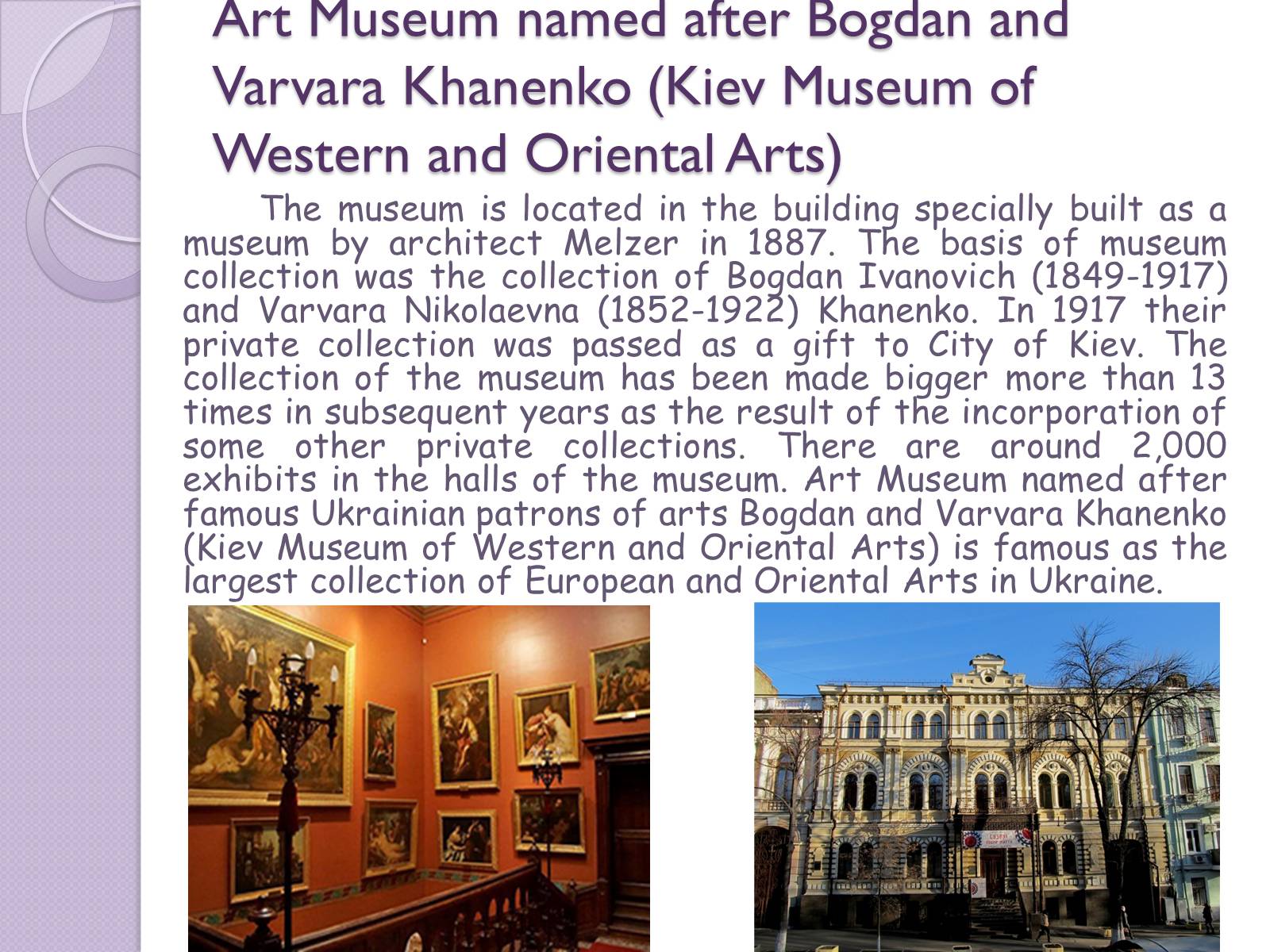 ---
Слайд #4
---
Dnepropetrovsk art museum
One of the leading Ukrainian art museums, Dnepropetrovsk (originally Ekaterinoslav) art museum was founded in 1914. Now the museum owns a valuable collection of Dnepropetrovsk regioncultural heritage. There is a large selection of paintings, sculptures, graphics, Western European and national arts and crafts. The collection of Dnepropetrovsk art museum includes over 8000 works of art from Ukraine, Europe, and Russia.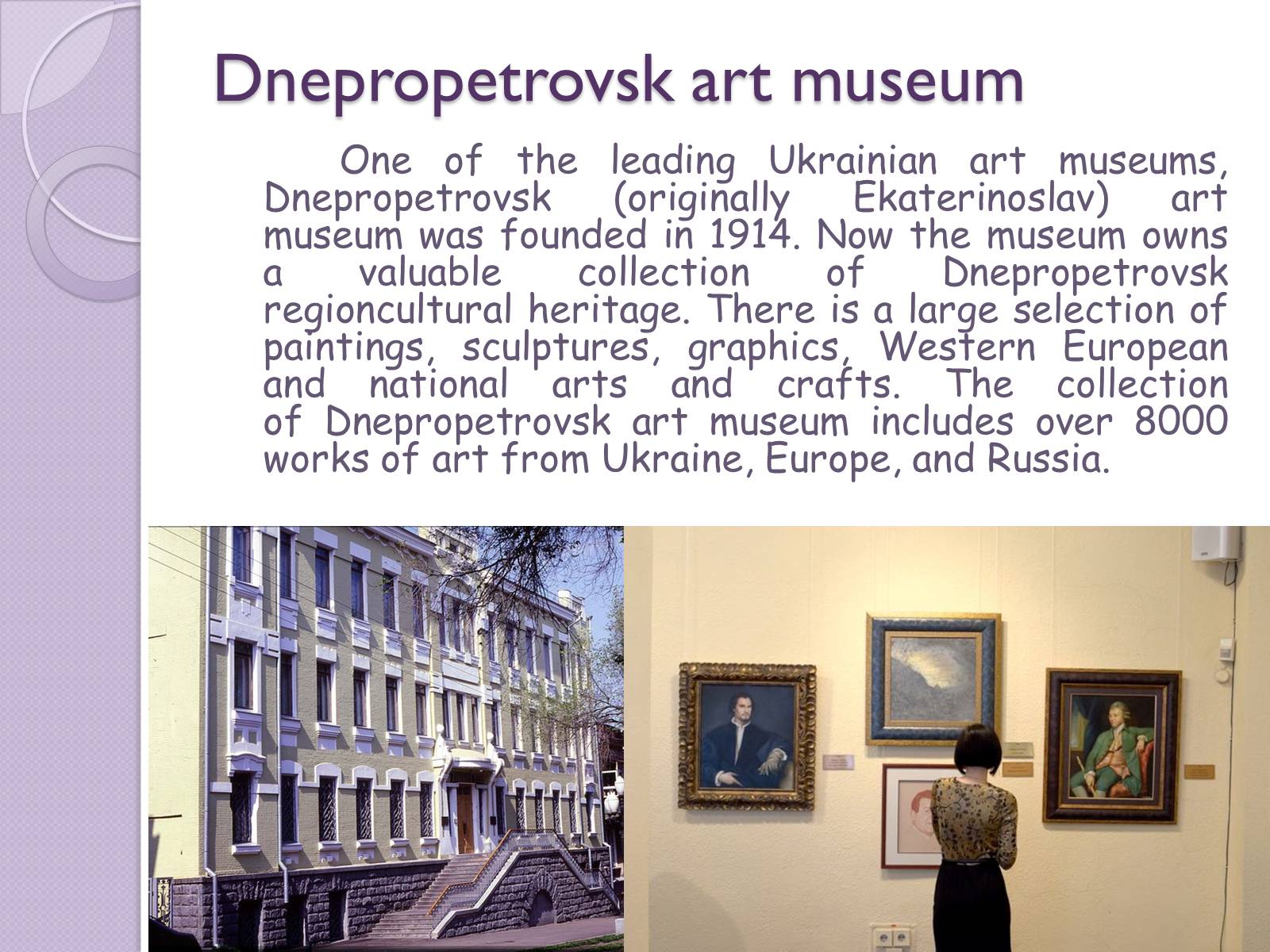 ---
Слайд #5
---
Ivano Frankivsk regional art museum
The museum was opened in 1980, May 18 in the building of the XVII сentury architectural monument — Collegiate Roman Catholic church of St. Virgin Immaculate Conception.The museum is considered to be the regional art treasury. Its collection houses 15 thousand unique monuments of Galician icon painting and baroque sculpture, creative works of Ukrainian art classics.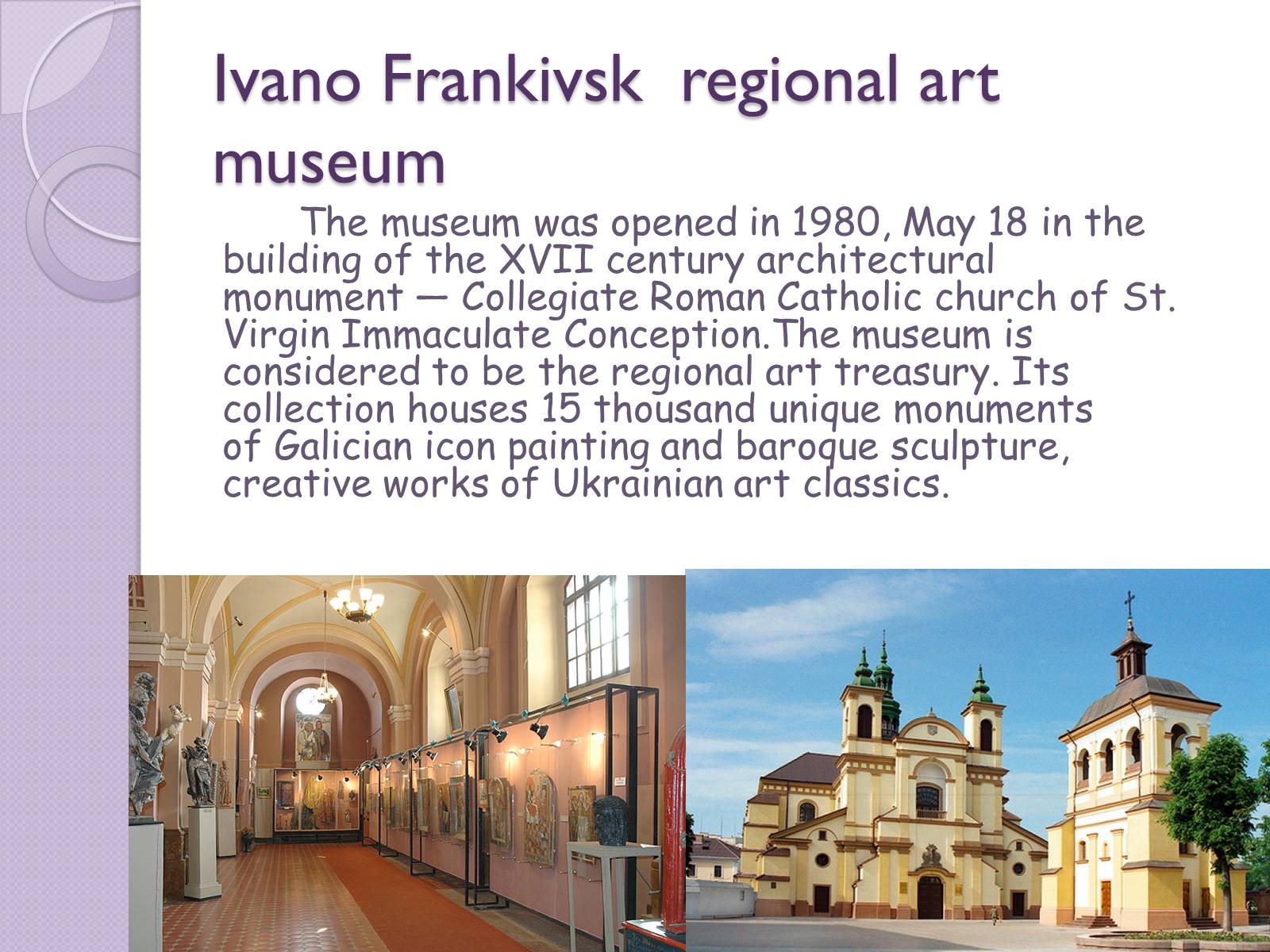 ---
Слайд #6
---
Lviv National Art Gallery 
Lviv National Art Gallery , a leading art museum in Ukraine, has over 60,000 artworks in its collection, including works of Polish, Italian, French, German, Dutch and Flemish, Spanish, Austrian and other European artists.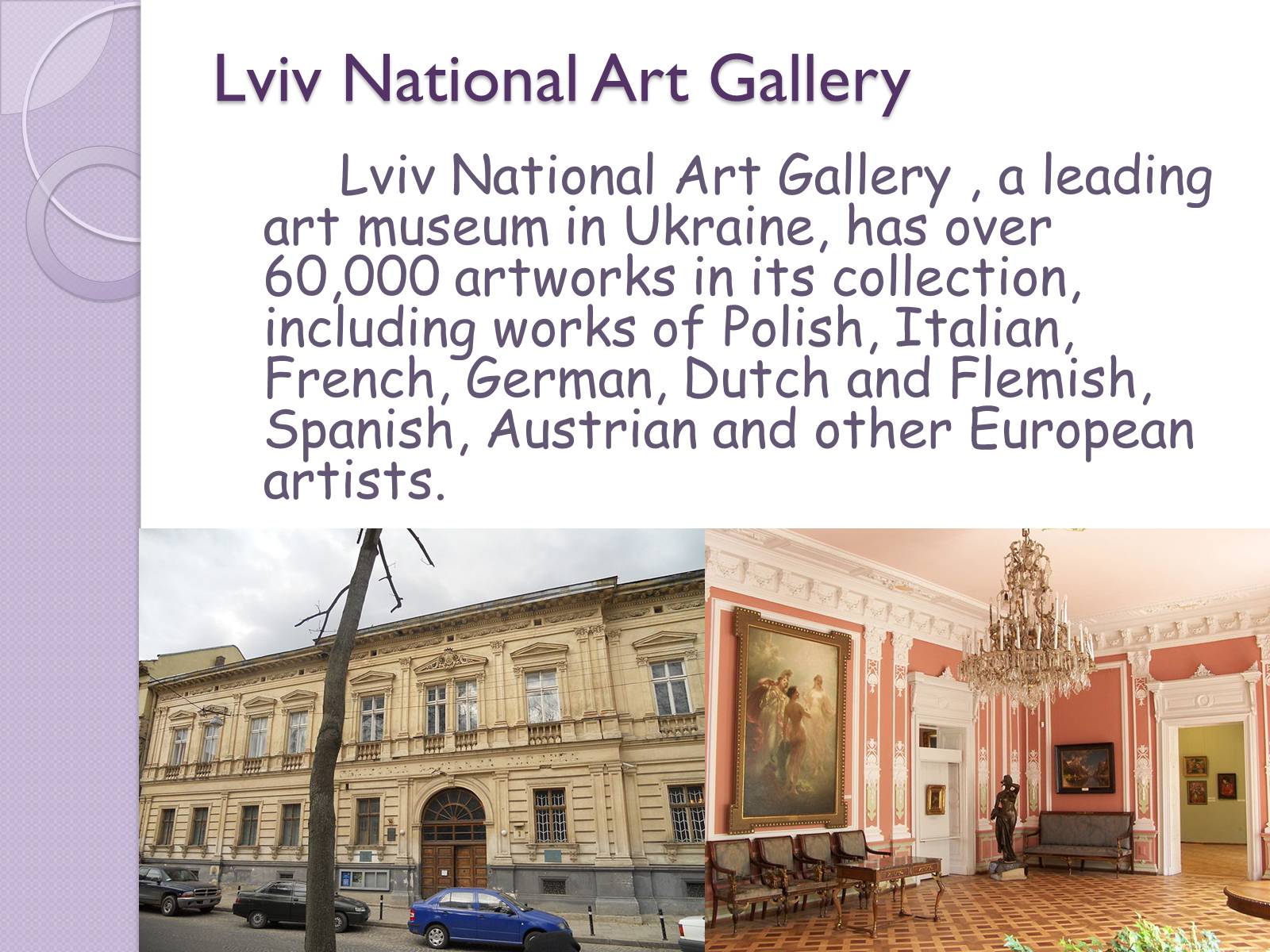 ---
Слайд #7
---
Wooden Sculpture Museum
Museum "Wooden Sculpture" or Wooden Sculpture Museum was created in 2008 by artist Igor Fartushnyi. Themuseum is located in village Yabluniv, Kosiv district, Ivano-Frankivsk region, Ukraine. The museum exhibition consists of master Igor's works. Museum exhibition includes more than 100 sculptures made by the artist during his life. Even more sculptures are under the creation process.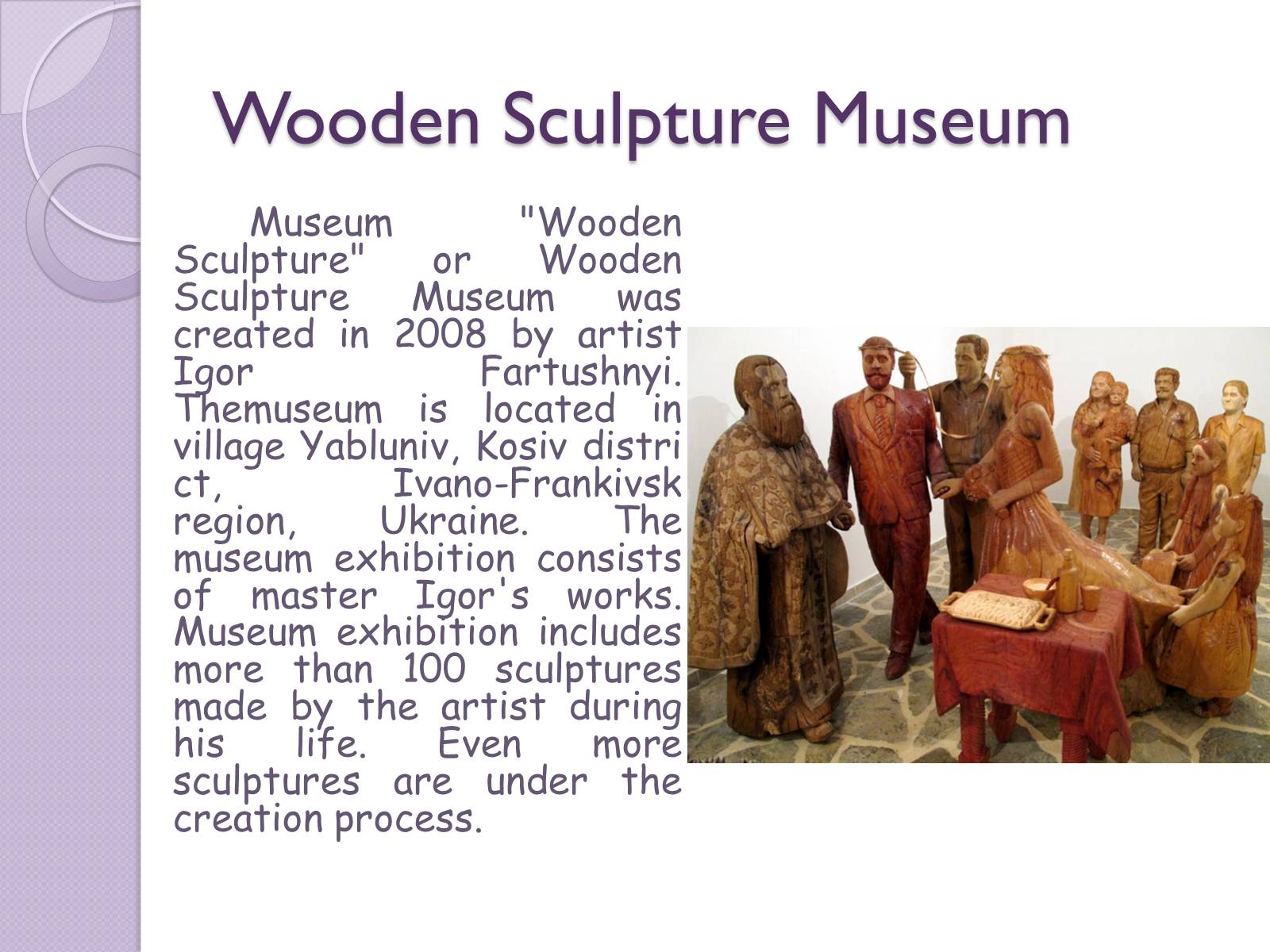 ---
Слайд #8
---
Nikanor Onatsky Regional Art Museum in Sumy
Nikanor Onatsky Regional Art Museum in Sumy is a state museum in Sumy, Ukraine. Its collection is one of the best in Ukraine and contains works of native and from all over the world artists.
The museum was founded on March 1, 1920, by Nikanor Onatsky (1875–1937), an artist, teacher and public figure, an apprentice of Ilya Repin
The exposition and the funds of the museum number over 15,000 museum pieces.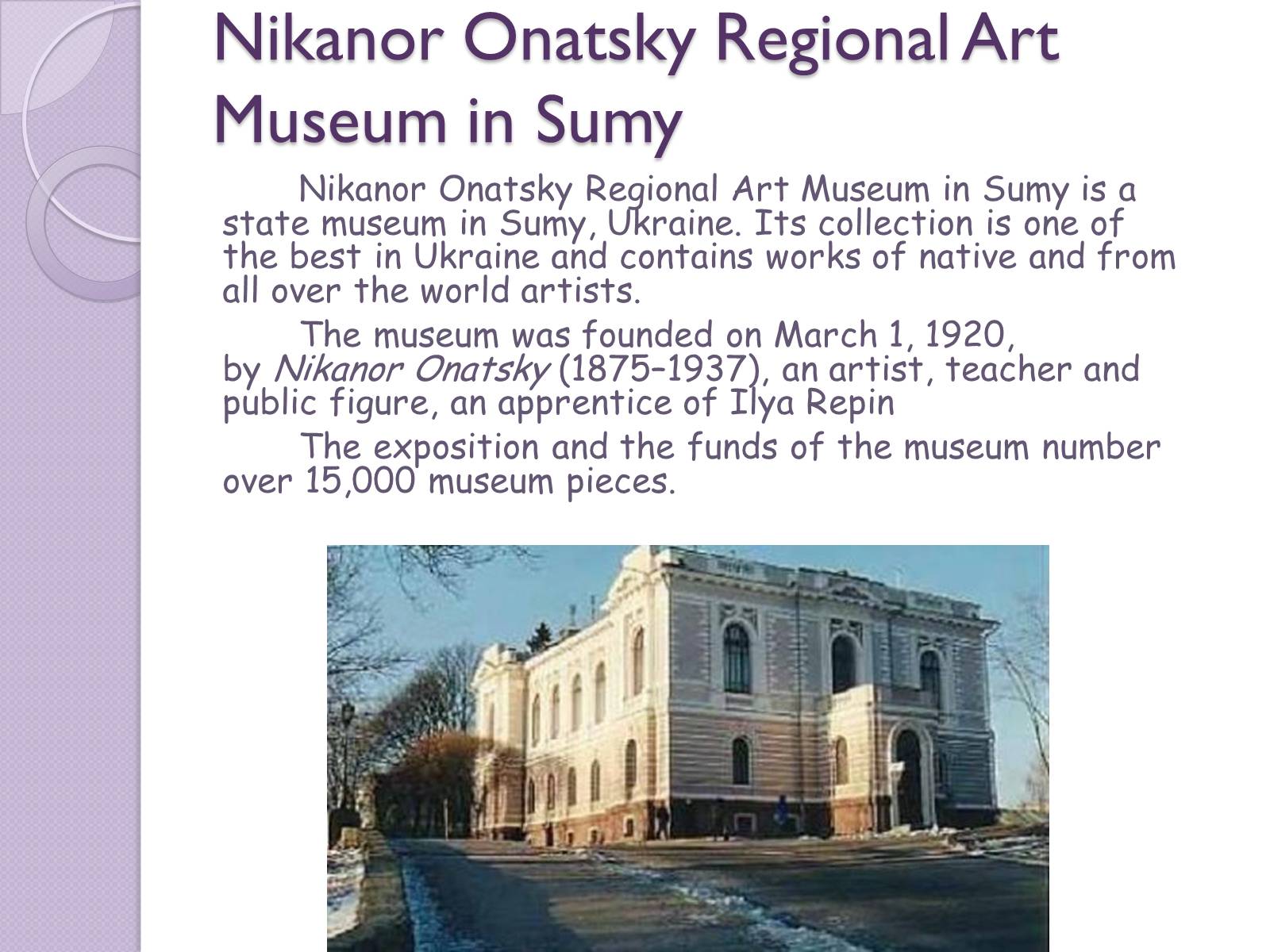 ---
---