Презентація на тему «Benjamin Franklin» (варіант 1)
Презентація на тему «Benjamin Franklin» (варіант 1)
---
---
---
Слайд #1
---
Benjamin Franklin
6th President of Pennsylvania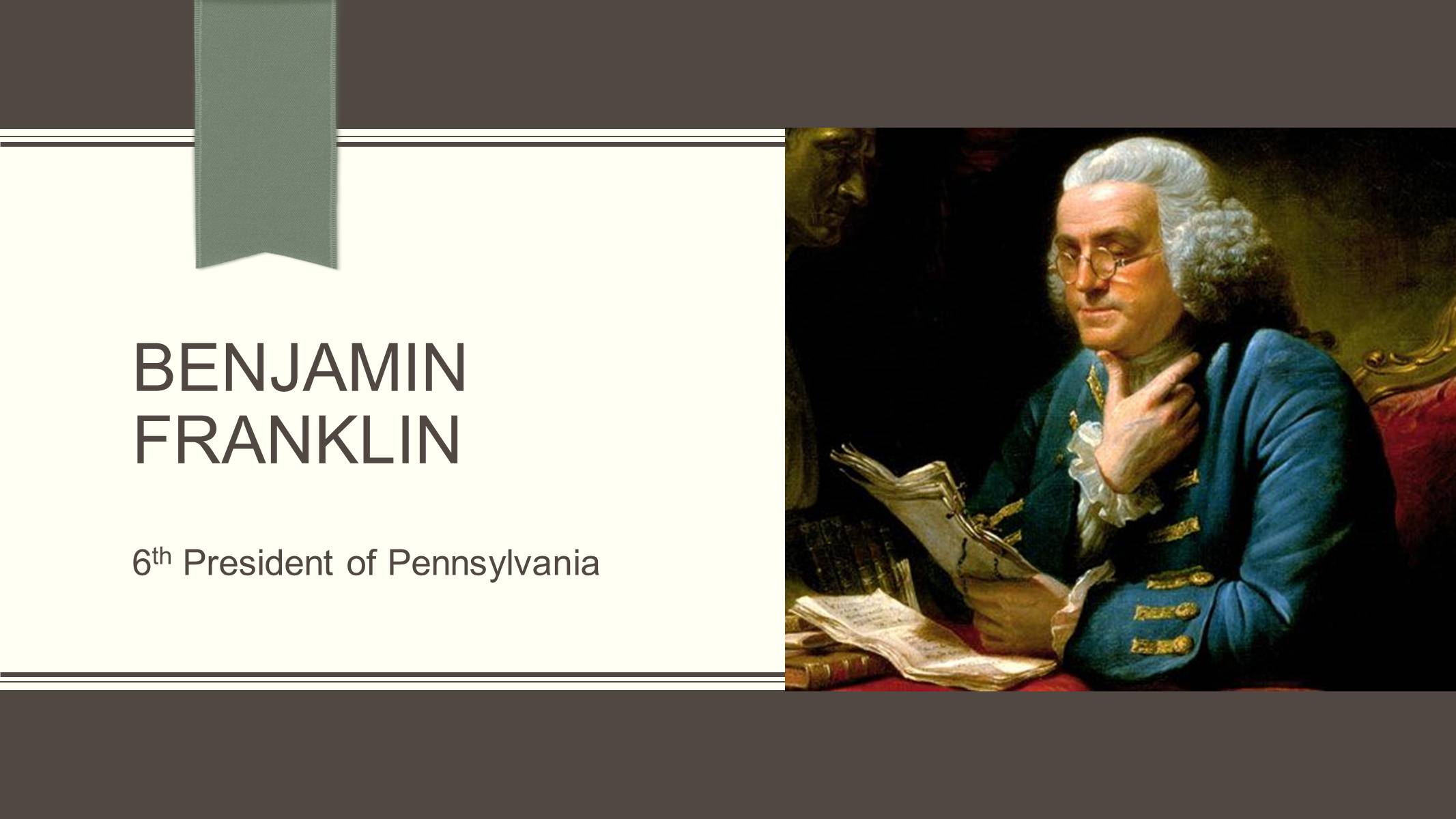 ---
Слайд #2
---
Early Life
Benjamin Franklin was born on Milk Street in Boston, Massachusetts, on January 17, 1706, and baptized at Old South Meeting House. He was one of ten children born to Josiah Franklin with his second wife Abiah Folger. Among Benjamin's siblings were his older brother James and his younger sister Jane.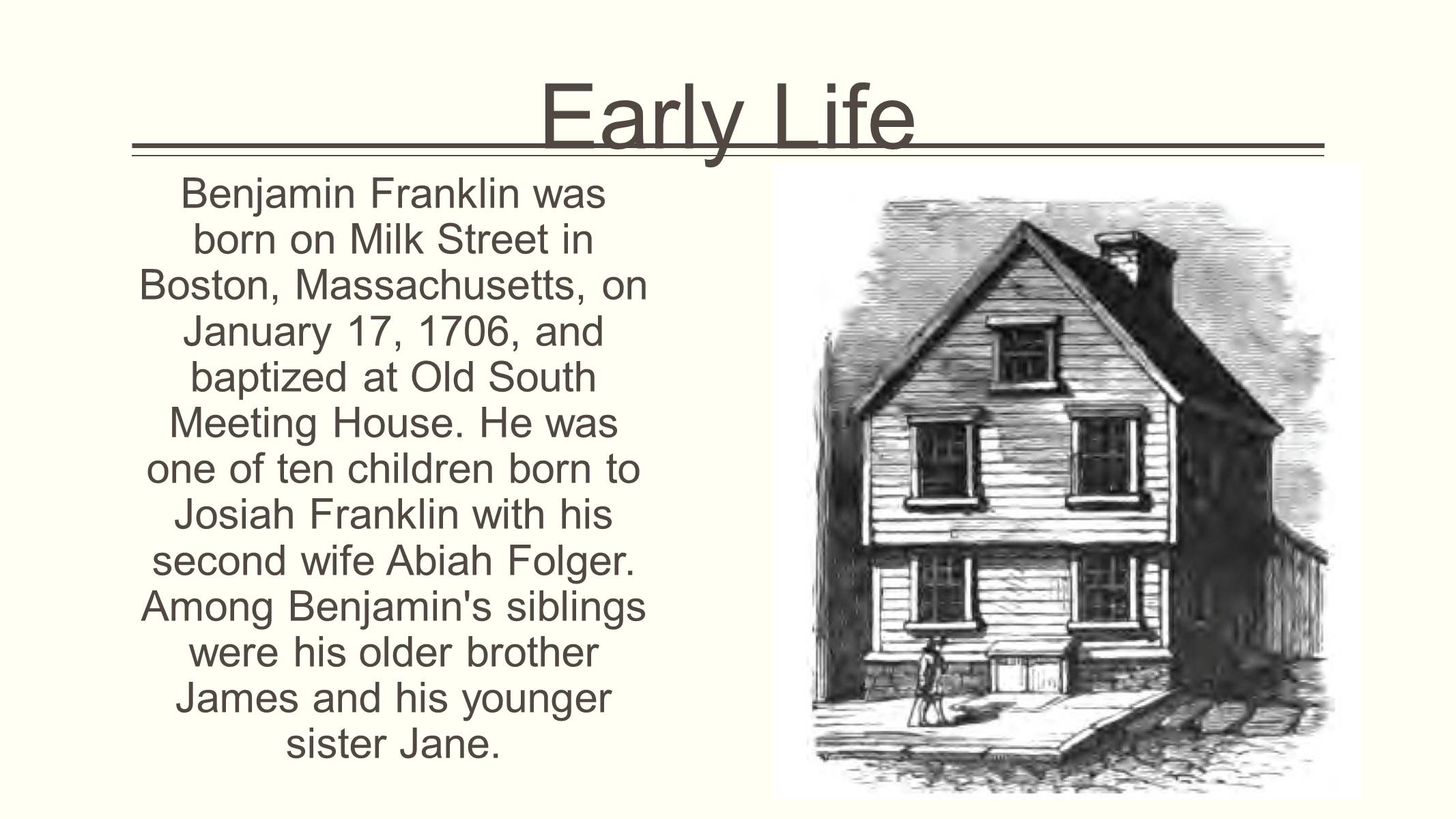 ---
Слайд #3
---
Josiah wanted Ben to attend school with the clergy, but only had enough money to send him to school for two years. He attended Boston Latin School but did not graduate.
Although "his parents talked of the church as a career" for Franklin, his schooling ended when he was ten.
He worked for his father for a time, and at 12 he became an apprentice to his brother James, a printer, who taught Ben the printing trade.
When Ben was 15, James founded The New-England Courant, which was the first truly independent newspaper in the colonies.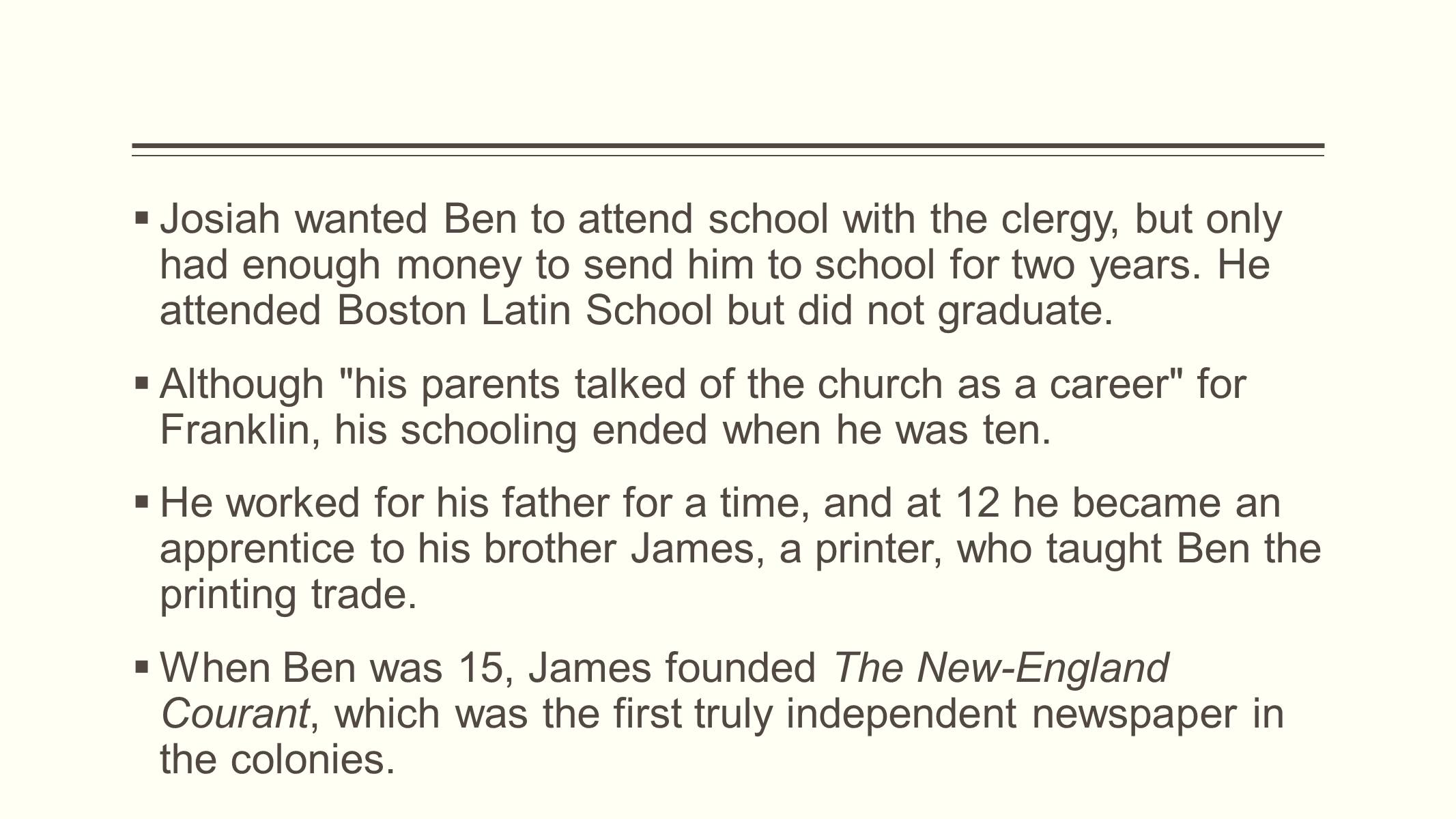 ---
Слайд #4
---
Philadelphia
At age 17, Franklin ran away to Philadelphia, Pennsylvania, seeking a new start in a new city. When he first arrived, he worked in several printer shops around town, but he was not satisfied by the immediate prospects. After a few months, while working in a printing house, Franklin was convinced by Pennsylvania Governor Sir William Keith to go to London, ostensibly to acquire the equipment necessary for establishing another newspaper in Philadelphia. Finding Keith's promises of backing a newspaper empty, Franklin worked as a typesetter in a printer's shop in what is now the Church of St Bartholomew-the-Great in the Smithfield area of London. Following this, he returned to Philadelphia in 1726 with the help of Thomas Denham, a merchant who employed Franklin as clerk, shopkeeper, and bookkeeper in his business.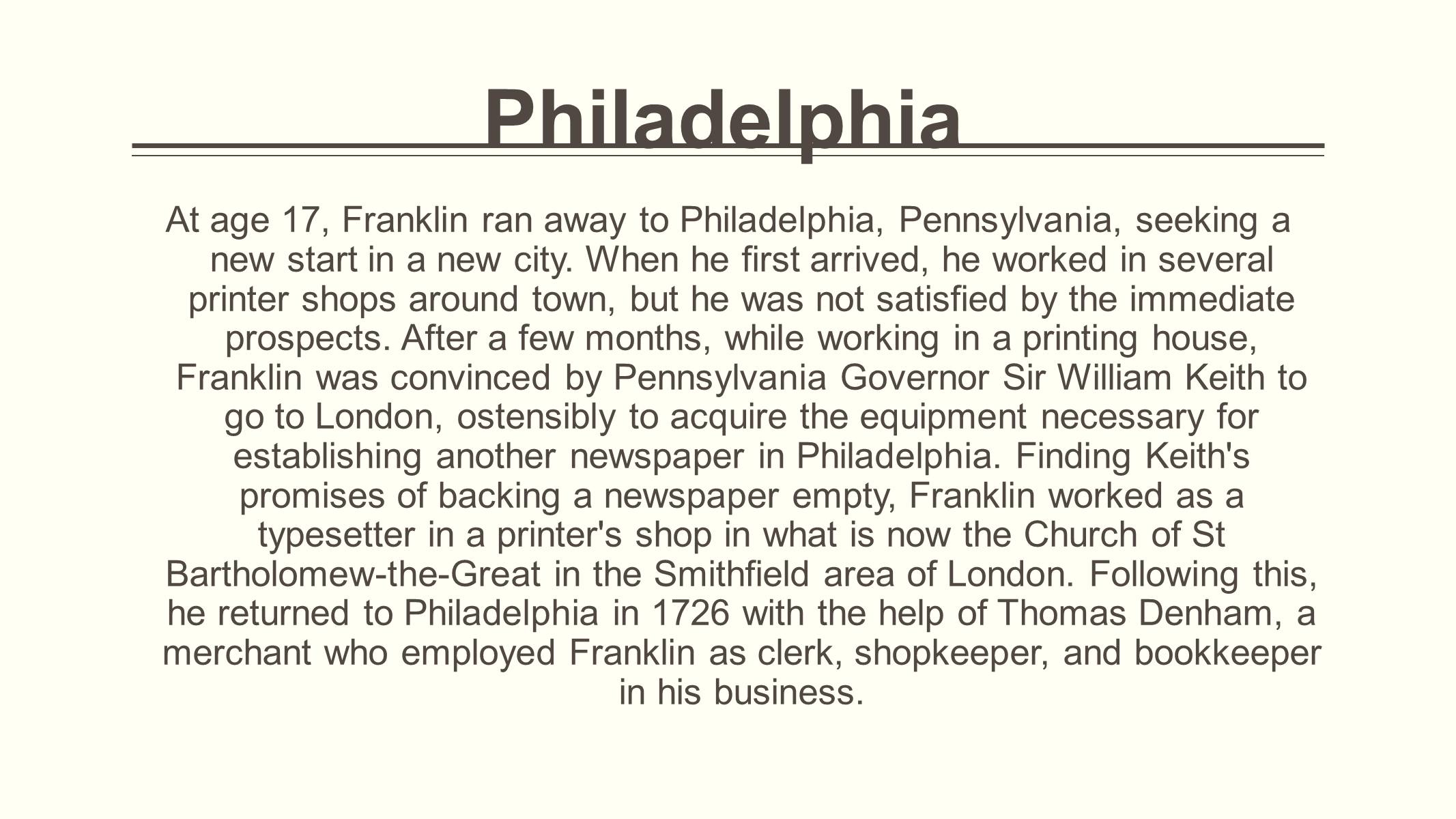 ---
Слайд #5
---
Common-law marriage to Deborah Read
In 1723, at the age of 17, Franklin proposed to 15-year-old Deborah Read while a boarder in the Read home. At that time, Read's mother was wary of allowing her young daughter to marry Franklin, who was on his way to London at Governor Sir William Keith's request, and also because of his financial instability. Her own husband had recently died, and Mrs. Read declined Franklin's request to marry her daughter.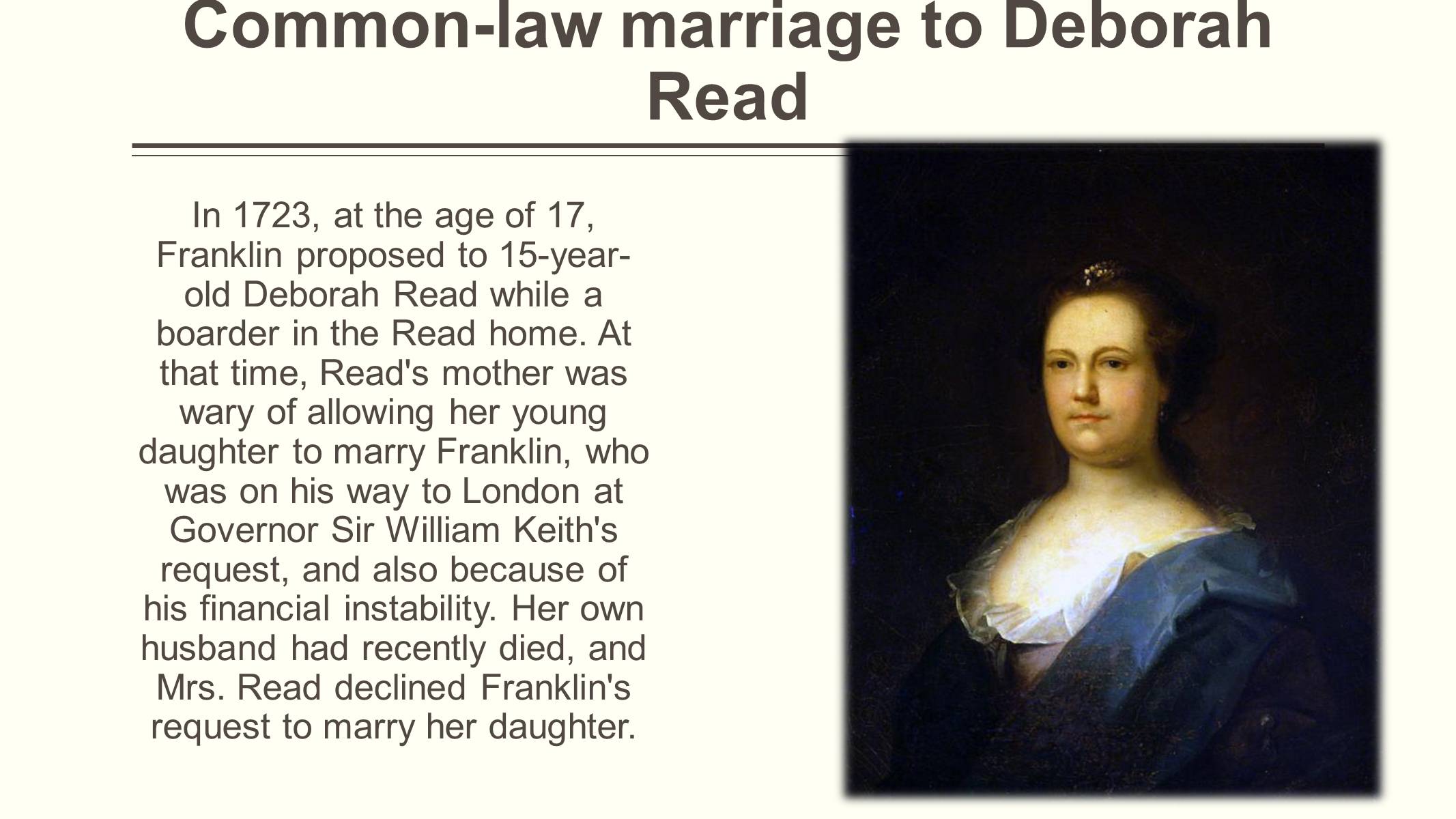 ---
Слайд #6
---
While Franklin was in London, his trip was extended, and there were problems with Sir William's promises of support. Perhaps because of the circumstances of this delay, Deborah married a man named John Rodgers. Rodgers shortly avoided his debts and prosecution by fleeing to Barbados with her dowry, leaving Deborah behind.
Franklin established a common-law marriage with Deborah Read on September 1, 1730. They took in Franklin's young, recently acknowledged illegitimate son, William, and raised him in their household. In addition, they had two children together. The first, Francis Folger Franklin, born October 1732, died of smallpox in 1736. Their second child, Sarah Franklin, familiarly called Sally, was born in 1743. She eventually married Richard Bache, had seven children, and cared for her father in his old age.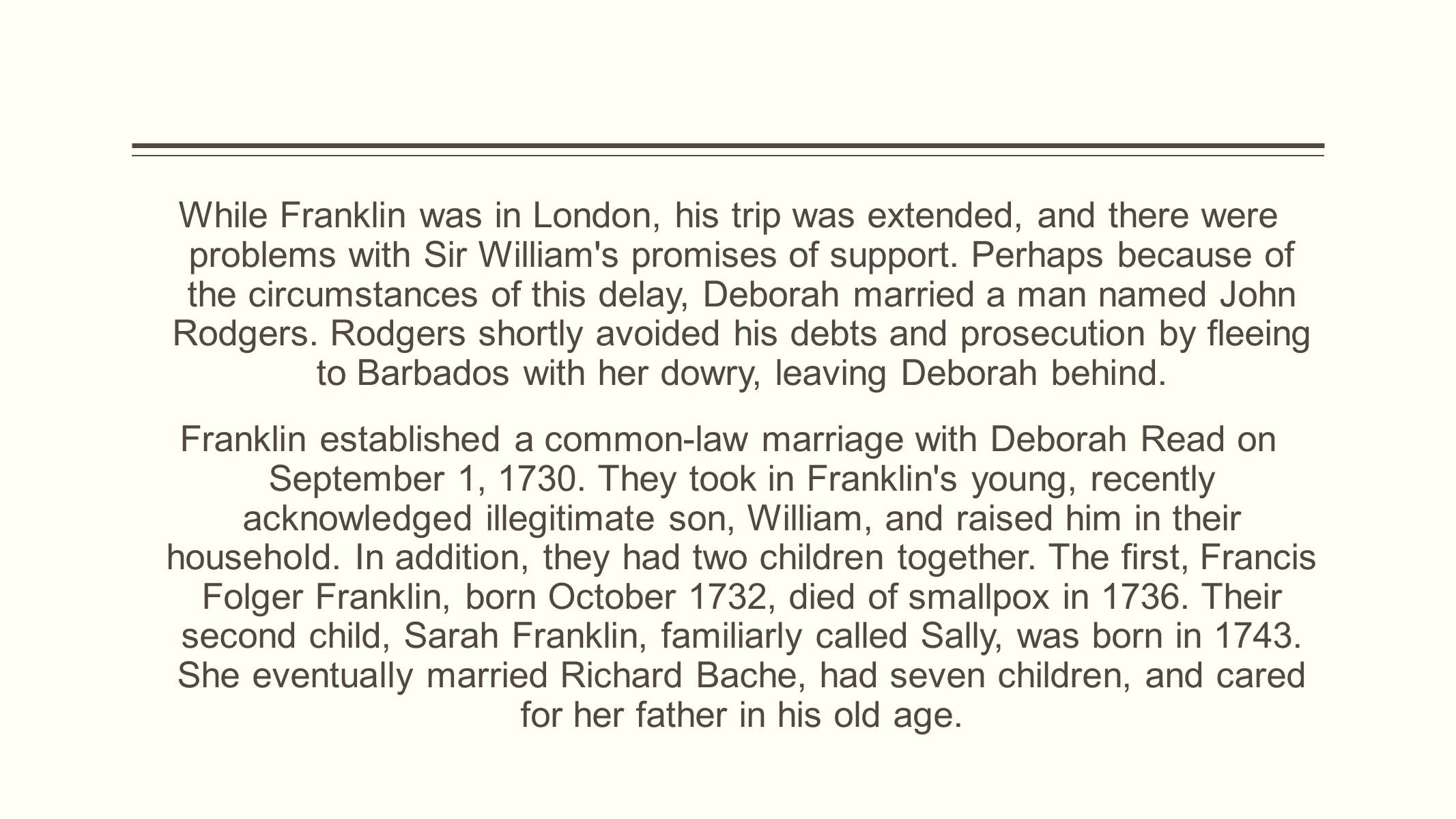 ---
Слайд #7
---
Junto and library
In 1727, Benjamin Franklin, then 21, created the Junto, a group of "like minded aspiring artisans and tradesmen who hoped to improve themselves while they improved their community." The Junto was a discussion group for issues of the day; it subsequently gave rise to many organizations in Philadelphia. Reading was a great pastime of the Junto, but books were rare and expensive. The members created a library, initially assembled from their own books. This did not suffice, however. Franklin conceived the idea of a subscription library, which would pool the funds of the members to buy books for all to read. This was the birth of the Library Company of Philadelphia: its charter was composed by Franklin in 1731. In 1732, Franklin hired the first American librarian, Louis Timothee.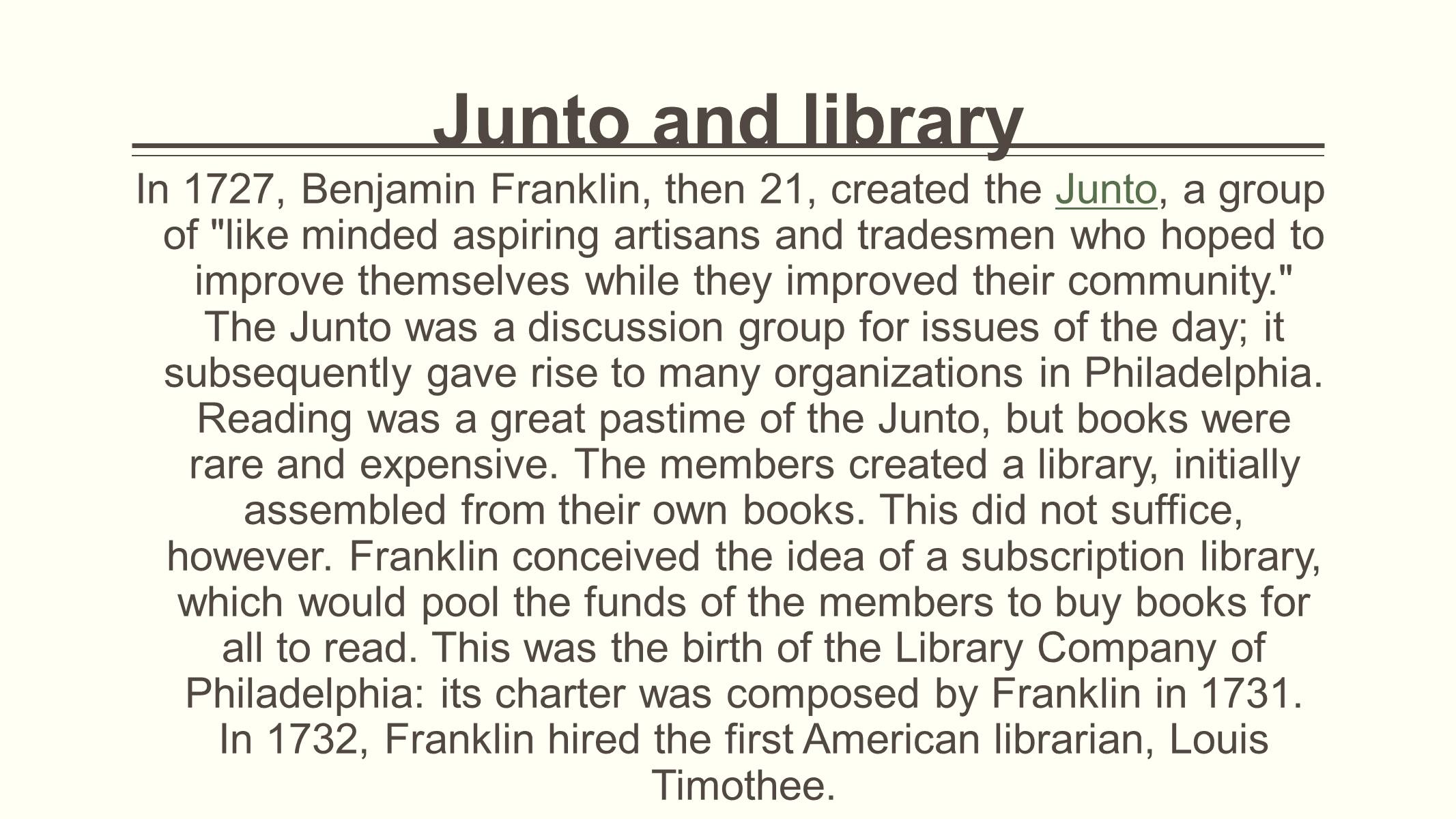 ---
Слайд #8
---
Some facts:
In 1728, Franklin had set up a printing house in partnership with Hugh Meredith.
The following year he became the publisher of a newspaper called The Pennsylvania Gazette. The Gazette gave Franklin a forum for agitation about a variety of local reforms and initiatives through printed essays and observations.
In 1732, Ben Franklin published the first German language newspaper in America – the Philadelphische Zeitung – although it failed after only one year, because four other newly founded German papers quickly dominated the newspaper market.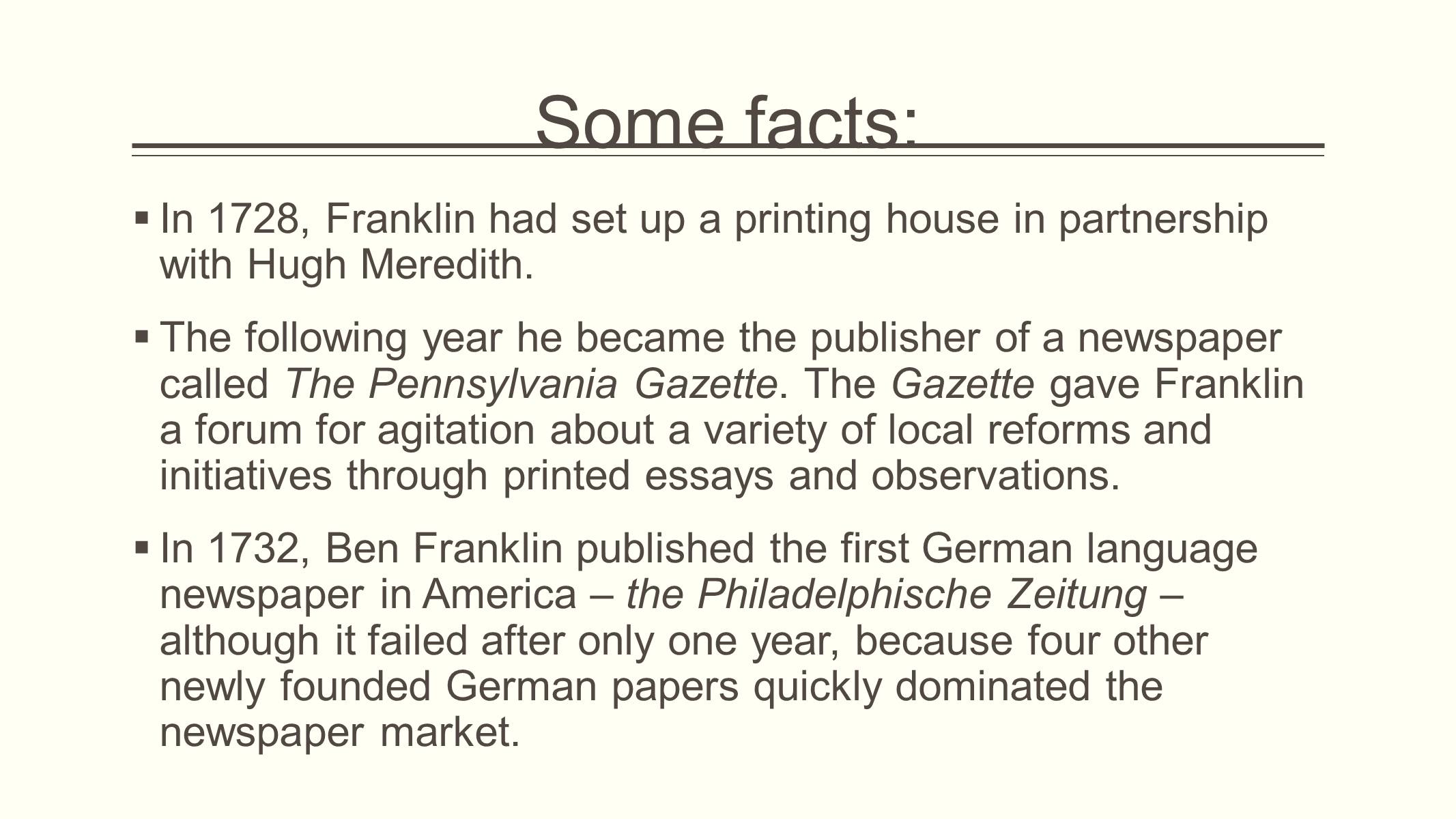 ---
Слайд #9
---
In 1731, Franklin was initiated into the local Masonic Lodge. He became Grand Master in 1734, indicating his rapid rise to prominence in Pennsylvania.
That same year, he edited and published the first Masonic book in the Americas, a reprint of James Anderson's Constitutions of the Free-Masons. Franklin remained a Freemason for the rest of his life.
In 1733, Franklin began to publish the noted Poor Richard's Almanack (with content both original and borrowed) under the pseudonym Richard Saunders, on which much of his popular reputation is based.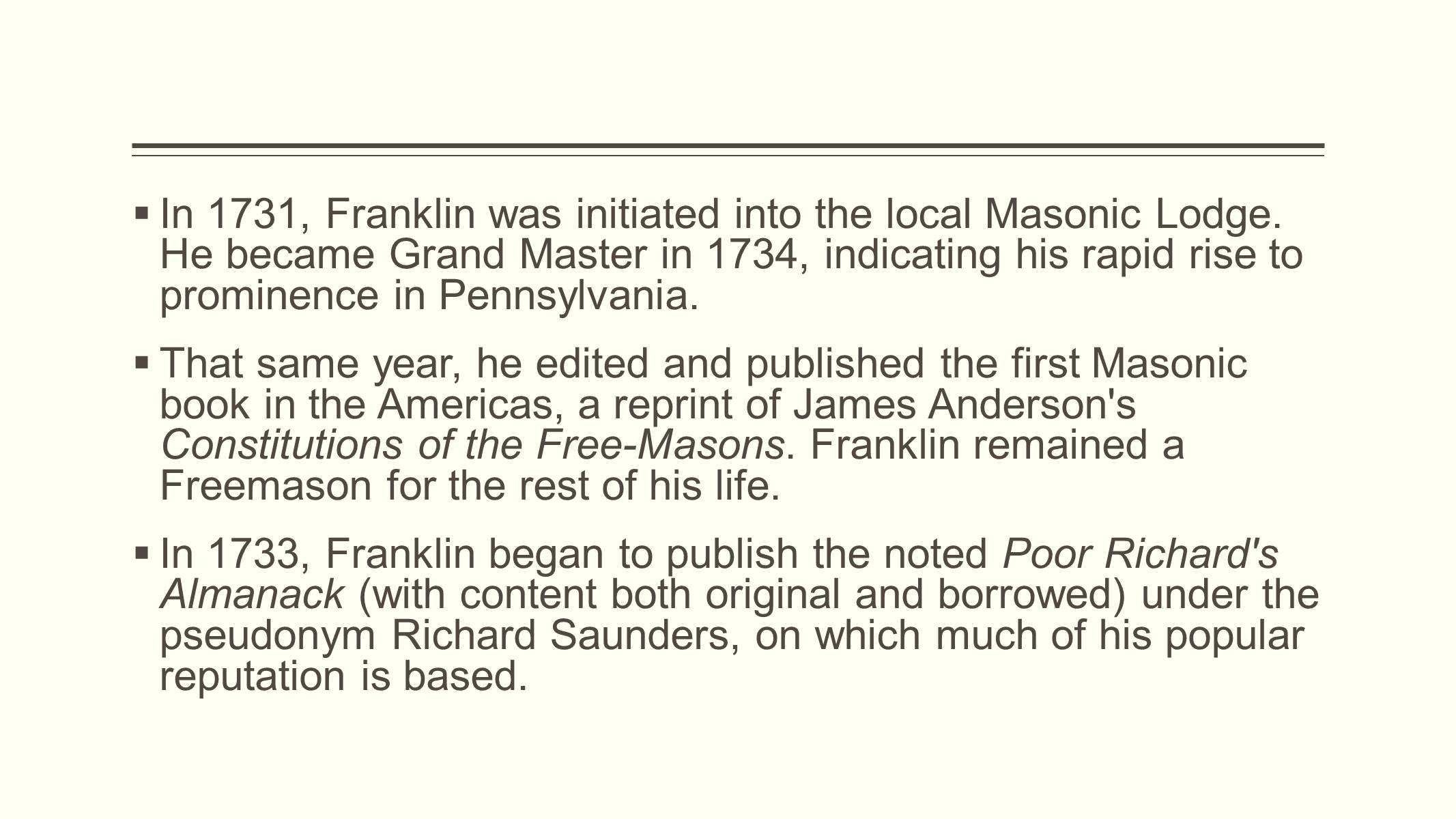 ---
Слайд #10
---
In 1741 Franklin began publishing The General Magazine and Historical Chronicle for all the British Plantations in America, the first such monthly magazine of this type published in America.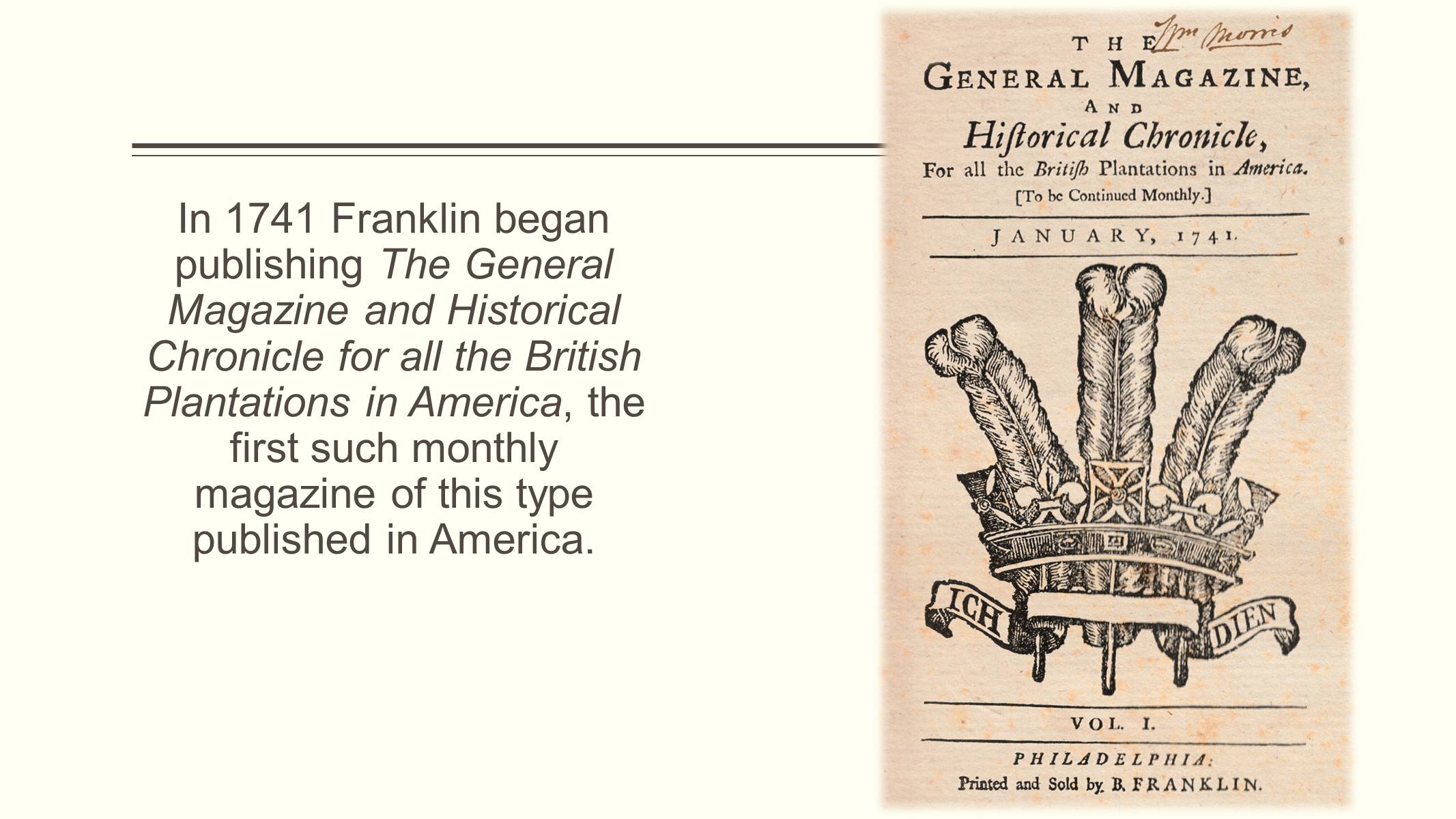 ---
Слайд #11
---
Inventions
Franklin was a prodigious inventor. Among his many creations were the lightning rod, glass armonica (a glass instrument, not to be confused with the metal harmonica), Franklin stove, bifocal glasses and the flexible urinary catheter. Franklin never patented his inventions.
In his autobiography he wrote, "... as we enjoy great advantages from the inventions of others, we should be glad of an opportunity to serve others by any invention of ours; and this we should do freely and generously."
His inventions also included social innovations, such as paying forward. Franklin's fascination with innovation could be viewed as altruistic; he wrote that his scientific works were to be used for increasing efficiency and human improvement. One such improvement was his effort to expedite news services through his printing presses.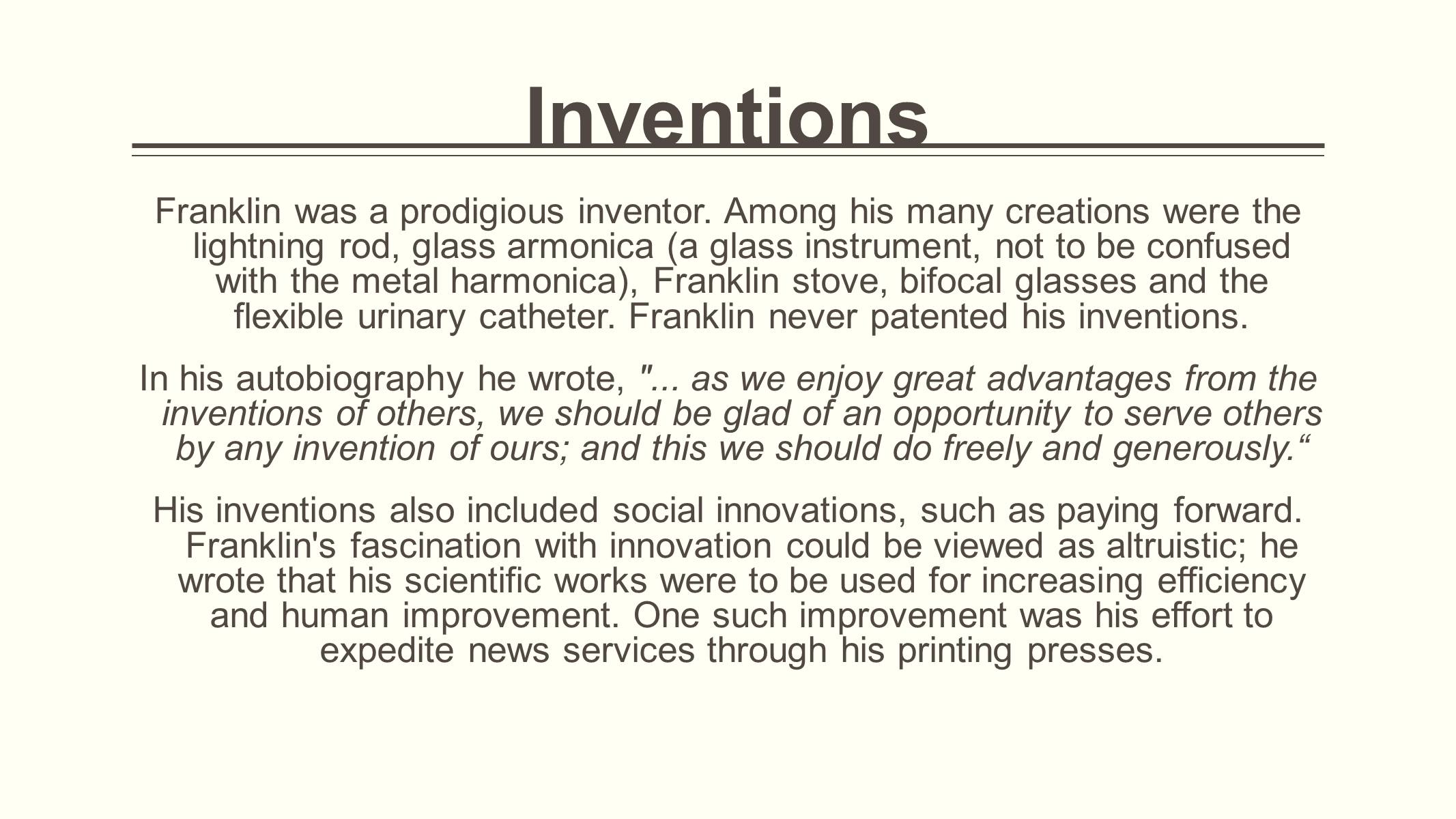 ---
Слайд #12
---
Musical endeavor
Franklin is known to have played the violin, the harp, and the guitar. He also composed music, notably a string quartet in early classical style. He developed a much-improved version of the glass harmonica, in which the glasses rotate on a shaft, with the player's fingers held steady, instead of the other way around; this version soon found its way to Europe.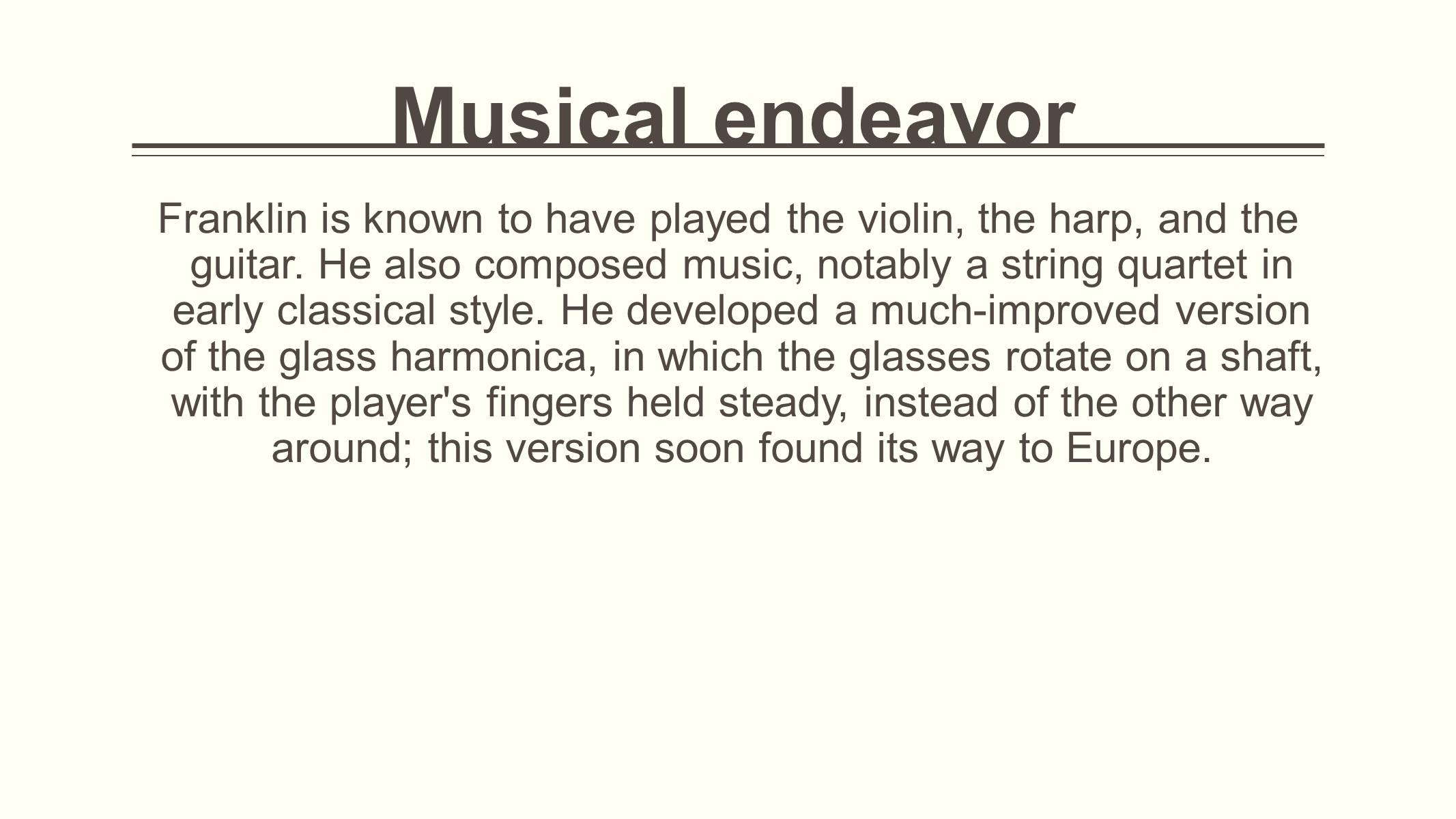 ---
Слайд #13
---
Public life
In 1736, Franklin created the Union Fire Company, one of the first volunteer firefighting companies in America.
In the same year, he printed a new currency for New Jersey based on innovative anti-counterfeiting techniques he had devised.
In 1743, Franklin founded the American Philosophical Society to help scientific men discuss their discoveries and theories.
In 1747, he retired from printing and went into other businesses. He created a partnership with his foreman, David Hall, which provided Franklin with half of the shop's profits for 18 years.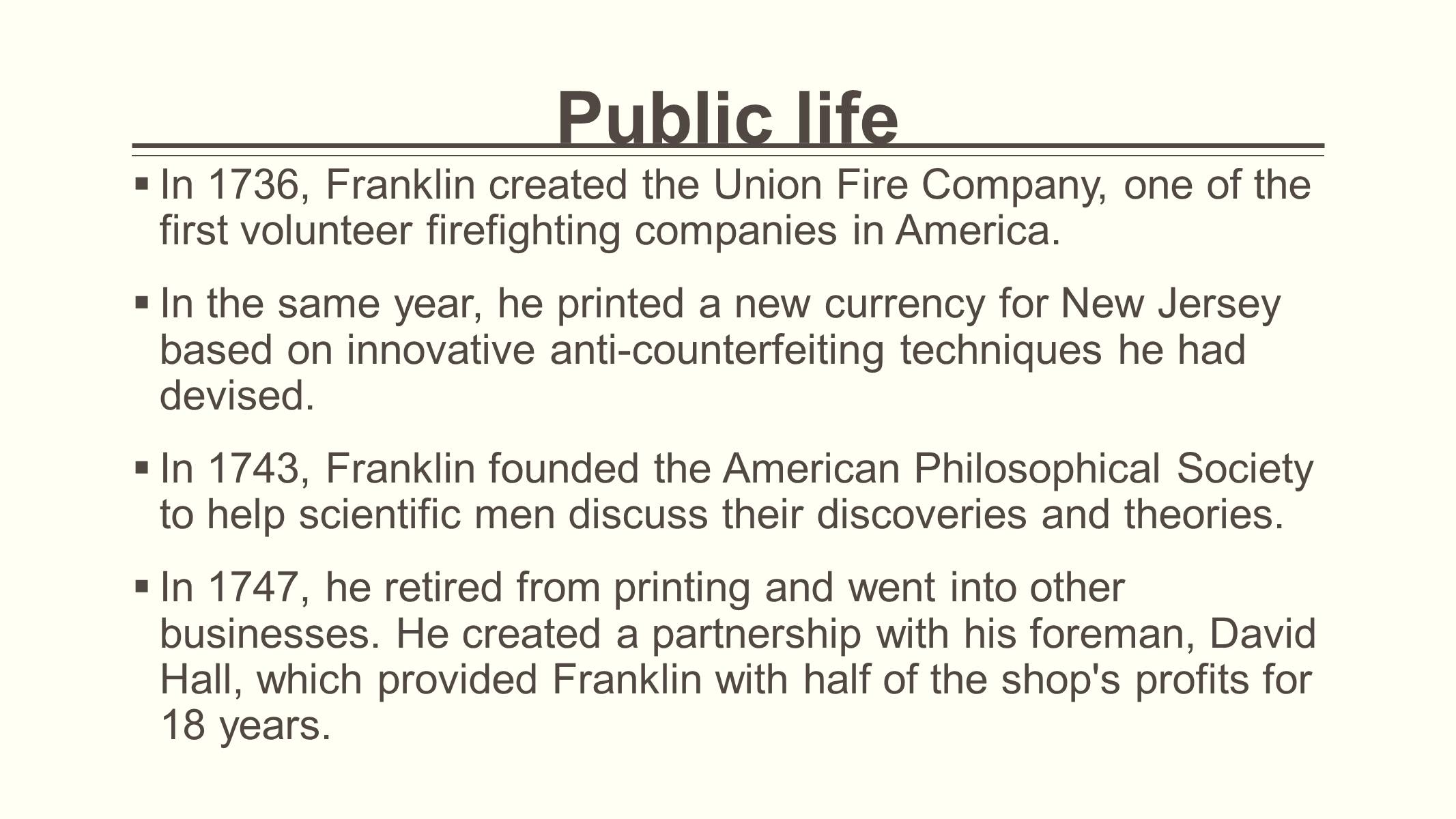 ---
Слайд #14
---
In 1751, Franklin and Dr. Thomas Bond obtained a charter from the Pennsylvania legislature to establish a hospital. Pennsylvania Hospital was the first hospital in what was to become the United States of America.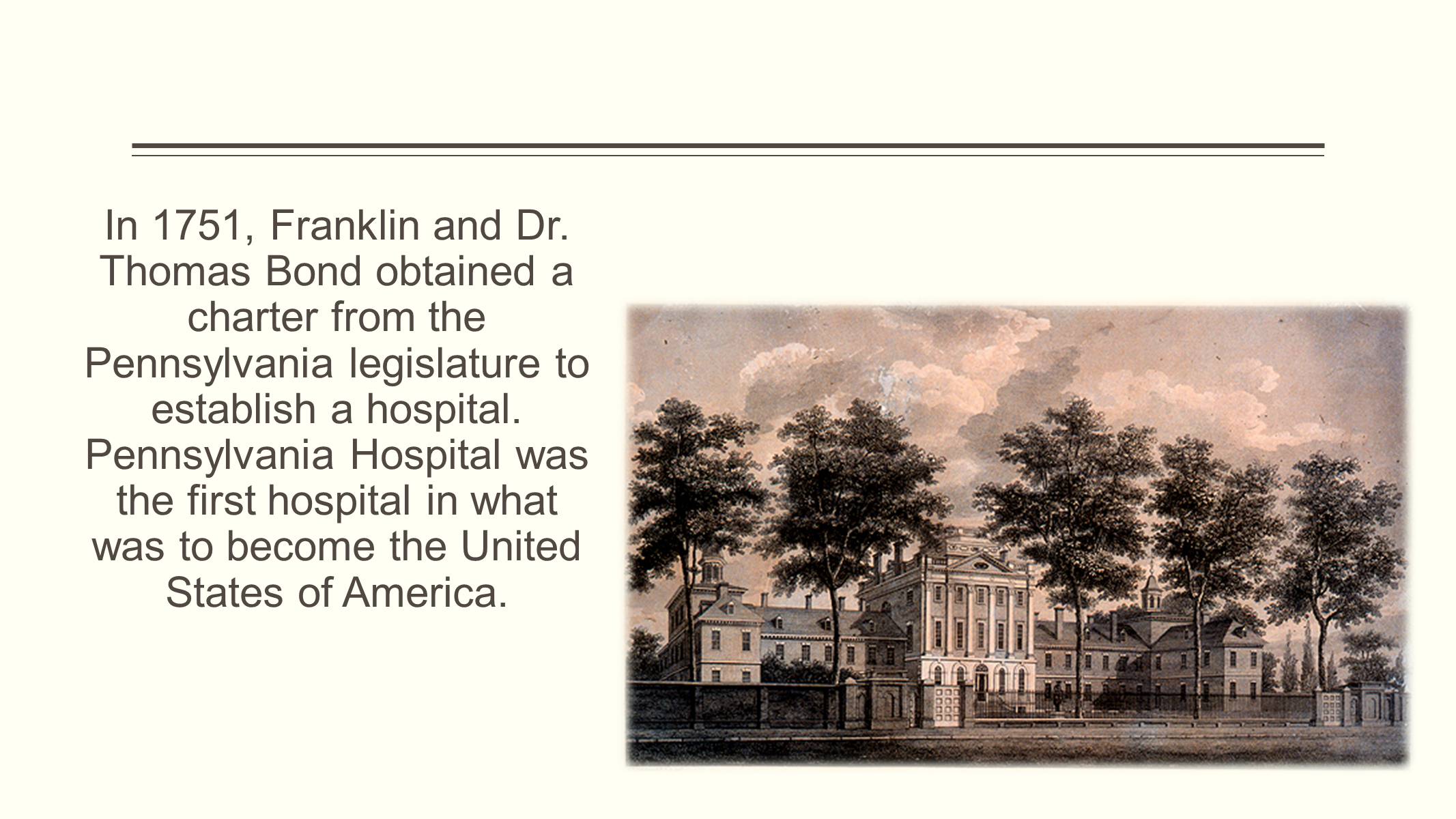 ---
Слайд #15
---
Declaration of Independence
By the time Franklin arrived in Philadelphia on May 5, 1775, after his second mission to Great Britain, the American Revolution had begun – with fighting between colonials and British at Lexington and Concord. The New England militia had trapped the main British army in Boston.
The Pennsylvania Assembly unanimously chose Franklin as their delegate to the Second Continental Congress. In June 1776, he was appointed a member of the Committee of Five that drafted the Declaration of Independence. Although he was temporarily disabled by gout and unable to attend most meetings of the Committee, Franklin made several "small but important" changes to the draft sent to him by Thomas Jefferson.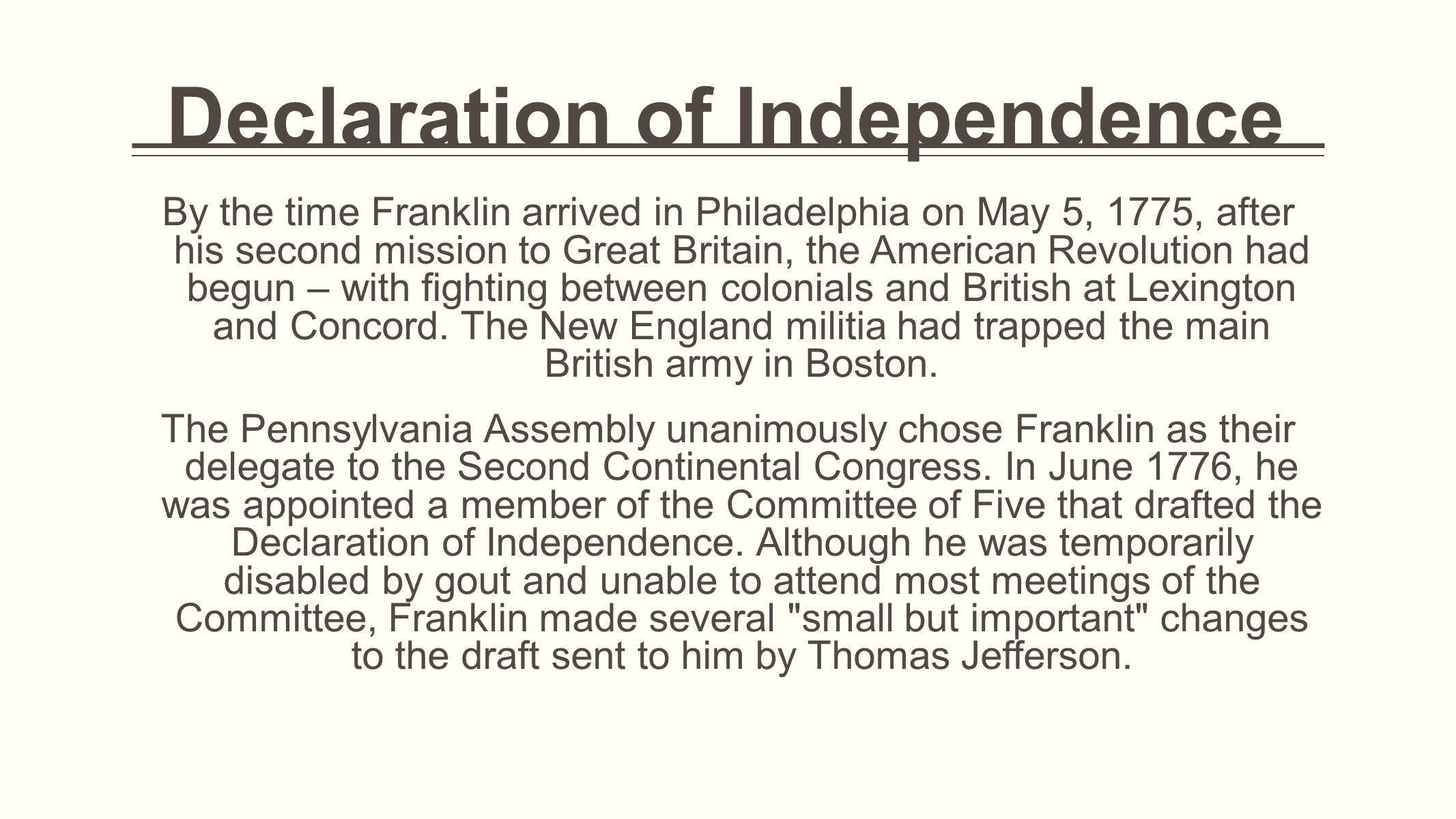 ---
Слайд #16
---
At the signing, he is quoted as having replied to a comment by Hancock that they must all hang together: "Yes, we must, indeed, all hang together, or most assuredly we shall all hang separately."
John Trumbull depicts the Committee of Five presenting their work to the Congress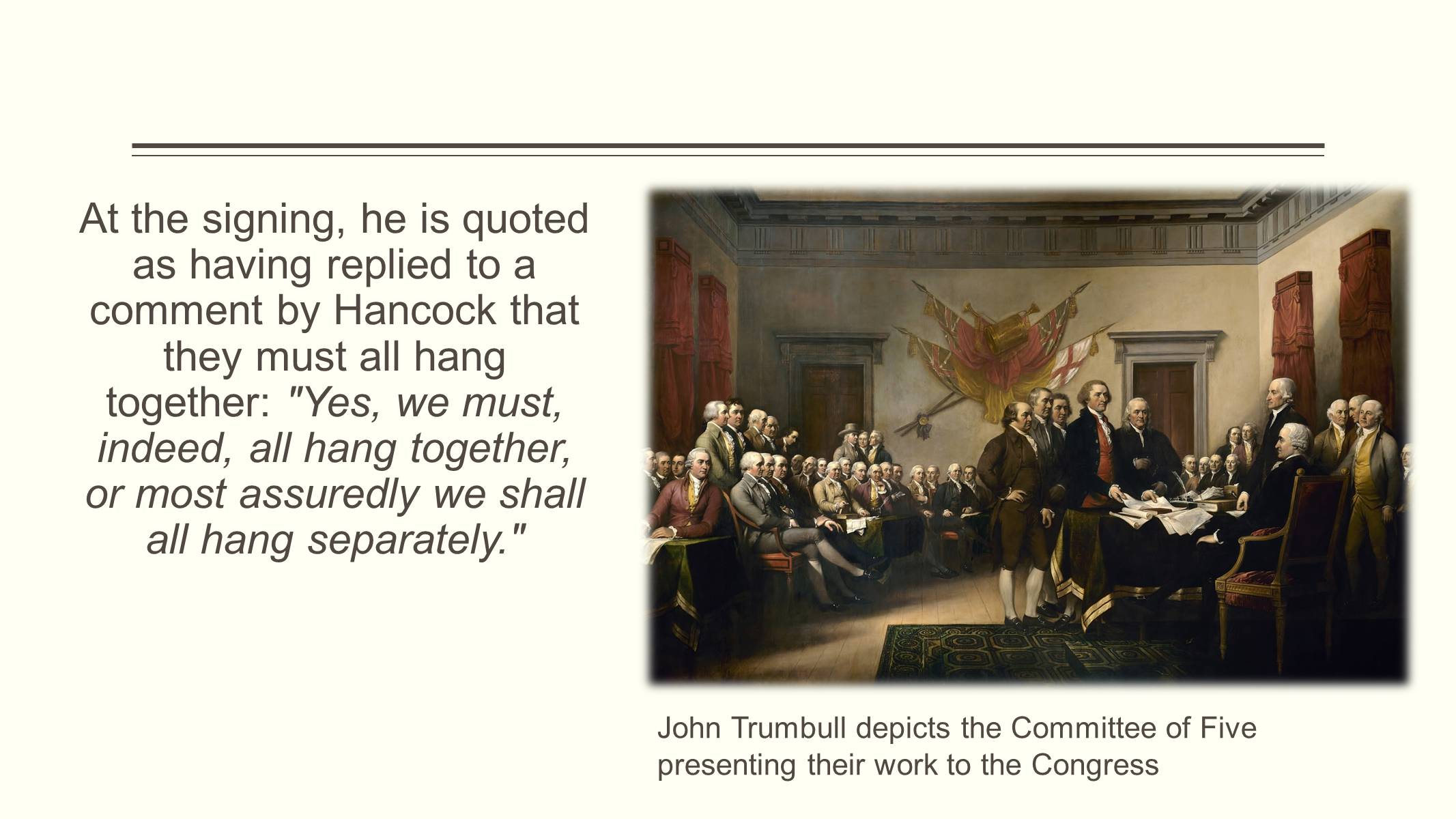 ---
Слайд #17
---
Ambassador to France
In December 1776, Franklin was dispatched to France as commissioner for the United States. He took with him as secretary his 16-year-old grandson, William Temple Franklin. Franklin remained in France until 1785. He conducted the affairs of his country toward the French nation with great success, which included securing a critical military alliance in 1778 and negotiating the Treaty of Paris (1783).
Franklin, in his fur hat, charmed the French with what they perceived as rustic New World genius.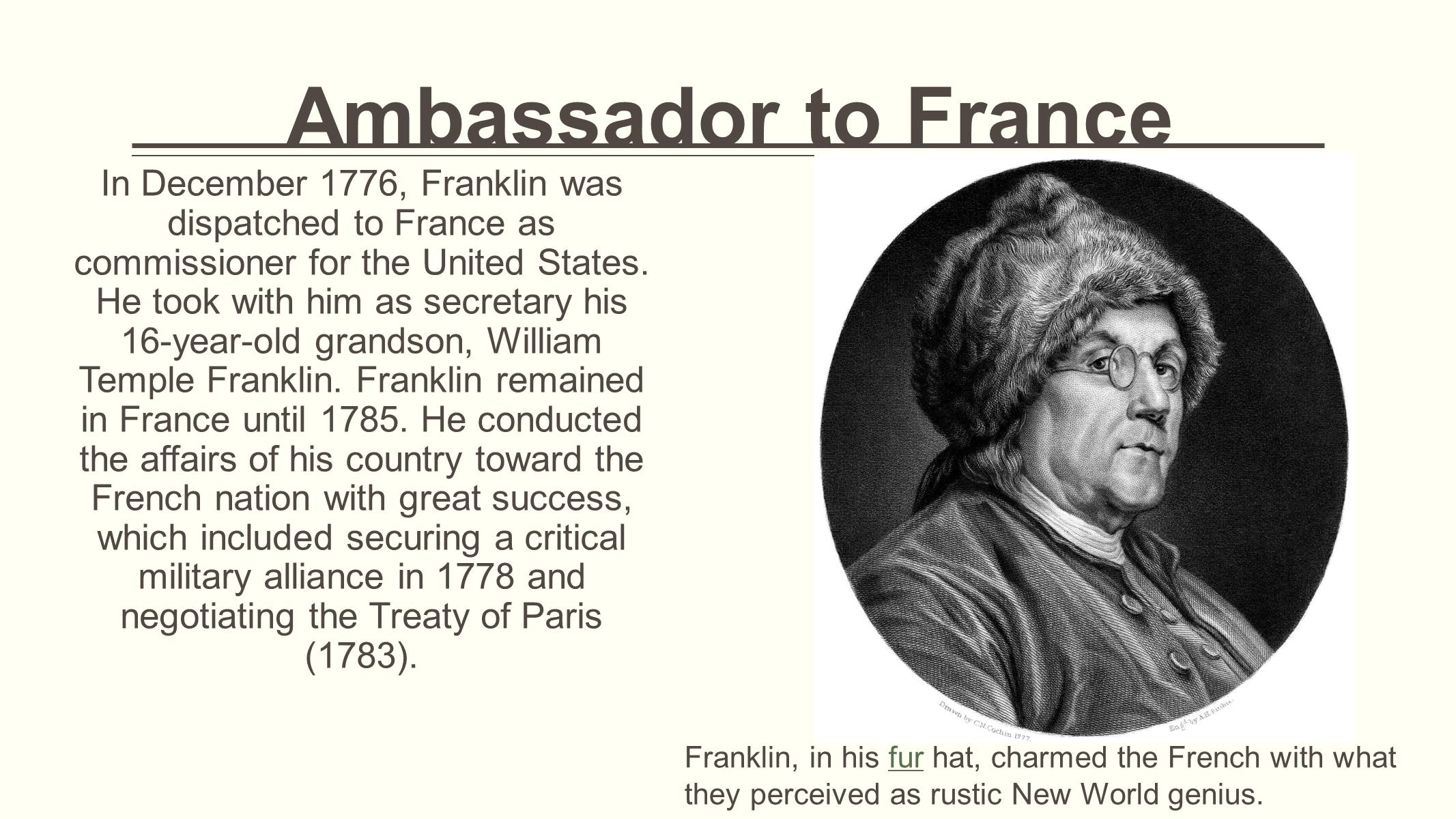 ---
Слайд #18
---
During his stay in France, Benjamin Franklin was active as a freemason, serving as Grand Master of the Lodge Les Neuf Sœurs from 1779 until 1781. His lodge number was 24. He was a Past Grand Master of Pennsylvania.
Franklin also served as American minister to Sweden, although he never visited that country. He negotiated a treaty that was signed in April 1783. On August 27, 1783, in Paris, Franklin witnessed the world's first hydrogen balloon flight. Le Globe, created by professor Jacques Charles and Les Frères Robert, was watched by a vast crowd as it rose from the Champ de Mars (now the site of the Eiffel Tower). This so enthused Franklin that he subscribed financially to the next project to build a manned hydrogen balloon. On December 1, 1783, Franklin was seated in the special enclosure for honoured guests when La Charlière took off from the Jardin des Tuileries, piloted by Jacques Charles and Nicolas-Louis Robert.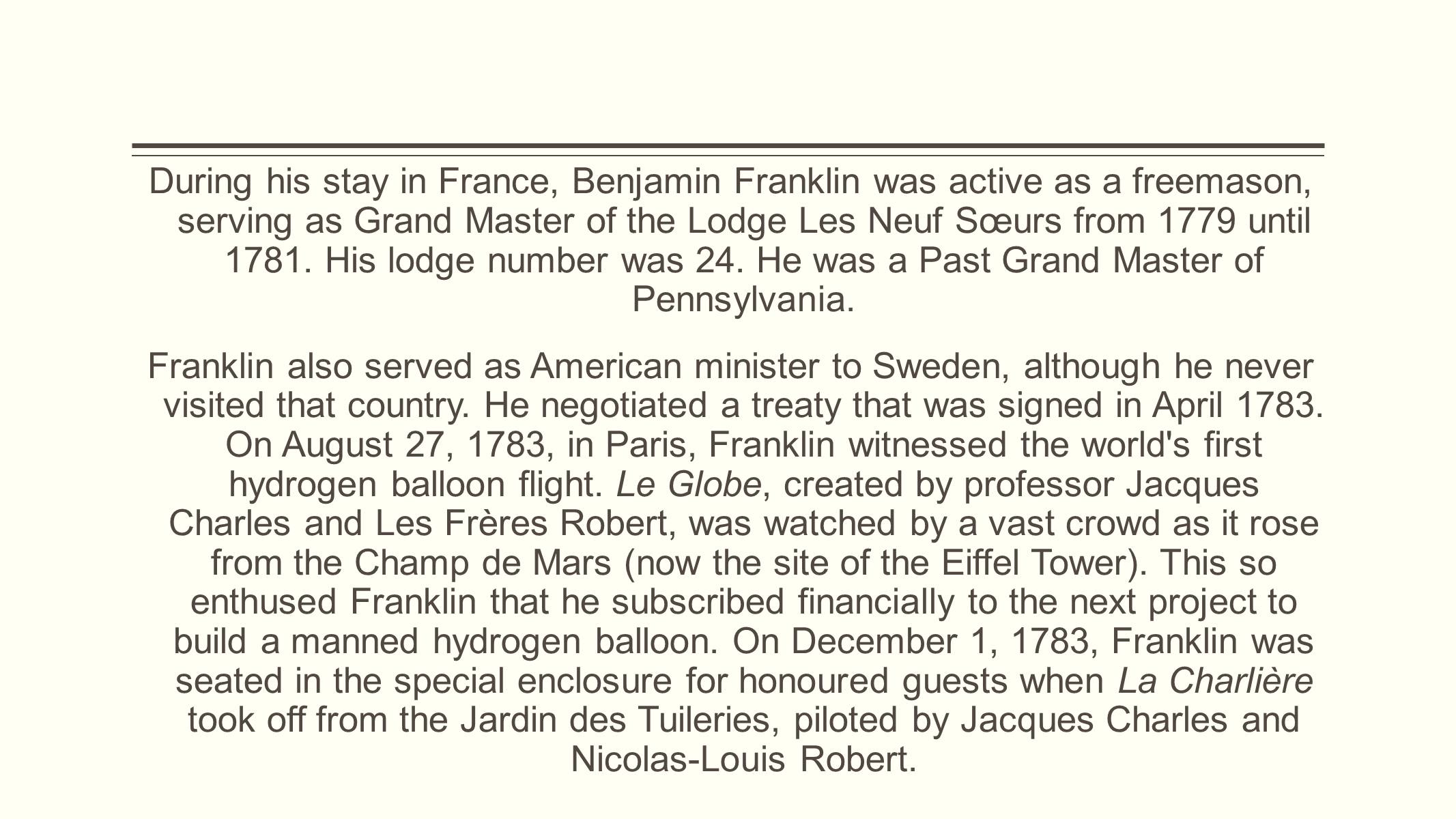 ---
Слайд #19
---
Death and legacy
Franklin struggled with obesity throughout his middle-aged and later years, which resulted in multiple health problems, particularly gout, which worsened as he aged. In poor health during the signing of the US Constitution in 1787, he was rarely seen in public from then until his death.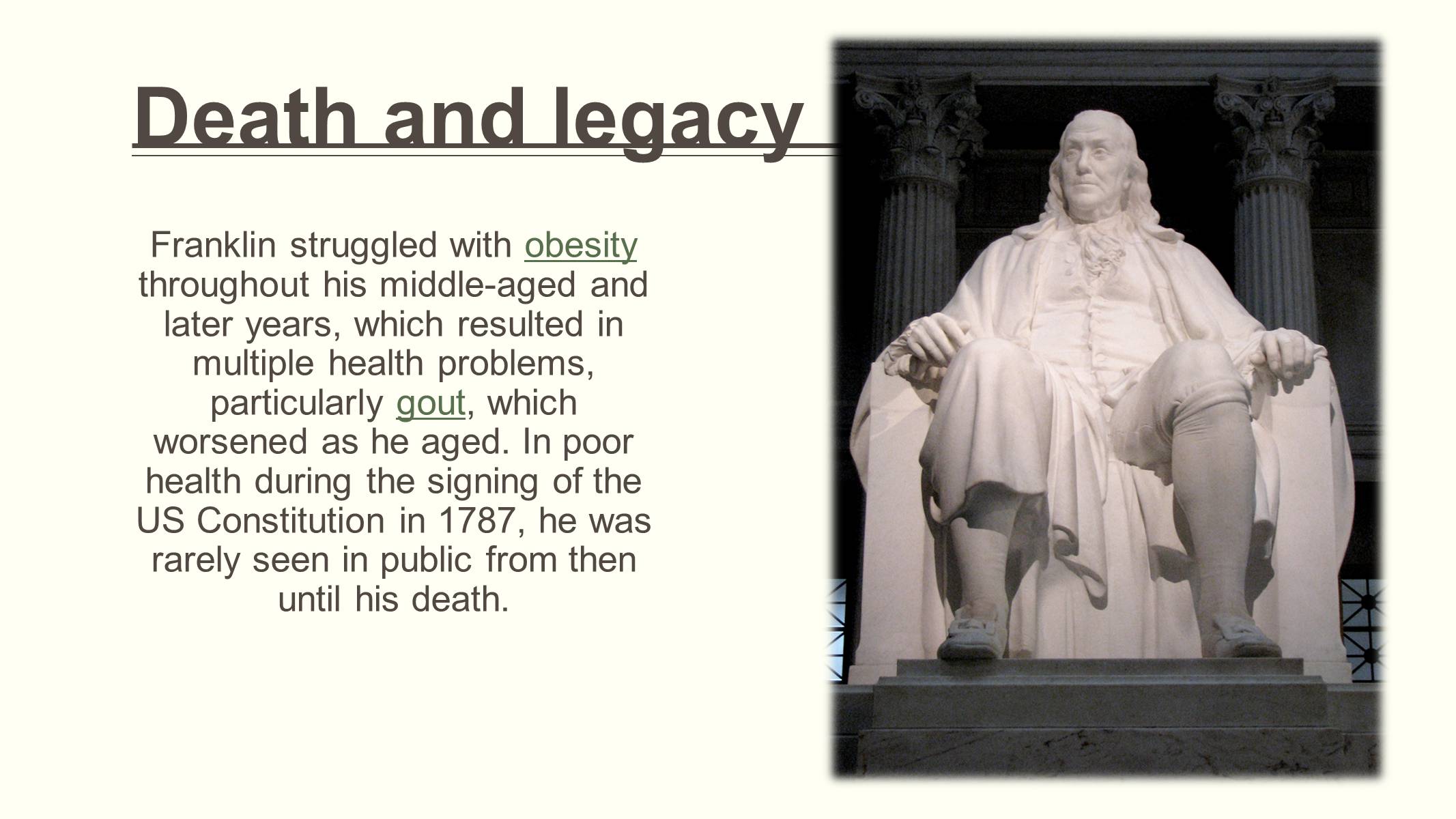 ---
Слайд #20
---
Benjamin Franklin died from pleuritic attack at his home in Philadelphia on April 17, 1790, at age 84. Approximately 20,000 people attended his funeral. He was interred in Christ Church Burial Ground in Philadelphia.
The grave of Benjamin Franklin, Philadelphia, Pennsylvania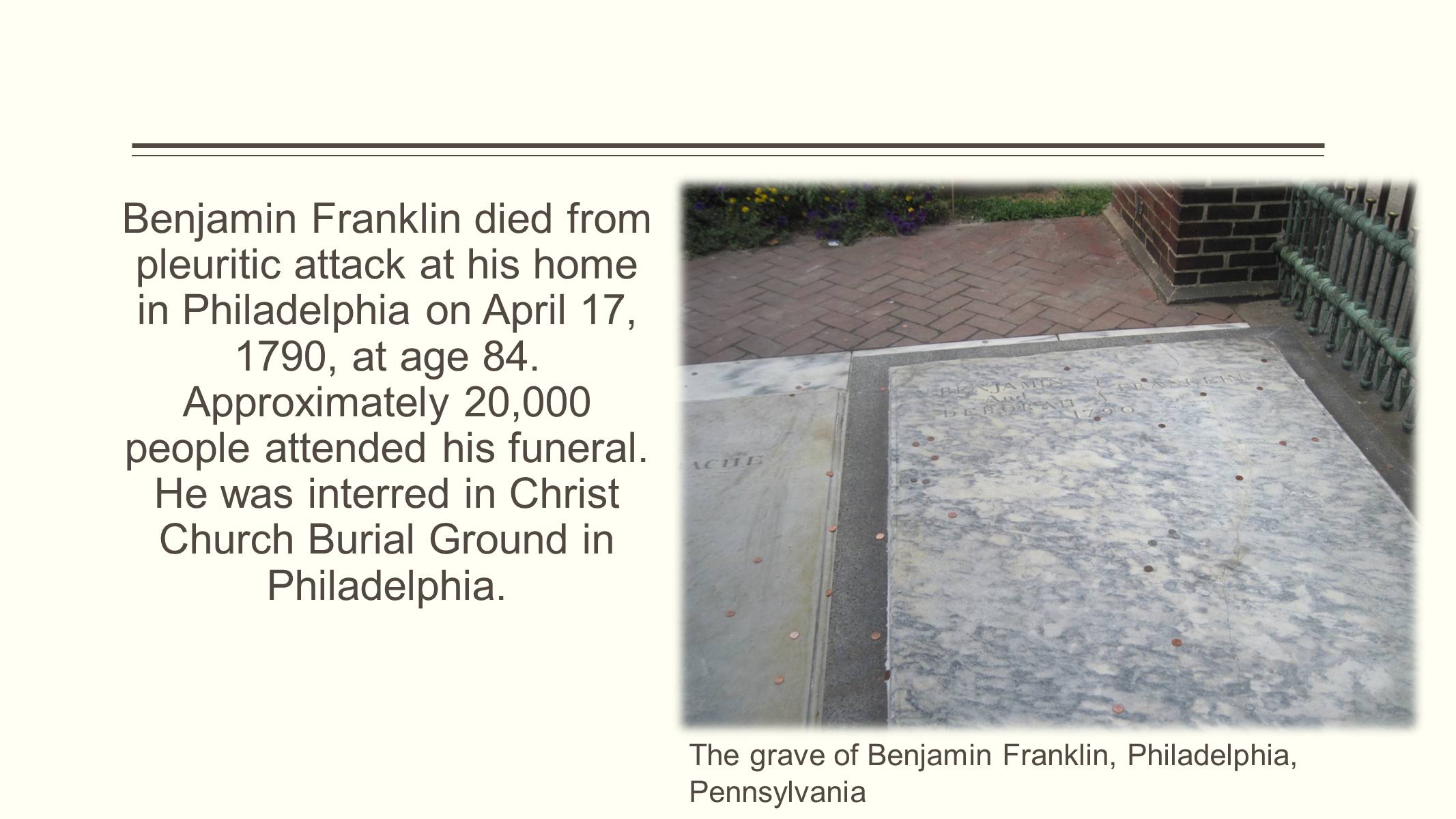 ---
Слайд #21
---
In 1728, aged 22, Franklin wrote what he hoped would be his own epitaph:
. The Body of B. Franklin Printer; Like the Cover of an old Book, Its Contents torn out, And stript of its Lettering and Gilding, Lies here, Food for Worms. But the Work shall not be wholly lost: For it will, as he believ'd, appear once more, In a new & more perfect Edition, Corrected and Amended By the Autho
Franklin's actual grave, however, as he specified in his final will, simply reads "Benjamin and Deborah Franklin".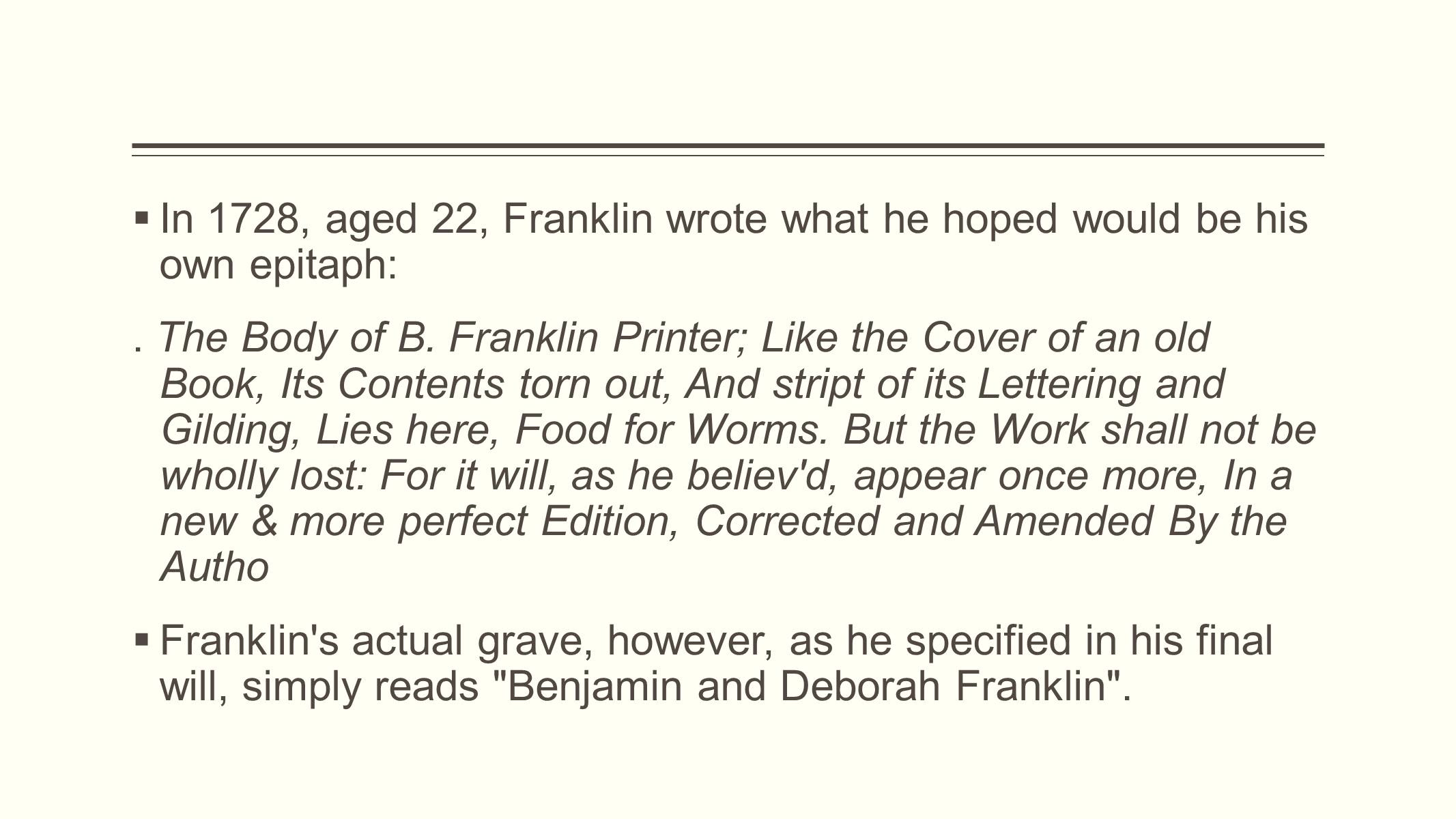 ---
---