Презентація на тему «Shops and shopping»
Презентація на тему «Shops and shopping»
---
---
---
Слайд #1
---
Shops and shopping
In Britain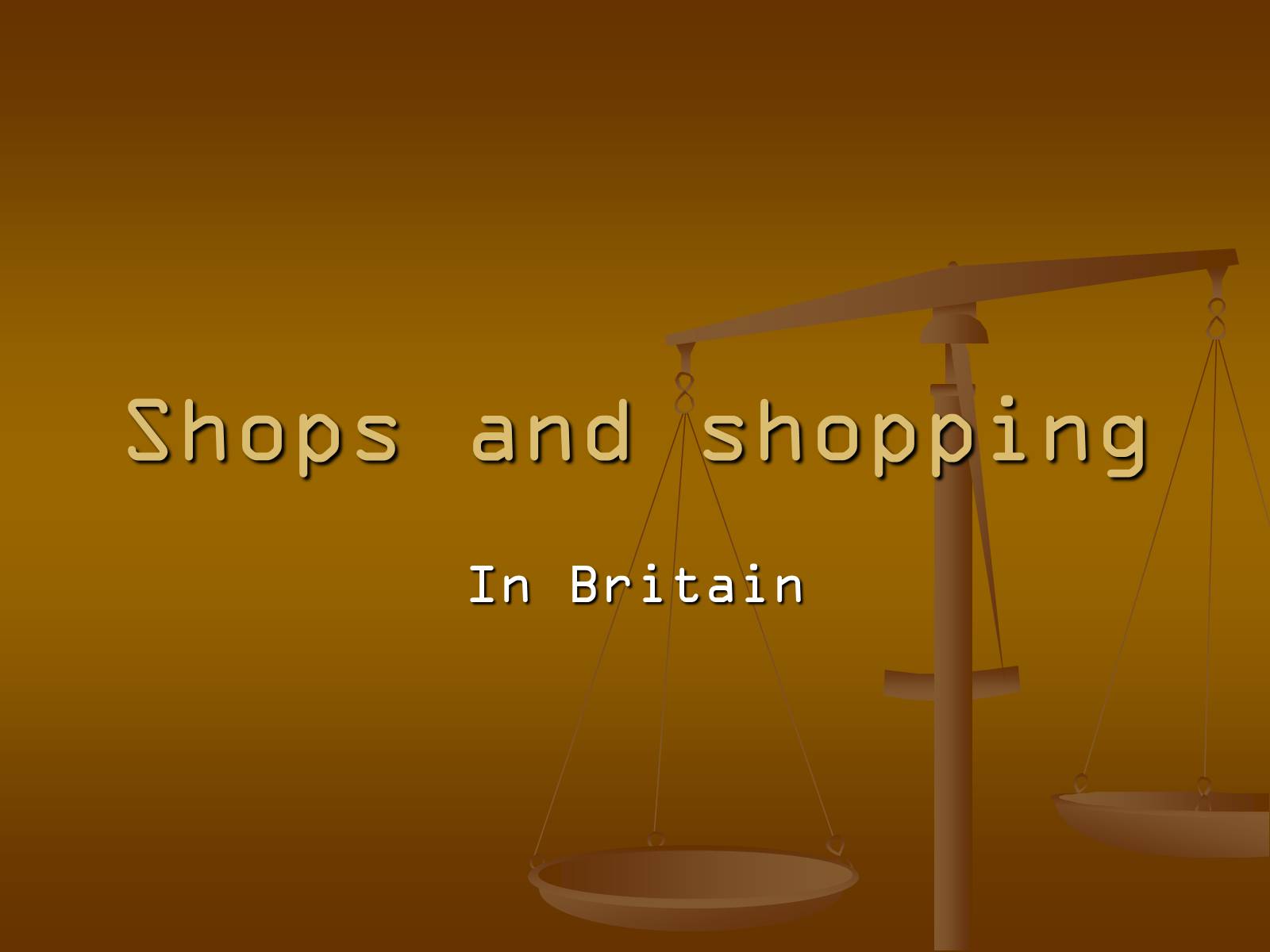 ---
Слайд #2
---
In Britain
During last century a lot of new modern shops appeared. Now their branches are situated all over the world. The Most famous of them in London in Oxford Street, Regent Street, and Knightsbridge . Besides book's ,clothes', food shops in GB there are a lot of supermarkets and department stores where you can buy everything from a button to a car and furniture.
The main shopping street in many towns is called the High Street, where you should head for if you want to go shopping. A few small shops are owned by local people. Most are owned by national 'chains' of stores. This makes many town centres look the same. Some towns also have street markets where fresh food and cheap goods can be bought. Away from the town centre, small 'corner' shops provide groceries to local customers.
Peak shopping days are Saturdays and Sundays.
Shops are generally open on Bank Holidays . Bank Holidays are a great time to shop as there are many sales on especially around Easter and Christmas.
In England, most retail shops are generally open 6 or 7 days a week.
Typical opening times are:
Mondays - Saturdays 9am to 5:30pm
Some shopping centres stay open until 8 pm or later.
Sunday - 10am to 4pm (or 11am to 5pm)
Sunday shopping has become popular in recent years and most large shops in towns are open for business. Shops are only allowed to trade for 6 hours on Sundays.
Large supermarkets are open for 24 hours except for Sundays.
Many supermarkets and superstores otherwise open from 8am until 10pm from Mondays to Saturdays and 10am to 4pm (or 11am to 5pm) on Sundays.
Bakers Oven sells an array of freshly baked goods including bread, buns, pastries and many items.
Burger King serve a range of fast food meals including hamburgers and chips with an eat in or takeaway option. Vegetarian meals are also available. This branch has a seating area.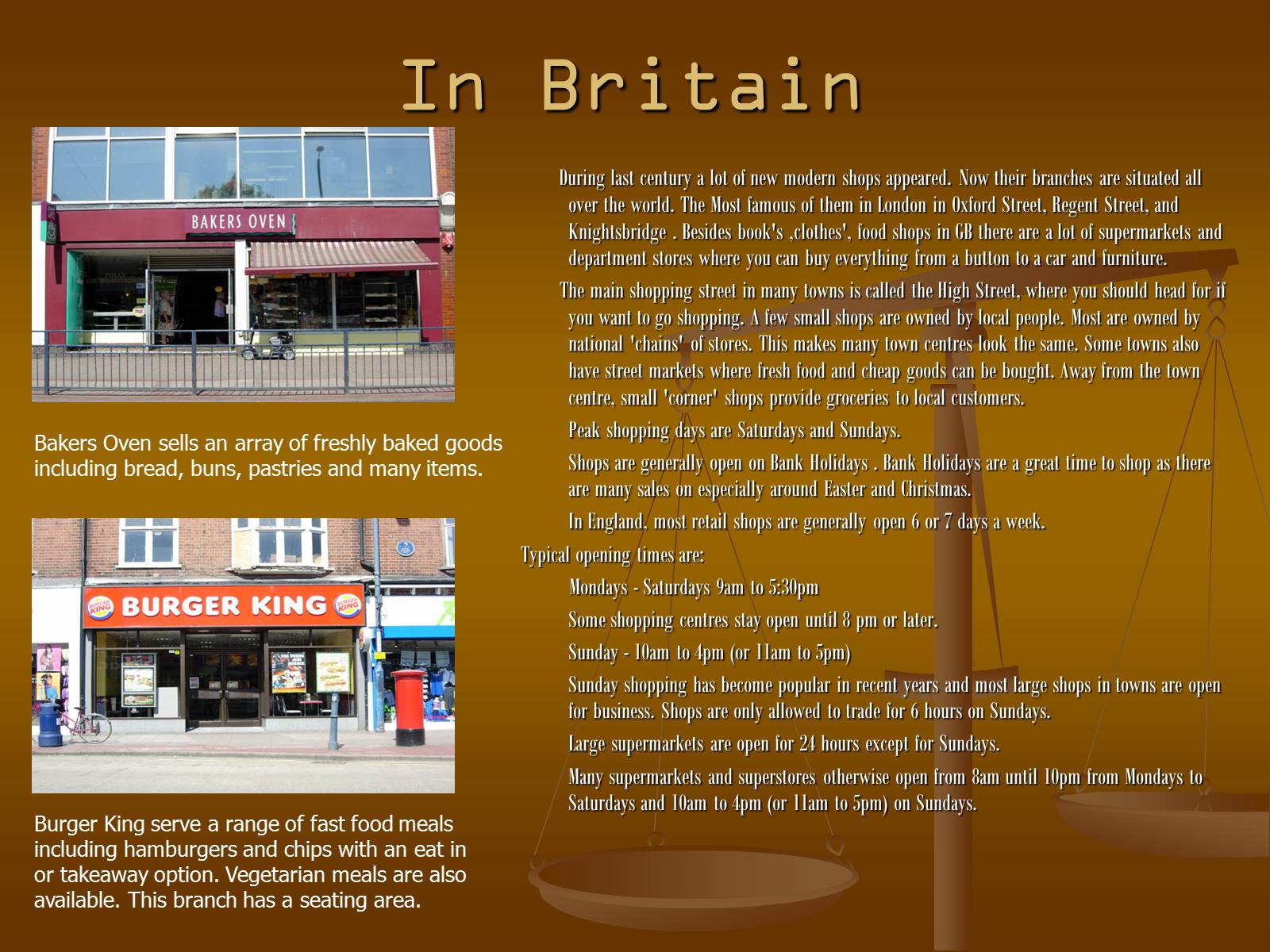 ---
Слайд #3
---
Public Holidays / Bank Holidays
On public holidays some shops open and some shops do not. As a general rule banks will be closed, most supermarkets and large stores will be open (although with reduced Sunday opening hours), and in larger towns many shops will open.
Bank Holiday Shop opening times 10am to 4pm (or 11am to 5pm)
Over the Christmas and New Year period, all shops are closed on Christmas Day (December 25) and a some shops are closed on New Year's Day (January 1). However, an increasing number of shops are now opening on Boxing Day (December 26), which is when many start their 'New Year' sales.
It is likely that most shopping centres will be closed on Easter Sunday and there will be reduced shopping hours on Easter Monday (often from either 10 or 11 o'clock in the morning).
Woolwich offer a wide range of banking services from mortgages and loans to independent financial advice.
A shop which sells all sort of things at a very cheap price.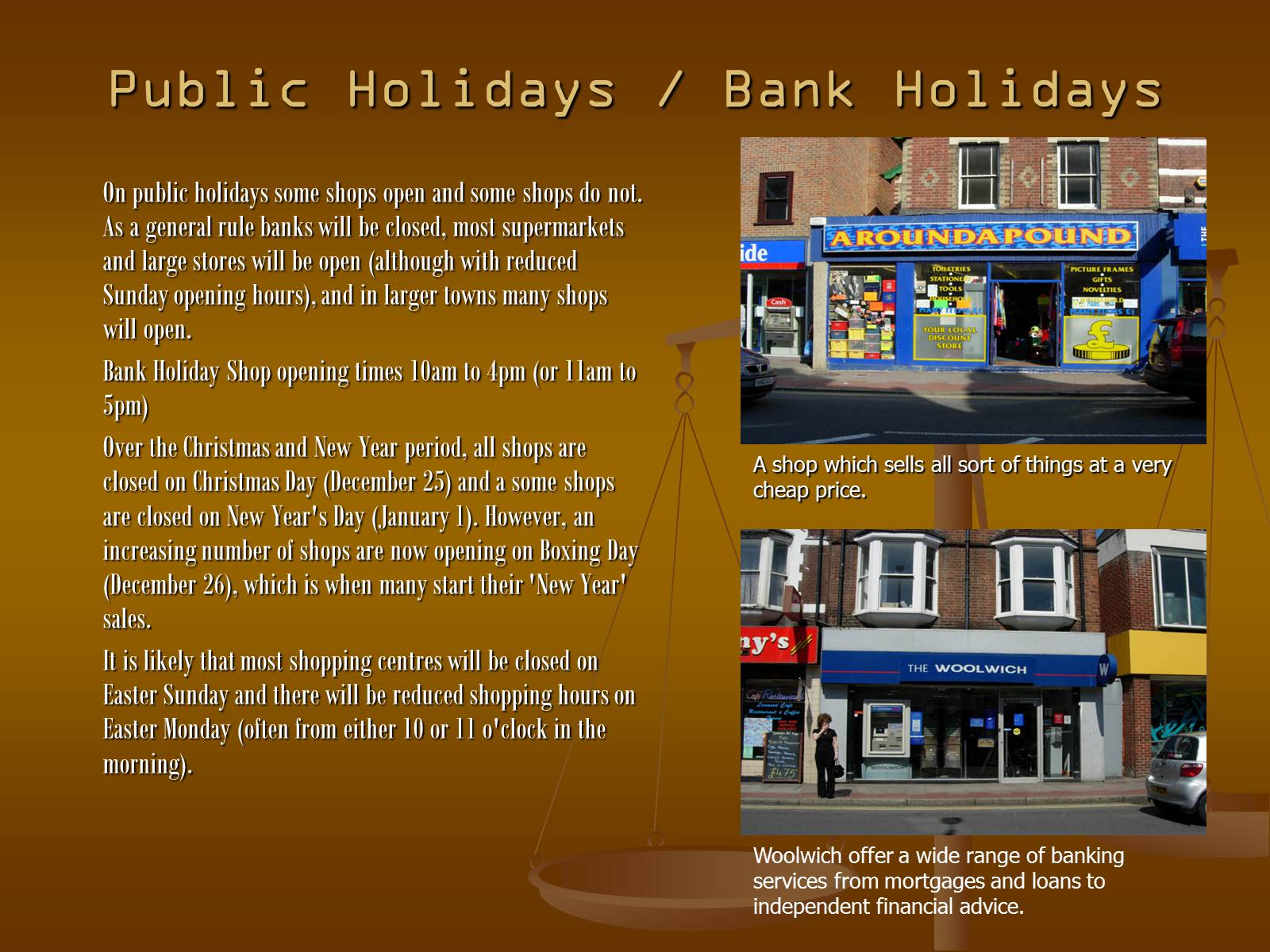 ---
Слайд #4
---
Supermarkets
Supermarkets tend to be open 7 days a week with longer opening hours - usually until 8pm or 10pm most evenings, with reduced hours of 10am-4pm on a Sunday.
Some in larger town stores now open 24 hours
Somerfield is a chain of supermarkets selling food, drinks, toiletries and other household goods.
F Hinds sell a range of jewellery including earrings, pendants, watches, clocks, rings and precious gifts.
Sainsbury's is a large chain of supermarkets with branches all over the UK stocking an extensive range of dairy products, fresh vegetables, meat, frozen foods and much, much more.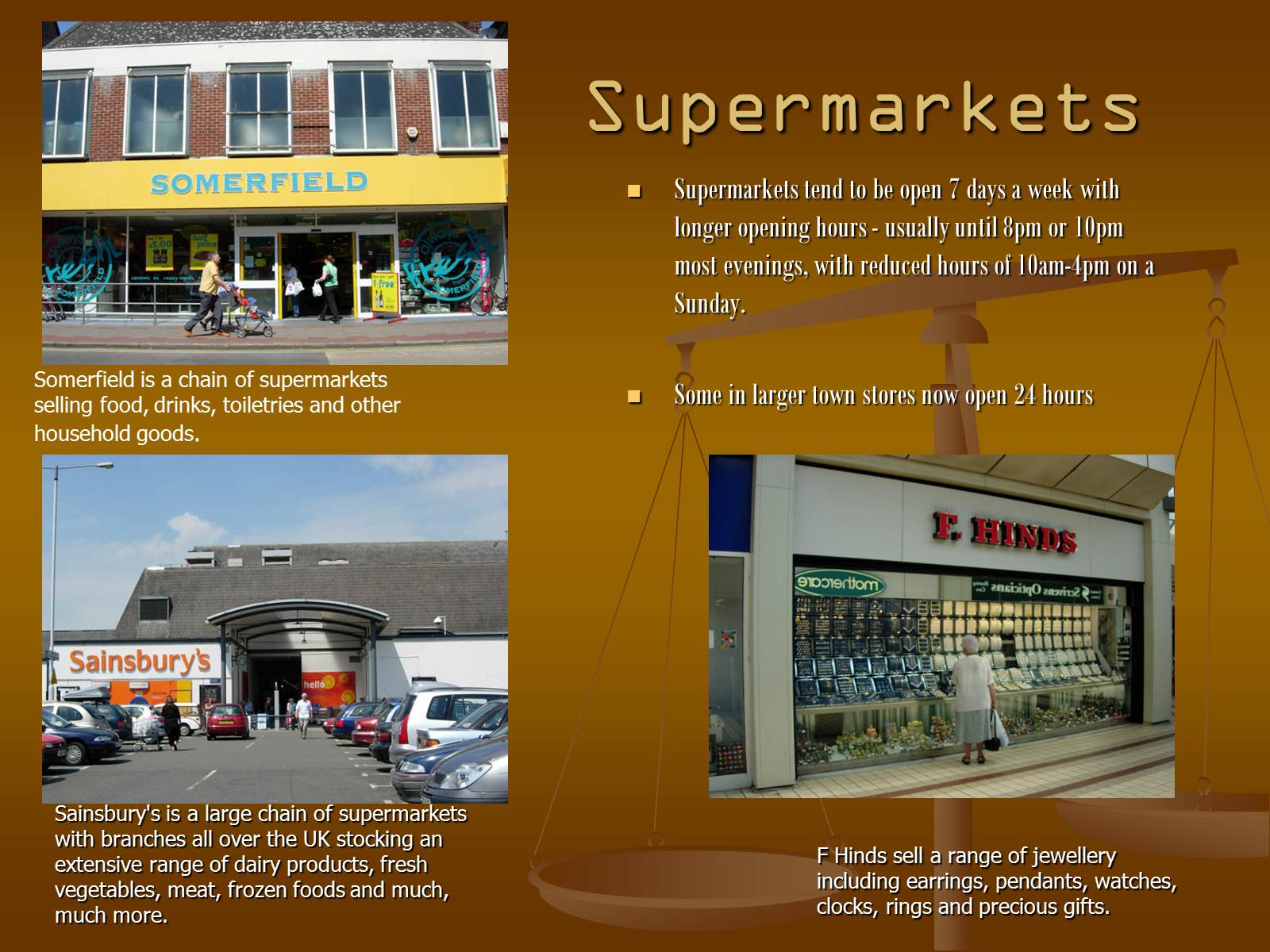 ---
Слайд #5
---
McDonald's offers a range of fast food meals and soft drinks to eat in or takeaway.
Robert Dyas is a chain of ironmongers selling a diverse range of goods, from nails and ladders to electrical and kitchen appliances.
Johm Adams sells books
Mothercare is part of a chain of shops selling children's clothes and nursery accessories as well as a wide range of maternity wear.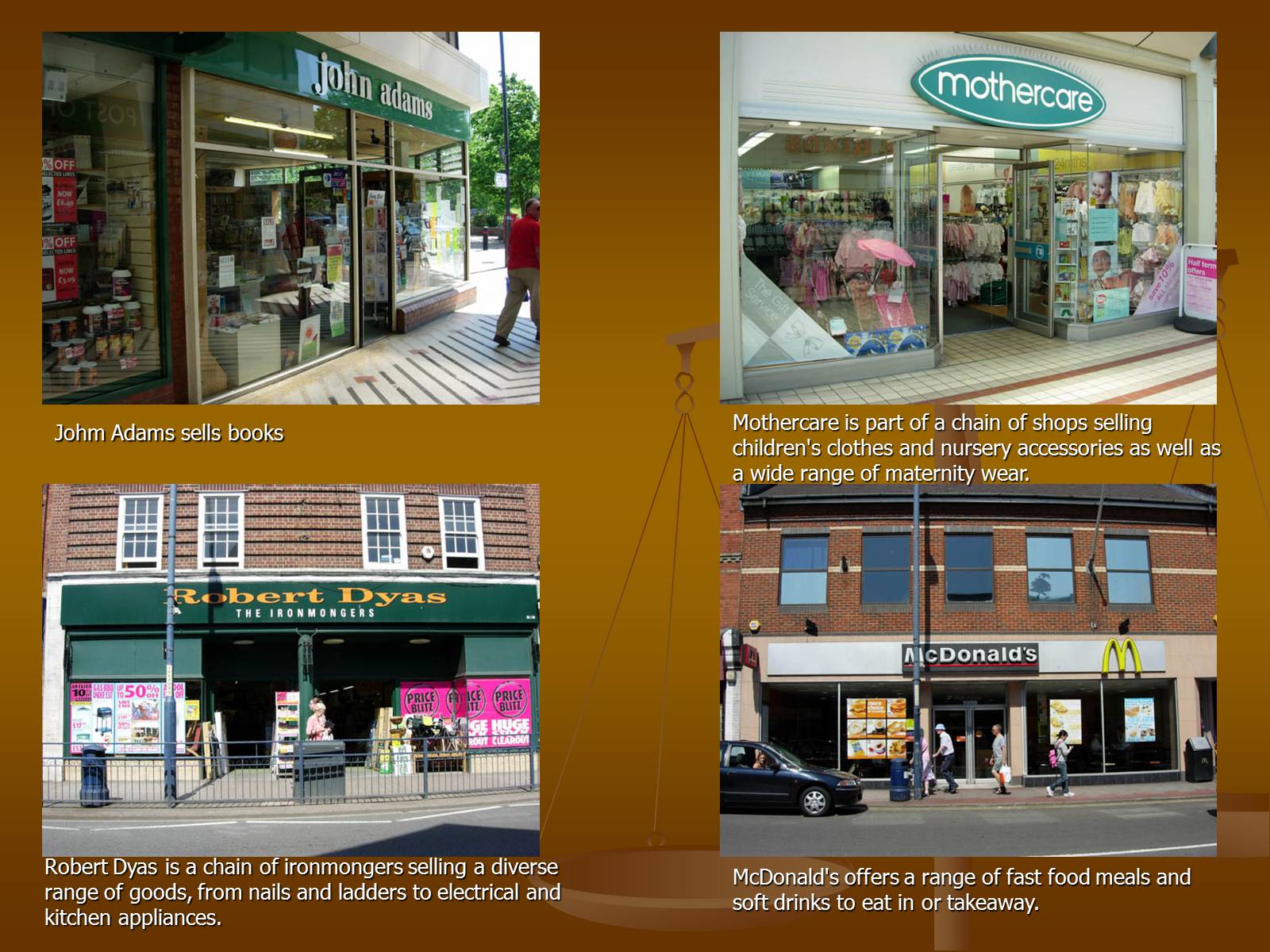 ---
Слайд #6
---
Types of Shops in England
Department Stores
Marks & Spencer (for clothes and food)
Debenhams and John Lewis and British Home Stores (for clothes and household items),
Boots (for toiletries)
WHSmith (newsagents, stationers, Cds and DVDs).
Debenhams
John Lewis
Allders Department Store
Woolworths
Boots
House of Fraser
Argos
Liberty's department store
Harrod's - the famous department store that every tourist wants to visit. You can find anything from the cheapest to the most expensive things.
Tonbridge has many small cafes where we can buy a drink and have something to eat..
There are many charity shops raising money for different causes. People donate clothes, books and other items for the charity shops to sell.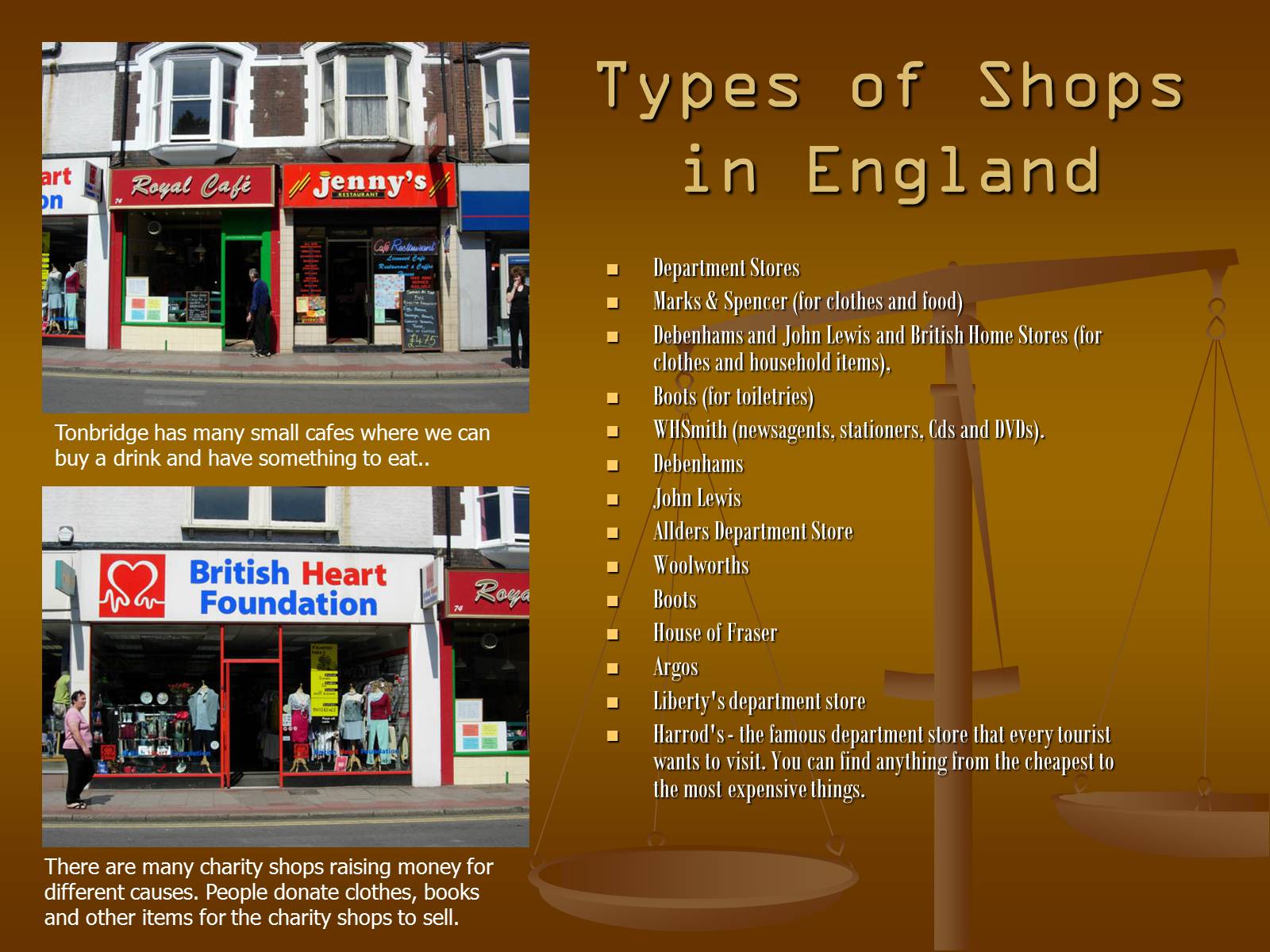 ---
Слайд #7
---
Bluewater is the largest shopping development in Europe, situated at Dartford in Kent. With more than 300 shops and parking for 13,000 cars, it attracts around 30 million visitors each year.
Millets sells a wide range of outdoor clothing and camping equipment
Intersport sell a wide range of sports clothes, footwear and equipment for men and women.
Vodafone offer a range of mobile phones and accessories that are compatible with their tariffs.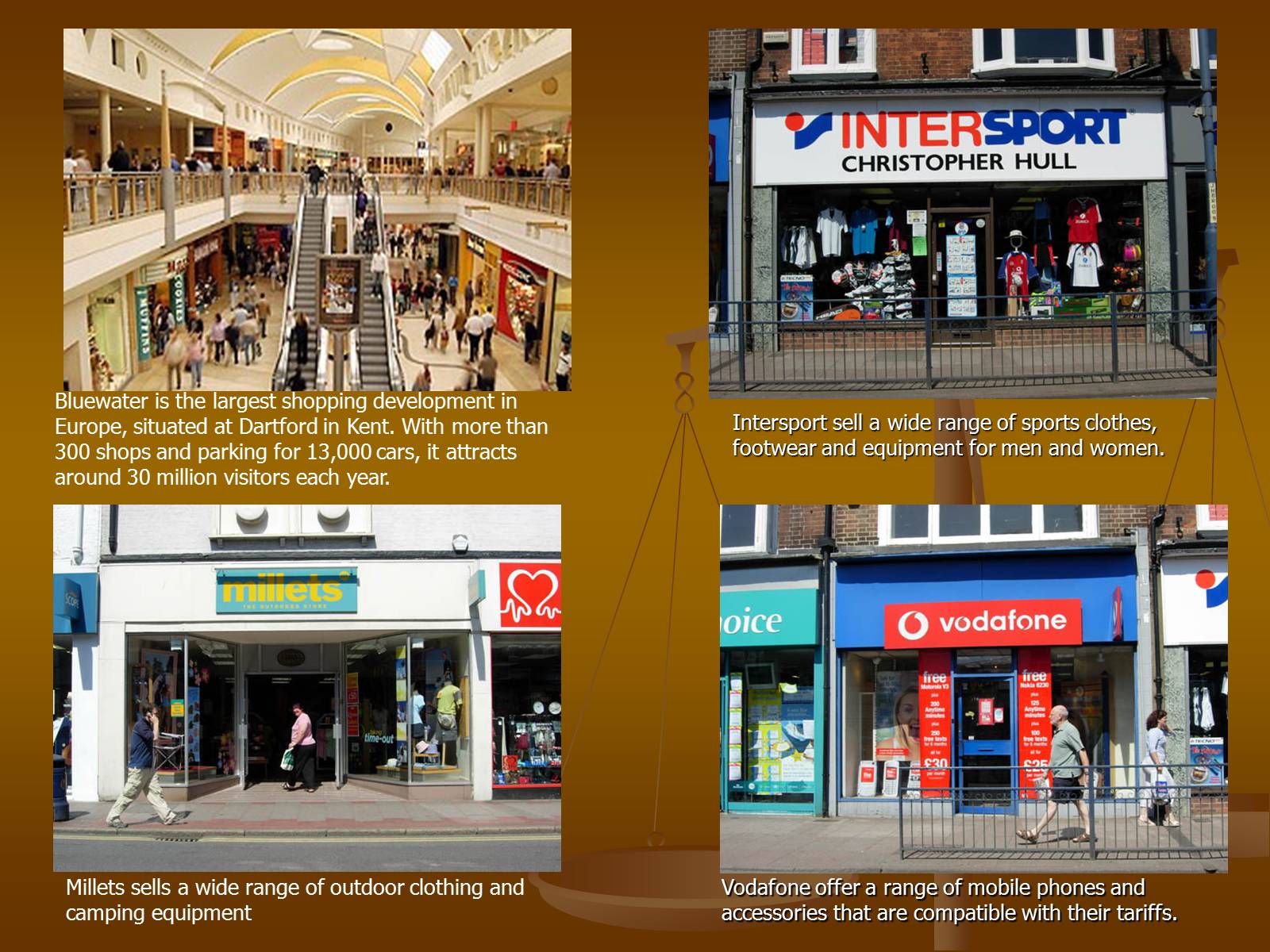 ---
---