Презентація на тему «Washington Irving»
Презентація на тему «Washington Irving»
---
---
---
Слайд #1
---
Washington Irving
American author, short story writer,
essayist
poet
travel book writer
biographer, and columnist.
Irving has been called the father of the American short story. He is best known for 'The Legend of Sleepy Hollow,' in which the schoolmaster Ichabold Crane meets with a headless horseman, and 'Rip Van Winkle,' about a man who falls asleep for 20 years.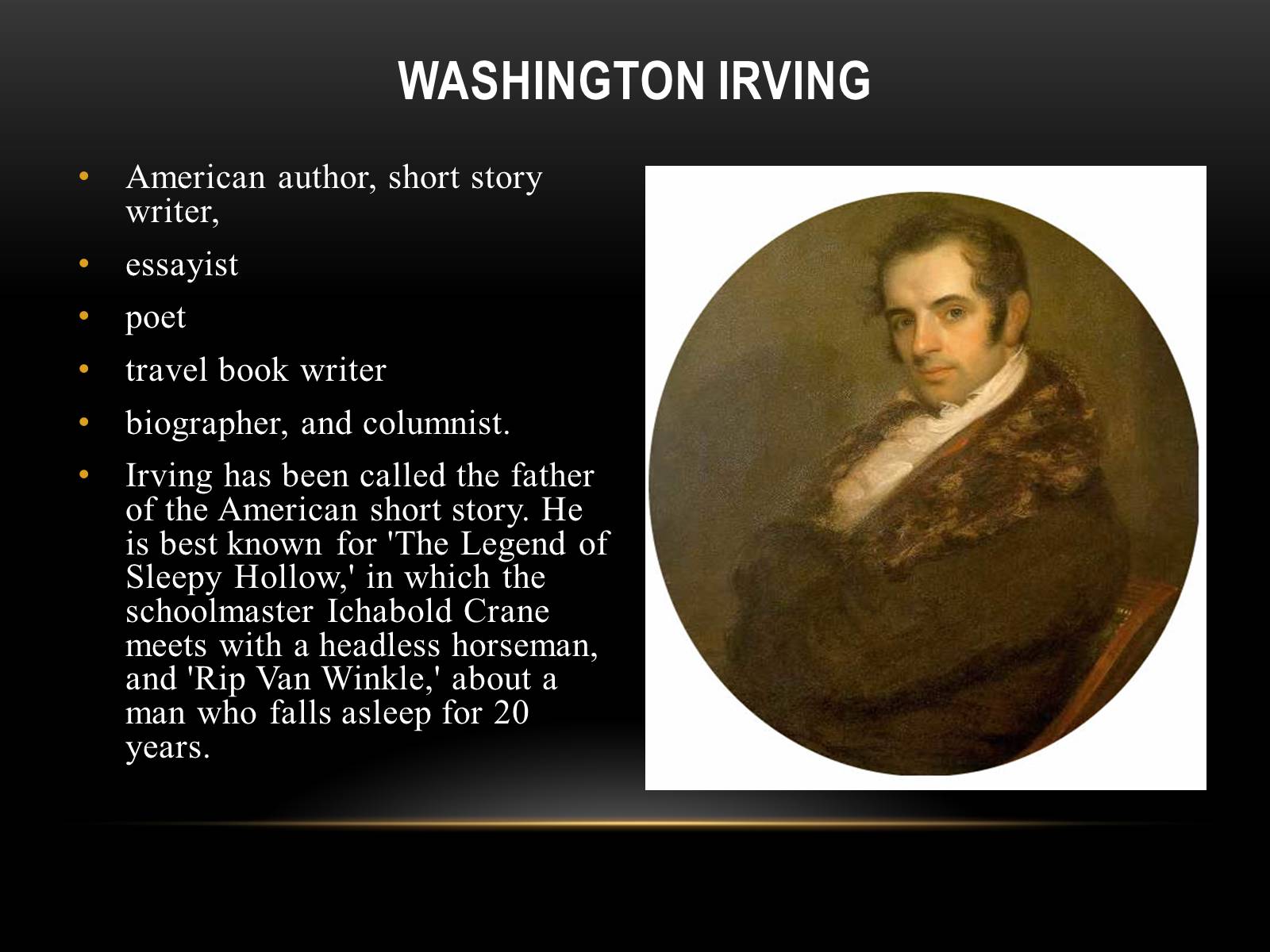 ---
Слайд #2
---
Washington Irving
Washington Irving was born in New York City as the youngest of 11 children. His father was a wealthy merchant, and his mother, an English woman, was the granddaughter of a clergyman. According to a story, George Washington met Irving, named after him, and gave his blessing. In the years to come Irving would write one of his greatest works, THE LIFE OF GEORGE WASHINGTON (1855-59).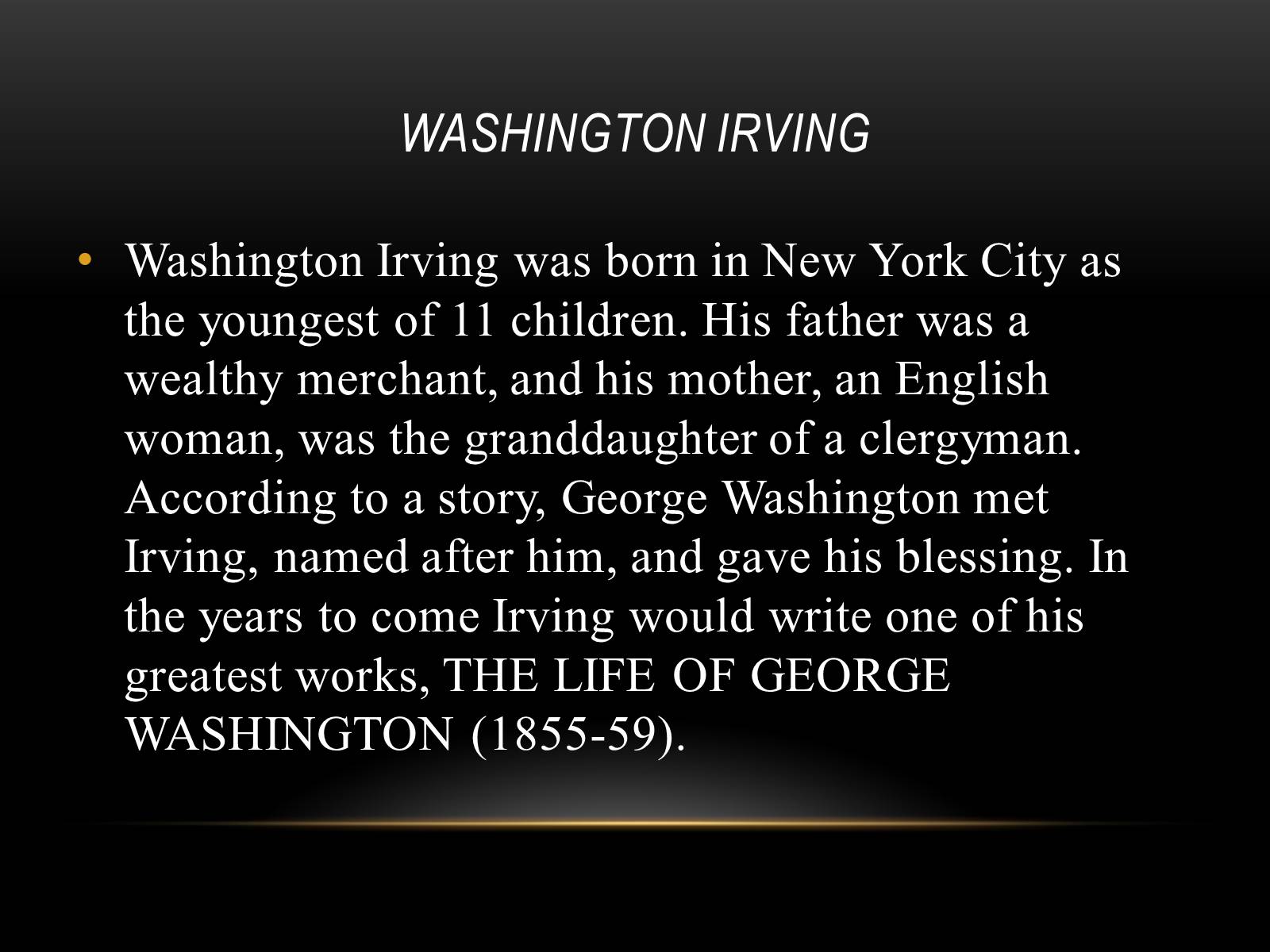 ---
Слайд #3
---
Early in his life Irving developed a passion for books. He read Robinson Crusoe, Sinbad the Sailor, and The World Displyed (stories about voyages and travels). He studied law privately in the offices of Henry Masterton (1798)
After return to the United States, Irving was admitted to New York bar in 1806. He was a partner with his brothers in the family hardware business, New York and Liverpool, England, and representative of the business in England until it collapsed in 1818. During the war of 1812 Irving was a military aide to New York Governor Tompkins in the U.S. Army.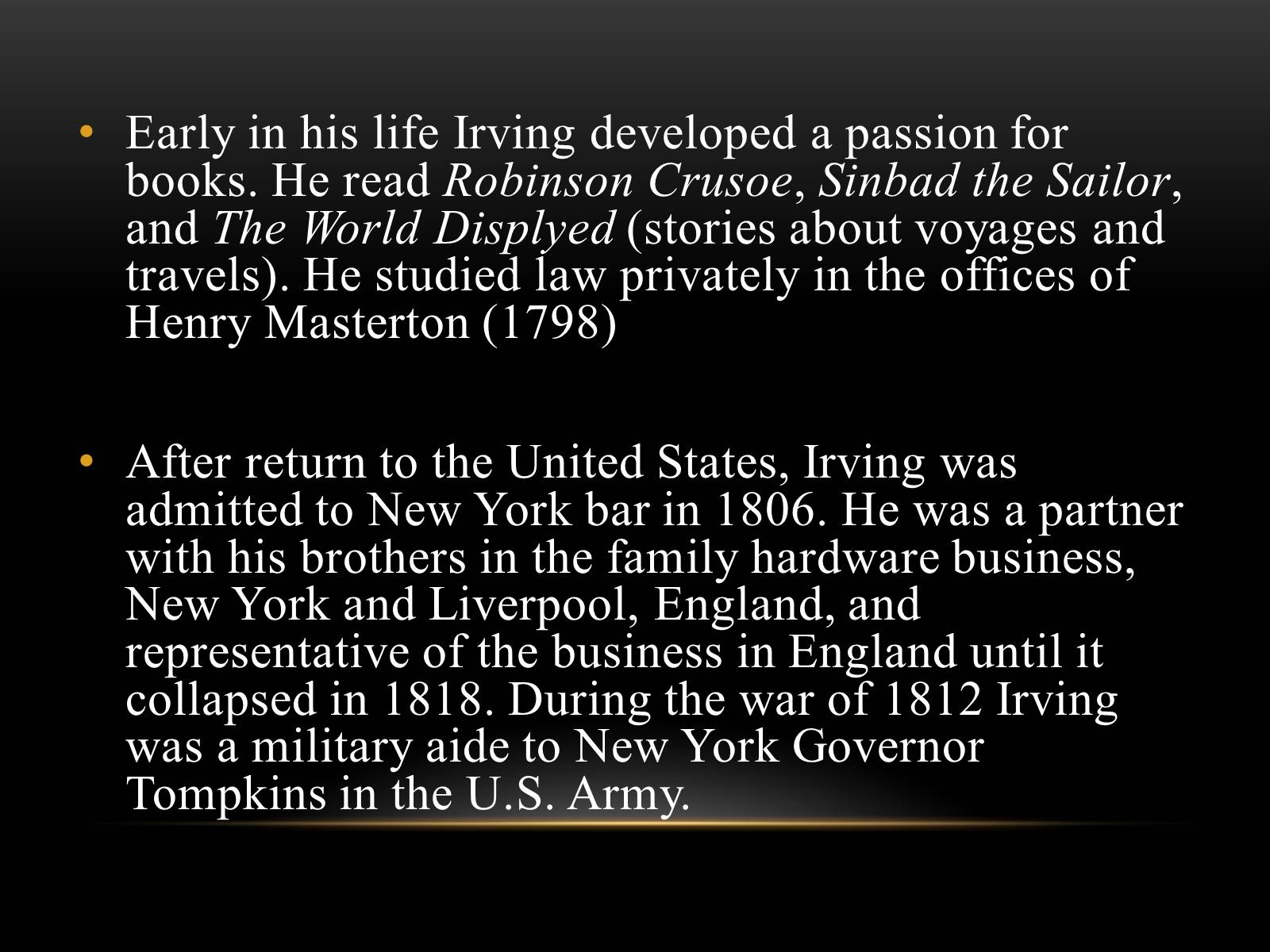 ---
Слайд #4
---
Beginning of a career writer
Irving's career as a writer started in journals and newspapers.
He contributed to Morning Chronicle (1802-03), which was edited by his brother Peter, and published Salmagundi (1807-08), writing in collaboration with his brother William and James Kirke Paulding.
From 1812 to 1814 he was an editor of Analetic magazine in Philadelphia and New York.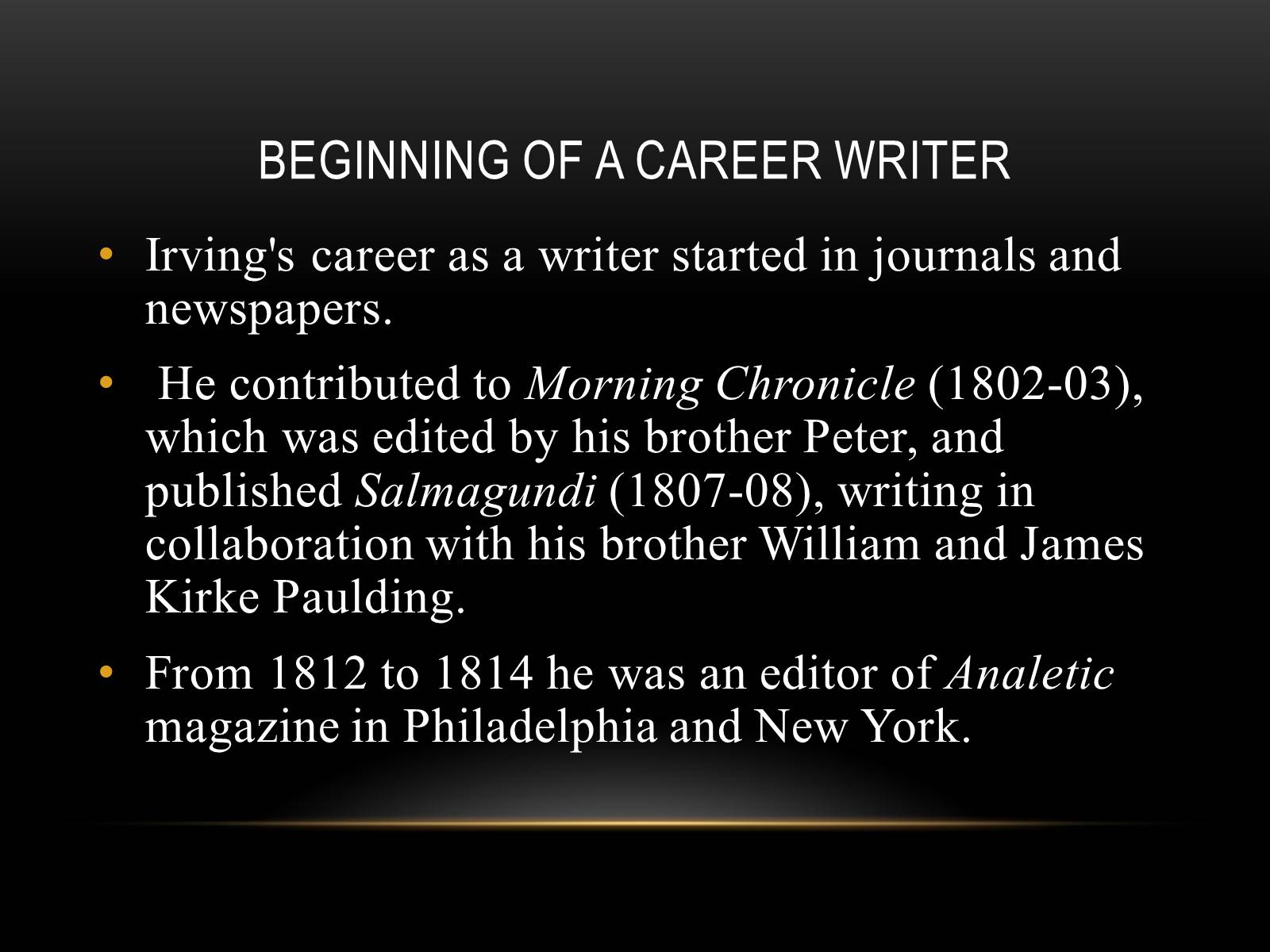 ---
Слайд #5
---
Career Shifts to Europe in 1815
sailed for England to take charge of family business in Liverpool
when it bankrupted, he concentrated on literary career
traveled throughout England, France, Spain, Germany, and Switzerland
wrote history of Christopher Columbus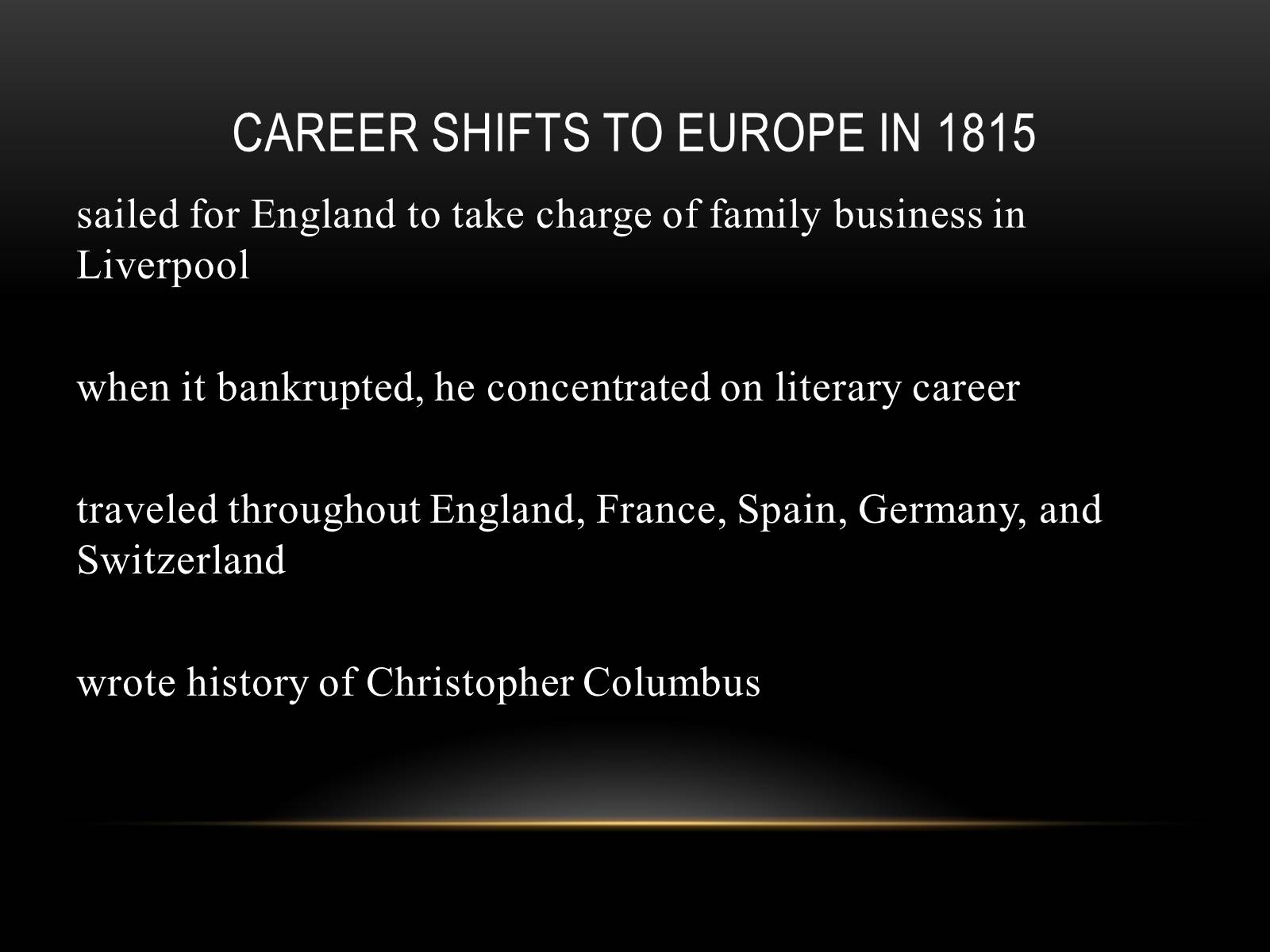 ---
Слайд #6
---
Literary Career Continues
1819 - 1820 published The Sketch-Book of Geoffrey Crayon, Gent
it included "Rip Van Winkle" and "The Legend of Sleepy Hollow"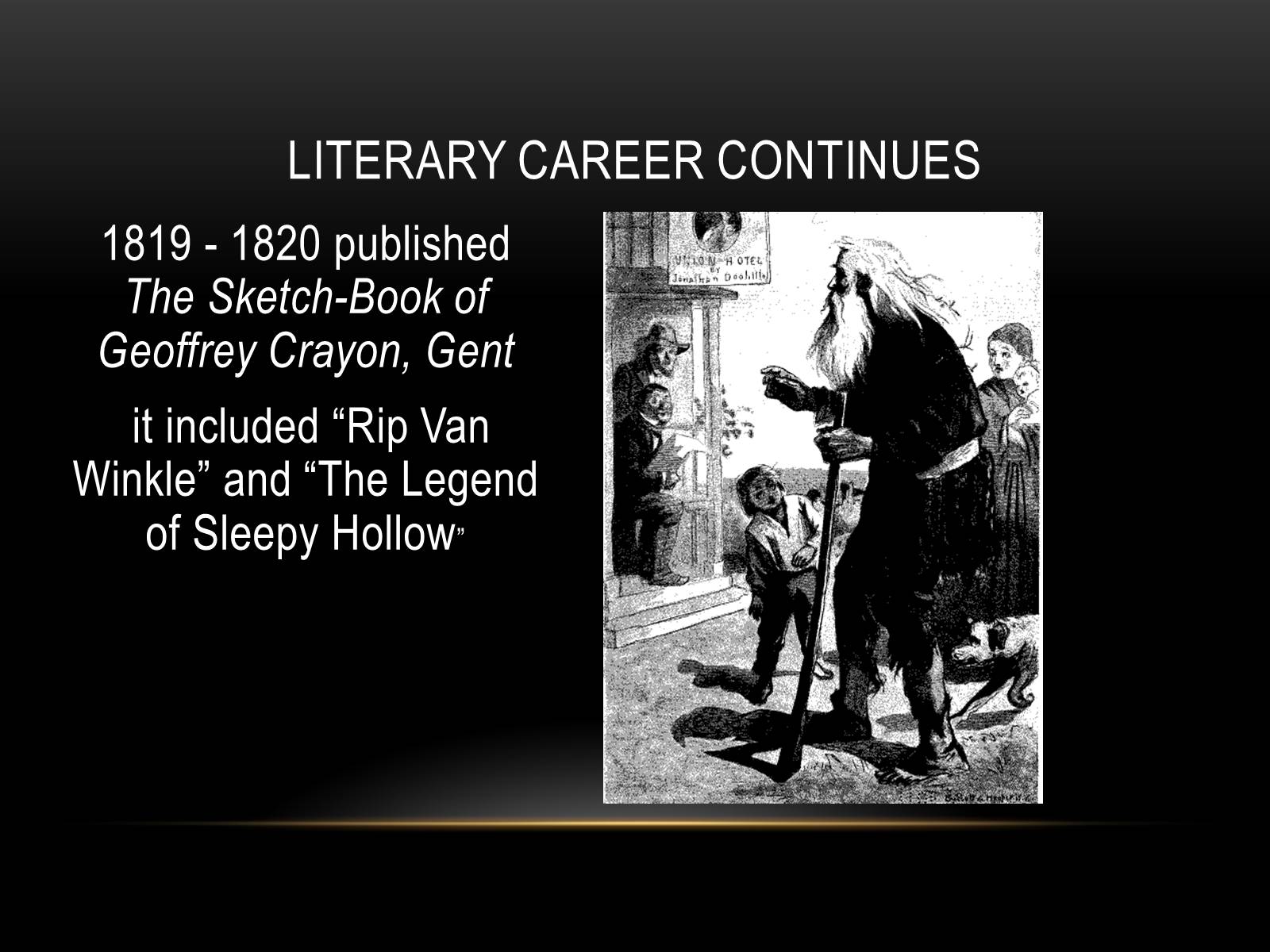 ---
Слайд #7
---
Irving's Literary Pseudonyms
Dietrich Knickerbocker
Jonathan Oldstyle
Geoffrey Crayon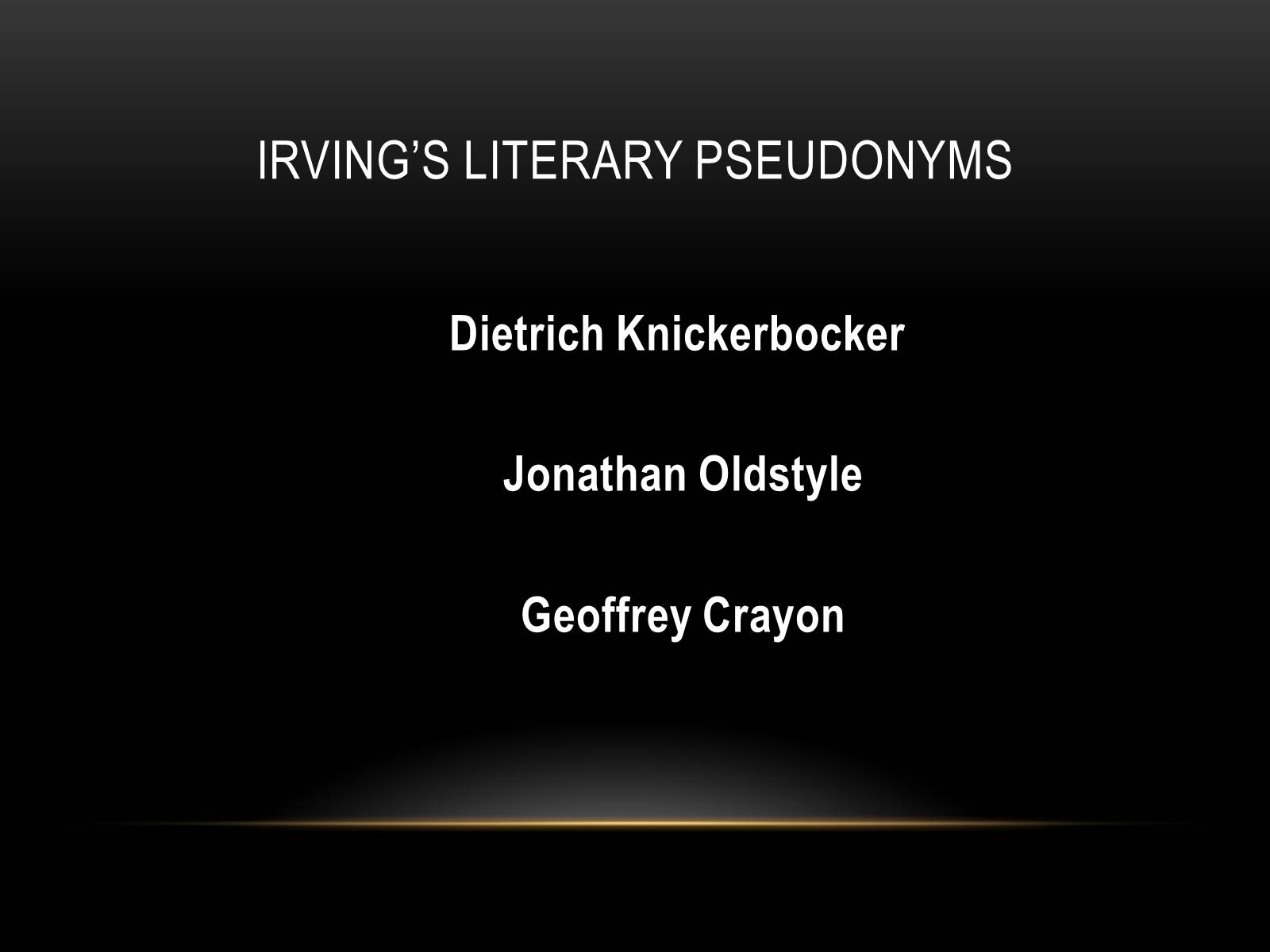 ---
Слайд #8
---
Returns to America in 1832
returned from Europe to New York
established his home Sunnyside in Tarrytown
never married or had children
for next 25 years he shared Sunnyside with his brother Ebenezer and Ebenezer's 5 daughters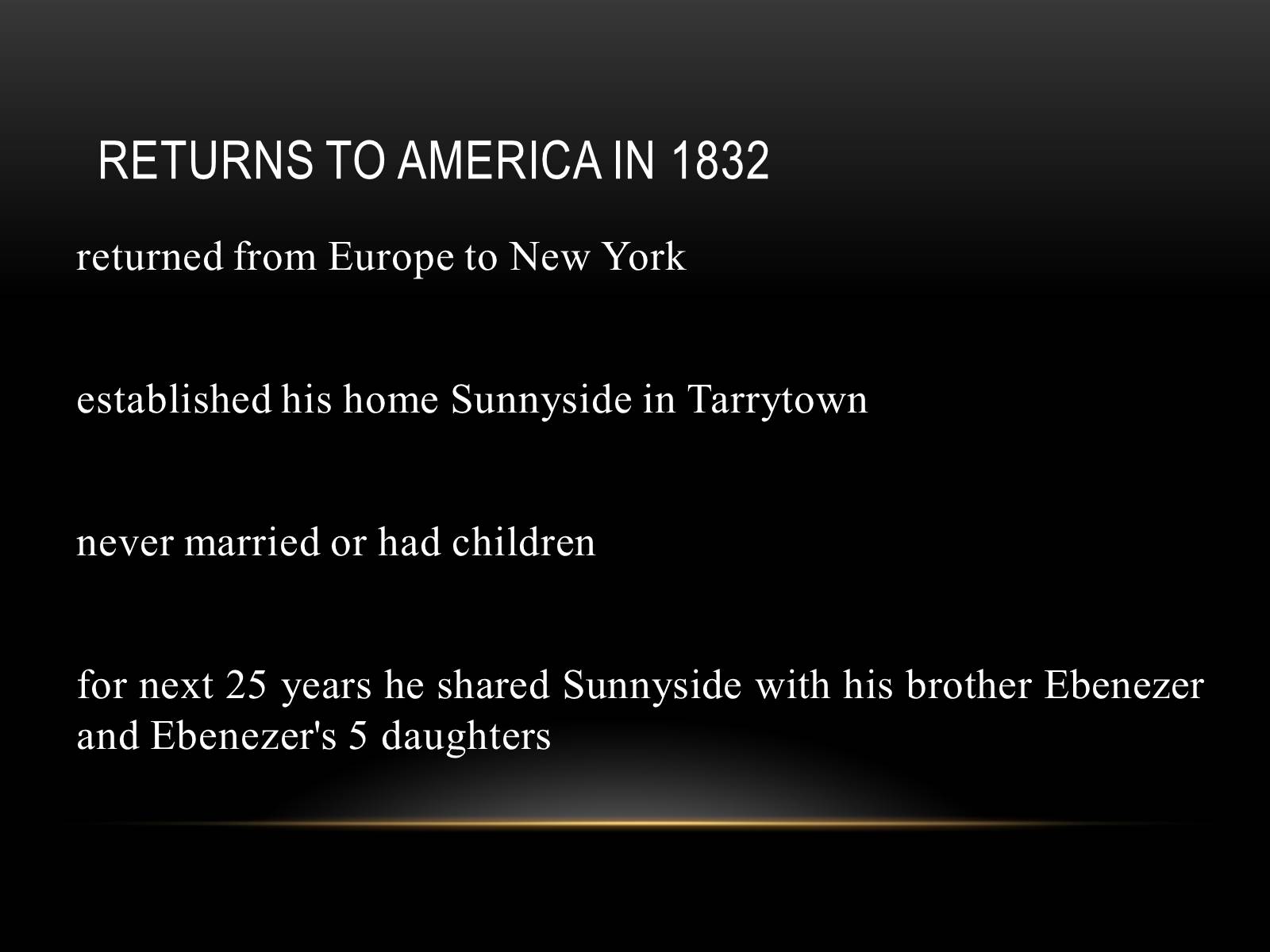 ---
Слайд #9
---
Selected works
LETTERS OF JONATHAN OLDSTYLE, 1802
SALMAGUNDI, 1807 (with William I. and J.K. Paulding)
A HISTORY OF NEW YORK, BY DIETRICH KNICKERBOCKER, 1809
THE SKETCH BOOK, 1819-20 (as Geoffrey Crayon) - contains 'Rip Van Winkle' and 'The Legend of Sleepy Hollow' - film adaptations: The Adventures of Ichabold and Mr Toad (1949) ; Sleepy Hollow, dir. by Tim Burton (1999), starring Johnny Depp, Christina Ricci, Michael Gambon, Miranda Richardson, Christopher Walken, Casper Van Dien, Jeffrey Jones, Martin Landau
BRACEBRIDGE HALL, 1822
LETTERS OF JONATHAN OLDSTYLE, GENT., 1824
TALES OF A TRAVELLER, 1824
A HISTORY AND VOYAGES OF CHRISTOPHER COLUMBUS, 1828
THE CHRONICLE OF THE CONQUEST OF GRANADA, 1829
THE COMPANIONS OF COLUMBUS, 1831
THE ALHAMBRA, 1832 - Alhambra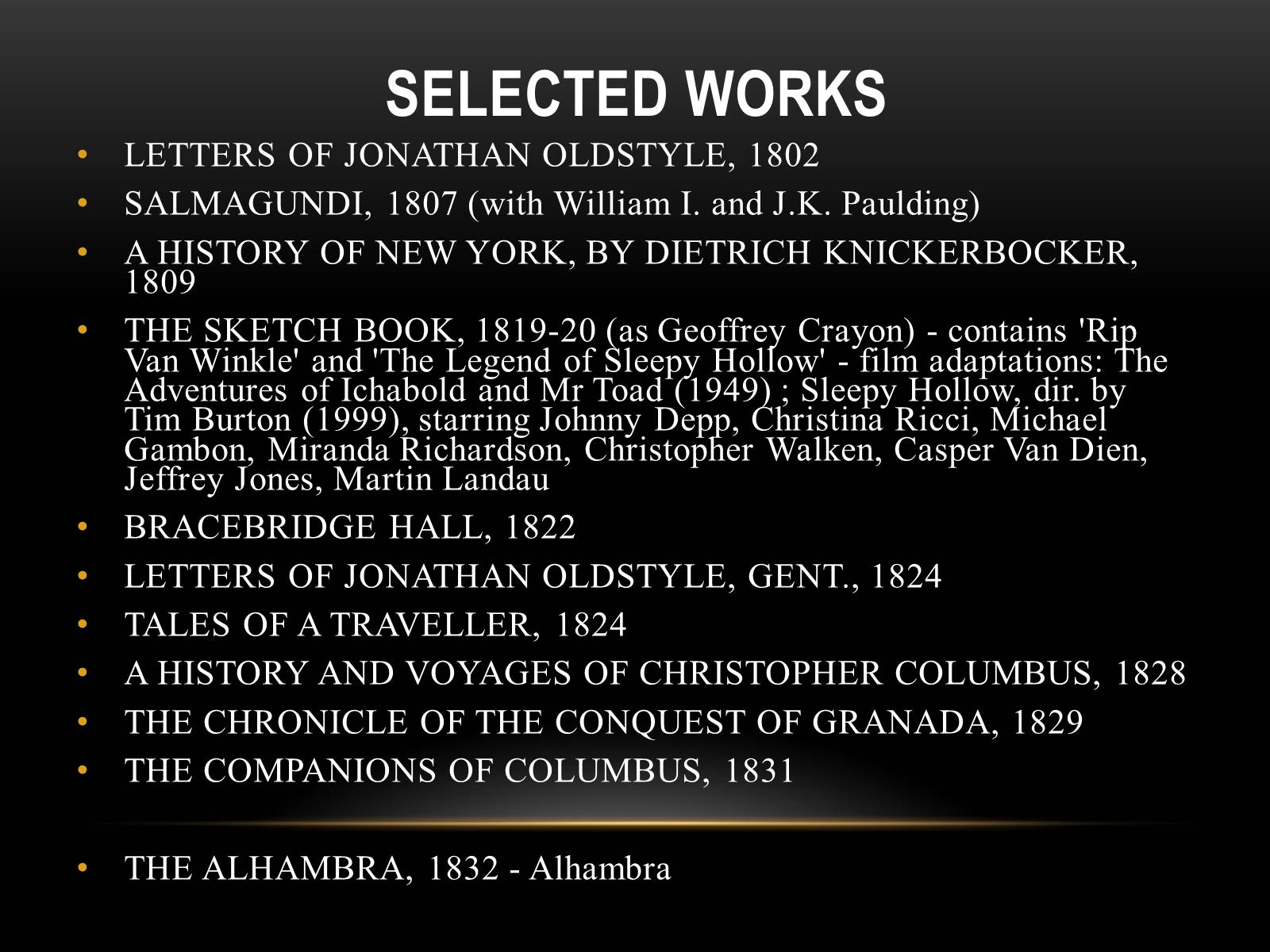 ---
Слайд #10
---
A TOUR ON THE PRAIRIES, 1835
ABBOTSFORD AND NEWSTEAD ABBEY, 1835
THE CRAYON MISCELLANY, 1835 (3 vols.)
ASTORIA, 1836
ESSAYS AND SKETCHES, 1837
THE ADVENTURES OF CAPTAIN BONNEVILLE, 1837
THE LIFE OF OLIVER GOLDSMITH, 1840
WORKS, 1848-51 (15 vols.)
MAHOMET AND HIS SUCCESSORS, 1849
THE LIFE OF GEORGE WASHINGTON, 1855-59
WOLFERT'S ROOST, 1855
SPANISH PAPERS AND OTHER MISCELLANIES, 1866
ABU HASSAN, 1924
THE WILD HUNTSMAN, 1924
COMPLETE WORKS, 1969-89 (30 vols.)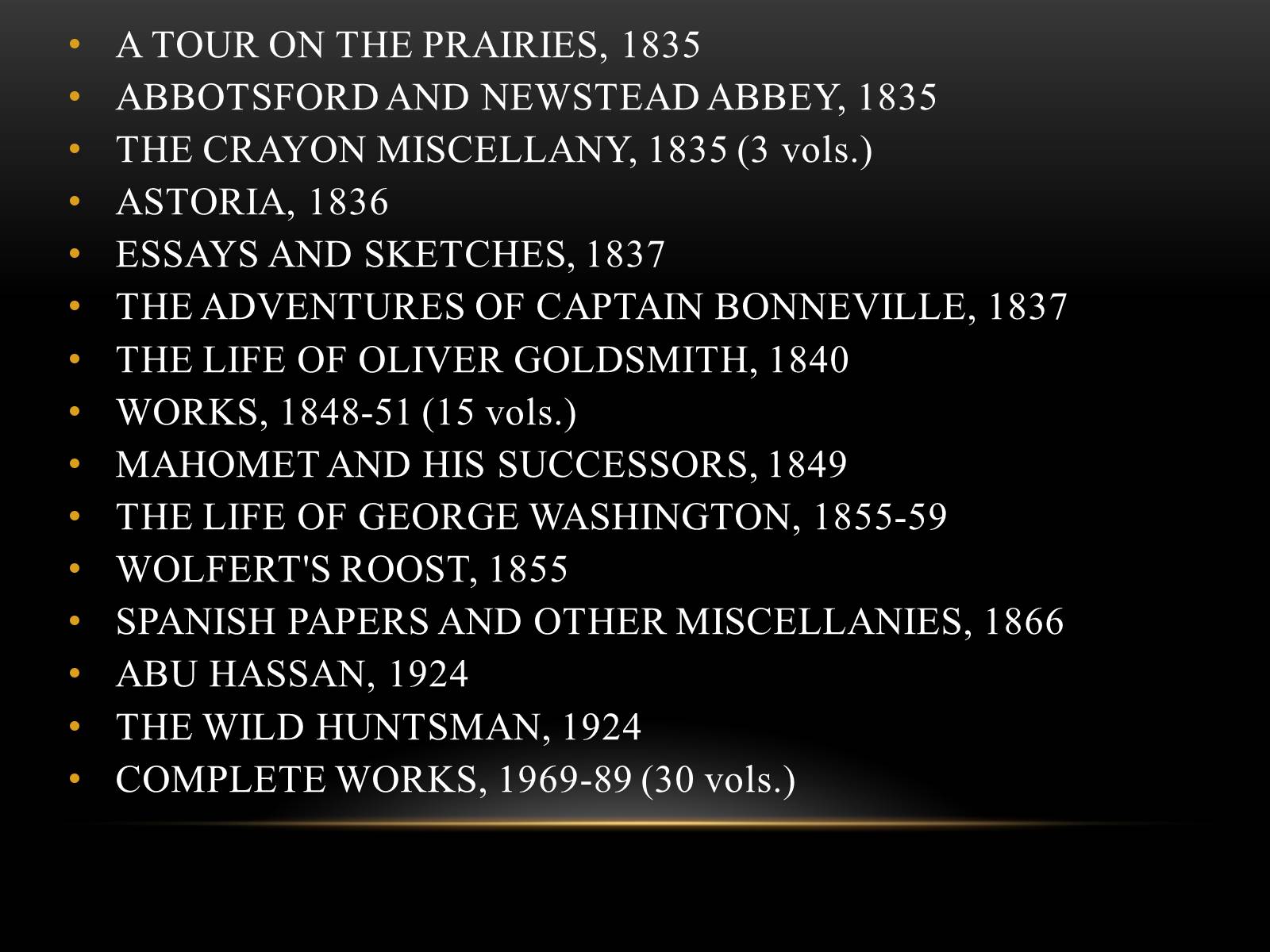 ---
Слайд #11
---
Thanks for your attention!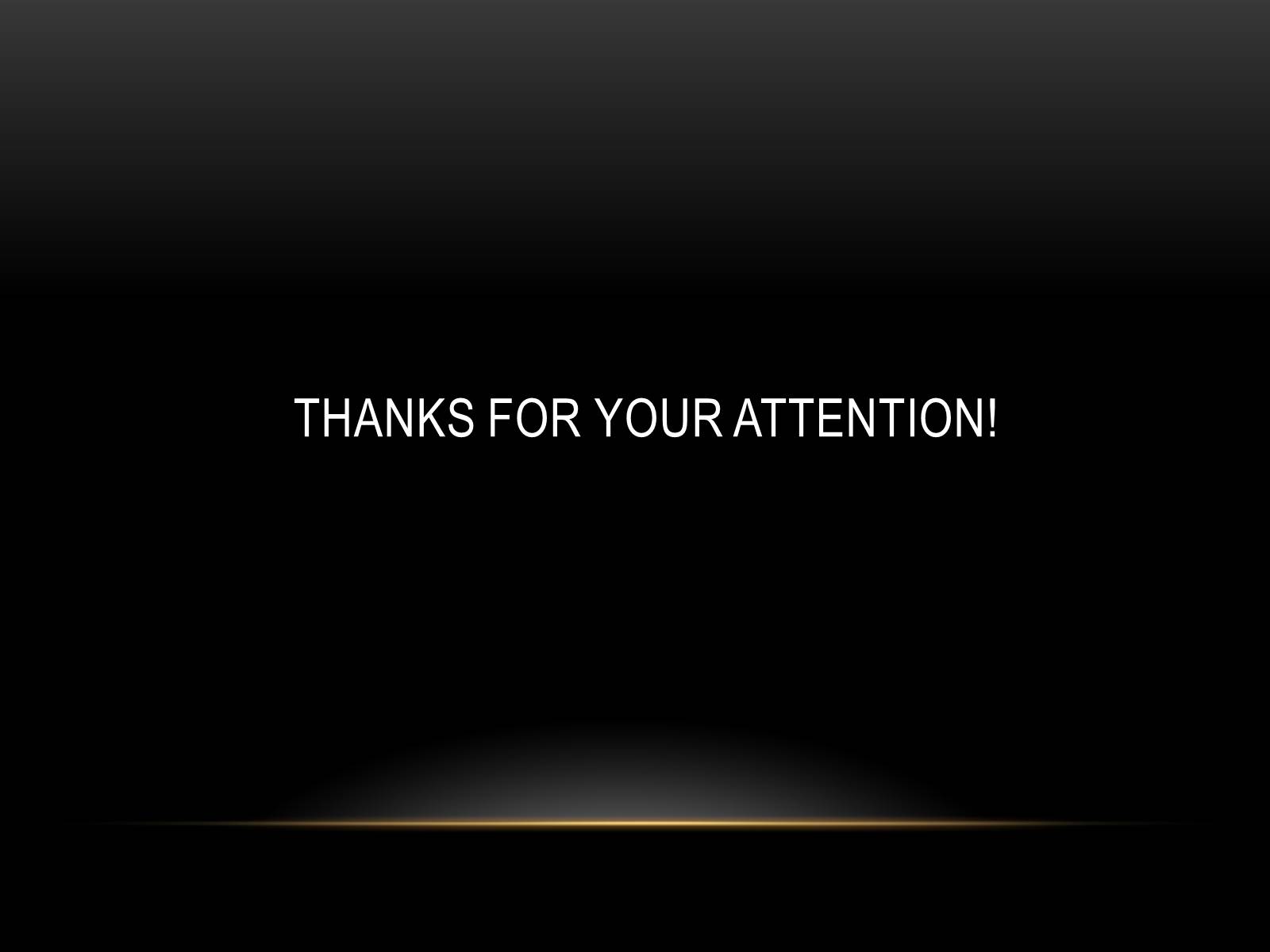 ---
---