Презентація на тему «National Gallery of Art» (варіант 1)
Презентація на тему «National Gallery of Art» (варіант 1)
---
---
---
Слайд #1
---
National Gallery of Art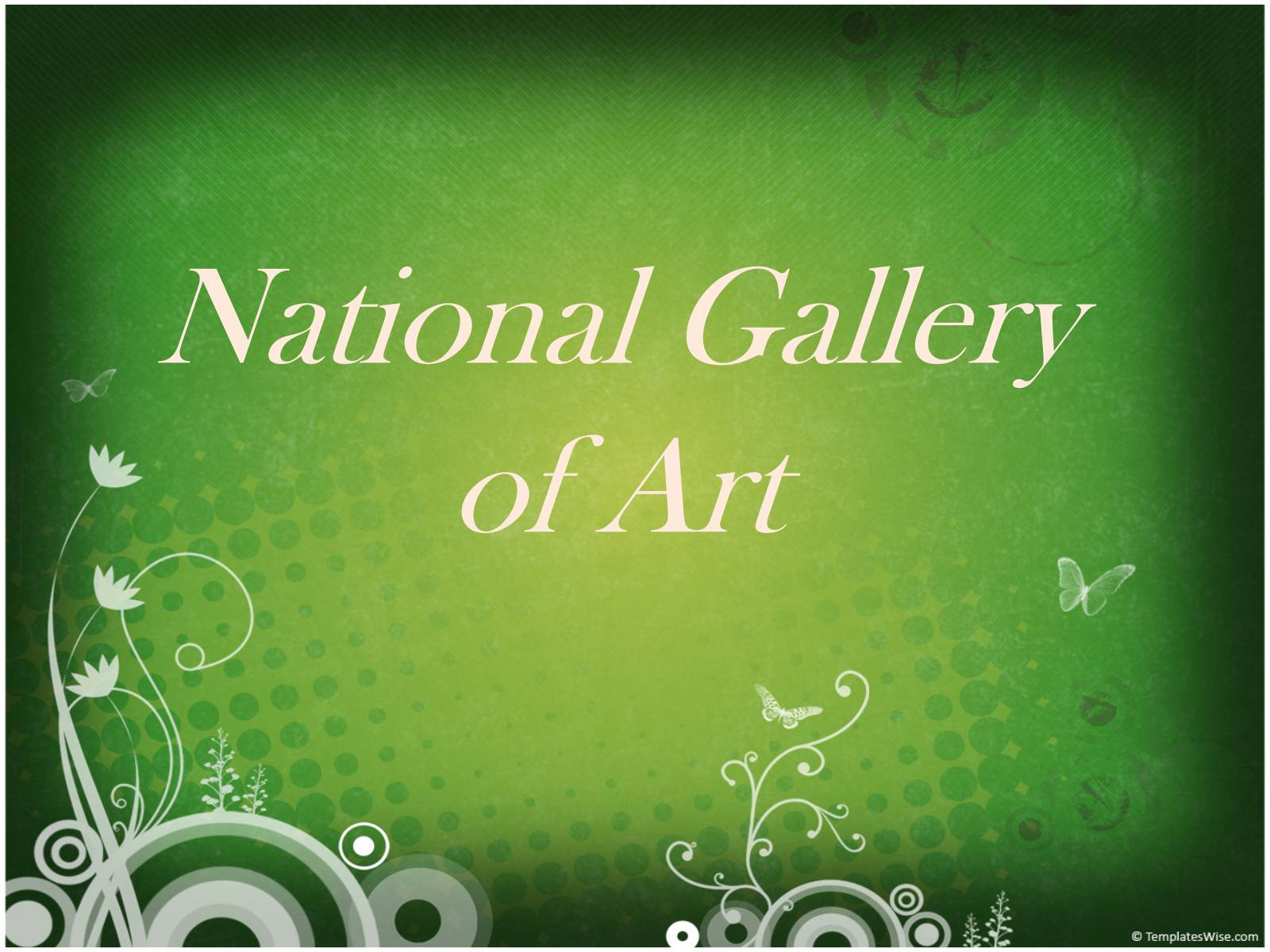 ---
Слайд #2
---
The National Gallery of Art and its Sculpture Garden are a national art museum in Washington, D.C., located on the National Mall, between 3rd and 9th Streets, at Constitution Avenue NW. Open to the public and free of charge, the museum was privately established in 1937 for the people of the United States of America by a joint resolution of the United States Congress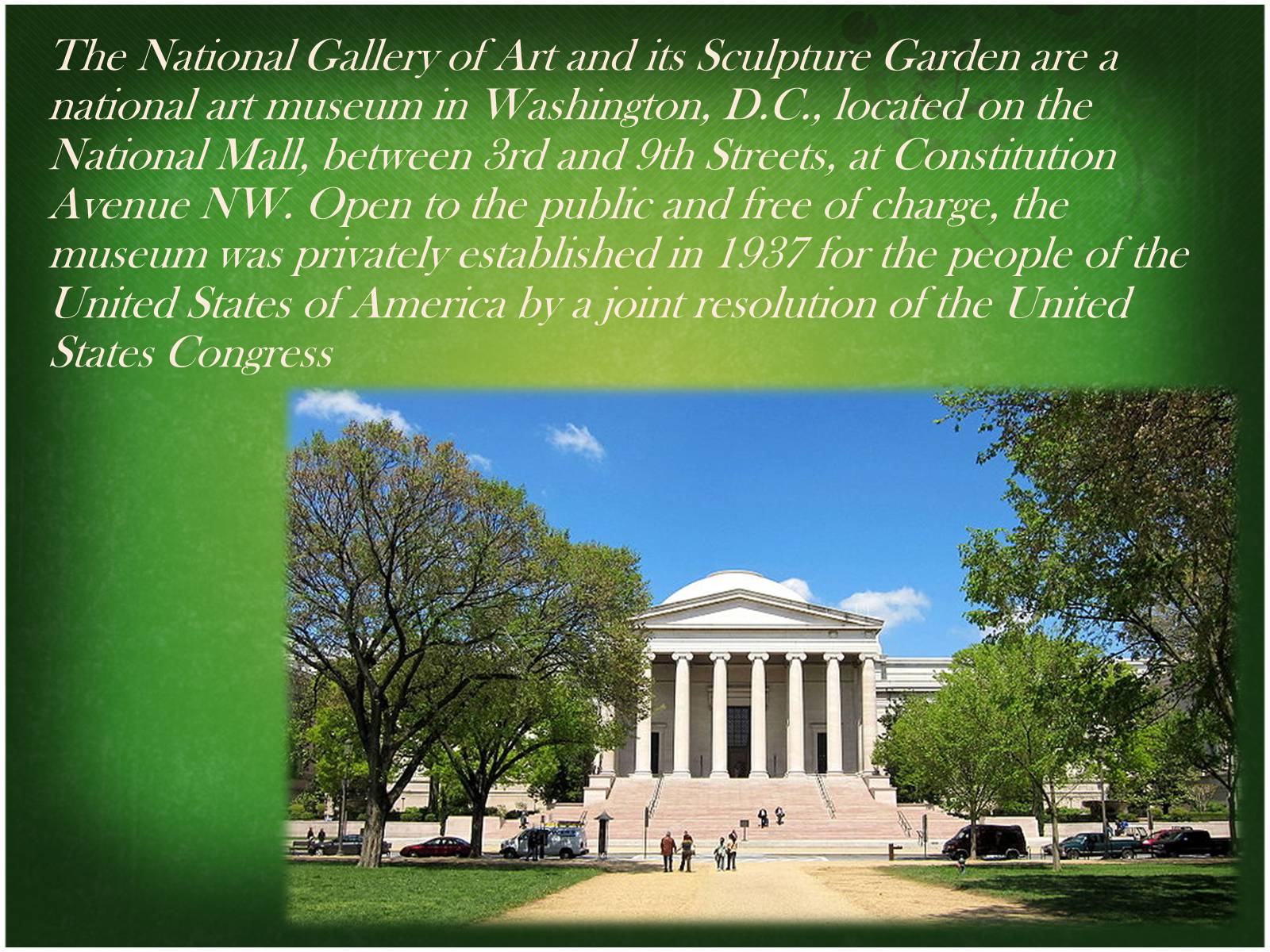 ---
Слайд #3
---
The Gallery's collection of paintings, drawings, prints, photographs, sculpture, medals, and decorative arts traces the development of Western Art from the Middle Ages to the present, including the only painting by Leonardo da Vinci in the Americas and the largest mobile ever created by Alexander Calder.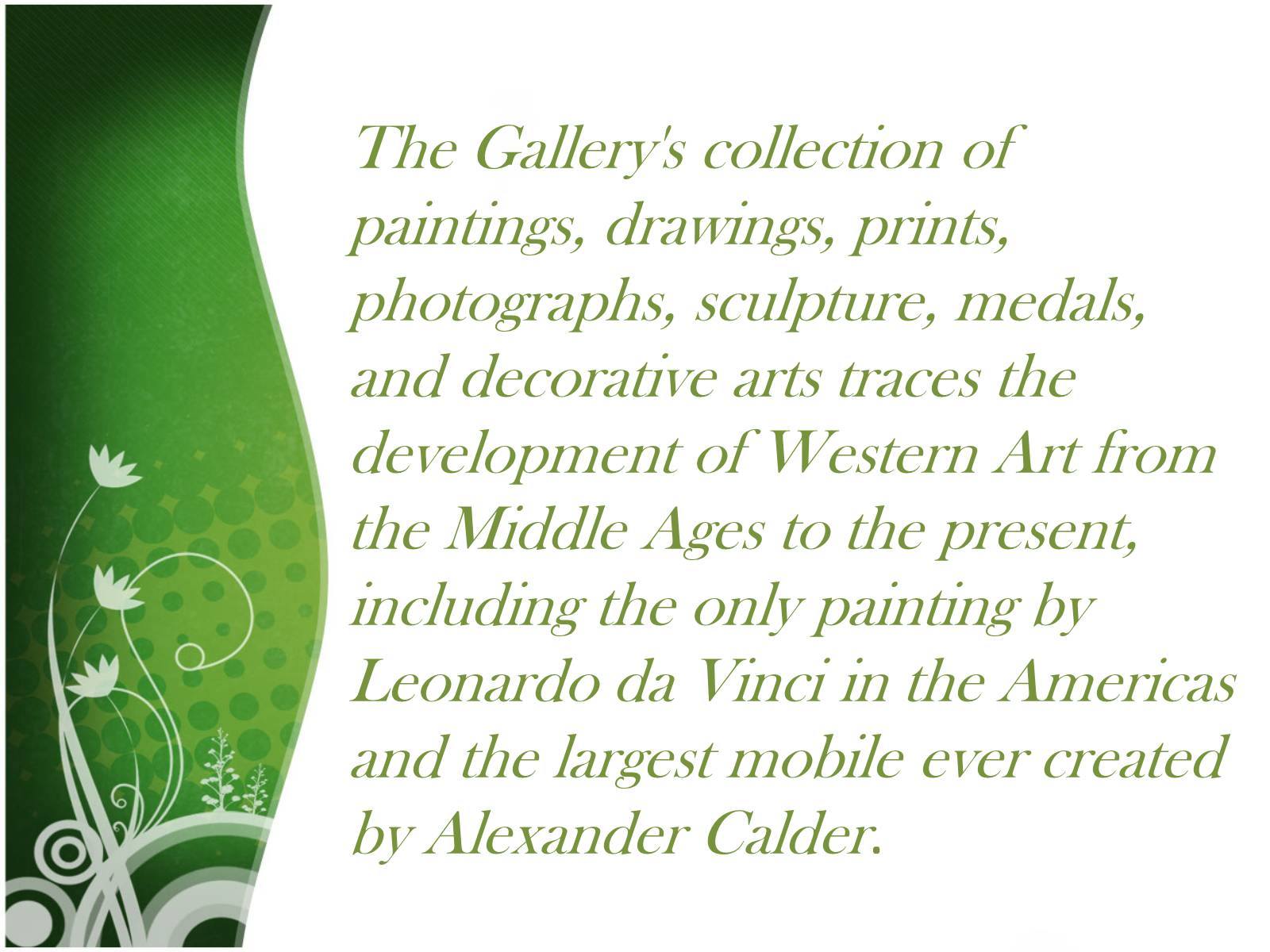 ---
Слайд #4
---
The Gallery's campus includes the original neoclassical West Building designed by John Russell Pope, which is linked underground to the modern East Building, designed by I. M. Pei, and the 6.1-acre Sculpture Garden. The Gallery often presents temporary special exhibitions spanning the world and the history of art.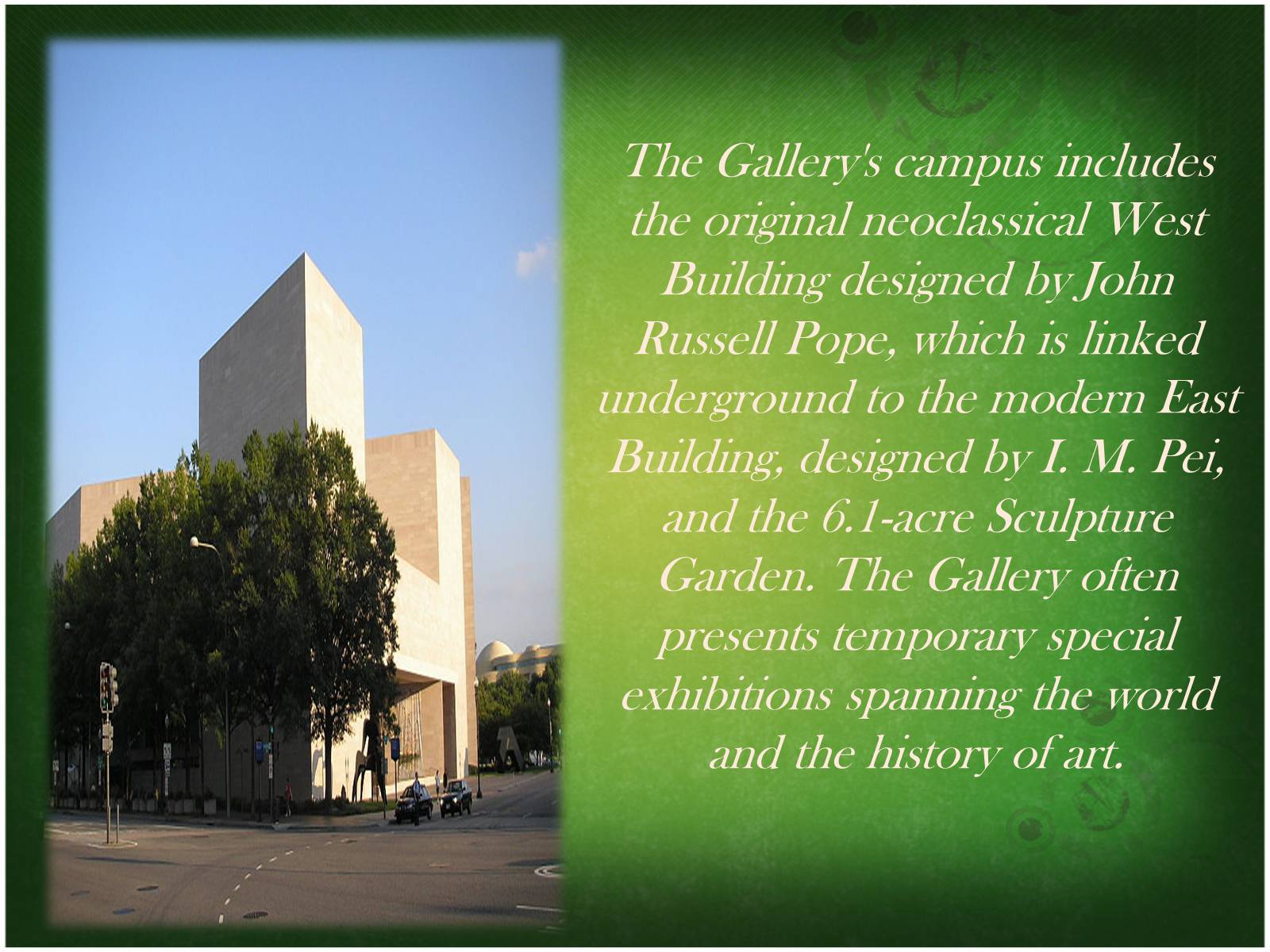 ---
Слайд #5
---
The National Gallery of Art is supported through a private-public partnership. The United States federal government provides funds, through annual appropriations, to support the museum's operations and maintenance. All artwork, as well as special programs, are provided through private donations and funds. The museum is not part of the Smithsonian Institution.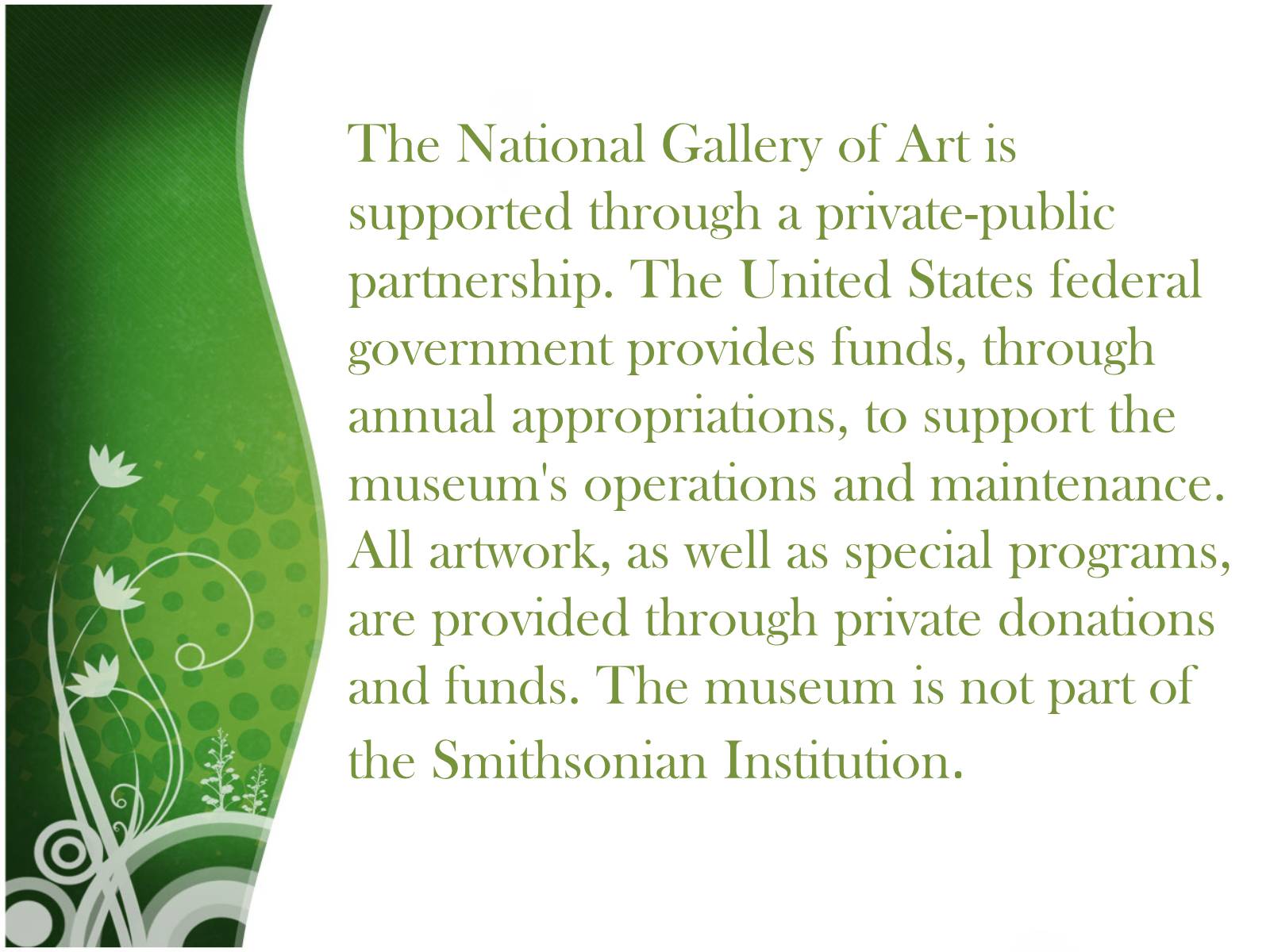 ---
Слайд #6
---
The National Gallery of Art has one of the finest art collections in the world. It was created for the people of the United States of America by a joint resolution of Congress accepting the gift of financier, public servant, and art collector Andrew W. Mellon in 1937. European and American paintings, sculpture, works on paper, photographs, and decorative arts are displayed in the collection galleries and Sculpture Garden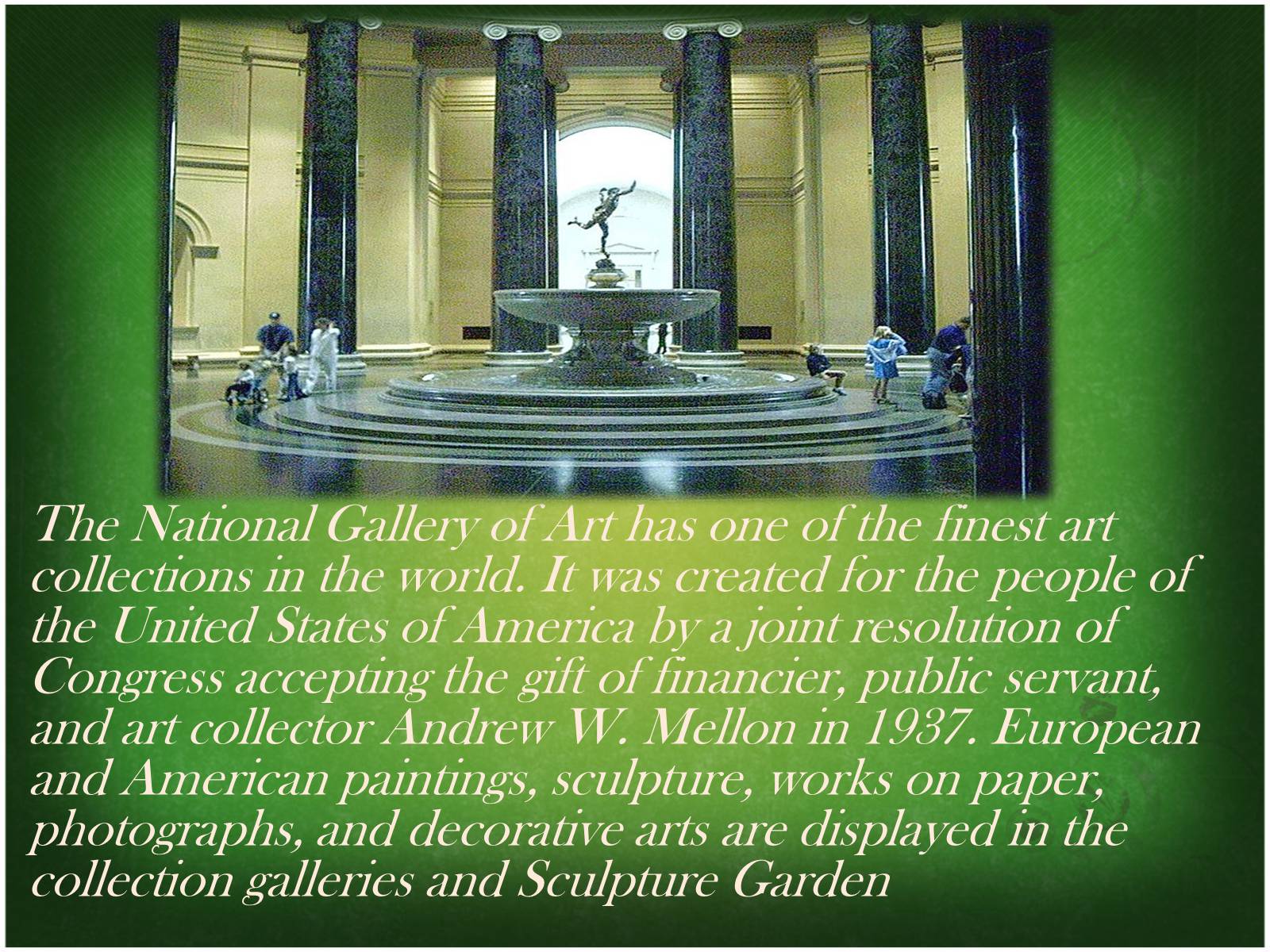 ---
Слайд #7
---
The permanent collection of paintings spans from the Middle Ages to the present day. The strongest collection is the Italian Renaissance collection, which includes two panels from Duccio's Maesta, the great tondo of the Adoration of the Magi by Fra Angelico and Filippo Lippi, a Botticelli on the same subject, Giorgione's Allendale Nativity, Giovanni Bellini's The Feast of the Gods, the only Leonardo da Vinci painting in the Americas, Ginevra de' Benci; and significant groups of works by Titian and Raphael.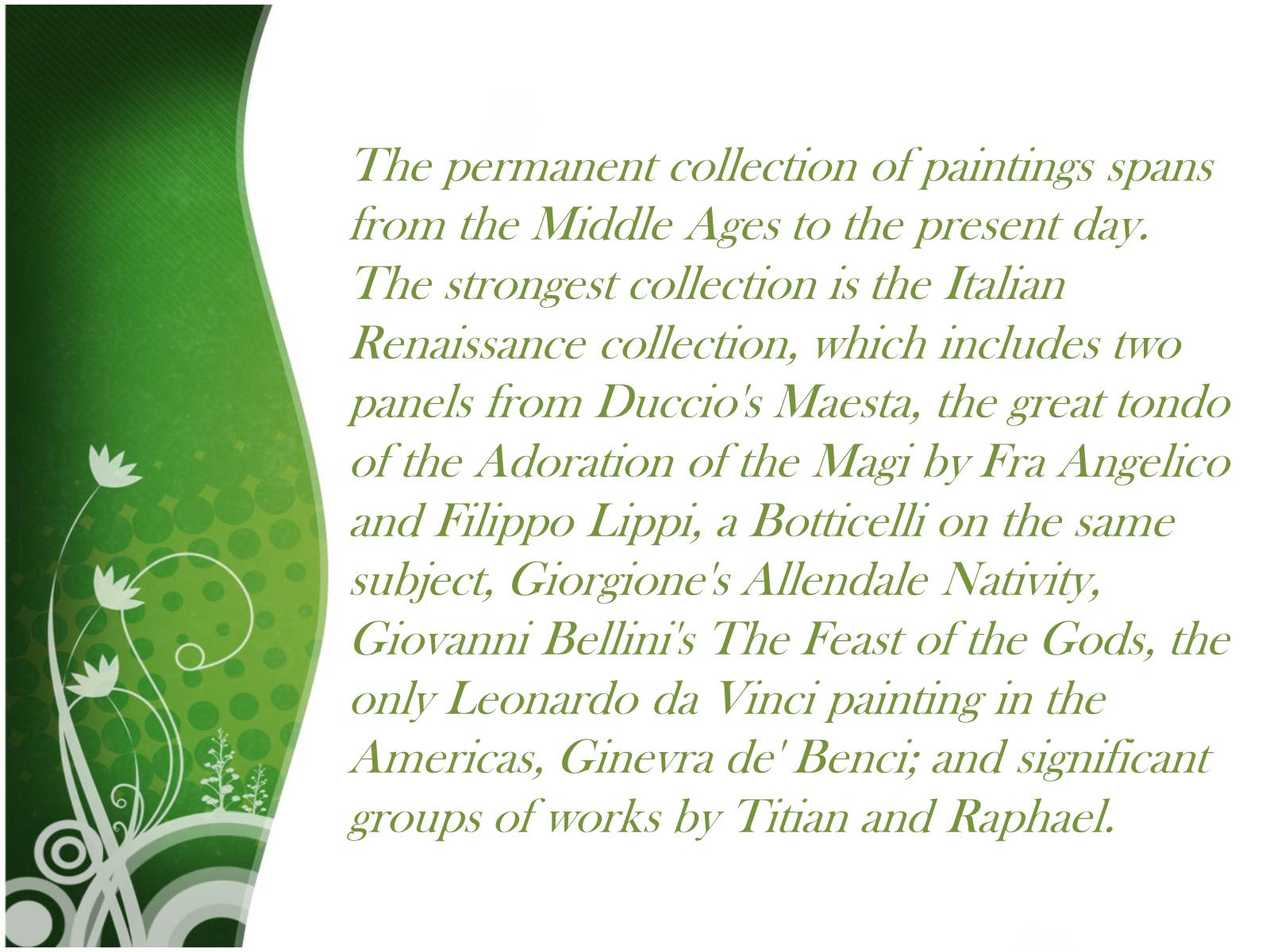 ---
Слайд #8
---
The collection of sculpture and decorative arts is admittedly not quite as rich as this, but includes such works as the Chalice of Abbot Suger of St-Denis and a superb collection of work by Auguste Rodin and Edgar Degas. Other highlights of the permanent collection include the second of the two original sets of Thomas Cole's famous series of paintings titled The Voyage of Life, (the first set is at the Munson-Williams-Proctor Arts Institute in Utica, New York) and the original version of Watson and the Shark by John Singleton Copley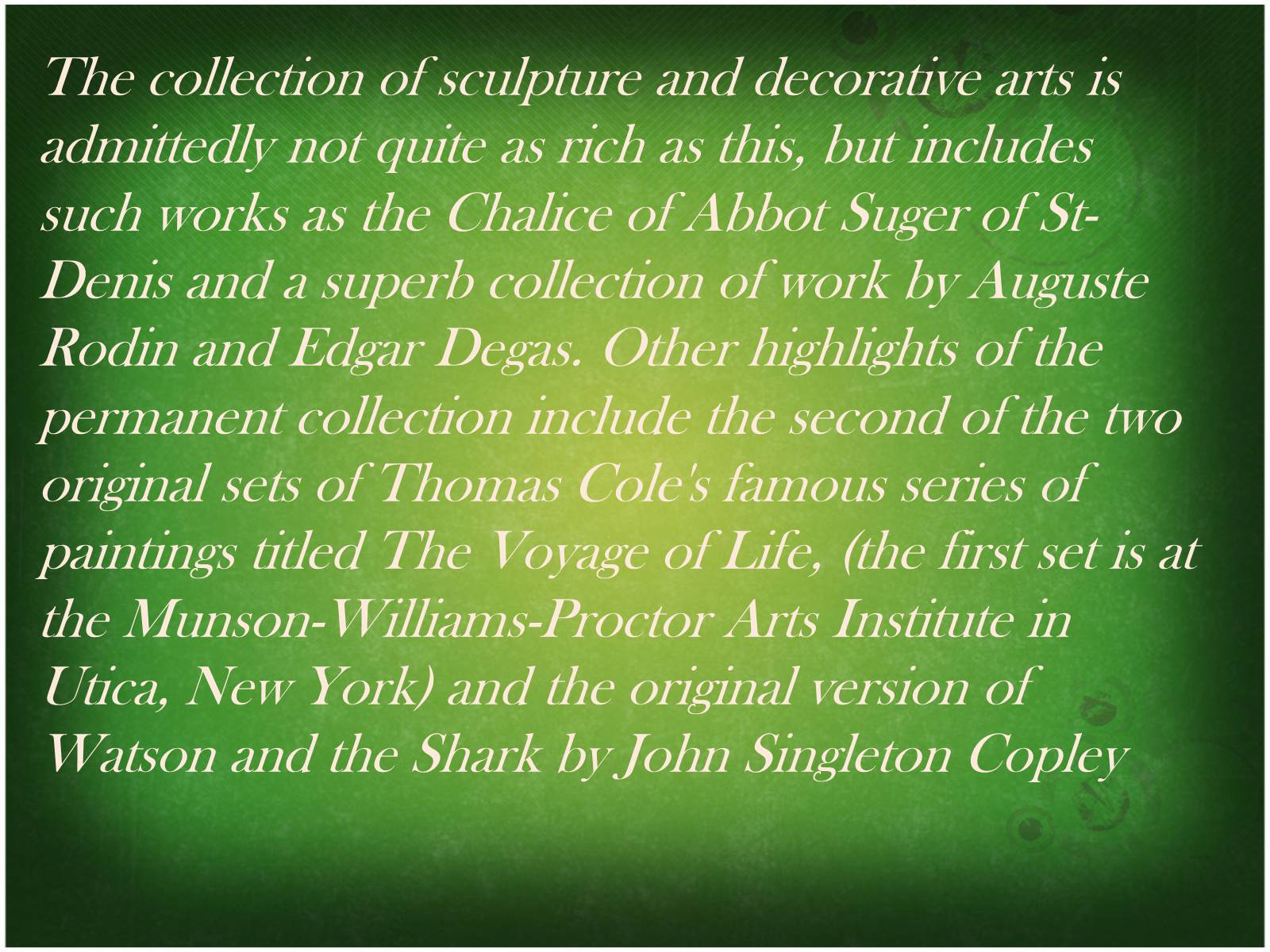 ---
Слайд #9
---
The collection of sculpture and decorative arts is admittedly not quite as rich as this, but includes such works as the Chalice of Abbot Suger of St-Denis and a superb collection of work by Auguste Rodin and Edgar Degas. Other highlights of the permanent collection include the second of the two original sets of Thomas Cole's famous series of paintings titled The Voyage of Life, (the first set is at the Munson-Williams-Proctor Arts Institute in Utica, New York) and the original version of Watson and the Shark by John Singleton Copley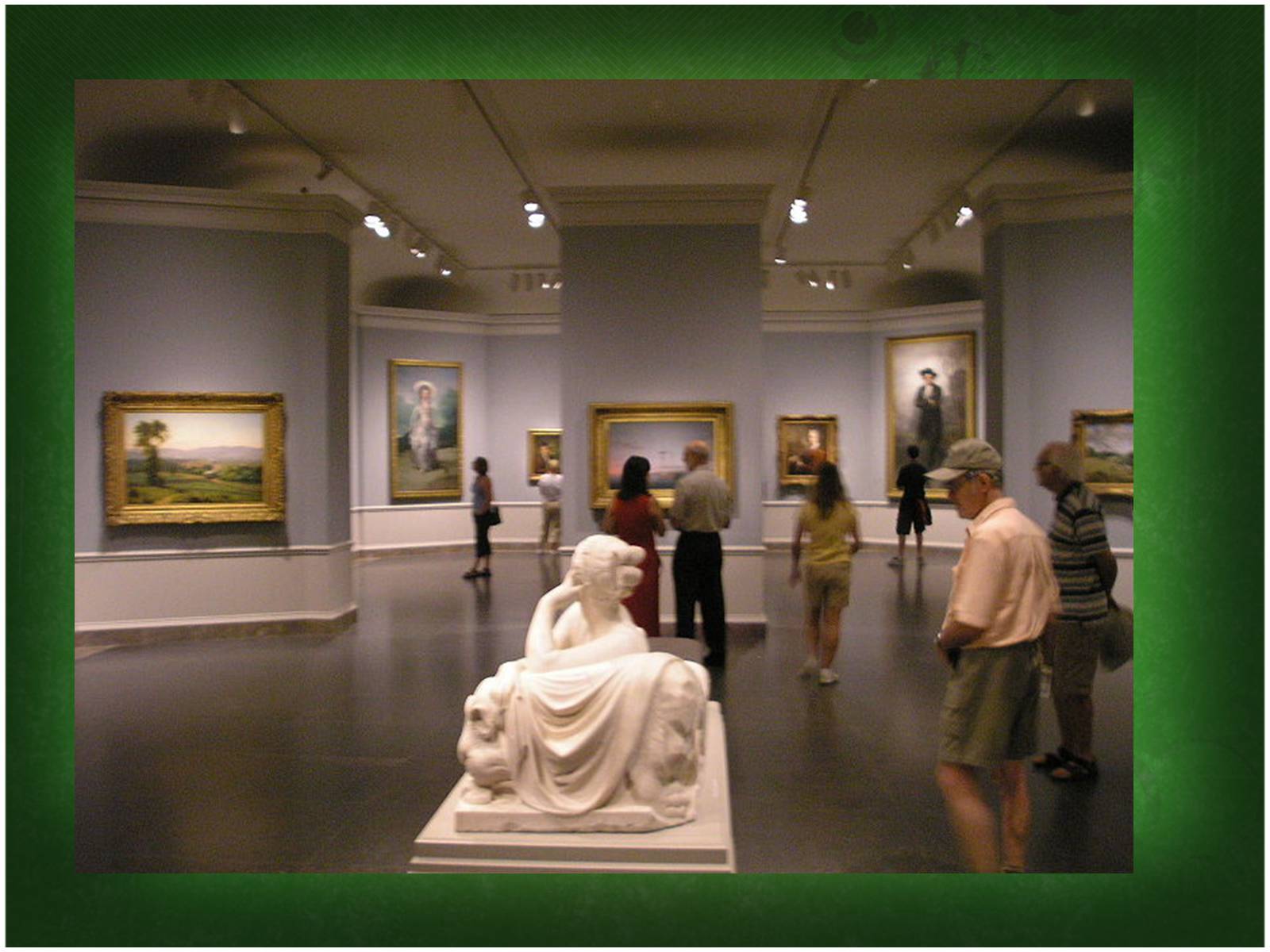 ---
Слайд #10
---
The National Gallery's print collection comprises 75,000 prints, in addition to rare illustrated books. It includes collections of works by Albrecht Dürer, Rembrandt, Giovanni Battista Piranesi, William Blake, Mary Cassatt, Edvard Munch, Jasper Johns, and Robert Rauschenberg. The collection began with 400 prints donated by five collectors in 1941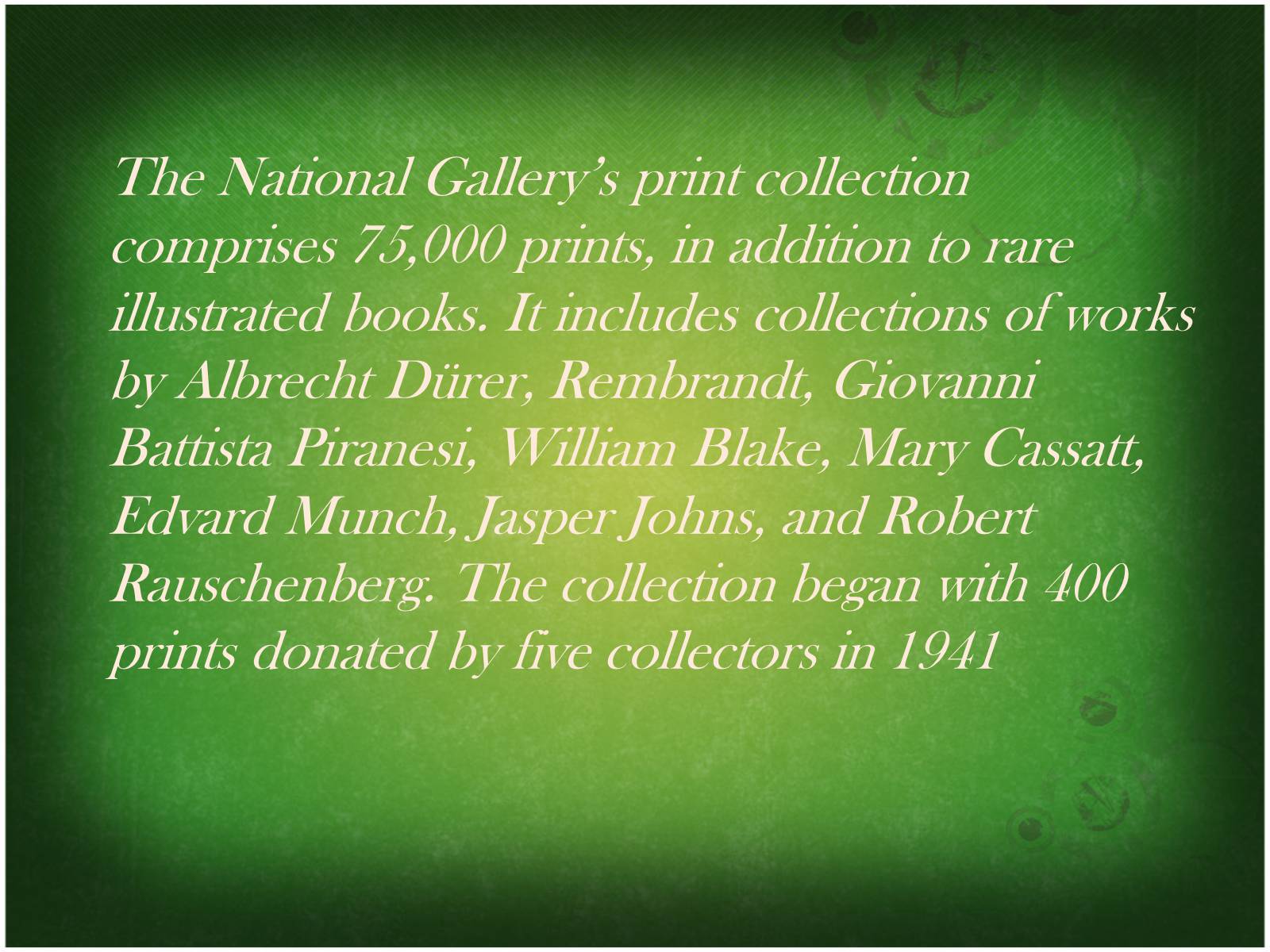 ---
Слайд #11
---
The Project work was done Nataliya Rabchevska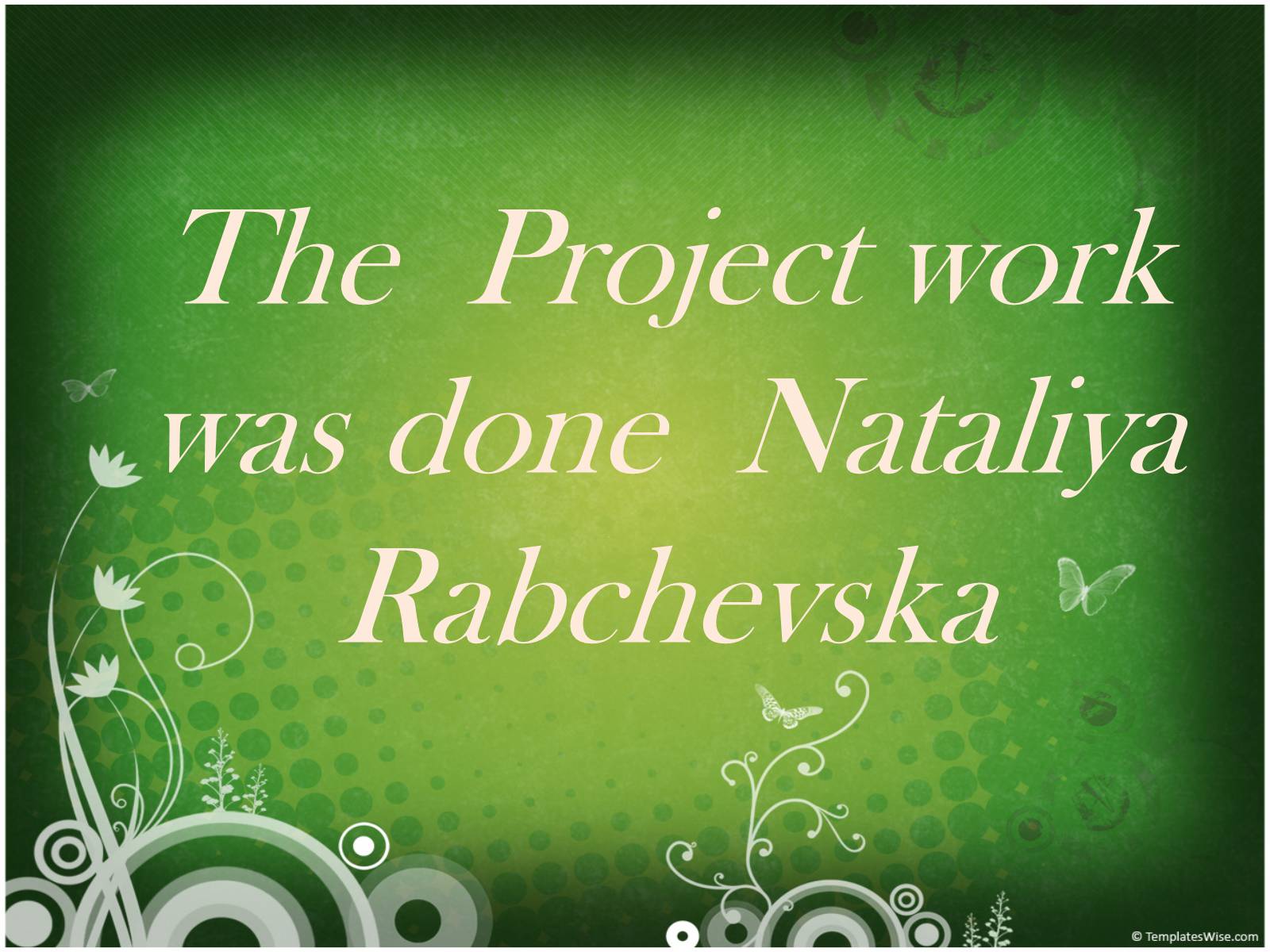 ---
---