Презентація на тему «Angelina Jolie»
Презентація на тему «Angelina Jolie»
---
---
---
Слайд #1
---
Angelina Jolie
Produced
pupil form 11
Katya Diktun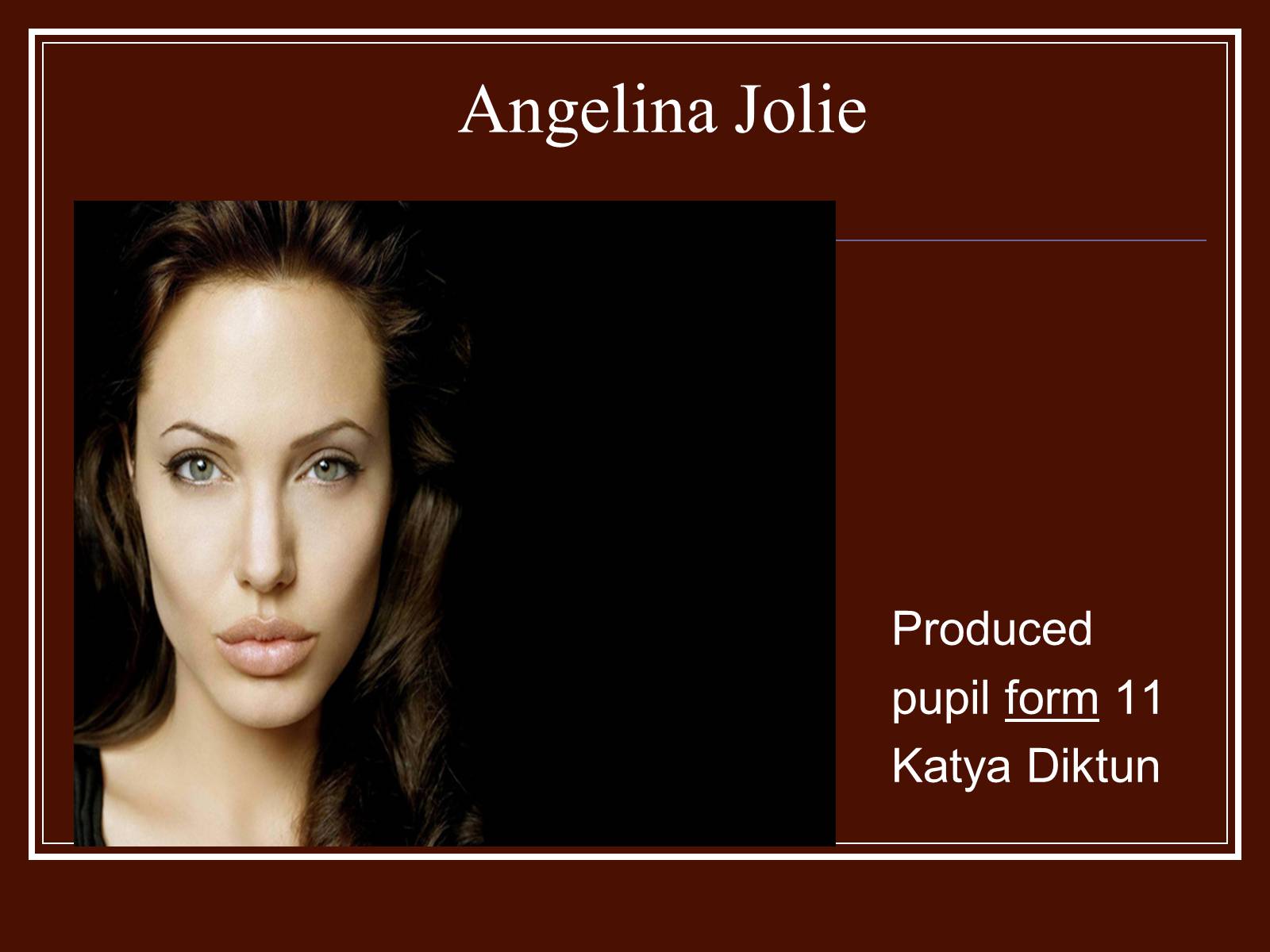 ---
Слайд #2
---
Angelina Jolie (June 4, 1975) is an American actress, film director, screenwriter, and author.   She has received an Academy Award, two Screen Actors Guild Awards, and three Golden Globe Awards, and was named Hollywood's highest-paid actress by Forbes.Angelina Jolie is an Oscar-winning actress who has become popular by taking on the title role in the "Lara Croft" series of blockbuster movies.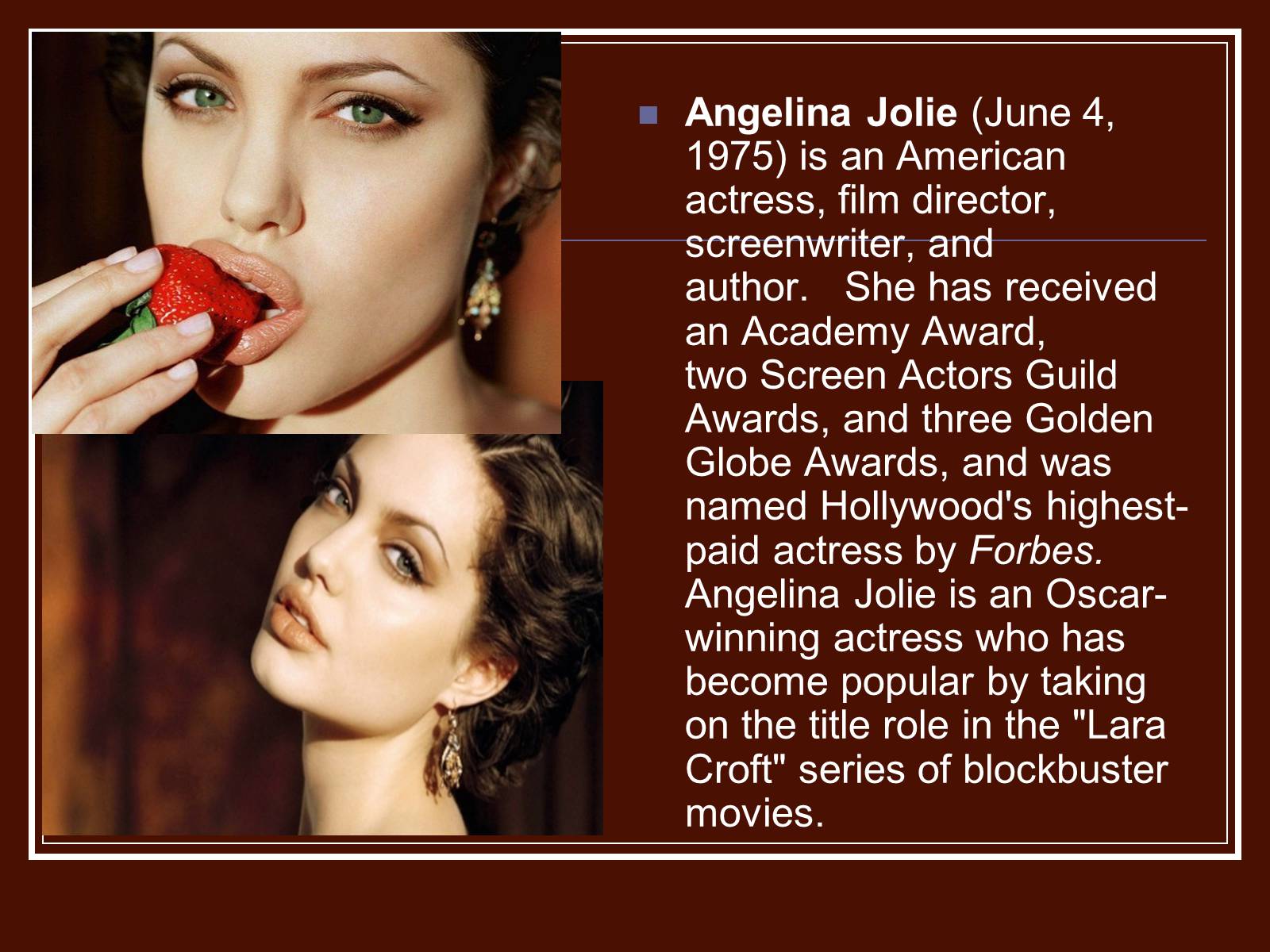 ---
Слайд #3
---
Early life and family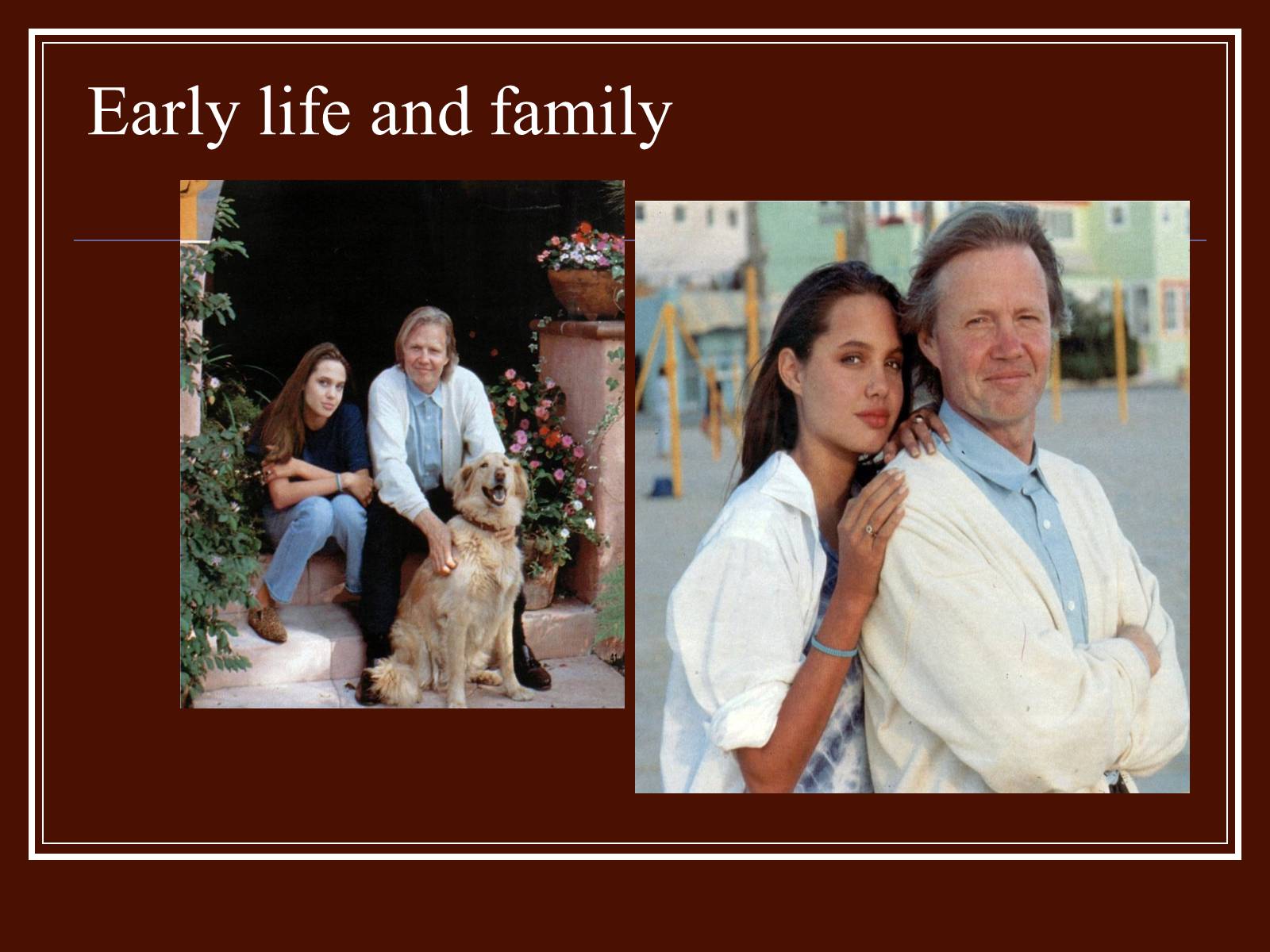 ---
Слайд #4
---
Born in Los Angeles, California, Jolie is the daughter of actors Jon Voight and Marcheline Bertrand. She is the sister of actor James Haven.  When she was six years old, her mother and stepfather, filmmaker Bill Day, moved the family to Palisades, New York;they returned to Los Angeles five years later. She then decided she wanted to act and enrolled at the Lee Strasberg Theatre Institute, where she trained for two years.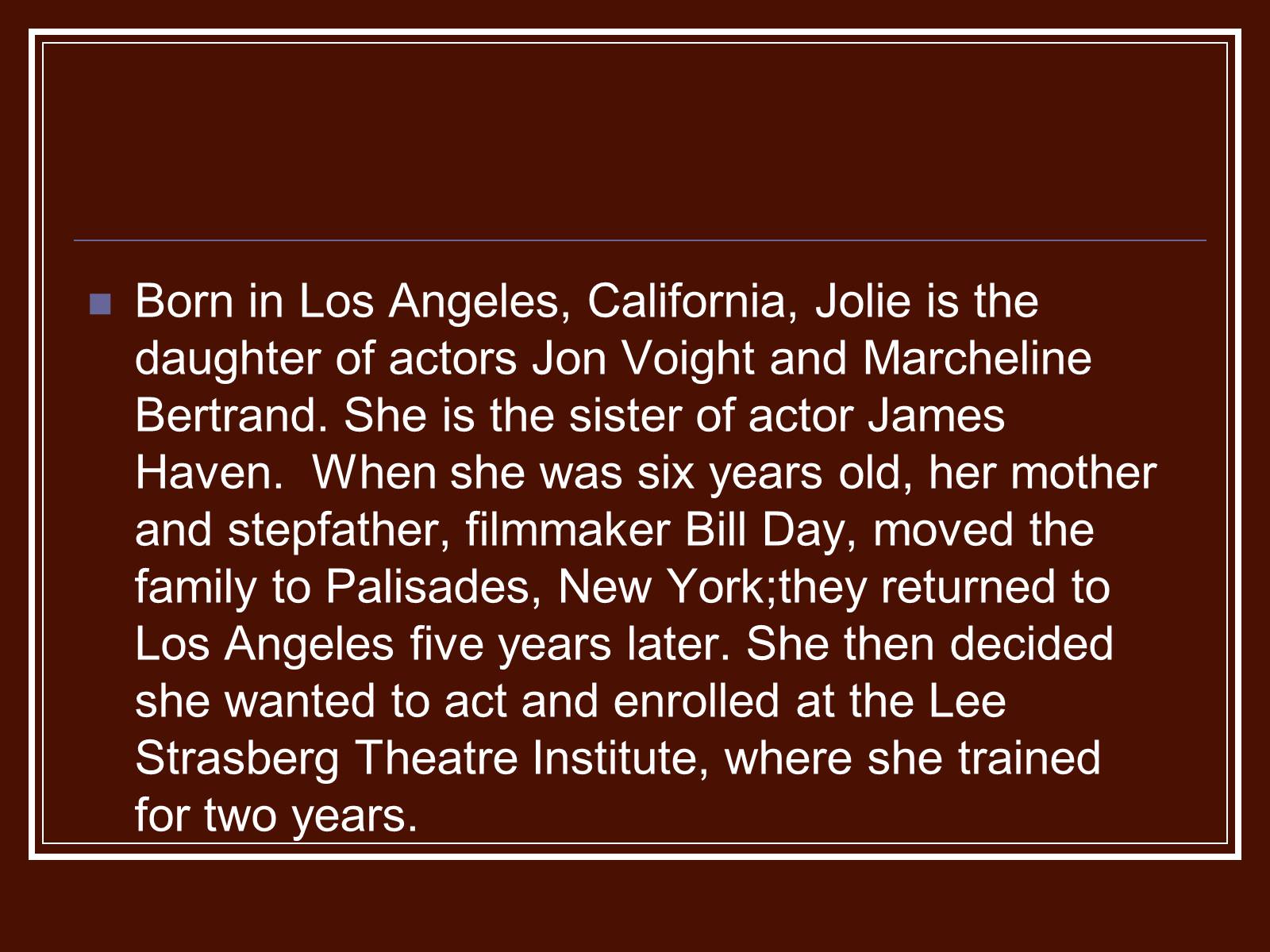 ---
Слайд #5
---
At the age of 14, Jolie dropped out of her acting classes and aspired to become a funeral director.She began working as a fashion model, modeling mainly in Los Angeles, New York, and London. Two years later, after the relationship had ended, she rented an apartment above a garage a few blocks from her mother's home.She graduated from high school and returned to theater studies.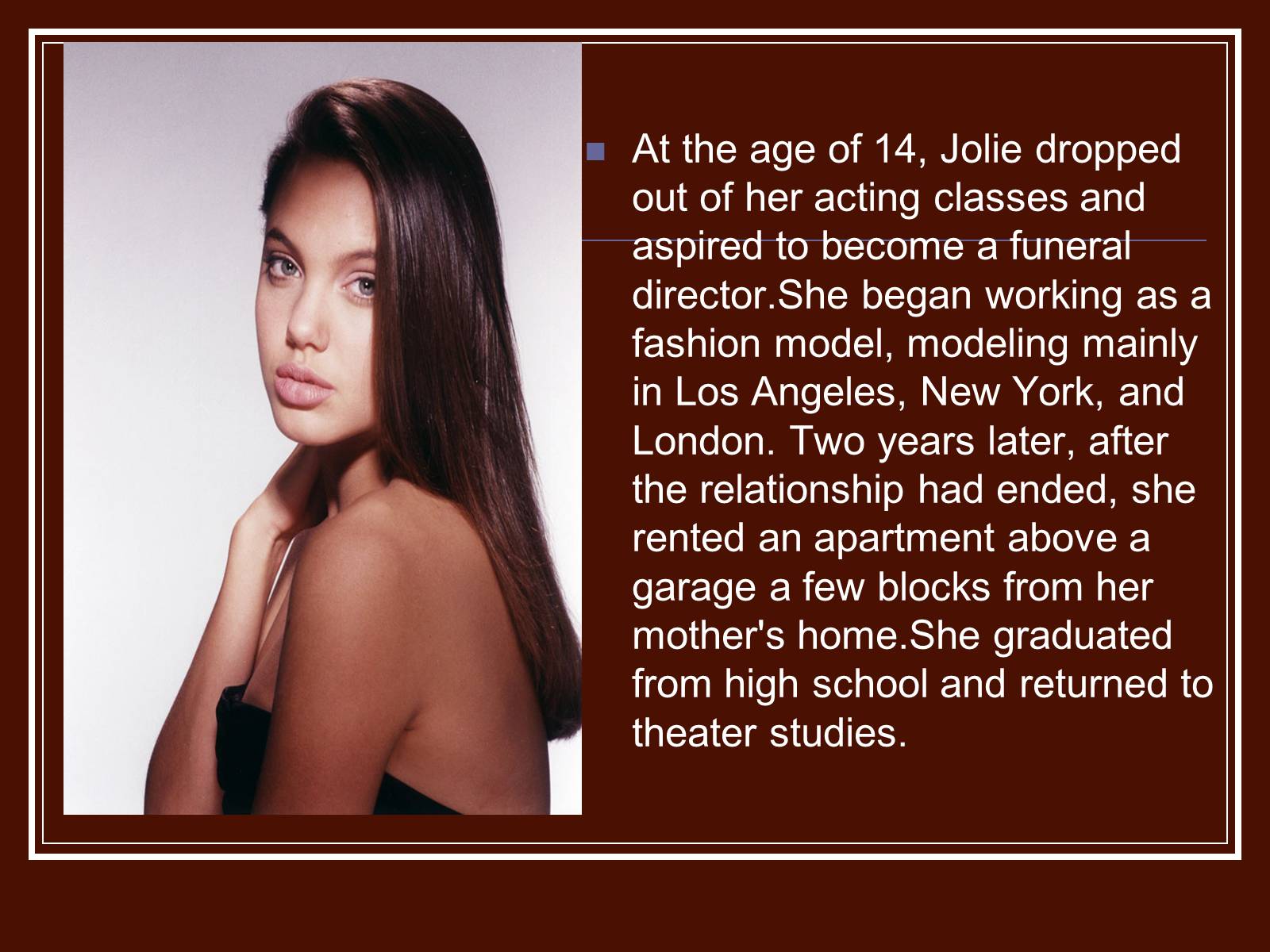 ---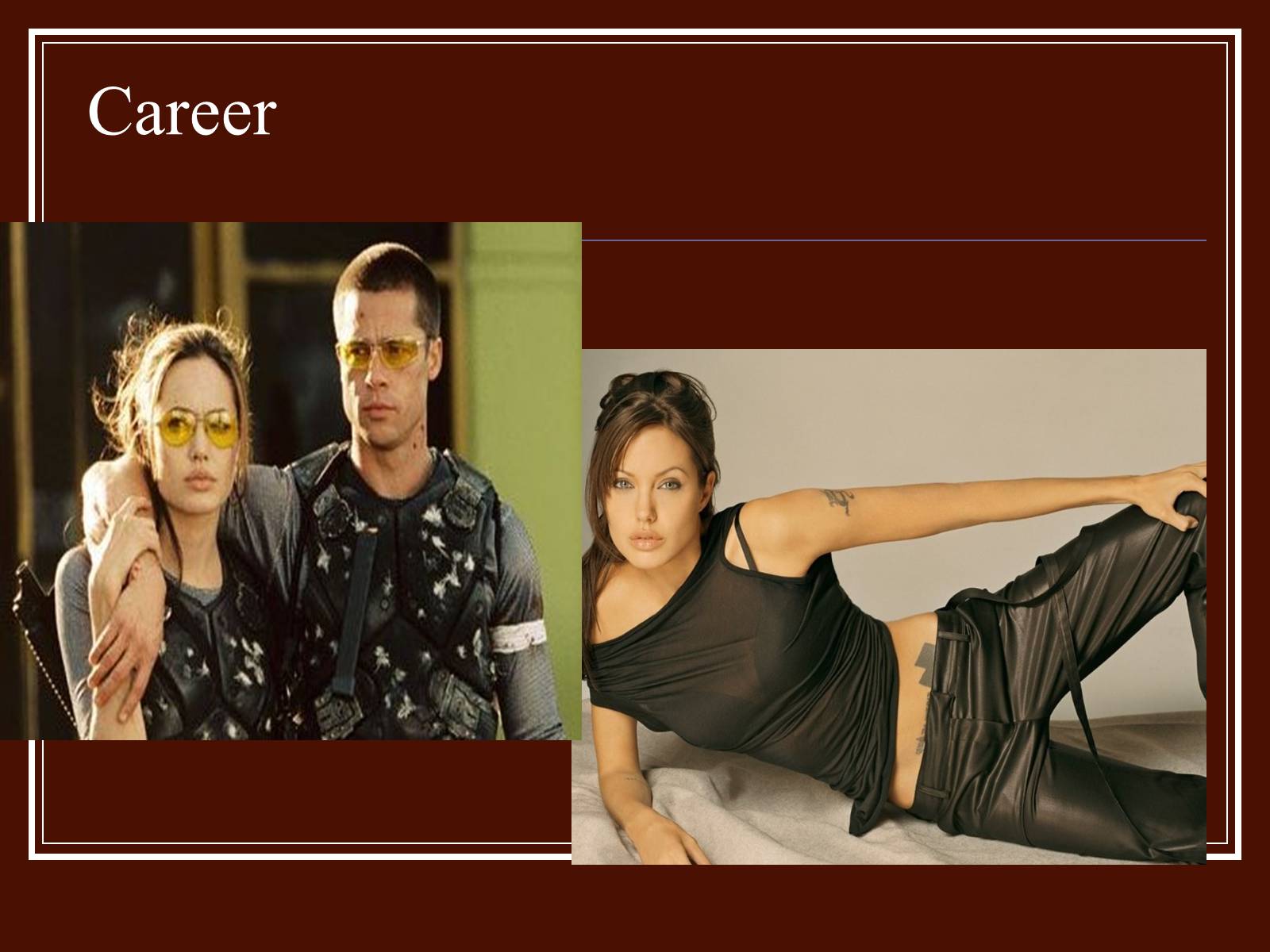 ---
Слайд #7
---
Jolie began her professional film career in 1993, when she played her first leading role in the low-budget, straight-to-video science-fiction sequel Cyborg 2. She next appeared in the 1996 comedy Love Is All There Is. In 1997, Jolie starred with David Duchovny in the thriller Playing God. Jolie reprised her role as Lara Croft in Lara Croft :The Cradle of Life.
Jolie then starred opposite Brad Pitt in the 2005 action-comedy Mr. & Mrs. Smith. Jolie next appeared in Robert De Niro's The Good Shepherd.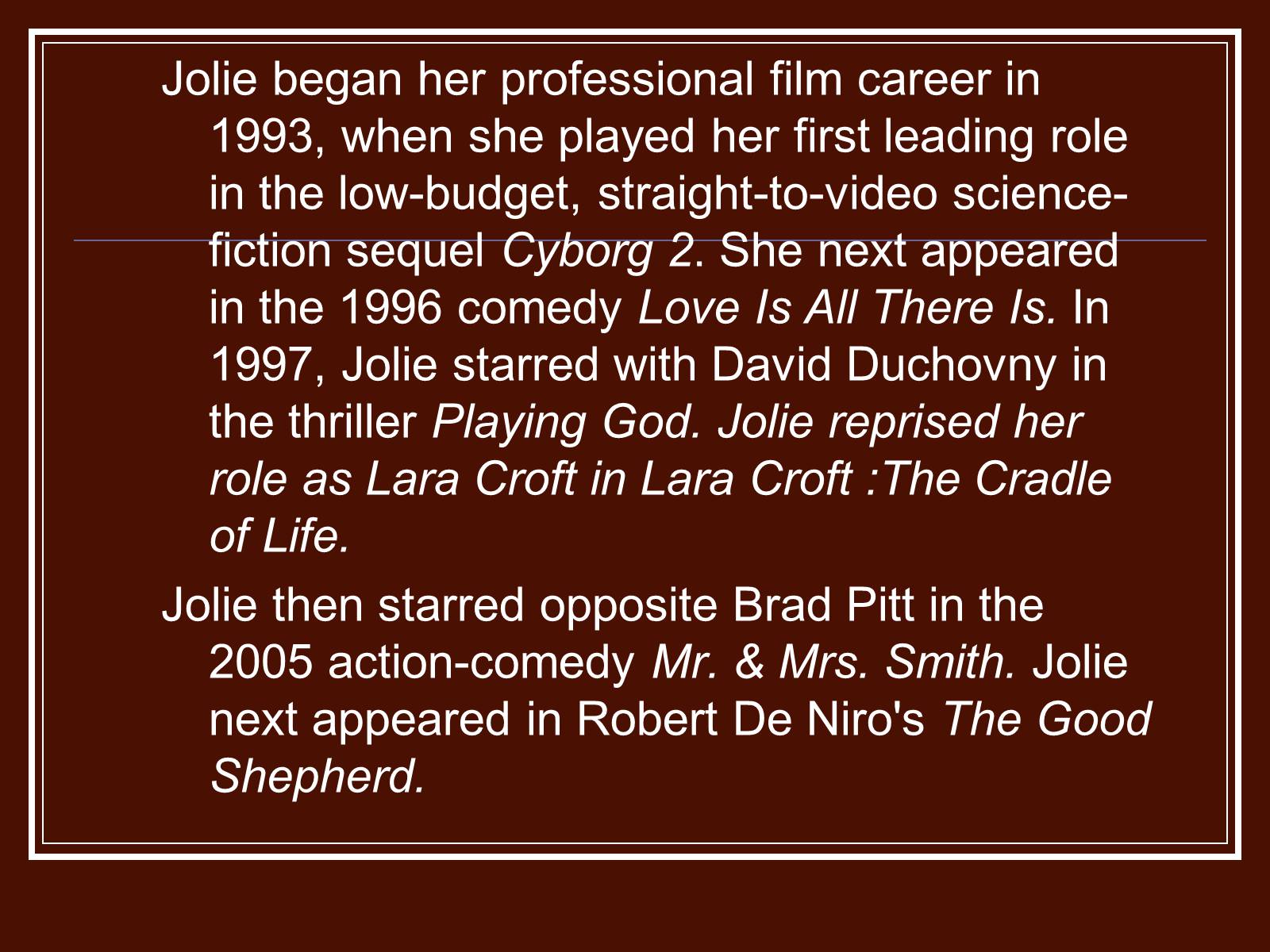 ---
Слайд #8
---
Jolie next starred in the 2010 thriller Salt. She also starred opposite Johnny Depp in The Tourist (2010) . In 2011, made her directorial feature debut with In the Land of Blood and Honey, a love story between a Serb soldier and a Bosniak prisoner of war.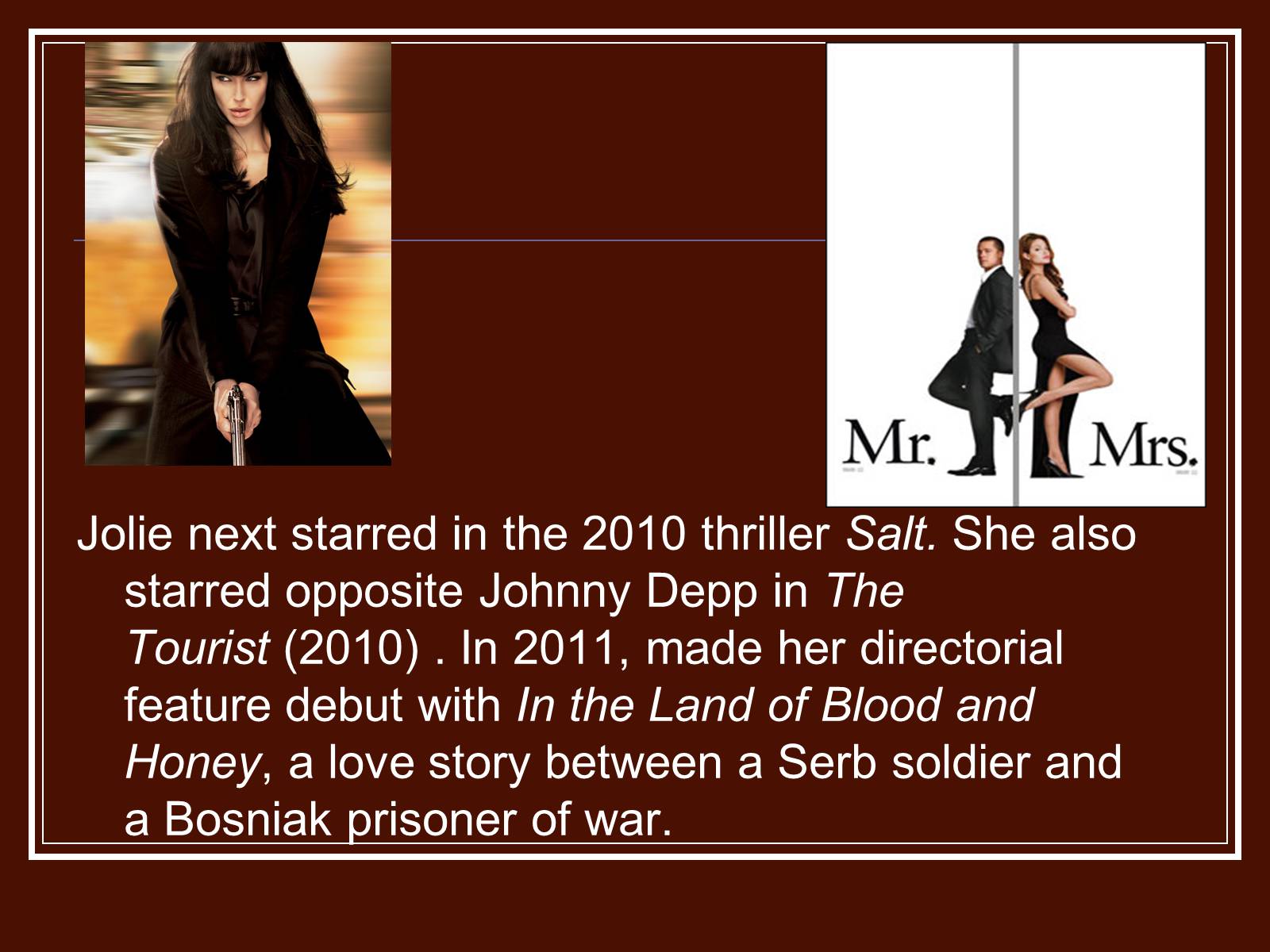 ---
Слайд #9
---
Humanitarian work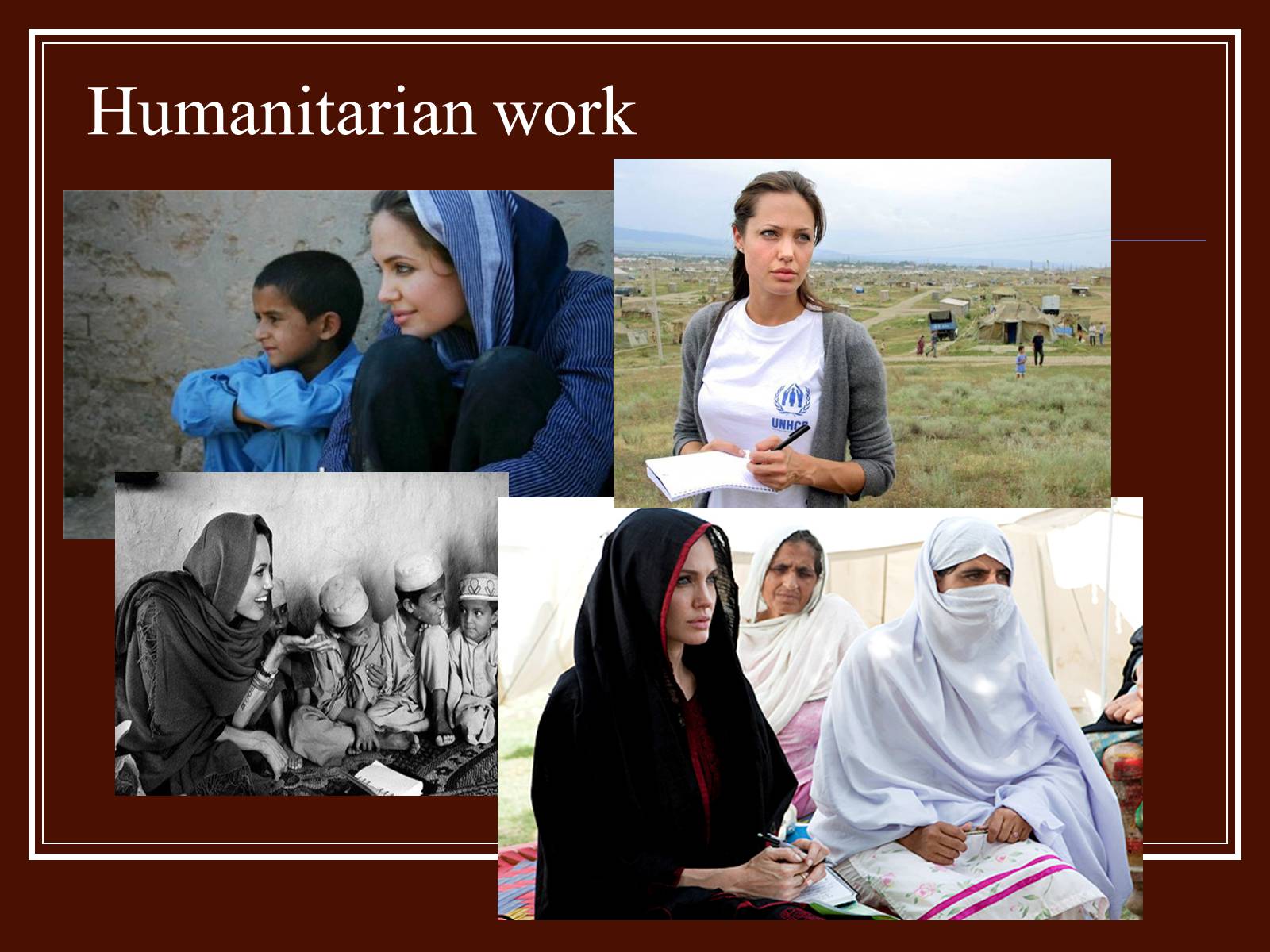 ---
Слайд #10
---
Jolie first personally encountered the effects of a humanitarian crisis while filming Lara Croft in war-torn Cambodia. Аfter her return home, she contacted the United Nations High Commissioner for Refugees for information on international trouble spots.To learn more about the conditions in these areas, she began visiting refugee camps around the world. In February 2001, she went on her first field visit, an 18-day mission to Sierra Leone and Tanzania.
In the following months, she returned to Cambodia for two weeks and met with Afghan refugees in Pakistan, where she donated $1 million. Jolie was named a UNHCR Goodwill Ambassador at UNHCR headquarters in Geneva on August 27, 2001.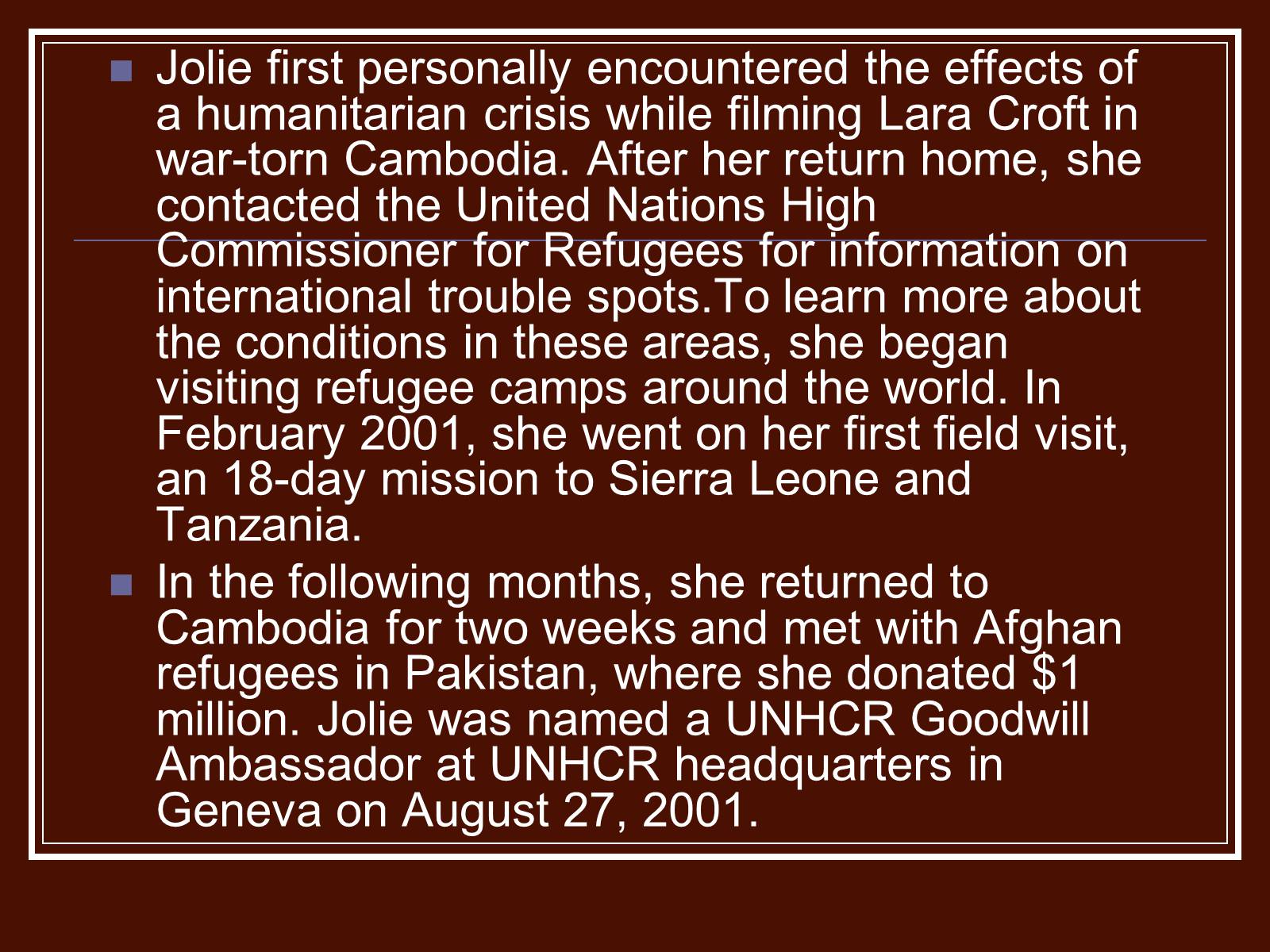 ---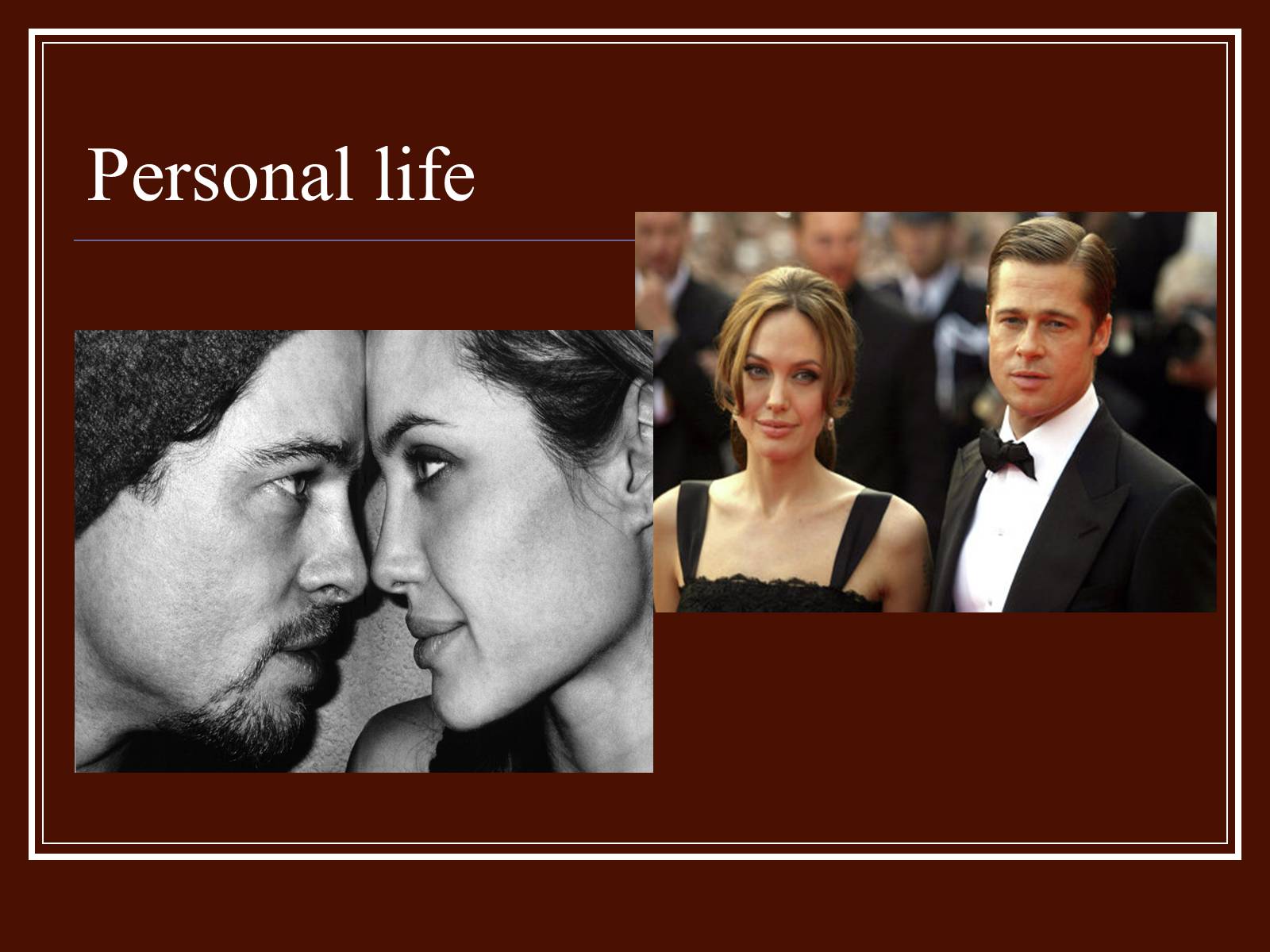 ---
Слайд #12
---
During filming of Hackers (1995), Jolie had a romance with British actor Jonny Lee Miller. Jolie had a brief relationship with model-actress Jenny Shimizu (1996).
, Jolie married actor Billy Bob Thornton on May 5, 2000, in Las Vegas.Their divorce was finalized on May 27, 2003.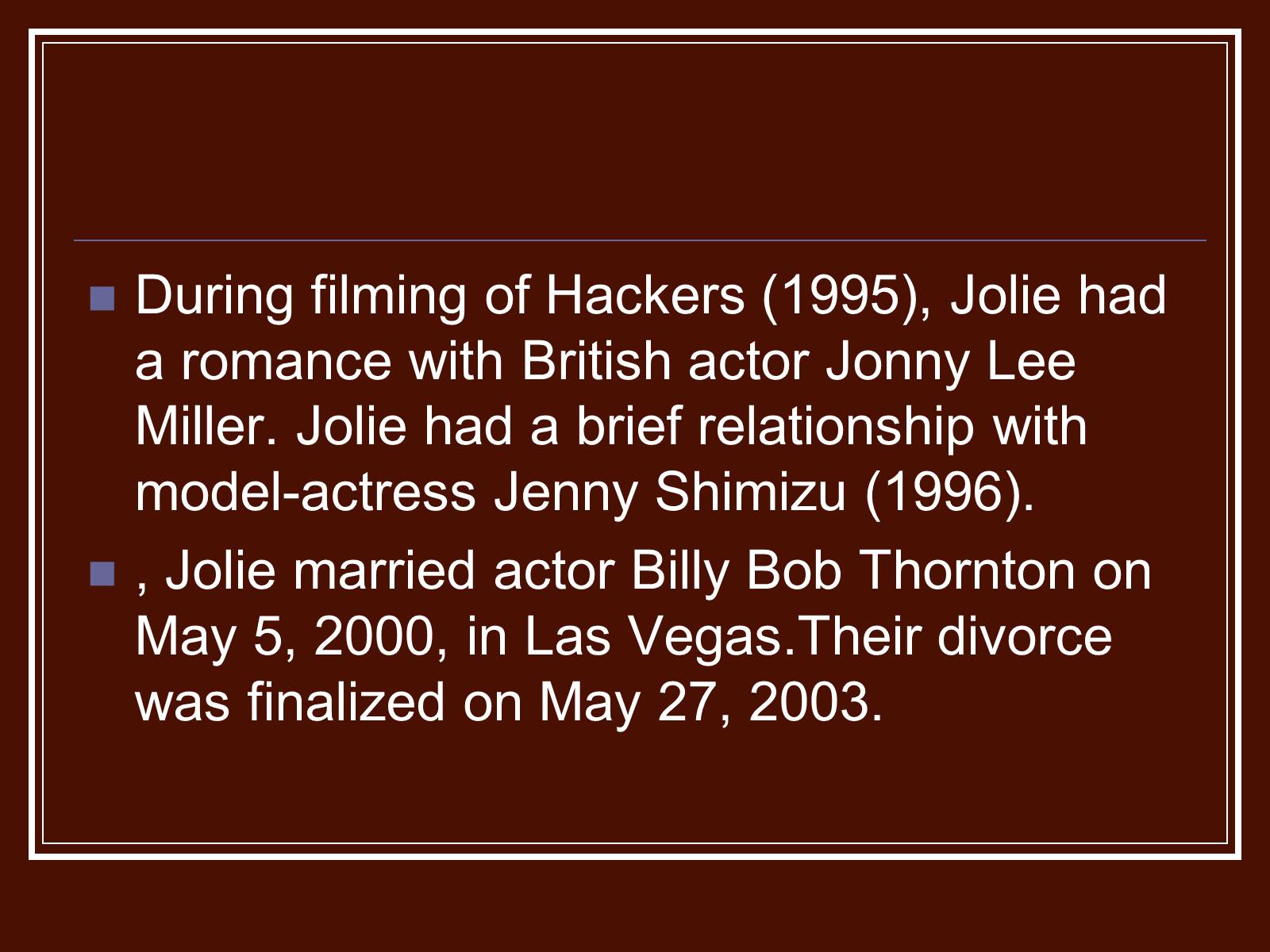 ---
Слайд #13
---
In early 2005, Jolie was involved in a Hollywood scandal when she was accused of being the reason for the divorce of actors Brad Pitt and Jennifer Aniston. She and Pitt were alleged to have started an affair during filming of Mr. & Mrs. Smith.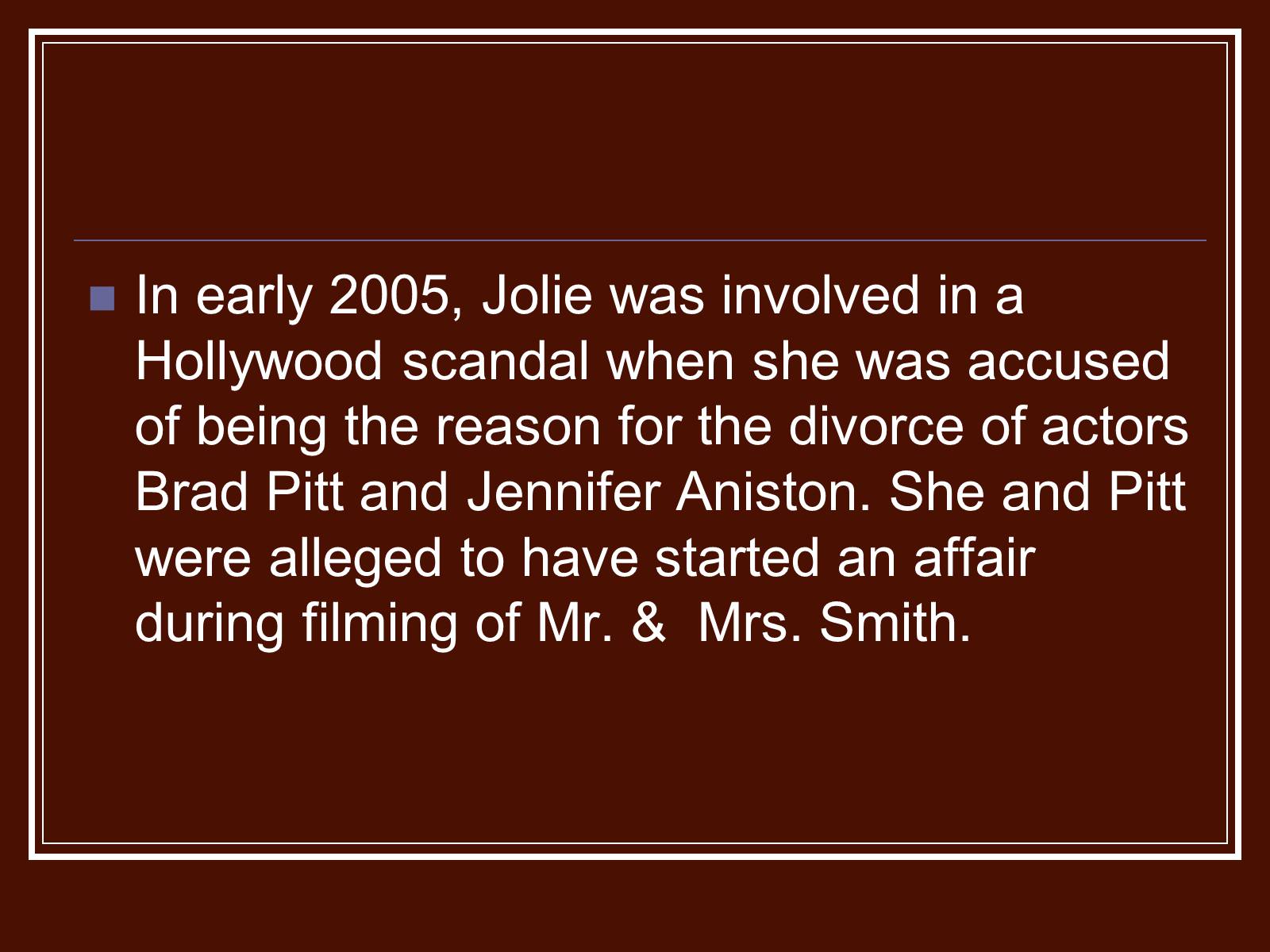 ---
Слайд #14
---
Children
Angelina Jolie has six children. Although only three are biological children of Angelina and Brad Pitt.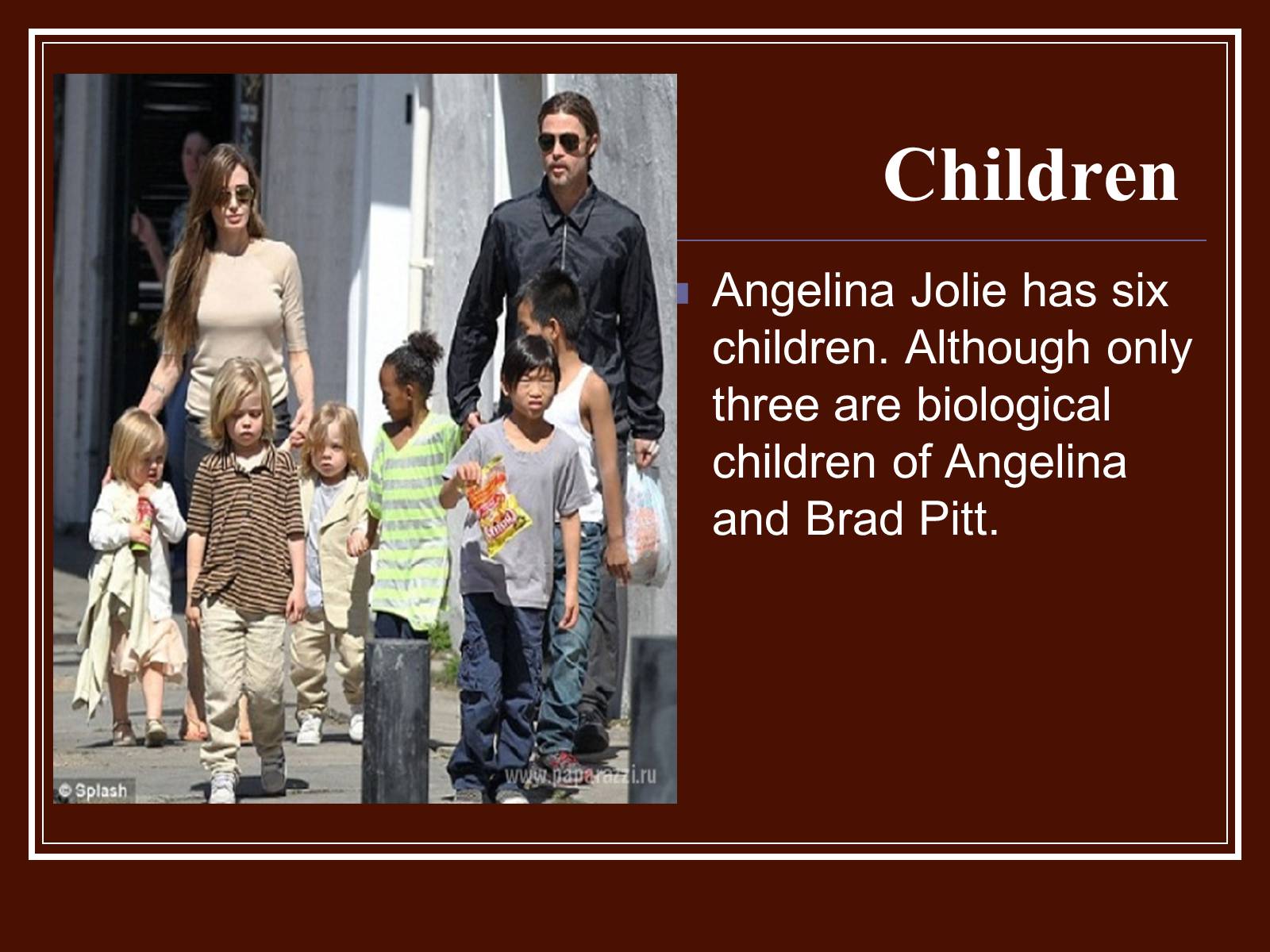 ---
---