Презентація на тему «Herman Melville»
Презентація на тему «Herman Melville»
---
---
---
Слайд #1
---
Herman Melville
Julia Koval 11-A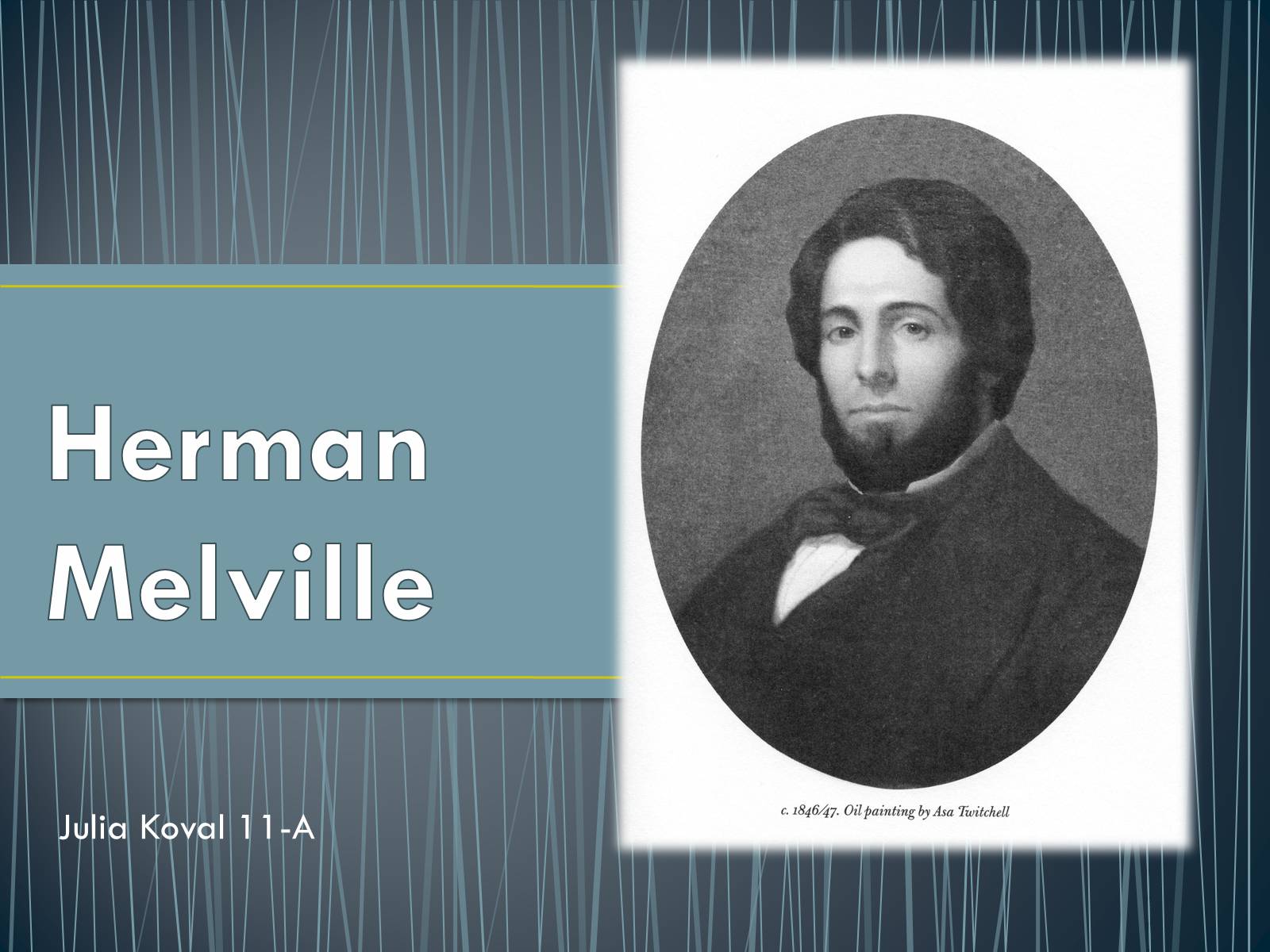 ---
Слайд #2
---
Herman Melville was an American author born on August 1, 1819 in New York. The author penned many books and later in life wrote poetry. Best known for his novel Moby Dick, Melville was only heralded as one of America's greatest writers after his death on September 28, 1891. The Library of Congress honored him as its first writer to collect and publish.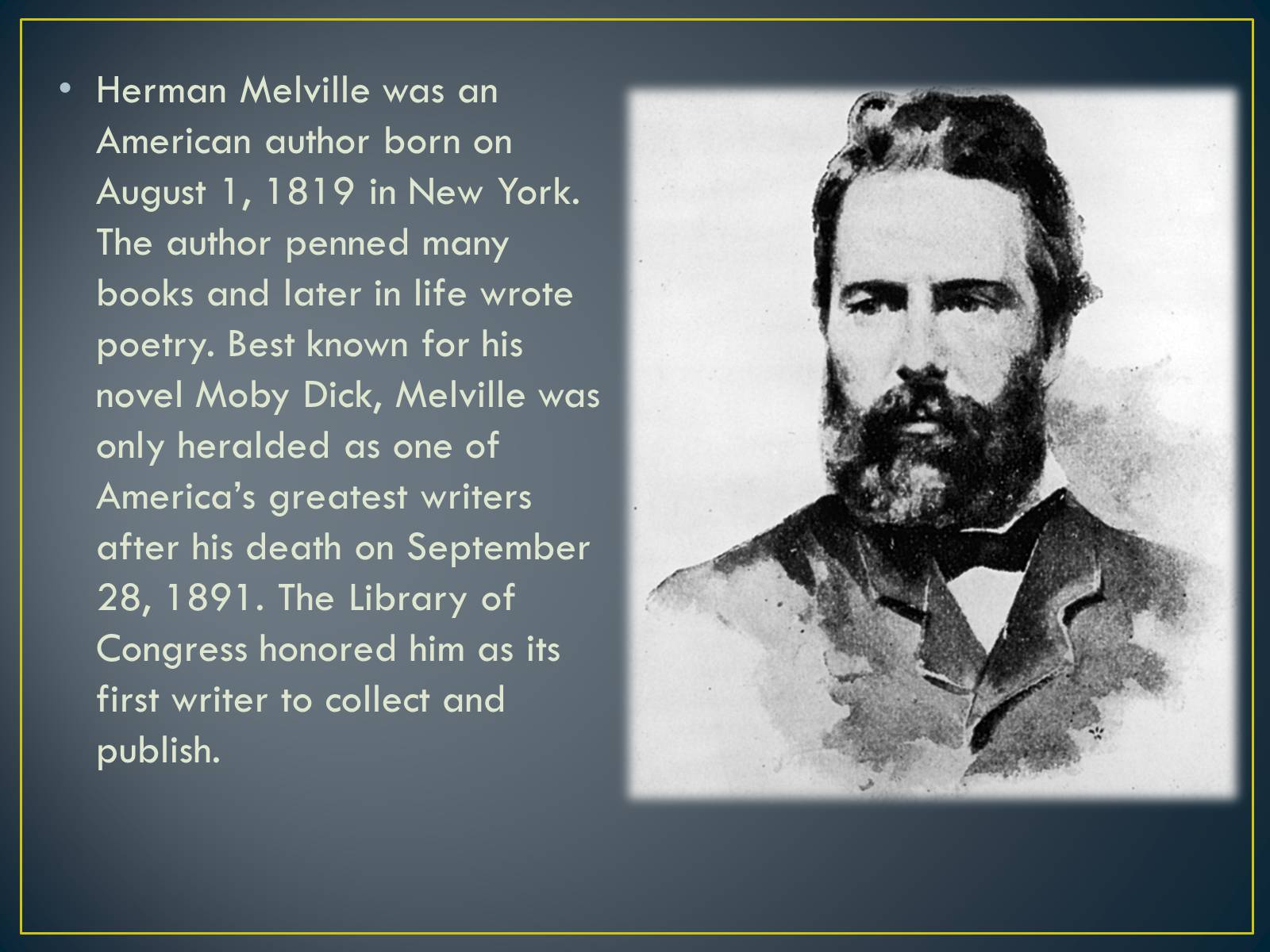 ---
Слайд #3
---
Early Life
Herman Melville was born in New York City on August 1, 1819, to Allan and Maria Gansevoort Melvill. In the mid-1820s, young Herman fell ill to scarlet fever, and though he regained his health not long after, his vision was left permanently impaired by the illness. In the mid-1830s, Melville enrolled at the Albany Classical School, where he studied classic literature and began taking part in student debates. He had also begun writing by this time—including poems, essays and short stories. He left Albany for a teaching job in Massachusetts, but soon found the work to be unfulfilling and left the position after only three months, returning to New York.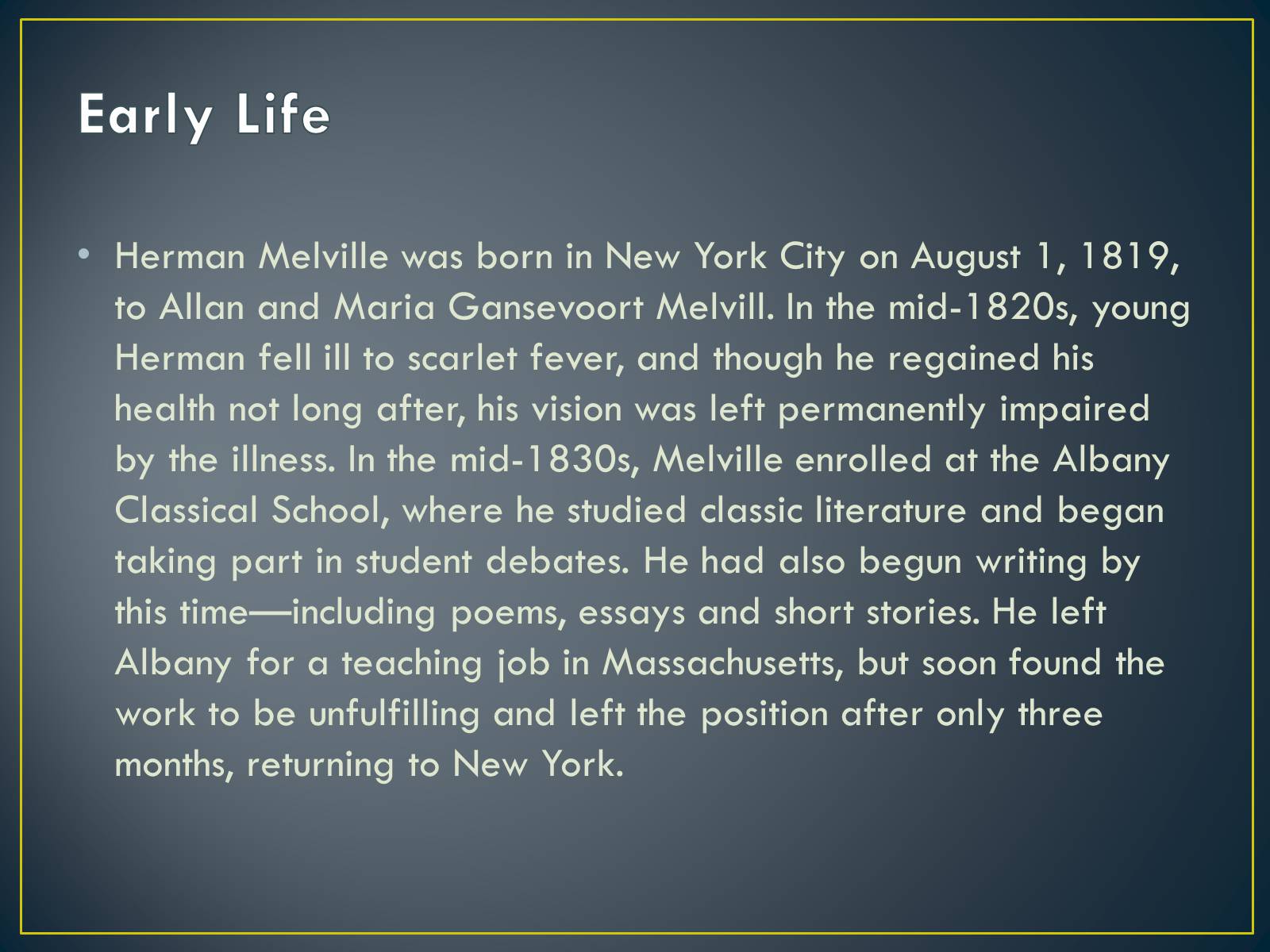 ---
Слайд #4
---
Sea Voyages and Early Novels
The family relocated to Lansingburgh soon after, and many of Melville's siblings took odd jobs; Melville enrolled at Lansingburgh Academy, where he studied surveying in hopes of gaining employment with the newly initiated Erie Canal project.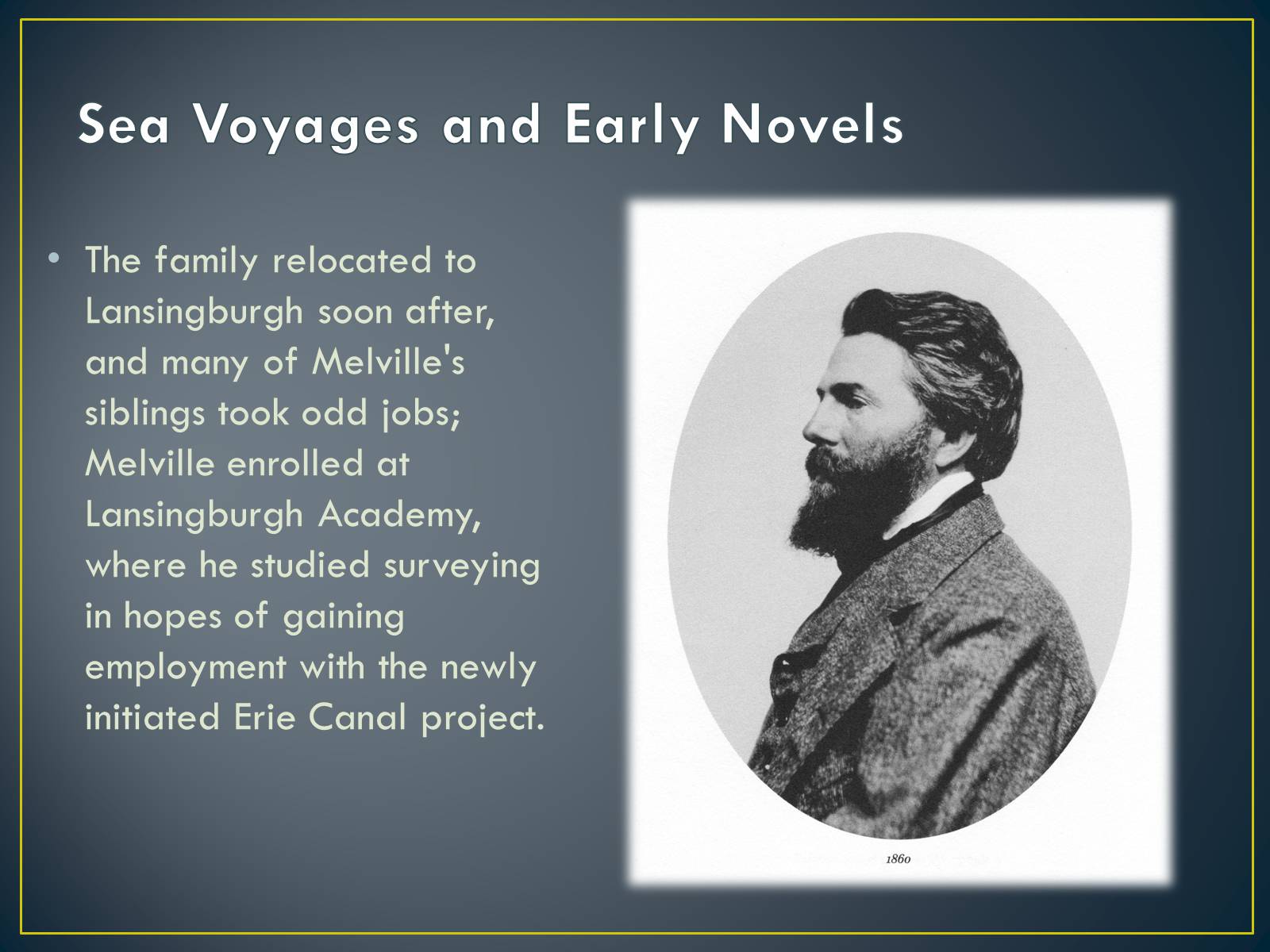 ---
Слайд #5
---
In 1841, Melville embarked on his second sea voyage: He was hired to work aboard the Acushnet, a whaling ship. His subsequent journey would last nearly three years and spur the creation of his first novel, Typee. According to the book, in 1842, the Acushnet arrived at the Marquesas Islands in Polynesia, where Melville and a crewmate deserted the ship and, soon after, were captured by local cannibals. The two spent nearly four months as captives before escaping and boarding another whaling ship, the Lucy Ann, working as part of its crew, according to Melville's literary account.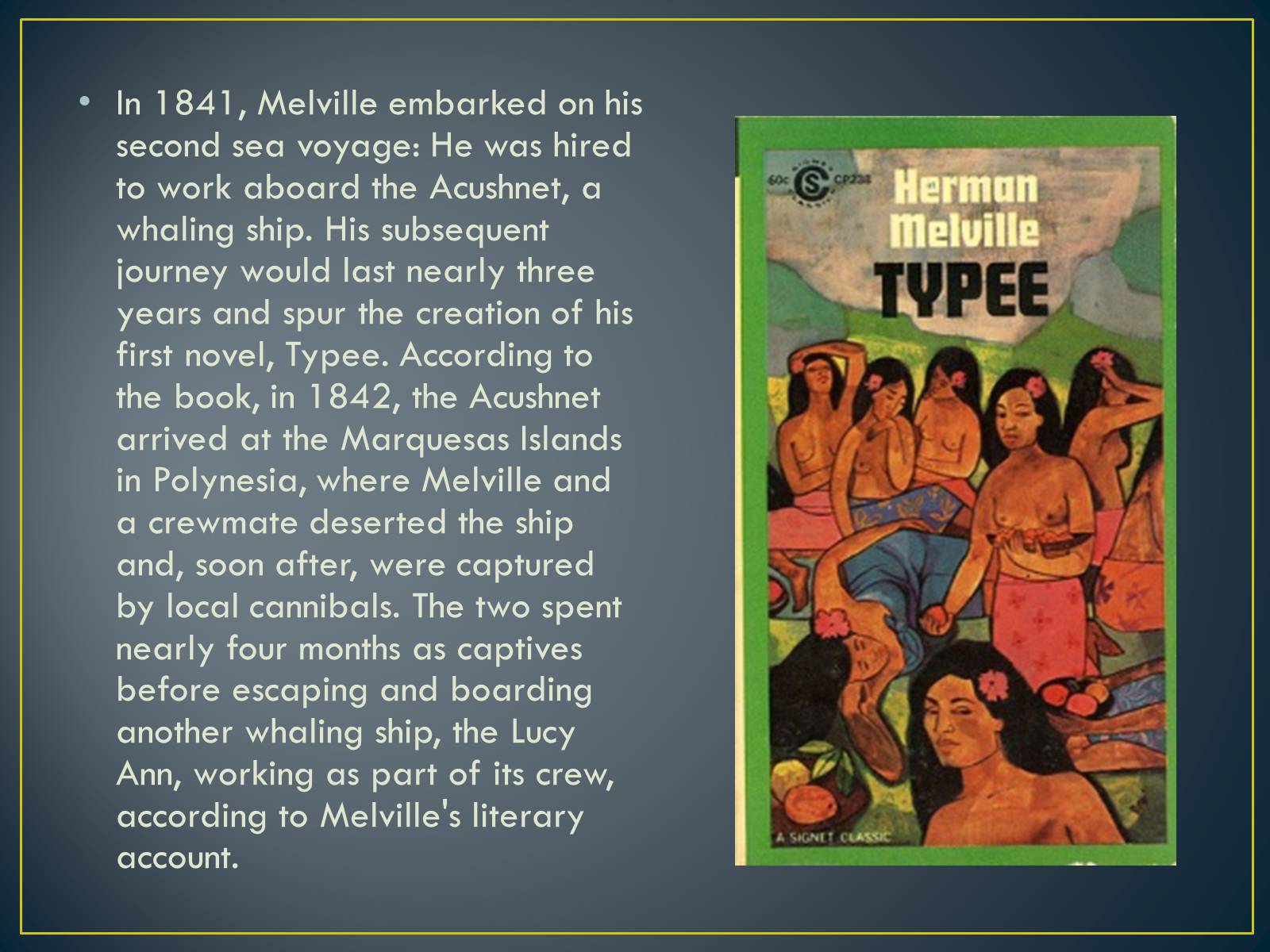 ---
Слайд #6
---
'Moby-Dick'
It was much later in life that Melville wrote his most popular work, Moby-Dick (initially titled The Whale), which was first published in 1851. Moby-Dick, categorized as American Romanticism, is based on both Melville's years of experience aboard whaleships and the real-life sinking of the Essex whaleship.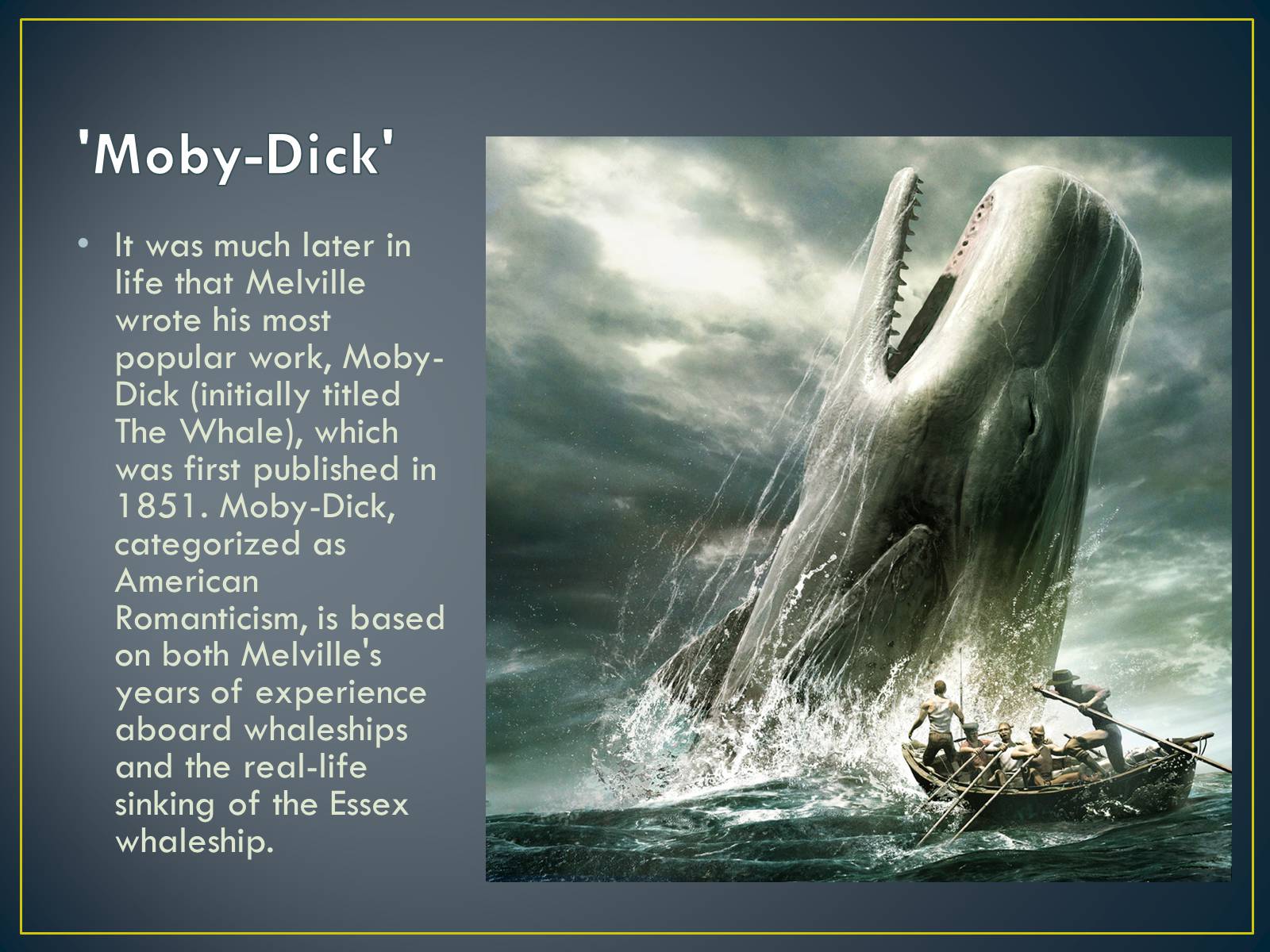 ---
Слайд #7
---
Moby-Dick has received commercial and critical acclaim for nearly a century. However, Melville didn't live to witness that success. In fact, the book didn't bring him any wealth or respect during his lifetime. Early critics were unimpressed by the novel; an 1851 article in the Illustrated London News called it "Herman Melville's last and best and most wildly imaginative story," and a testament to his "reckless imaginative power." Readers weren't enamored either.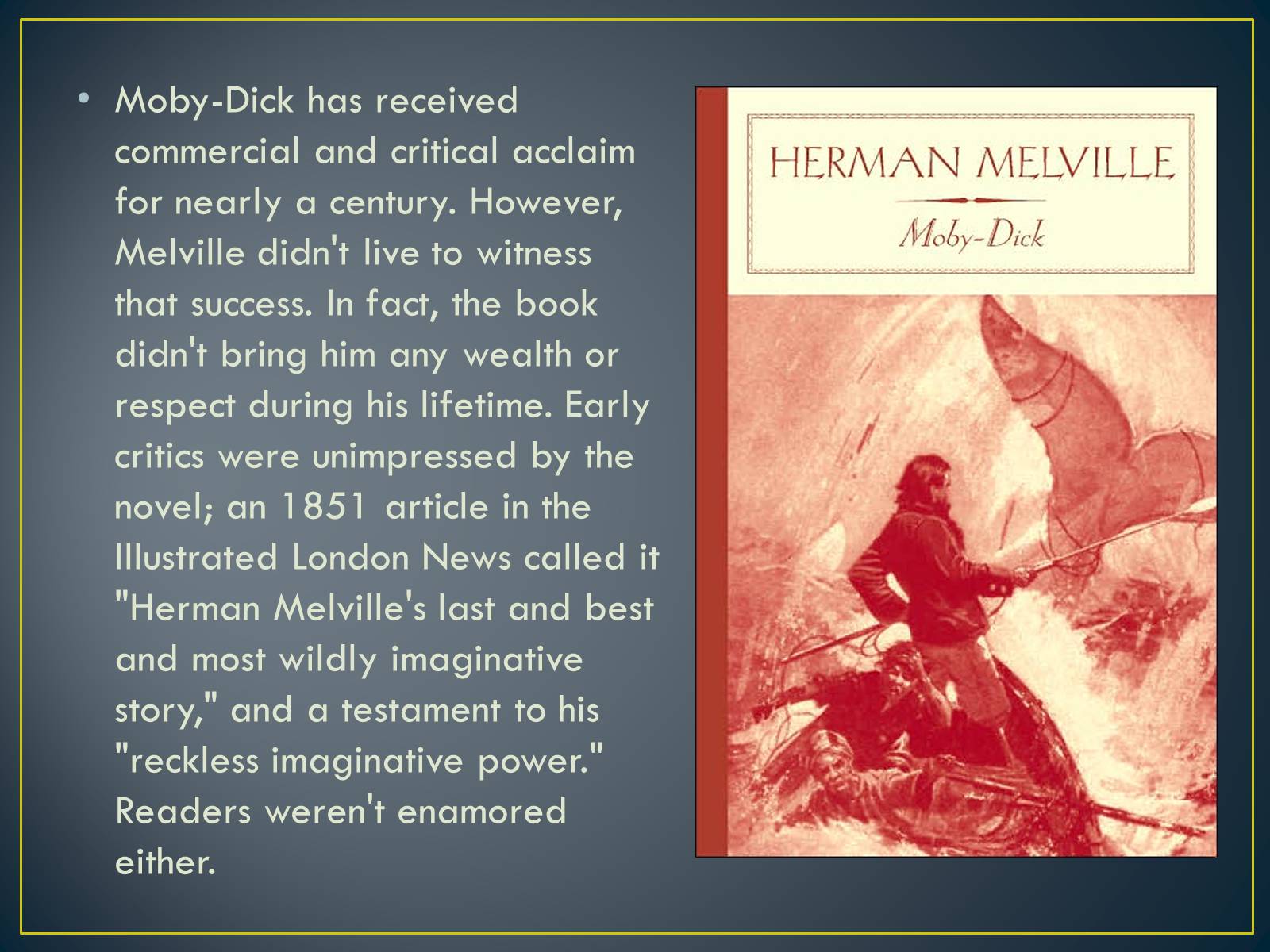 ---
Слайд #8
---
Death and Legacy
On September 28, 1891, Melville died of a heart attack in New York City. Several years after his death, many of his books were reprinted, including Moby-Dick, and his name began slowly gaining traction in the literary world. By the early 1920s, Melville had become a well-known figure among readers and critics alike. Today, Herman Melville is regarded as one of America's greatest writers, and Moby-Dick is considered not only a classic American novel, but a literary masterpiece.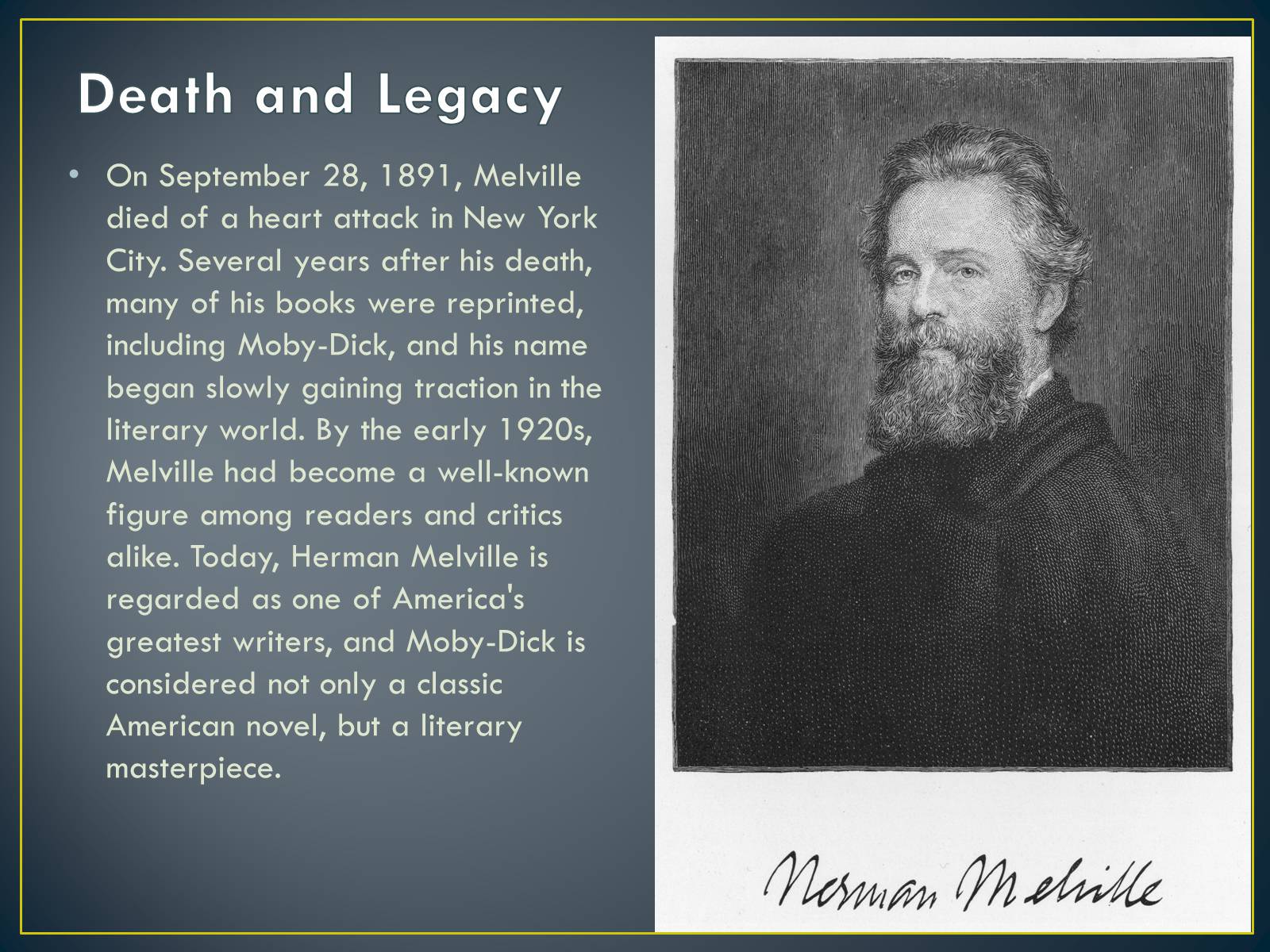 ---
---