Презентація на тему «The Golden Age in the British Painting»
Презентація на тему «The Golden Age in the British Painting»
---
---
---
Слайд #1
---
The Golden Age in the British Painting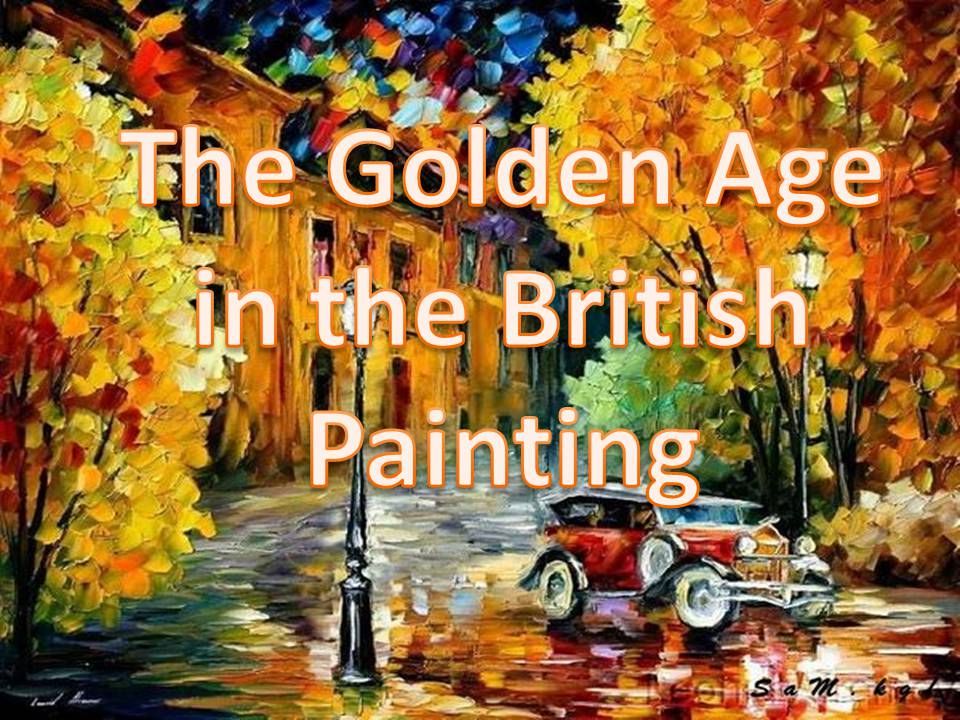 ---
Слайд #2
---
Painting in England in the 17th – 19th centuries was greatly influenced by a number of foreign painters like Sir Joshua Reynolds, Thomas Gainsborough, John Constable and Joseph Turner.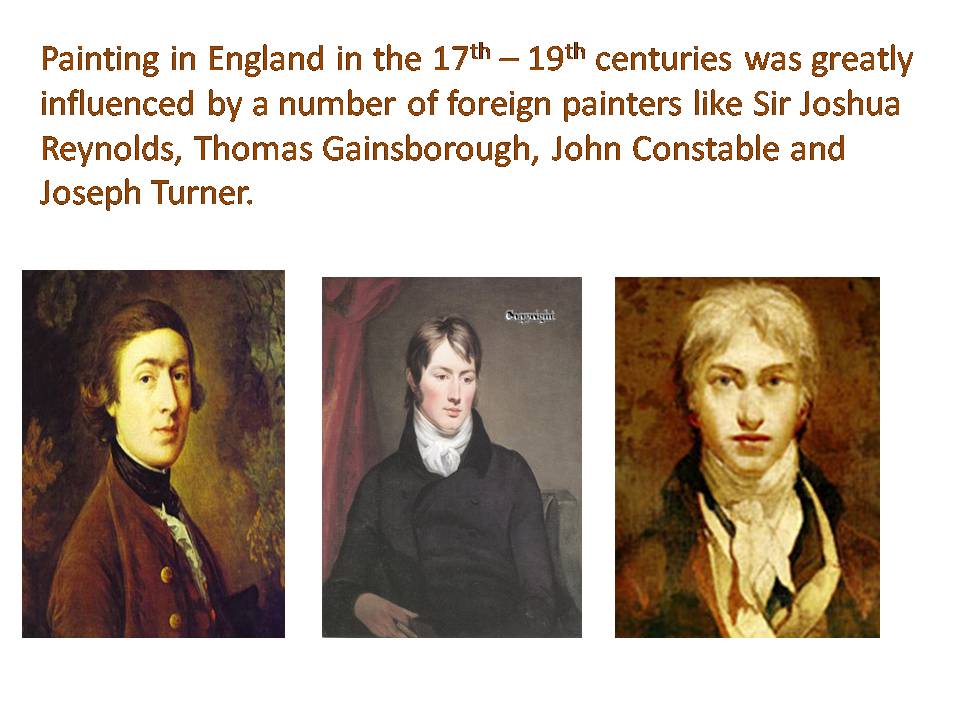 ---
Слайд #3
---
Joseph Mallord William Turner was baptised on 14 May 1775, but his date of birth is unknown. He was an outstanding painter whose favorite topic was the sea. He painted waves, clouds and mists with great skill. Although his talent was recognized immediately, he deliberately turned his back on the glittering social world of London. In my opinion he very good combine colors into a harmonious unity.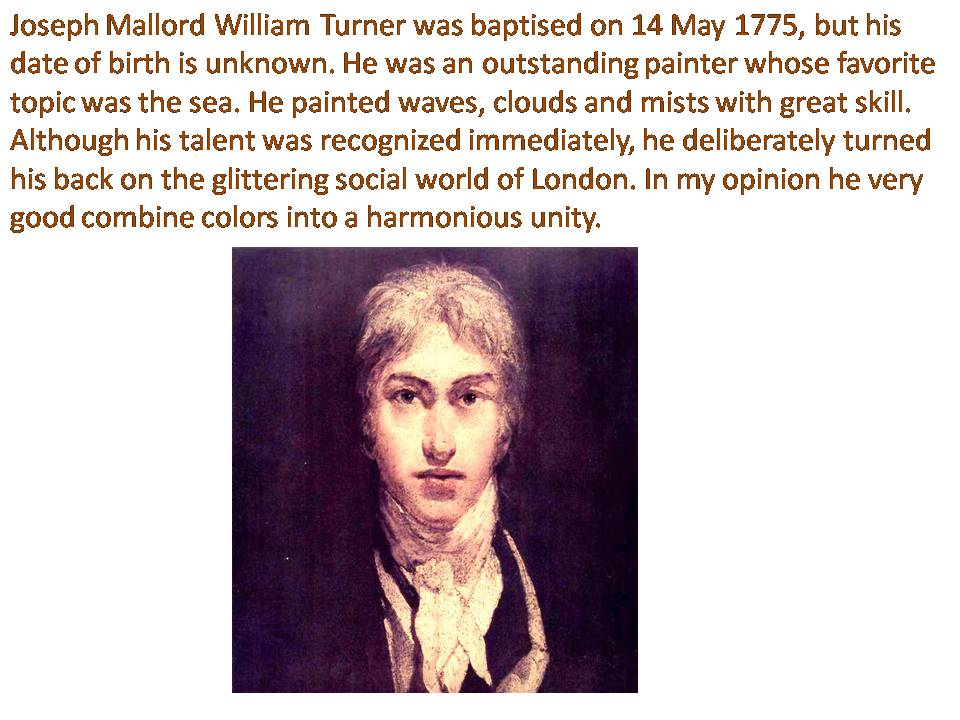 ---
Слайд #4
---
Early career
Turner travelled widely in Europe, starting with France and Switzerland in 1802 and studying in the Louvre in Paris in the same year. Important support for his work came from Walter Ramsden Fawkes, of Farnley Hall, near Otley in Yorkshire, who became a close friend of the artist. Turner first visited Otley in 1797, aged 22, when commissioned to paint water colours of the area. He was so attracted to Otley and the surrounding area that he returned to it throughout his career. The stormy backdrop of Hannibal Crossing The Alps is reputed to have been inspired by a storm over the Chevin in Otley while he was staying at Farnley Hall.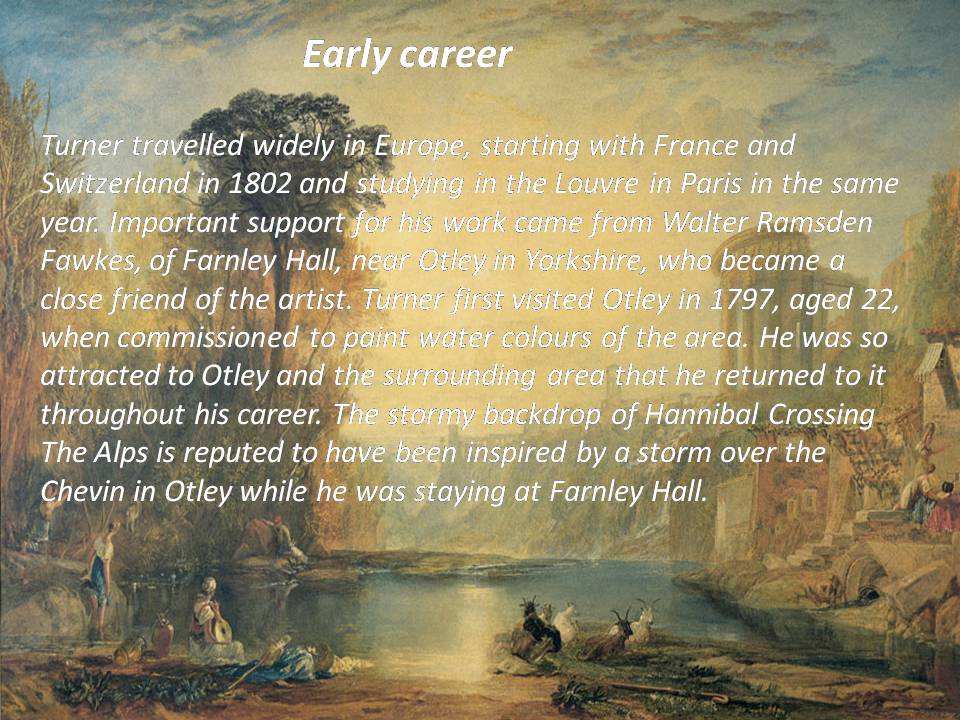 ---
Слайд #5
---
Personal life
As Turner grew older, he became more eccentric. He had few close friends except for his father, who lived with him for 30 years and worked as his studio assistant. His father's death in 1829 had a profound effect, and thereafter he was subject to bouts of depression. He never married but had a relationship with an older widow, Sarah Danby. He is believed to have been the father of her two daughters born in 1801 and 1811.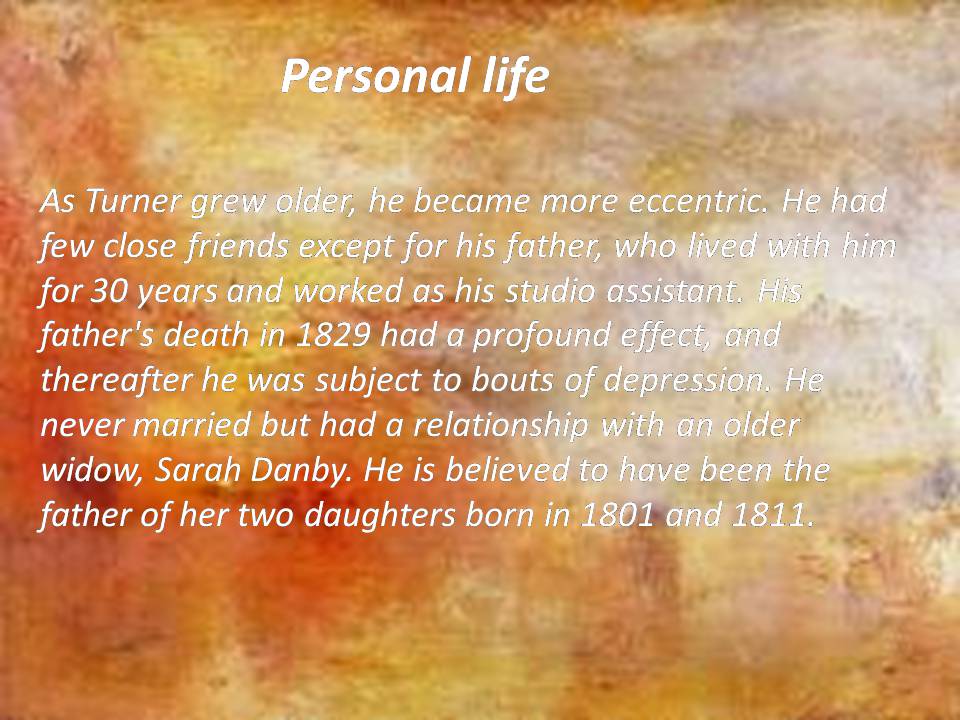 ---
Слайд #6
---
Death
Turner died in the house of his mistress Sophia Caroline Booth in Cheyne Walk in Chelsea on 19 December 1851, and is said to have uttered the last words "The sun is God". At his request he was buried in St Paul's Cathedral, where he lies next to Sir Joshua Reynolds. His last exhibition at the Royal Academy was in 1850.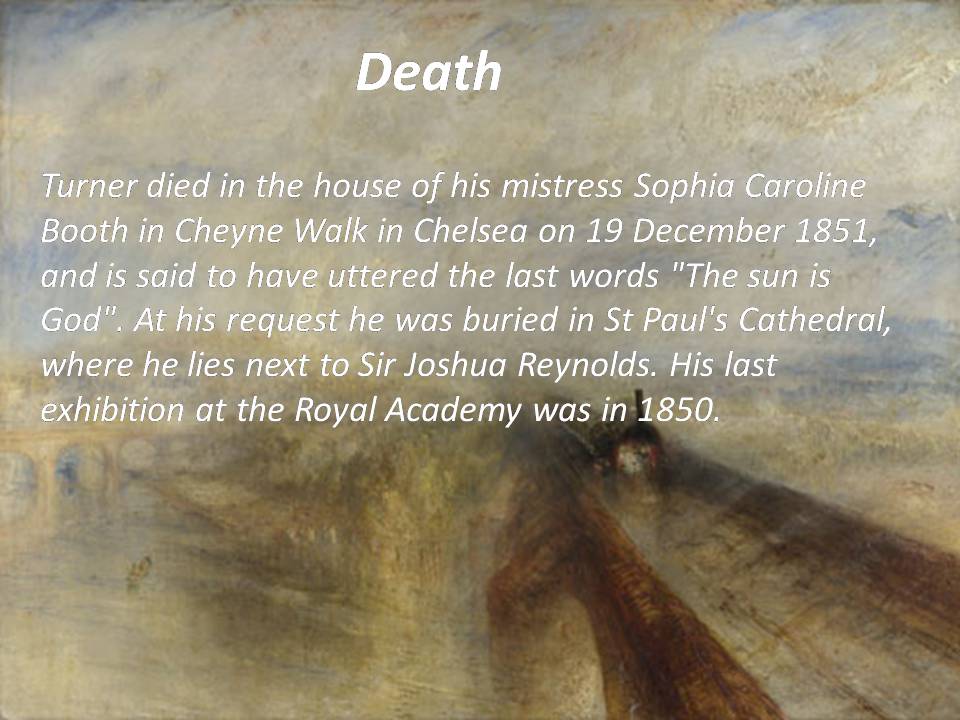 ---
Слайд #7
---
Drawing of St John's Church, Margate by Turner from around 1786, when he would have been 11 or 12 years old. The ambitious but unsure drawing shows an early struggle with perspective, which can be contrasted with his later work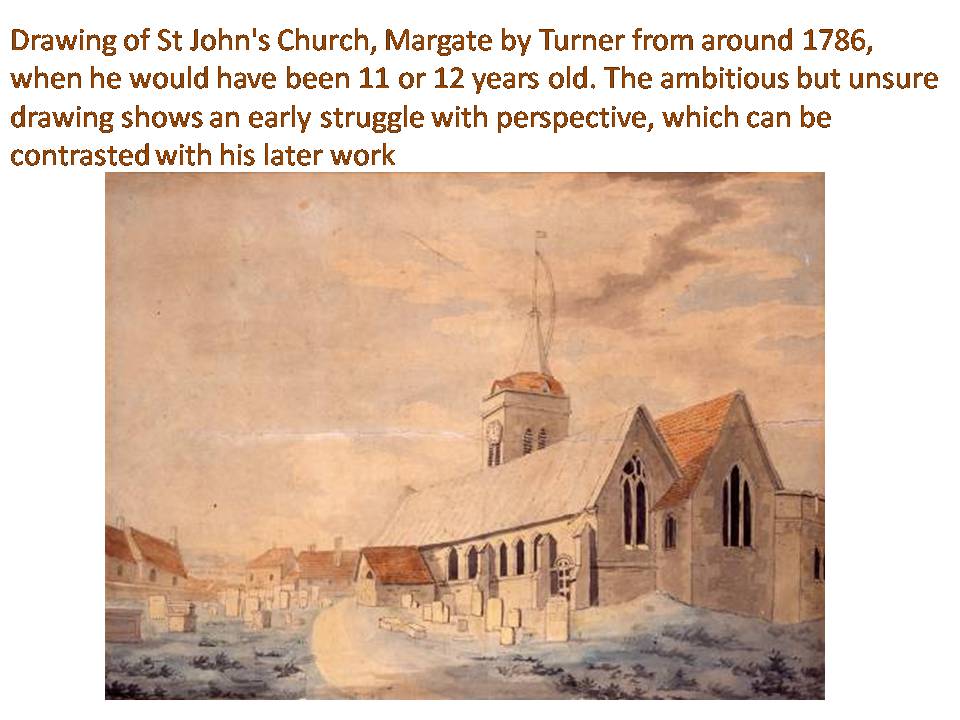 ---
Слайд #8
---
A View of the Archbishop's Palace, Lambeth – this watercolour was Turner's first to be accepted for the Royal Academy's annual exhibition in April 1790, the month he turned fifteen. The image is a technical presentation of Turner's strong grasp of the elements of perspective with several buildings at sharp angles to each other, demonstrating Turner's thorough mastery of Thomas Malton's topographical style.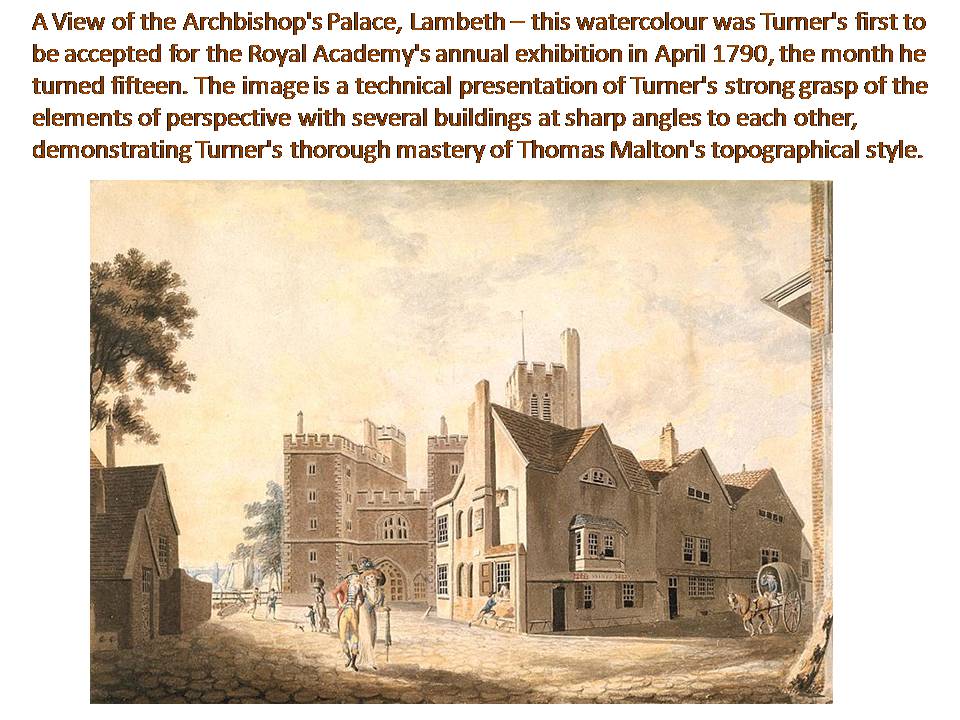 ---
Слайд #9
---
Dutch Boats in a Gale (1801)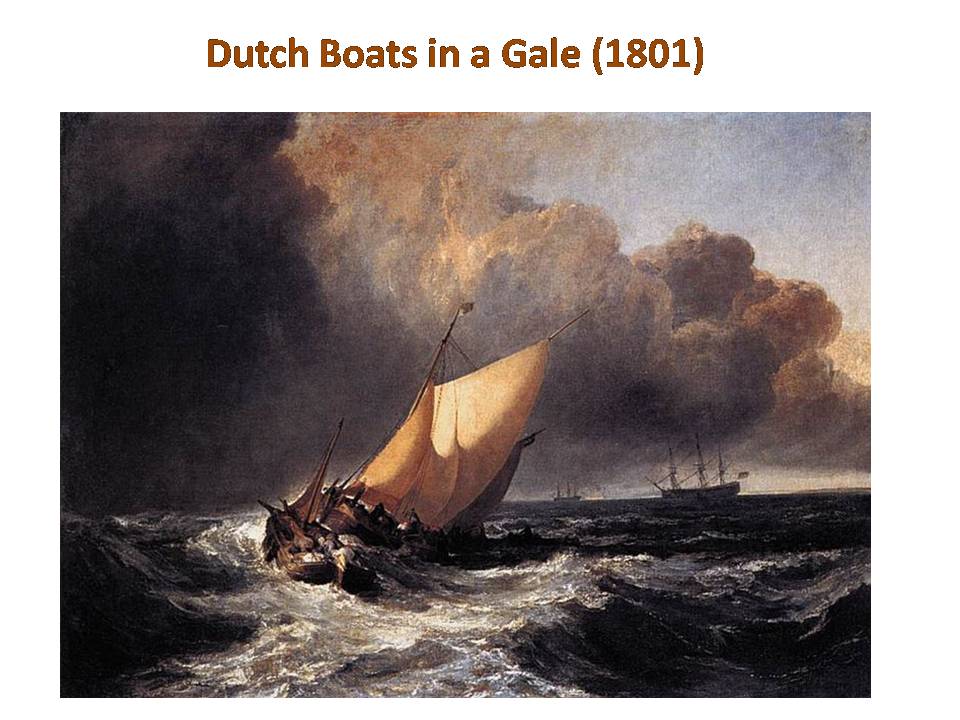 ---
Слайд #10
---
One of Turner's most successful "house portraits." The Walters Art Museum.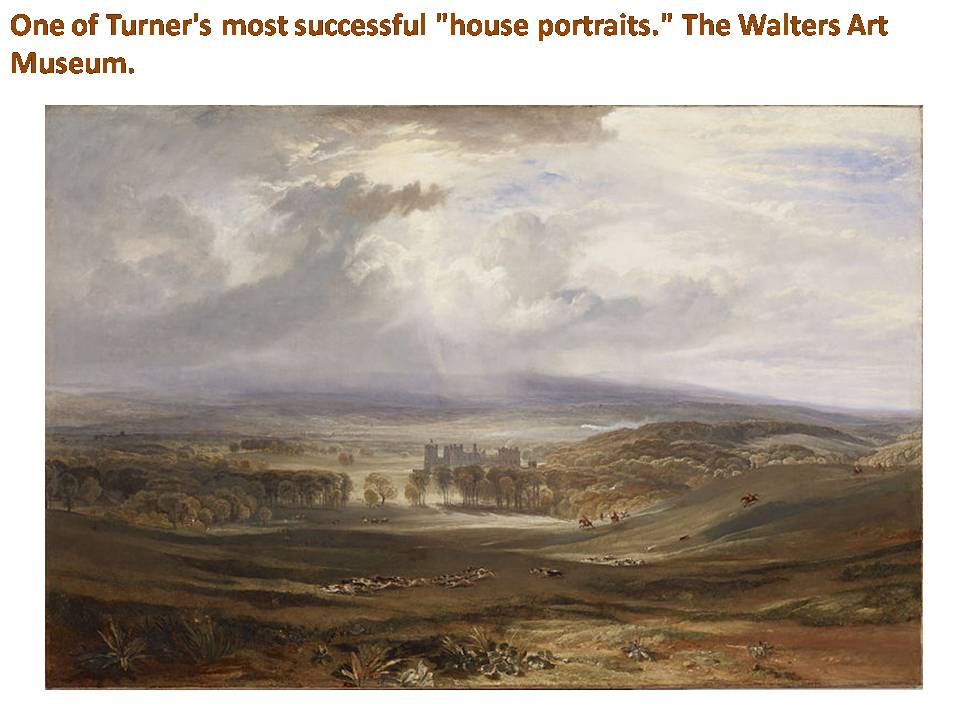 ---
Слайд #11
---
The shipwreck of the Minotaur, oil on canvas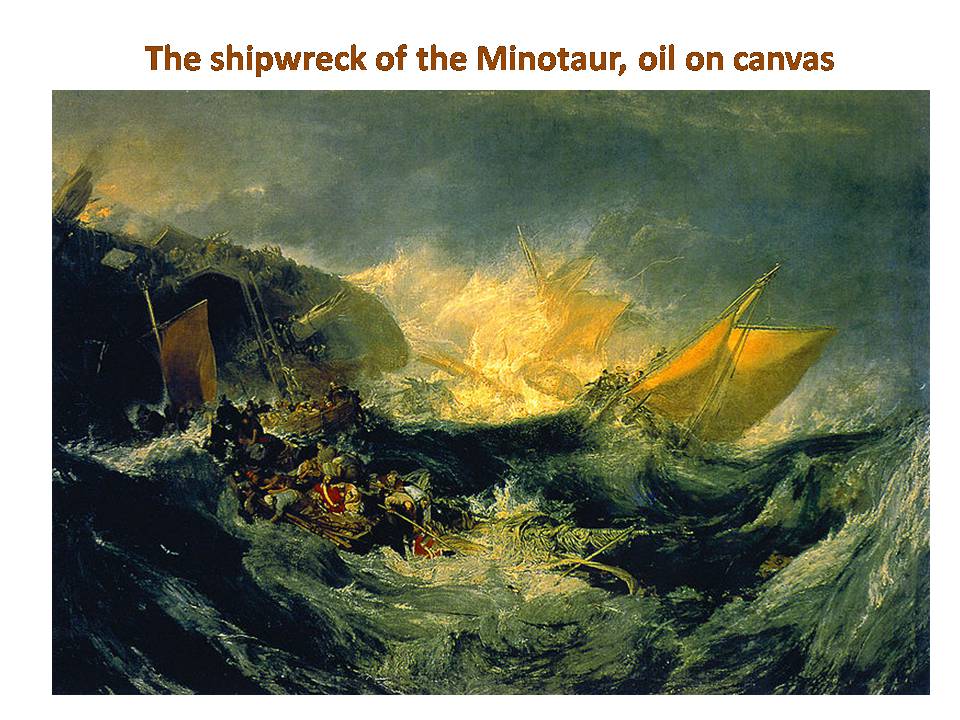 ---
Слайд #12
---
Turner's Ovid Banished From Rome, 1838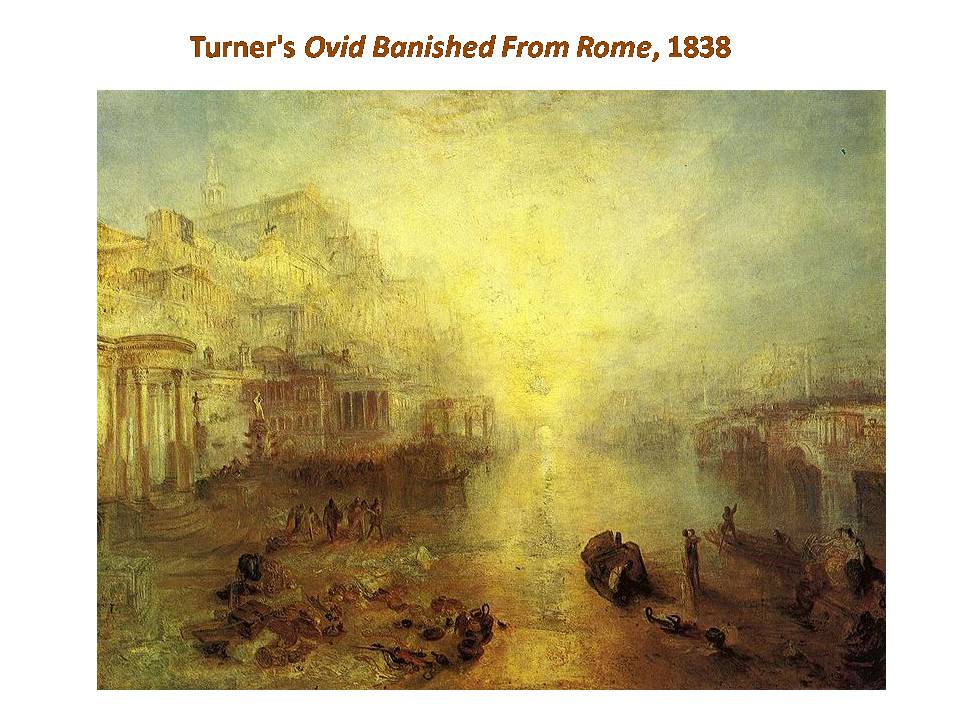 ---
Слайд #13
---
Fishermen at Sea exhibited in 1796 was the first oil painting exhibited by Turner at the Royal Academy.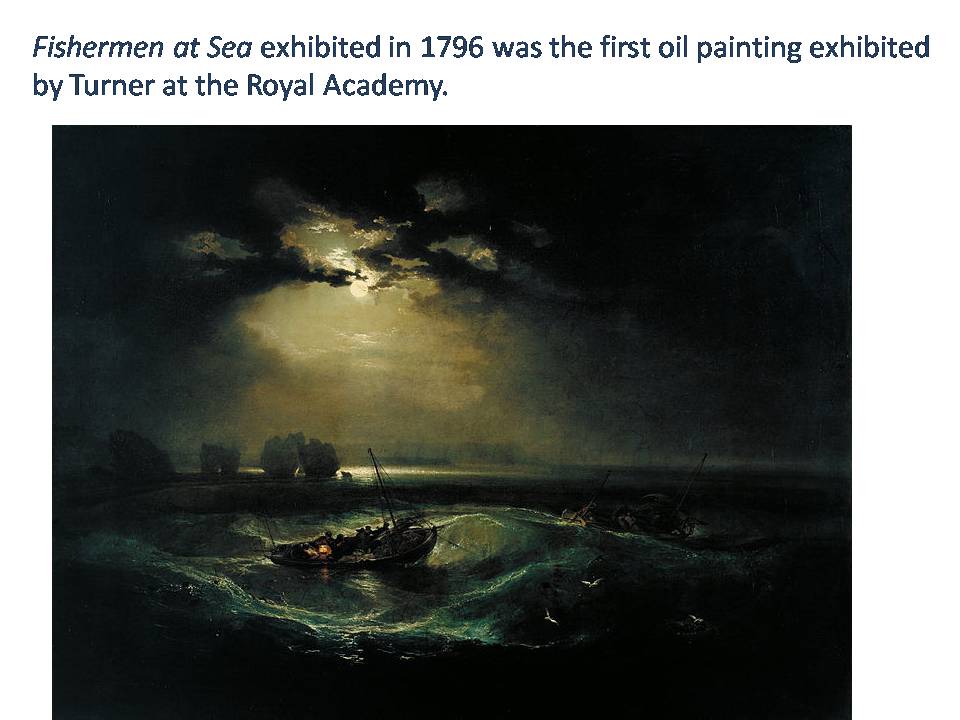 ---
Слайд #14
---
Turner's 1813 water-colour Ivy Bridge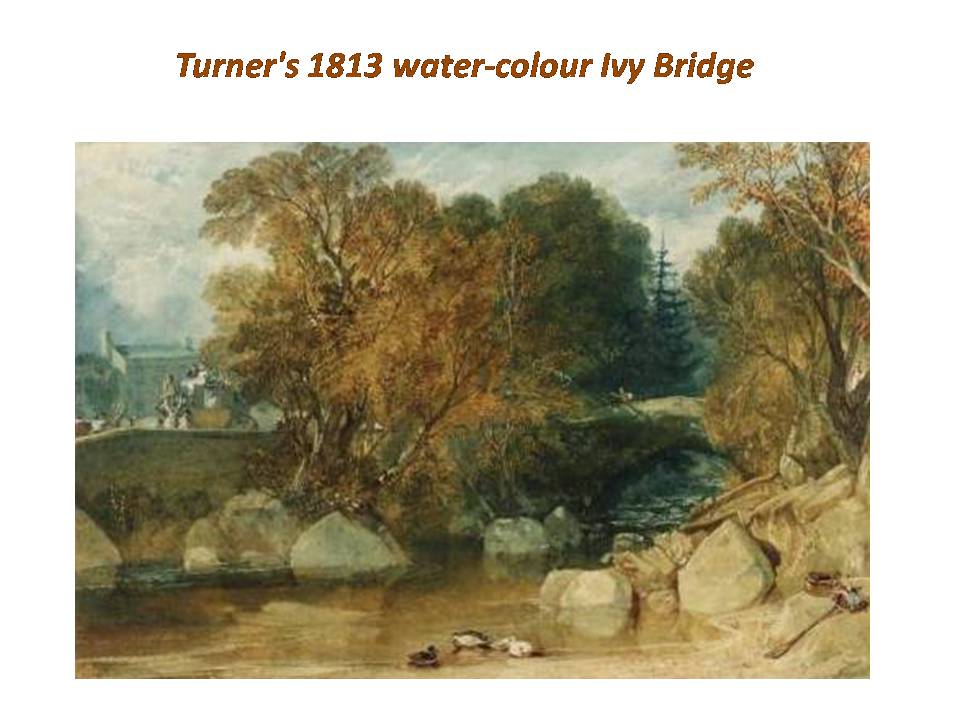 ---
Слайд #15
---
The Fighting Temeraire tugged to her last berth to be broken up, 1839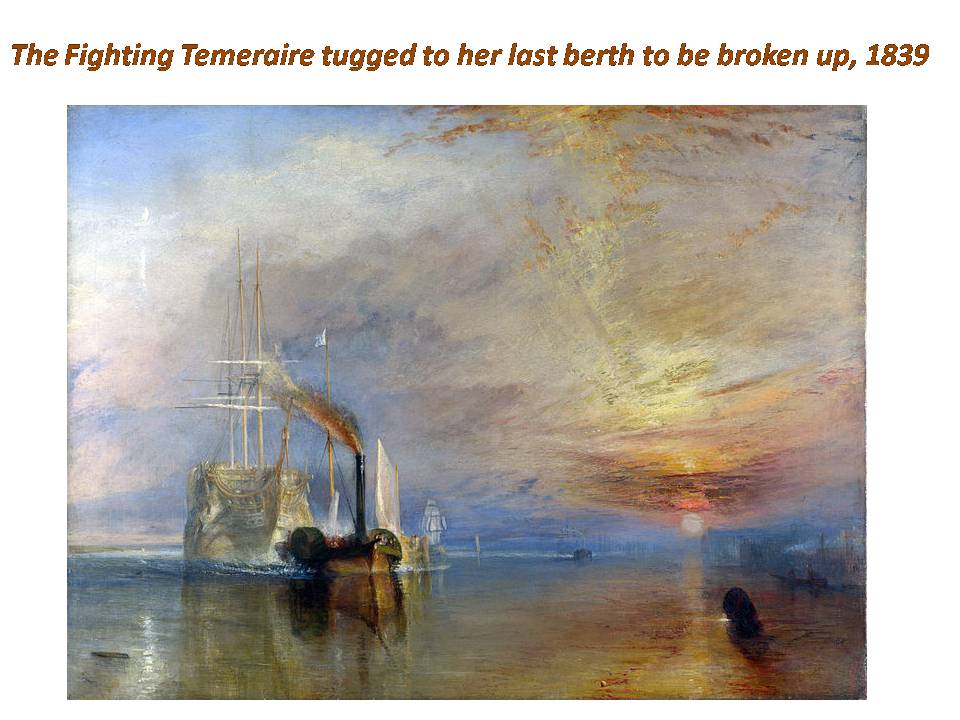 ---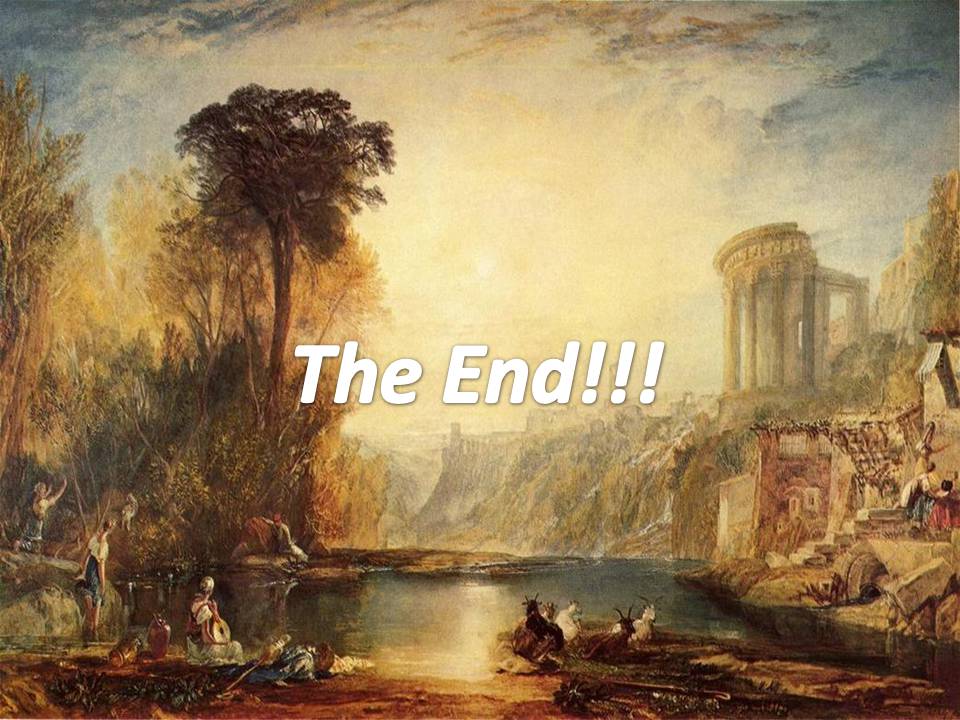 ---
---