Презентація на тему «Chocolate factories in Ukraine»
Презентація на тему «Chocolate factories in Ukraine»
---
---
---
Слайд #1
---
Chocolate factories in Ukraine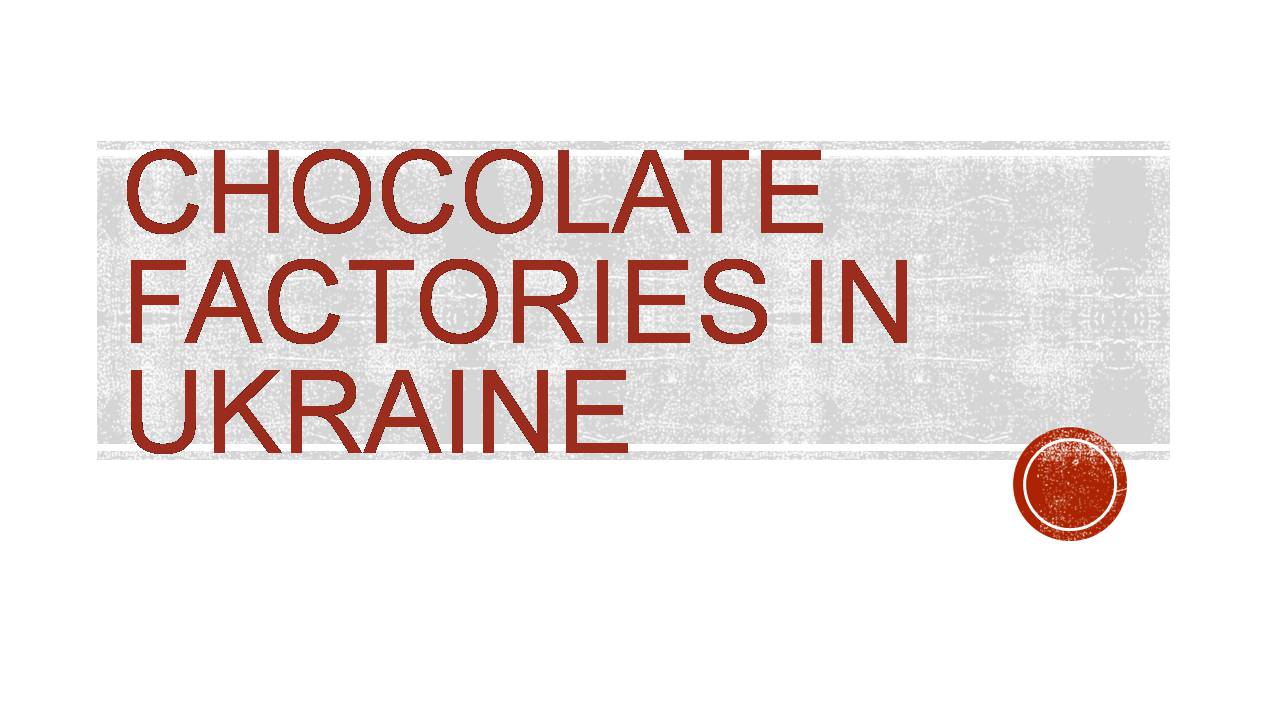 ---
Слайд #2
---
The Trostyanets chocolate factory "Ukraine"
The Trostyanets the chocolate factory, Ukraine - Ukrainian enterprise of the food industry, is located in Trostyanets, Sumy region.One of the largest manufacturers of confectionery, including chocolate products. Today only pure chocolate factory with a complete production cycle - from the cocoa bean processing to packaging and shipment of finished products.
Since 1994, the company is part of an international corporation Kraft Foods. Since 1995 the factory was invested $ 50 million. The factory employs more than 850 employees.
Top Brand «КОРОНА» and « MILKA».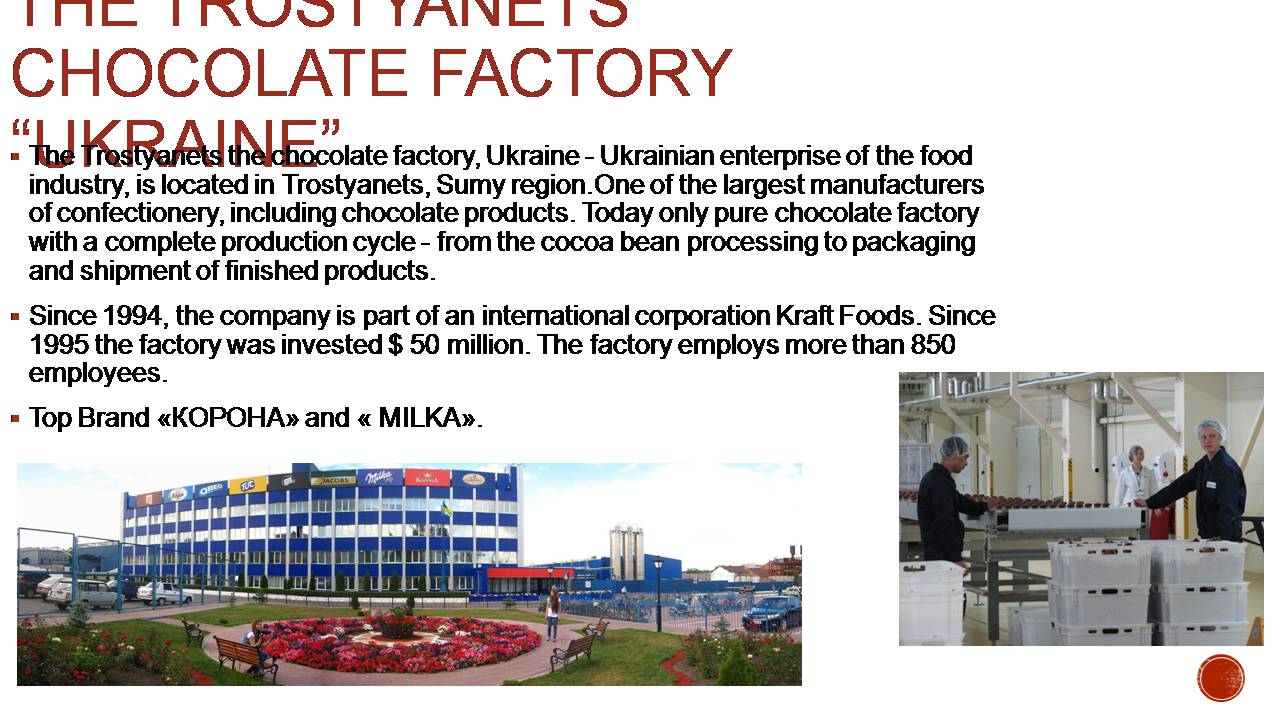 ---
Слайд #3
---
"MILKA"
The world annually produces more than 1 billion chocolate bars of chocolate.Since 2001 MILKA produced in Ukraine.
Product range:
10 chocolate flavors in the classic format tiles
300-gram double tiles fillings
3 flavors of chocolate snacks MILKA M-JOY
4 flavors of chocolate dragees MILKA LILA STARS
3 flavors of chocolates I LOVE MILKA
Chocolates in individual packaging MILKINIS
11 Christmas gifts and 2 kinds of hollow figures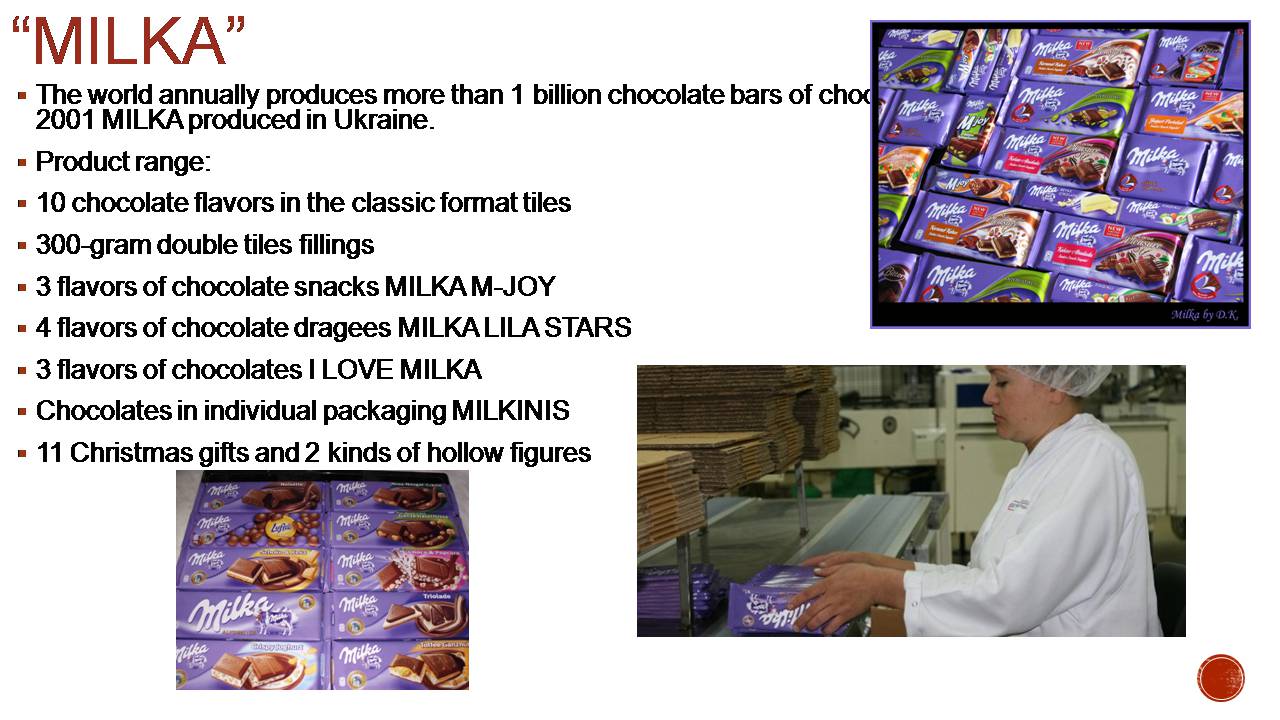 ---
Слайд #4
---
"Crown"
Chocolate "Crown" began to be produced and went on sale in 1995. Since then the volume of production has increased almost 40 times.
Product range:
12 chocolate flavors in the classic format tiles
Chocolate thumbnails with different fillings - Portions Happiness
White, milk and dark chocolate porous
chocolate Gift
Six flavors of premium chocolate "Crown INTENZA»
Candy "Crown De Luxe», «CROWN Asortini", "CROWN Venetian Night"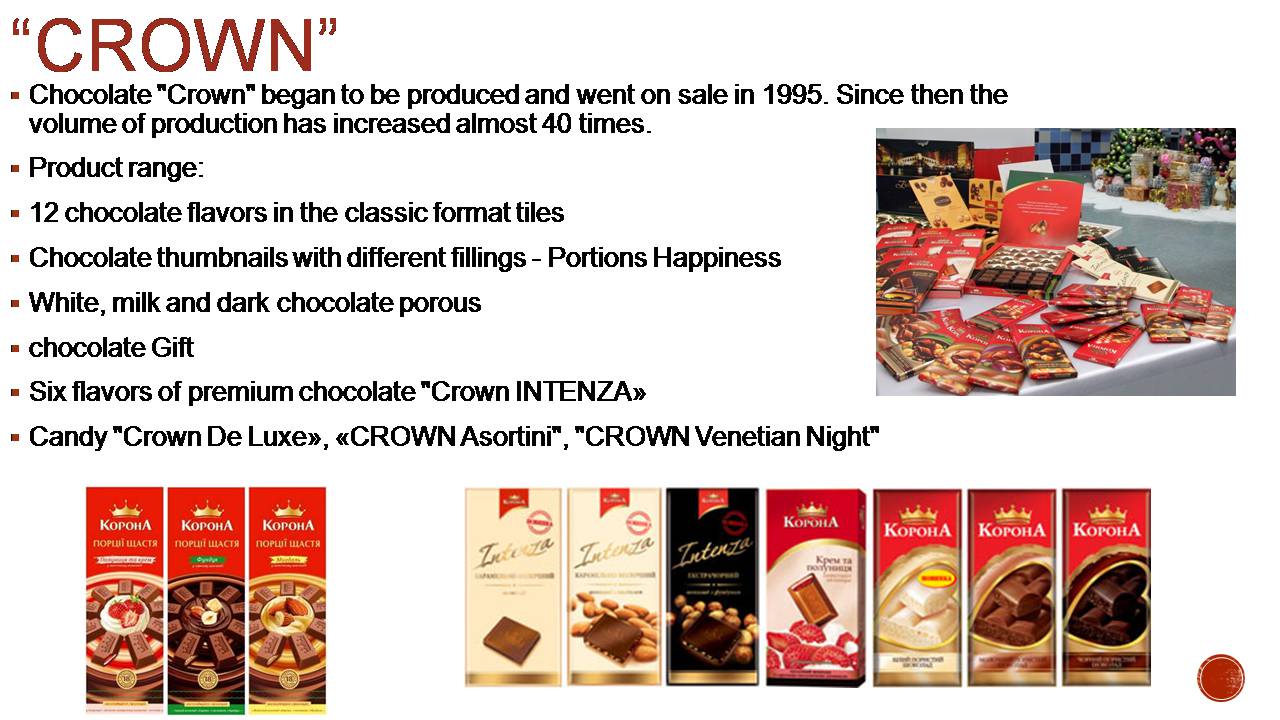 ---
Слайд #5
---
"Rochen"
Confectionery Corporation "Rochen" - one of the largest manufacturers of confectionery products in Ukraine and Eastern Europe. The company is headquartered in Kiev.
Roshen produces about 200 types of confectionery. The total production volume of more than 450 thousand tons per year.
Roshen manufactures more than 200 types of sweets, chocolate, candy, cookies, waffles, fruit jellies and cakes with total production at 200 thousand tons per year.
With a large range of the most popular and best-known corporations have cakу"Kyiv" and candy "Evening Kyiv".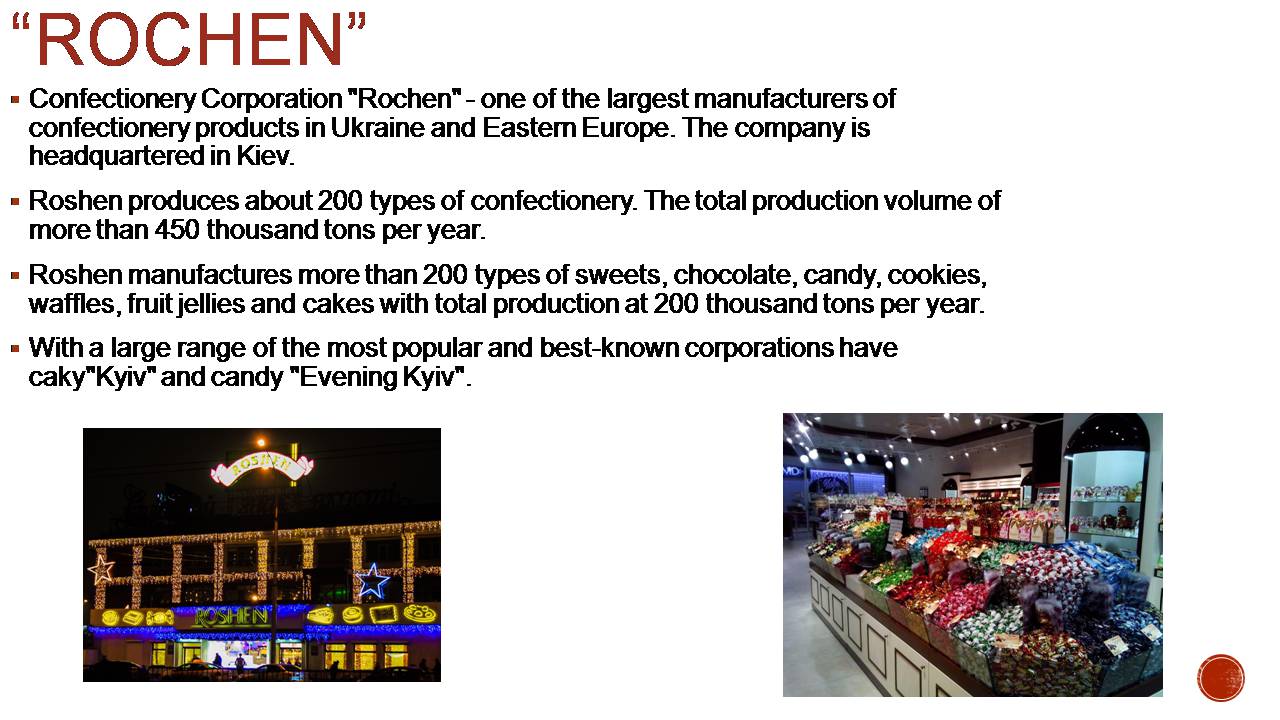 ---
Слайд #6
--- ---
---