Презентація на тему «Universities»
Презентація на тему «Universities»
---
---
---
Слайд #1
---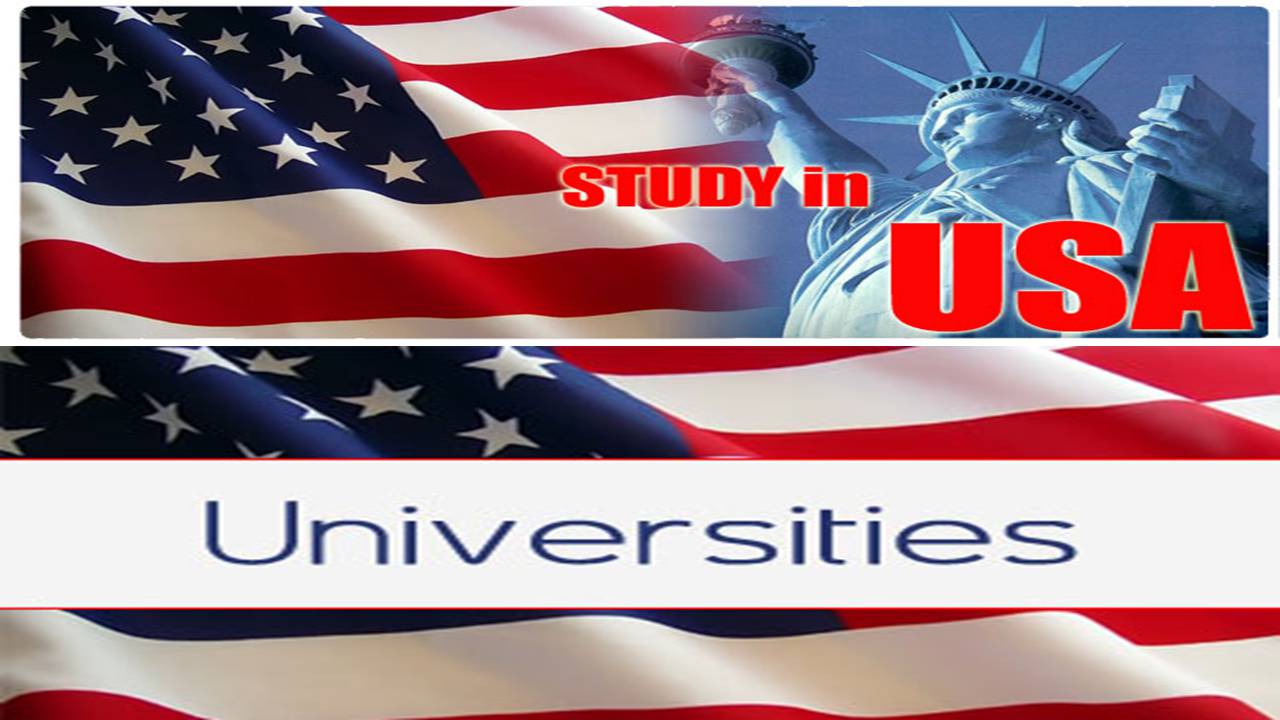 ---
Слайд #2
---
Stanford University
With a single digit acceptance rate, Stanford is the most selective university on the west coast. It is also one of the strongest research and teaching centers in the world. For students who are looking for a prestigious and world-renowned institution but don't want the cold winters of the Northeast, Stanford is worth a close look. Its location near Palo Alto, California, comes with attractive Spanish architecture and a mild climate.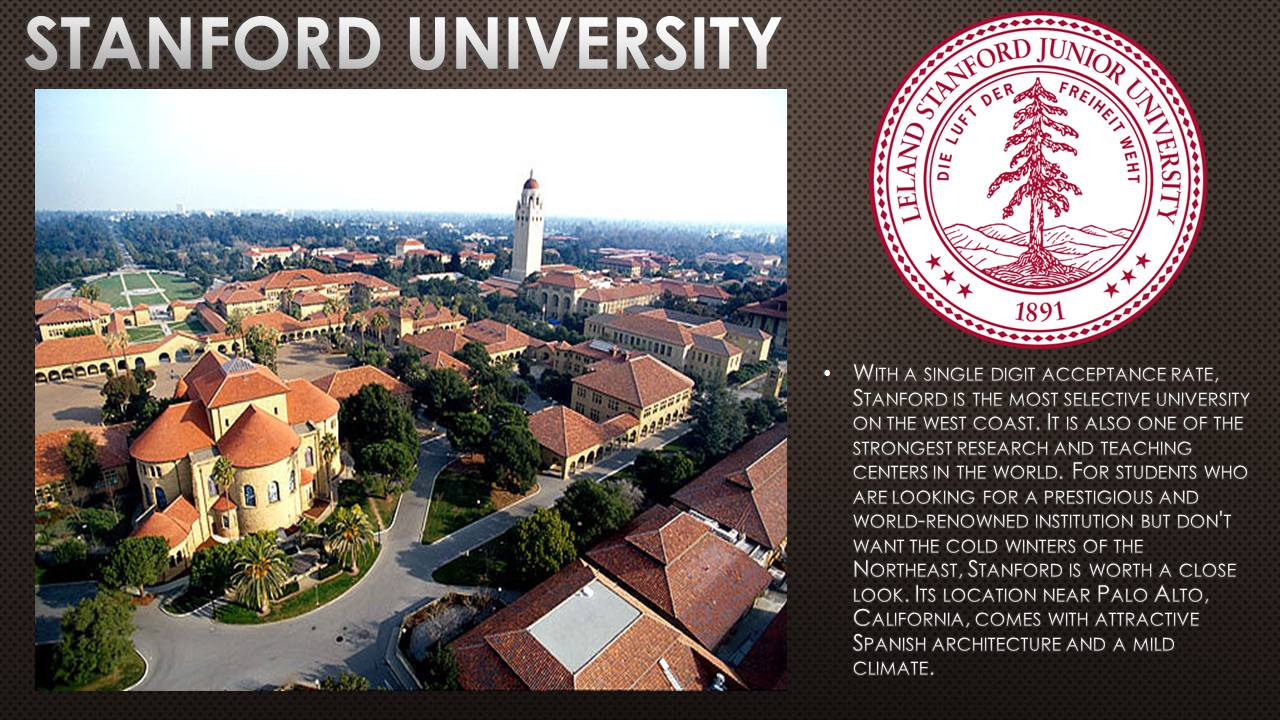 ---
Слайд #3
---
University of Pennsylvania
Benjamin Franklin's university, Penn, is frequently confused with Penn State, but the similarities are few. The campus sits along the Schuylkill River in Philadelphia, and Center City is just a short walk away. The University of Pennsylvania's Wharton School is arguably the strongest school of business in the country, and numerous other undergraduate and graduate programs place high in national rankings. With close to 12,000 undergraduates and graduate students, Penn is one of the larger Ivy League schools.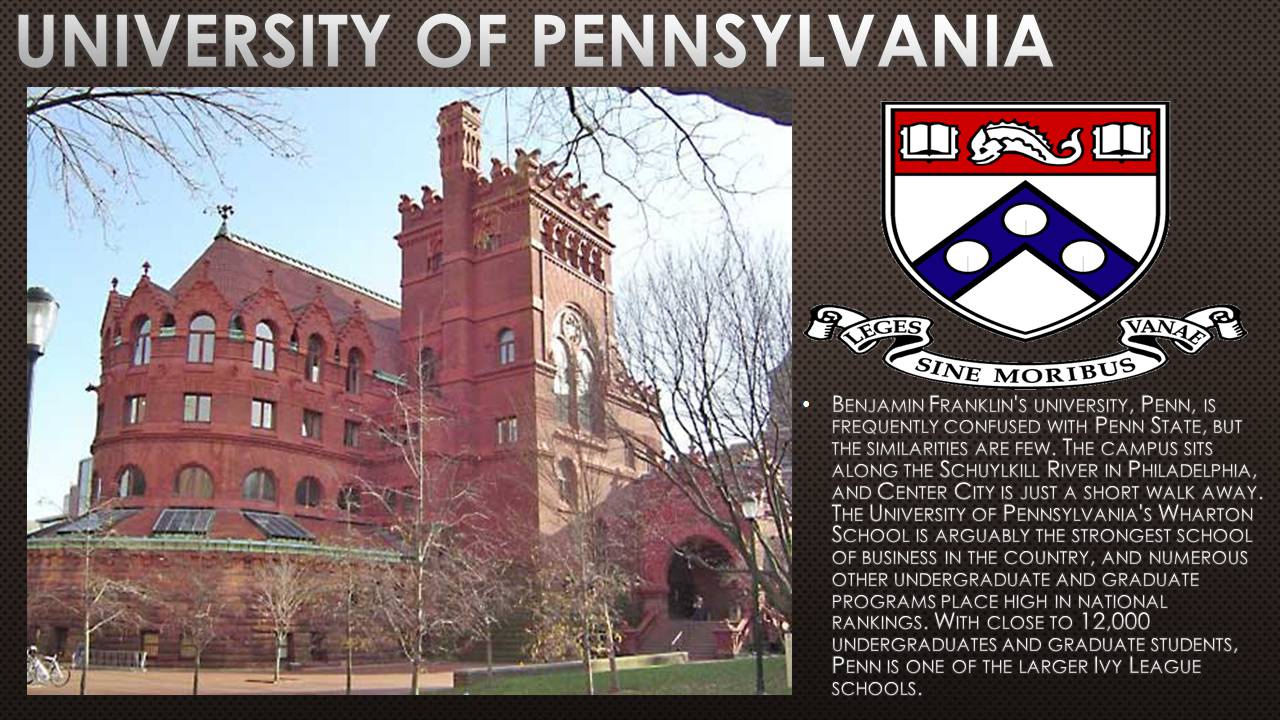 ---
Слайд #4
---
Yale University
Like Harvard and Princeton, Yale University frequently finds itself near the top of rankings of national universities. The school's location in in New Haven, Connecticut, allows Yale students to get to New York City or Boston easily by road or rail. The school has an impressive 5 to 1 student / faculty ratio, and research and teaching are supported by an endowment of nearly $20 billion.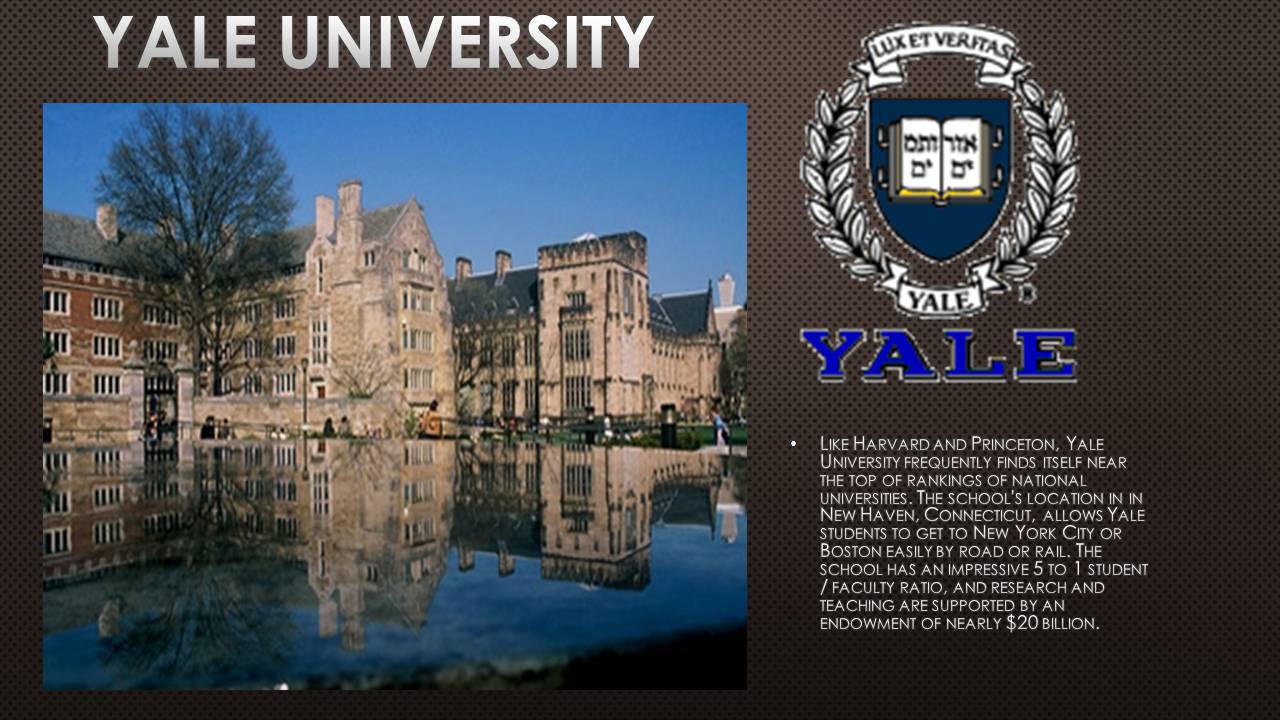 ---
Слайд #5
---
Princeton University
In the U.S. News & World Report and other national rankings, Princeton University frequently vies with Harvard for the top spot. The schools, however, are very different. Princeton's attractive 500-acre campus is located in a town of about 30,000 people, and the urban centers of Philadelphia and New York City are each about an hour away. With just over 5,000 undergrads and about 2,600 grad students, Princeton has a much more intimate educational environment than many of the other top universities.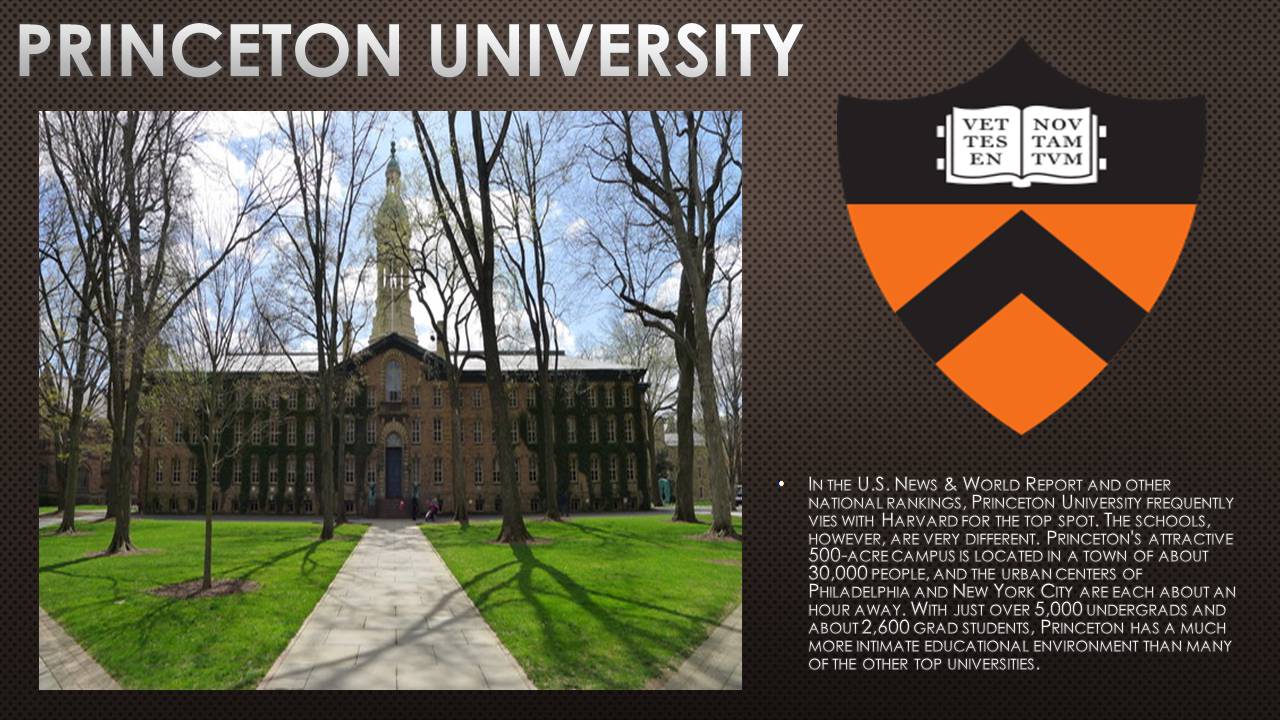 ---
Слайд #6
---
Harvard University
For better or worse, Harvard University almost always tops the rankings of national universities, and its endowment is by far the largest of any educational institution in the world. All of those resources bring some perks: students from families with modest incomes can attend for free, loan debt is rare, facilities are state of the art, and faculty are often world-renowned scholars and scientists. The university's location in Cambridge, Massachusetts, places it within an easy walk to other excellent schools such as MIT and Boston University.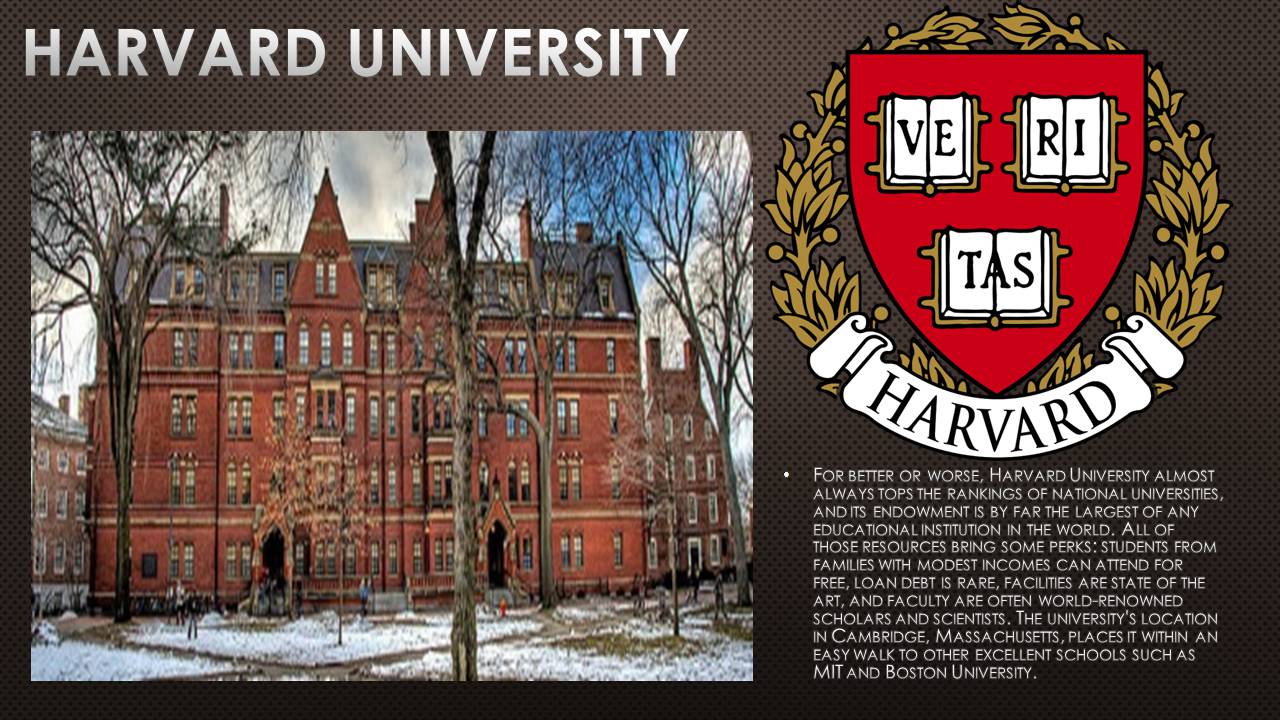 ---
Слайд #7
---
Duke University
Duke's stunning campus in Durham, North Carolina, features impressive Gothic revival architecture in the campus center, and extensive modern research facilities spreading out from the main campus. With an acceptance rate in the teens, it is also the most selective university in the South. Duke, along with nearby UNC Chapel Hill and NC State, make up the "research triangle," an area purported to have the highest concentration of PhDs and MDs in the world.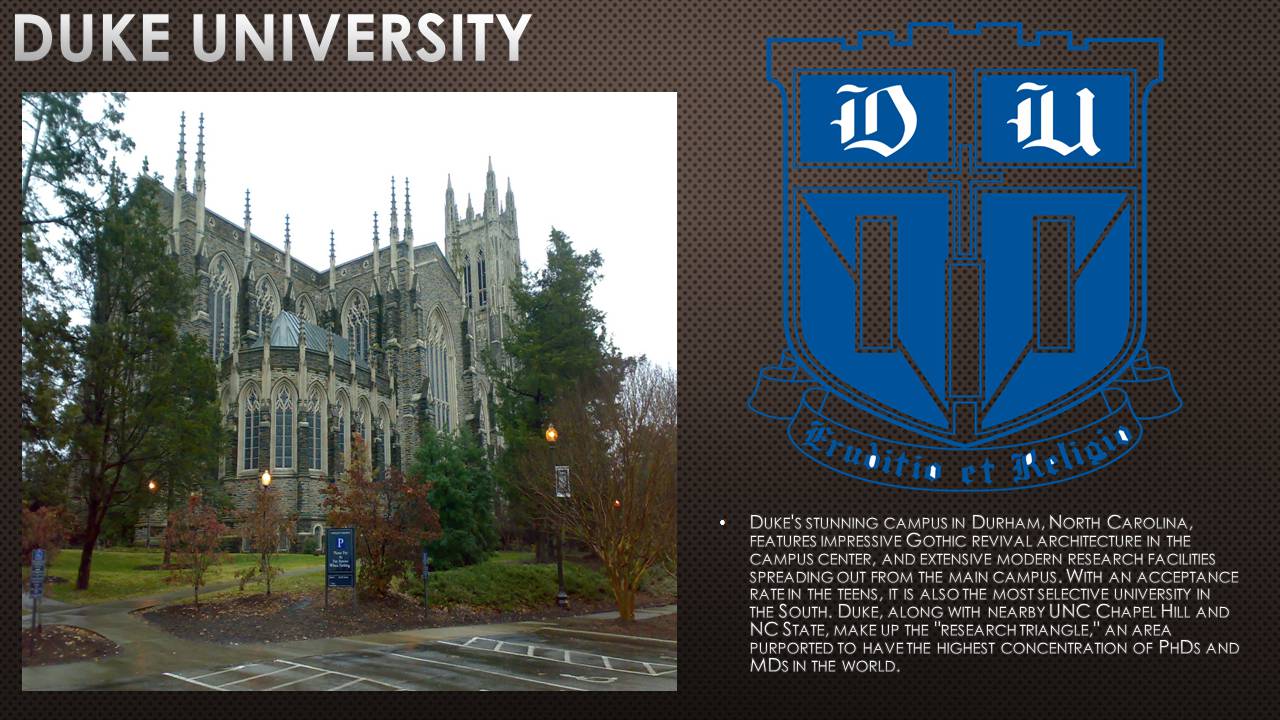 ---
Слайд #8
---
Brown University
Located in Providence Rhode Island, Brown University has easy access to both Boston and New York City. The university is frequently considered the most liberal of the Ivies, and it is well known for its flexible curriculum in which students construct their own plan of study. Brown, like Dartmouth College, places more emphasis on undergraduate study than you'll find at research powerhouses like Columbia and Harvard.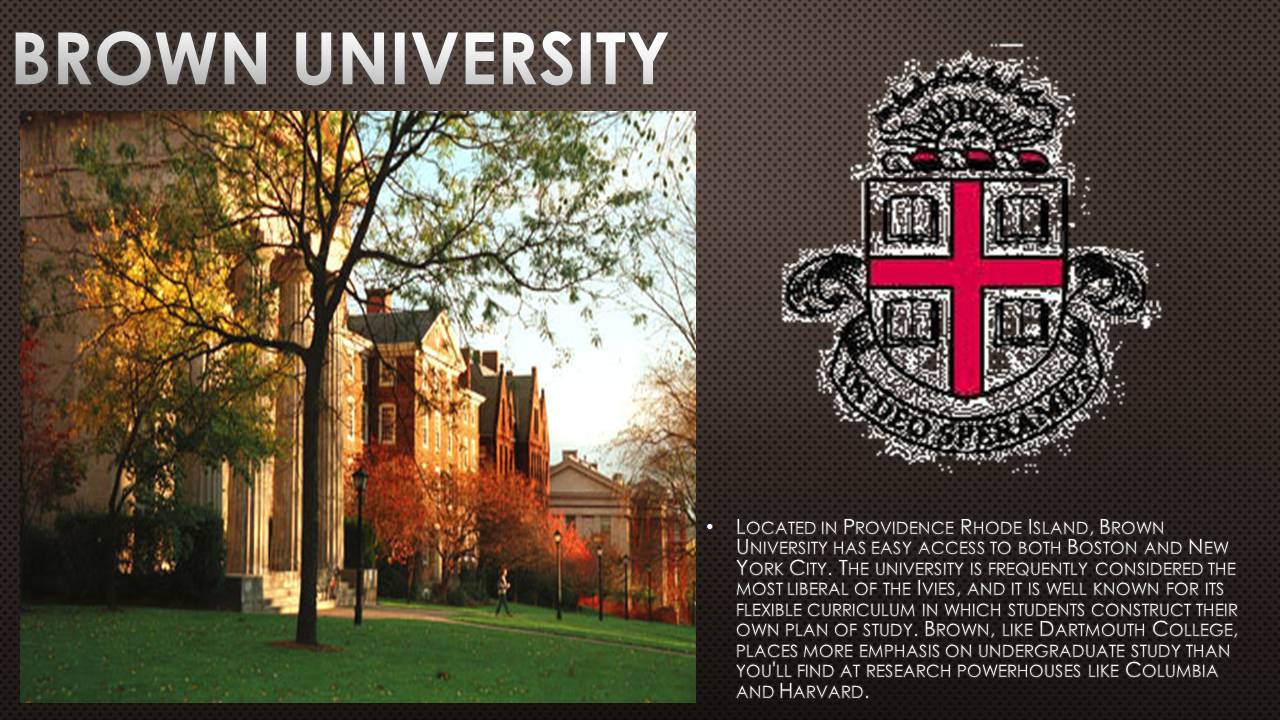 ---
Слайд #9
---
Dartmouth College
Hanover, New Hampshire, is the quintessential New England college town, and Dartmouth College surrounds the attractive town green. The college (really a university) is the smallest of the Ivies, yet it can still boast of the type of curricular breadth we find at the other schools on this list. The atmosphere, however, has more of a liberal arts college feeling than you'll find at any of the other top universities.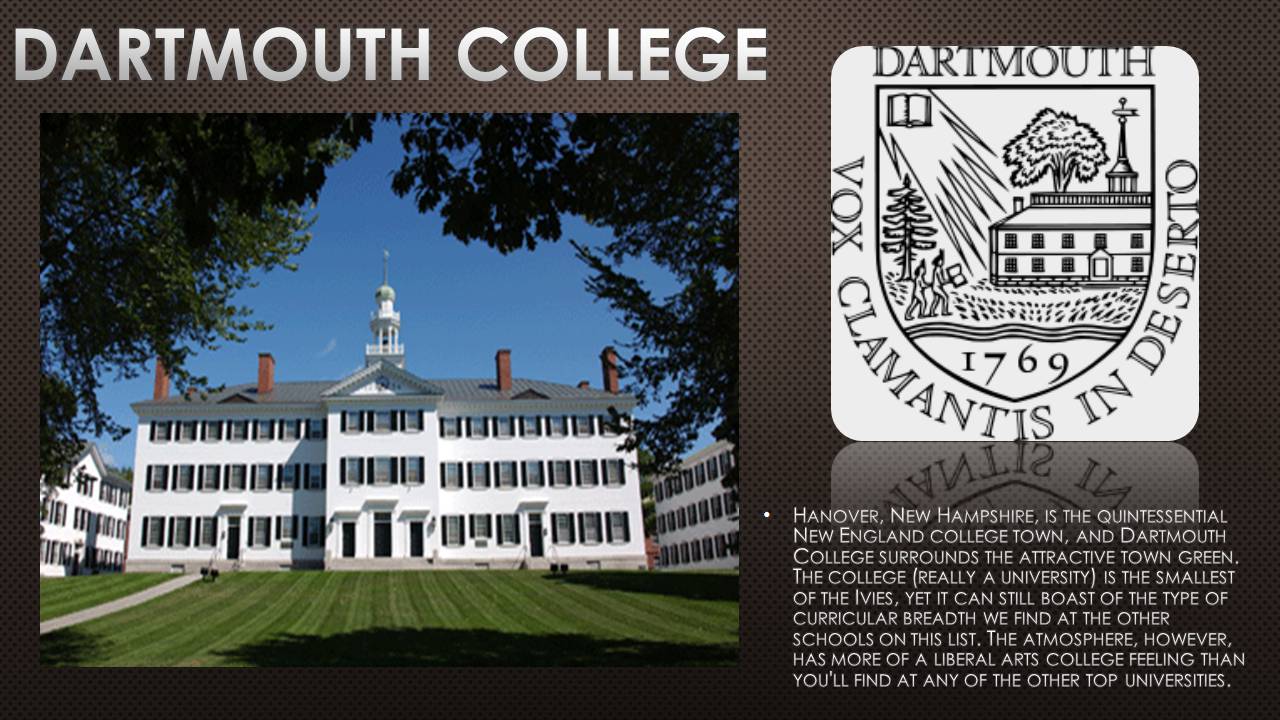 ---
Слайд #10
---
Cornell University
Cornell has the largest undergraduate population of all the Ivies, and the university has strengths in a broad range of disciplines. You need to be willing to tolerate some cold winter days if you attend Cornell, but the location in Ithaca, New York, is beautiful. The hillside campus overlooks Lake Cayuga, and you'll find stunning gorges cutting through the campus. The university also has the most complex administrative structure among the top universities since some of its programs are housed within a state-funded statutory unit.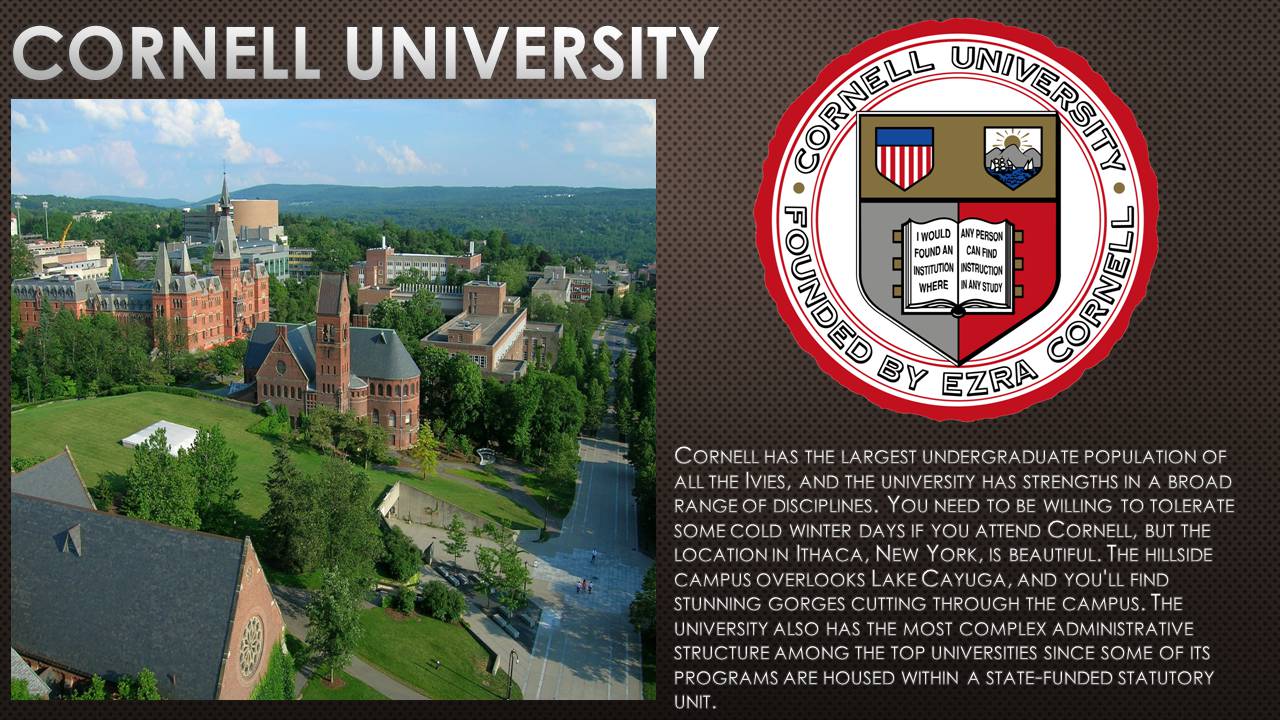 ---
Слайд #11
---
Columbia University
Strong students who love an urban environment should definitely consider Columbia University. The school's location in upper Manhattan sits right on a subway line, so students have easy access to all of New York City. Keep in mind that Columbia is a research institution, and only about a third of its 26,000 students are undergraduates.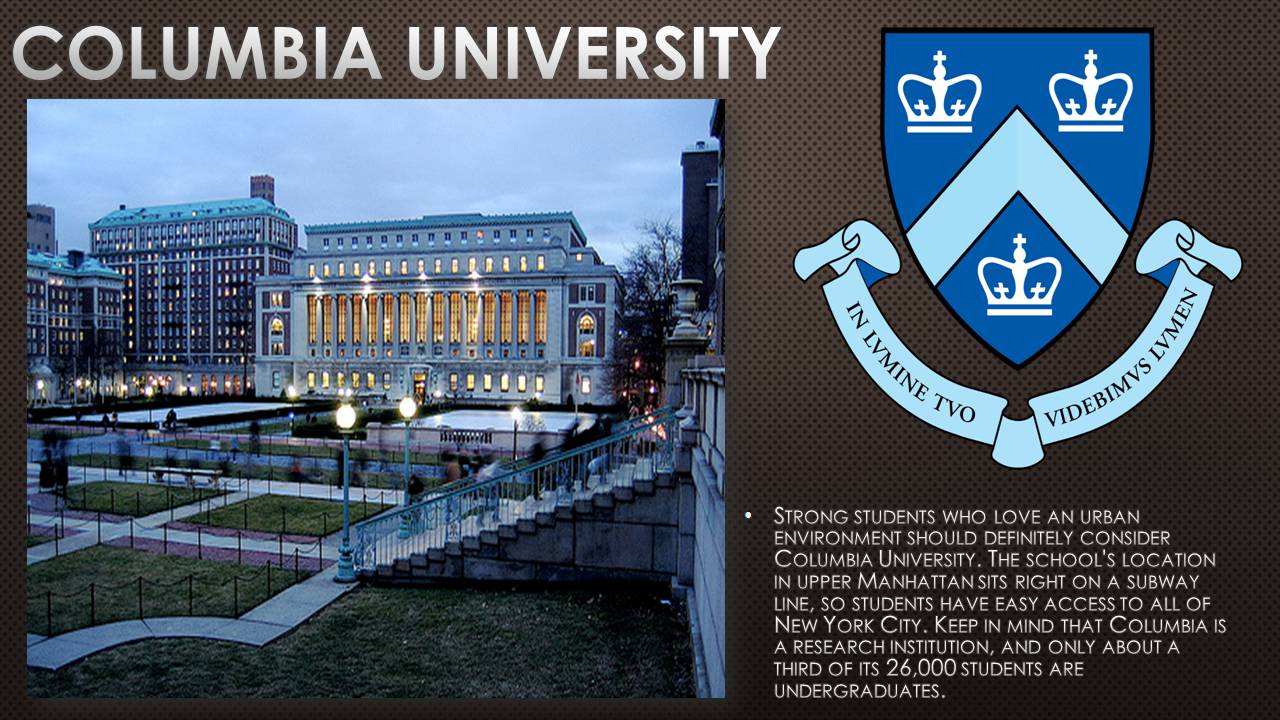 ---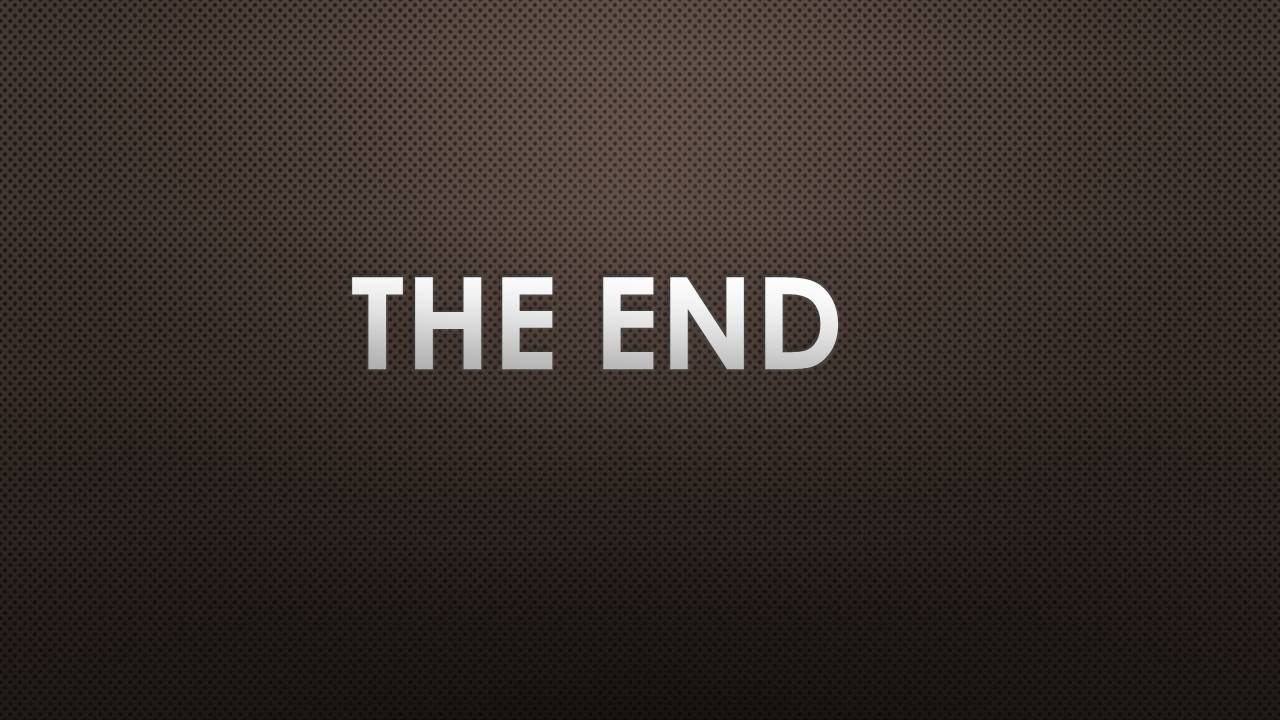 ---
---