Презентація на тему «Snickers»
Презентація на тему «Snickers»
---
---
---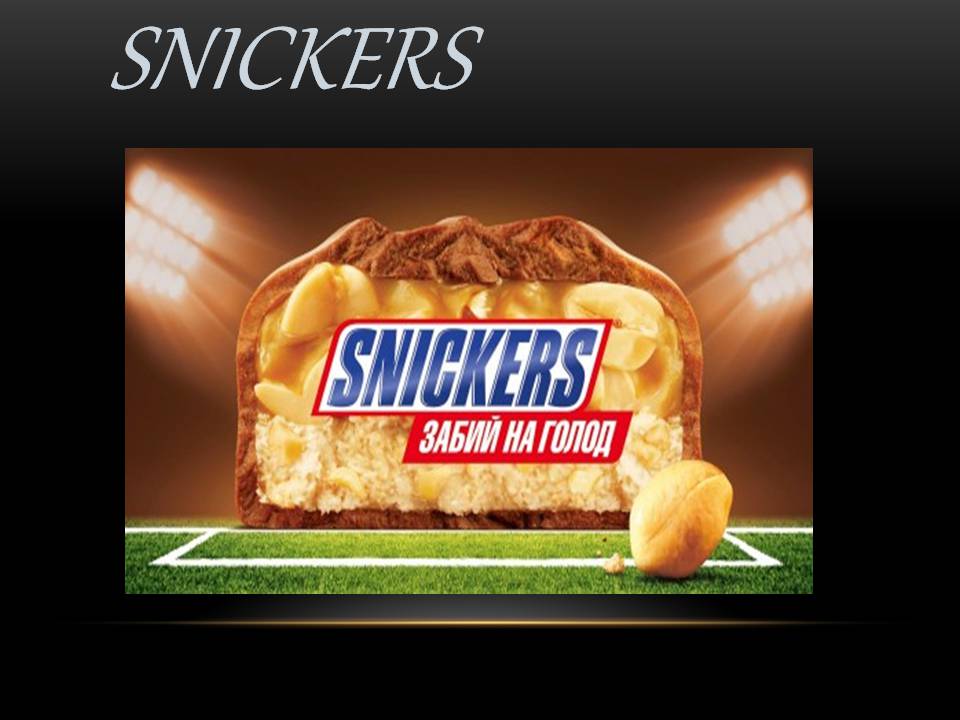 ---
Слайд #2
---
Snickers is a chocolate bar with roasted peanuts (also with sunflower seeds, hazelnuts) almonds, caramel and nougat, topped with milk chocolate.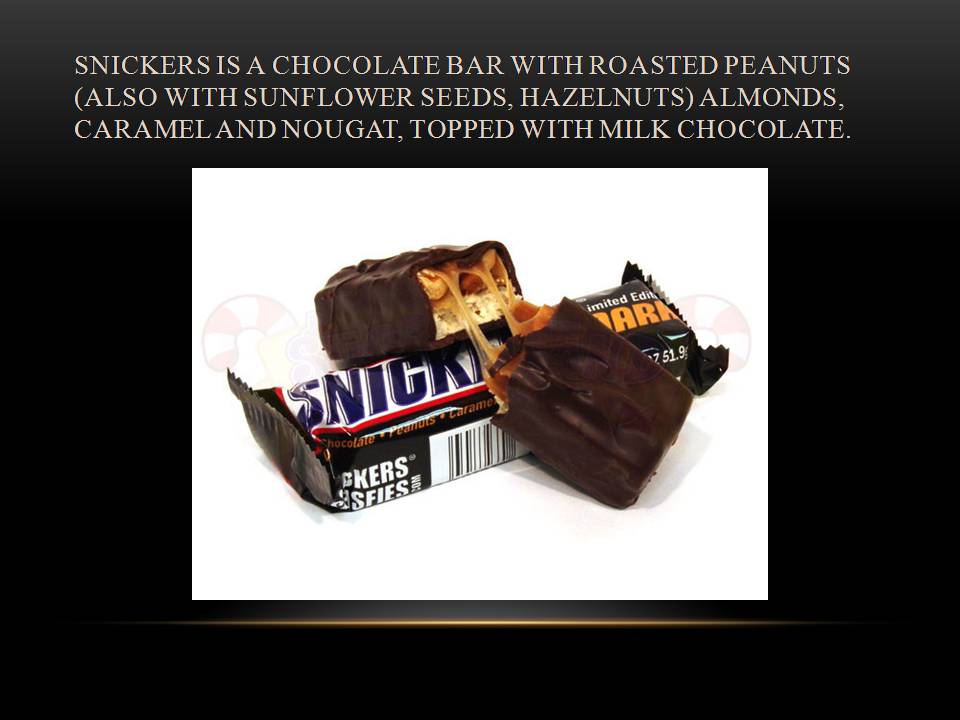 ---
Слайд #3
---
In 1949 snickers-sponsored broadcast on the popular american TV show howdy doody.In 1984 sponsored the olympic games in los angeles.In 1994 the snickers brand sponsored the FIFA world cup, which took the united states, and two years later - UEFA euro 1996 in the UK.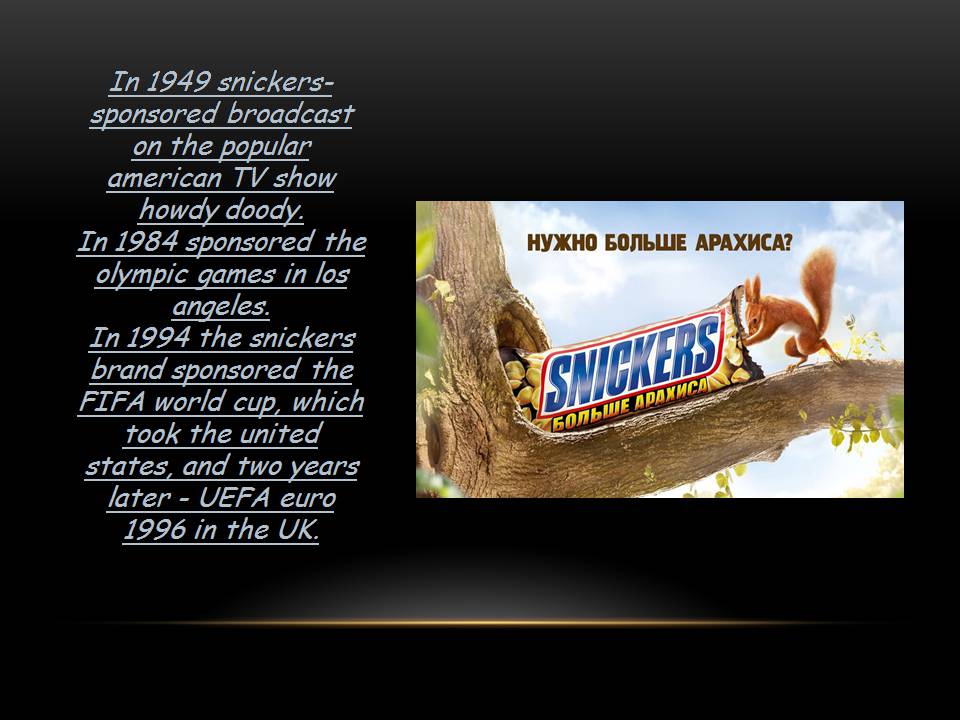 ---
Слайд #4
---
Selling chocolate bar Snickers around the world annually reaches more than $ 2 billion dollars. Prior to 1990, the product was sold in the UK and Ireland under the name Marathon. Later, this bar has been sold around the world under the name Snickers.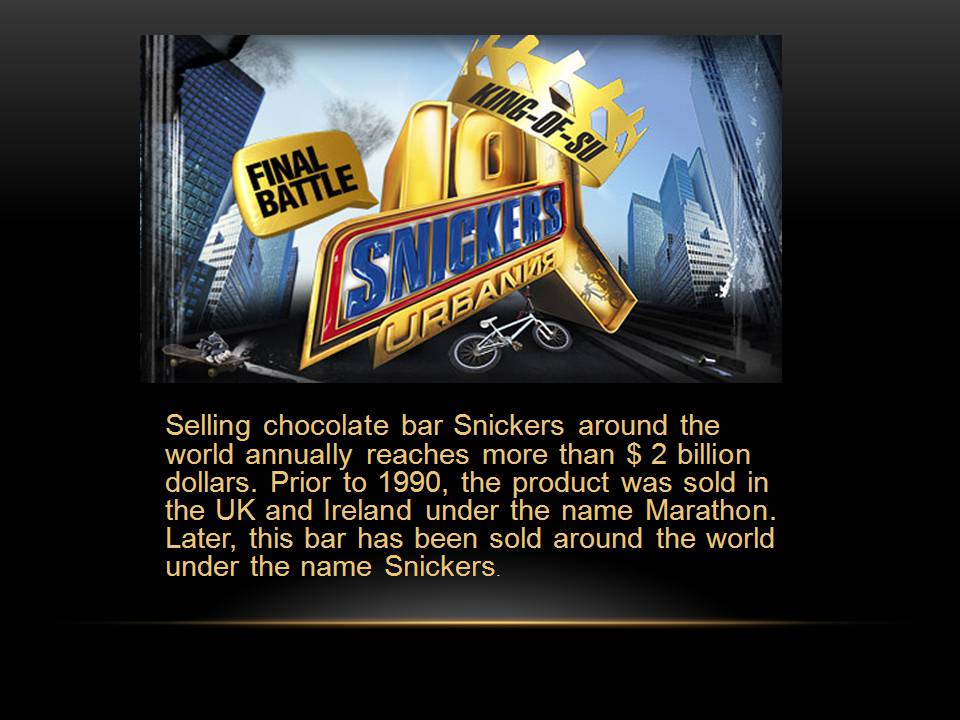 ---
Слайд #5
---
The Snickers bar was first produced in 1923 in the United States by Executive pastry chef Frank Mars. But its mass production began only in the 1930s-m In November 1929 in Chicago (USA) built the chocolate factory, which first began to be made chocolate bars Snickers. Today the Chicago chocolate factory produces 560 sweets per minute on a separate production line.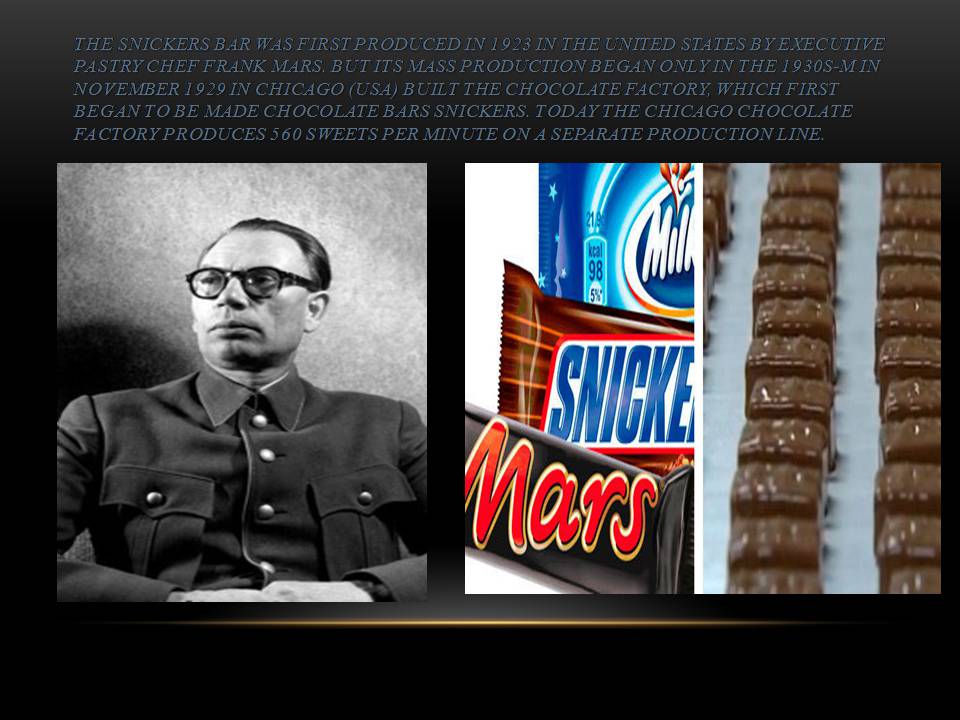 ---
Слайд #6
---
Composition:Filling: peanuts, glucose syrup, sugar, palm oil, nonfat dry milk, salt, dried egg white, flavouring (vanillin);Chocolate: sugar, cocoa butter, whole milk powder, cocoa mass, lactose, anhydrous milk fat, emulsifier (soya lecithin), flavouring (vanillin), skim milk.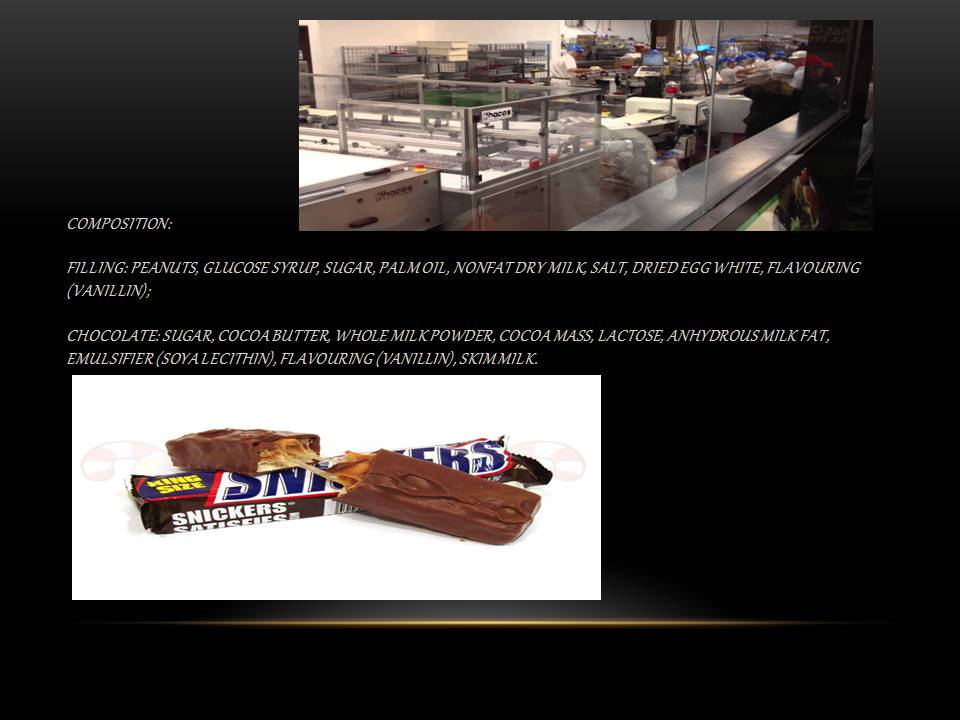 ---
Слайд #7
---
In 2009 analytical company Profi Online Research found that every fifth teenager buys a chocolate bar every day. And the most popular in the rating was "Snickers".Market development sales contributed to the massive advertising campaign that made the bar very popular. Famous and very popular in Russia advertising slogan of the bar is "No brakes - snickersnee". The Snickers bar is very nutritious, it is emphasized in advertising, which became the first national TV channels post-Soviet space.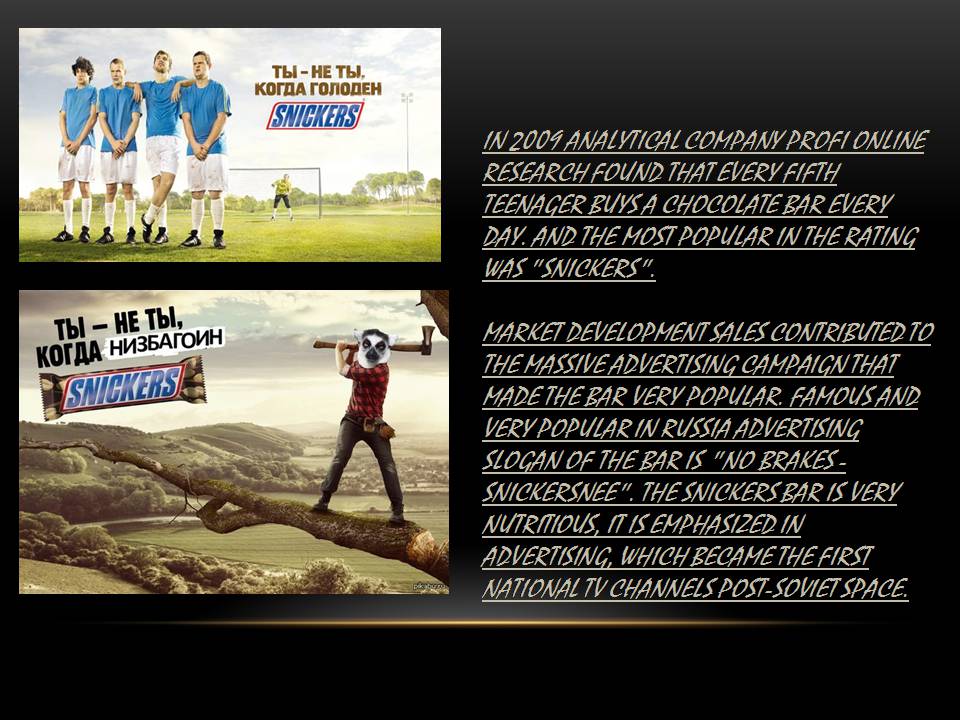 ---
Слайд #8
---
SnickersNutritional value per 100 g of productEnergy value 513 kcal kJ 2144Proteins 9Fats 28,2- saturated 11,1 Carbohydrates 55- disaccharides 49,5 Sodium 188 mg
Snickers with hazelnutsNutritional value per 100 g of productEnergy value 514 2149 kcal kJProteins 7,5Fats 28,5- saturated 10,6 Carbohydrates 56- disaccharides to 49.9 Sodium 197,5 mg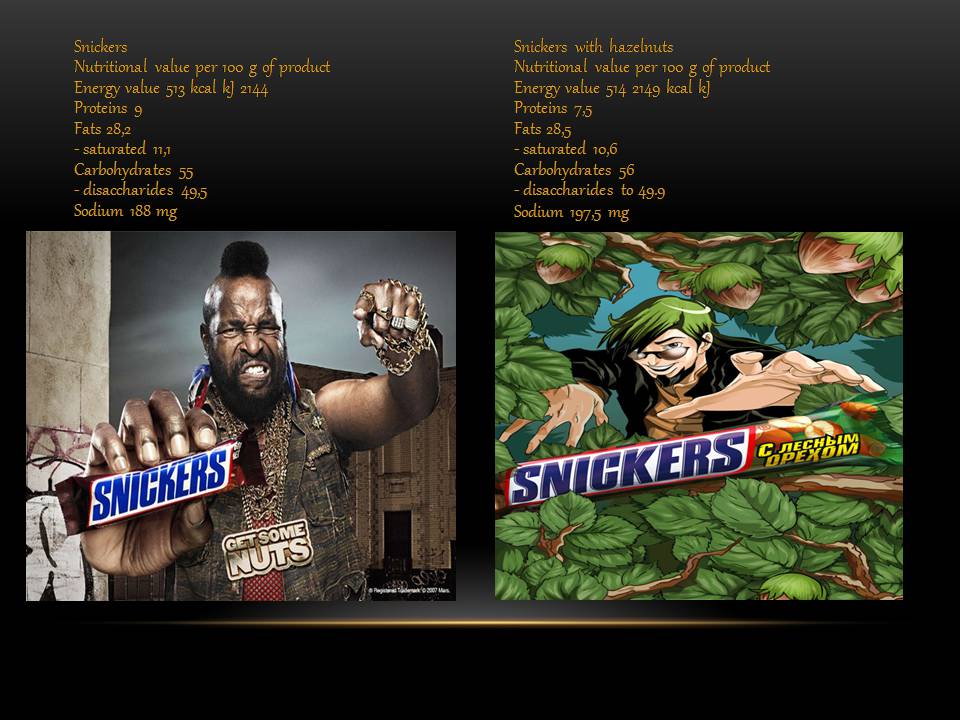 ---
Слайд #9
---
Thank you for your attention c: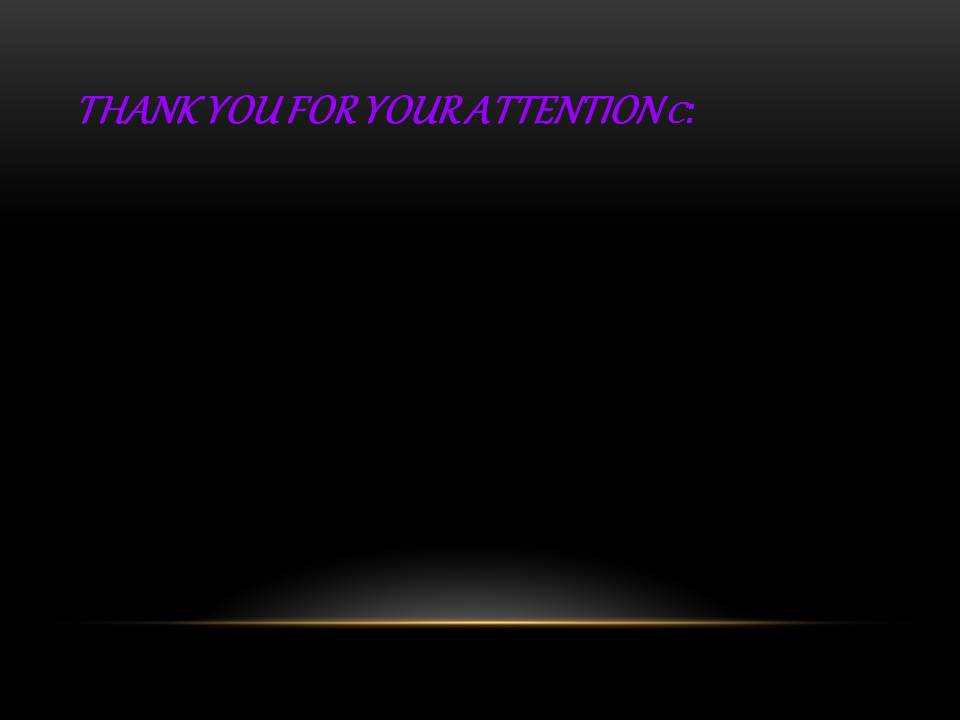 ---
---